Things to Do and See in Laos with Kids
Known as the landlocked country, Laos brings a unique beauty that only Laos has. Travel to Laos, you do not only visit the heritage sites, the ancient temples to learn about the Buddhism culture, but you also visit the local villages to see the local life. During your Laos holiday packages with kids, don't too hesitate that where or what to do and see in Laos with kids, and how is safe for your child? Here,
Go Laos Tours
offers you top things to do and see when traveling in Laos with your child. I bet that this will be the best experience for your
family tour in Laos.
Kayak in Nong Khiaw
Nong Khiaw is a strikingly beautiful small village on the banks of the Nam Ou river; a stretch of water that starts at the Chinese border and joins the Mekong just north of the UNESCO town of Luang Prabang. The Nam Ou waterways, bordered by dramatic limestone mountains, have far fewer boats than the Mekong, making it a relaxing and picturesque area to go kayaking as a family. Take breaks along the way to explore villages, caves, and waterfalls. For the very intrepid young explorer, there's also the opportunity to try rock climbing.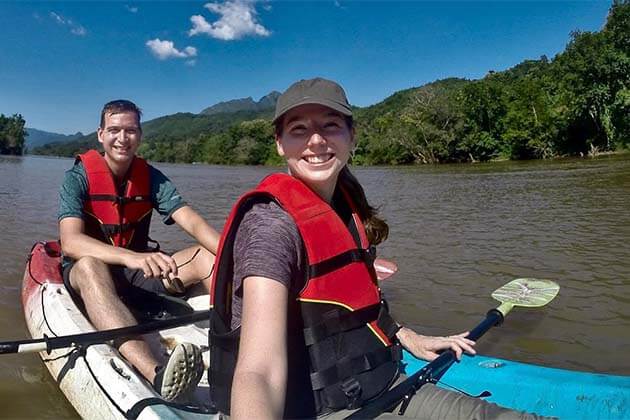 Meet the Elephants in Sayaboury
Laos used to be known as the 'land of a million elephants', and these giants are so inextricably linked with the national identity that they were on the country's flag right up until 1975. Sadly, a combination of poaching and deforestation has seen the elephant population dwindle to around 1,000, but efforts are increasing to protect these endangered species. Meet some very well cared for elephants at the Elephant Conservation Centre (ECC) in Sayaboury. They have plenty of space to roam as well as their very own hospital. Just as an "elephant never forgets", kids are likely to remember an elephant encounter for years to come.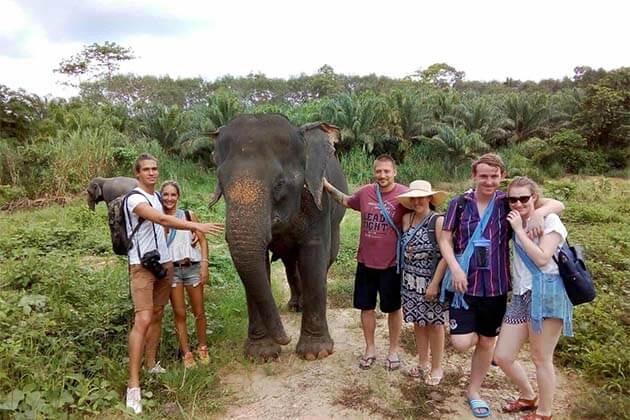 Cycle in Luang Prabang
Luang Prabang is one of the most popular places to visit in Laos for good reason. This UNESCO World Heritage town packs a cultural punch while remaining blissfully serene. Skip private cars here and rent bikes to mix temples, palaces, and museums with glorious countryside and lively markets; a sure-fire way to keep everyone engaged.
Enjoy the Time in the North of Laos
Laos is bursting at the seams with natural beauty. For an adventure, wave goodbye to civilization with a few days in wild, untouched areas just off the banks of the Mekong. There's an eco-tent resort in the heart of the forest where kids can try hands-on activities – everything from rice planting to archery – in these tranquil surroundings.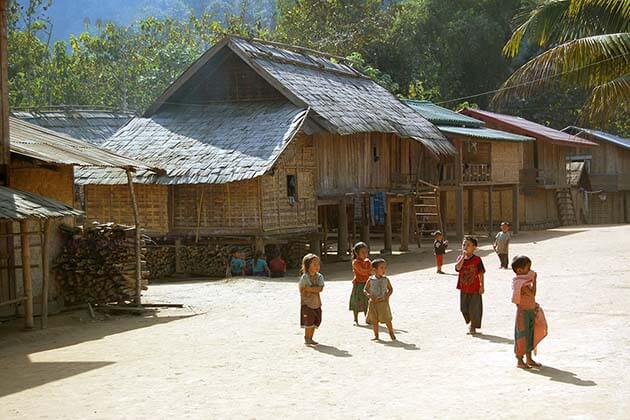 Swimming in Kuang Si Waterfalls
As well as being the most beautiful town in Laos, Luang Prabang is surrounded by lush countryside with thick forest, green rice paddies and Mount Phousi in the distance. As if that wasn't enough, the Kuang Si Falls is also only a short journey away; while away an afternoon at this multi-level waterfall with a walk through the forest and a dip in the turquoise waters of the natural pool.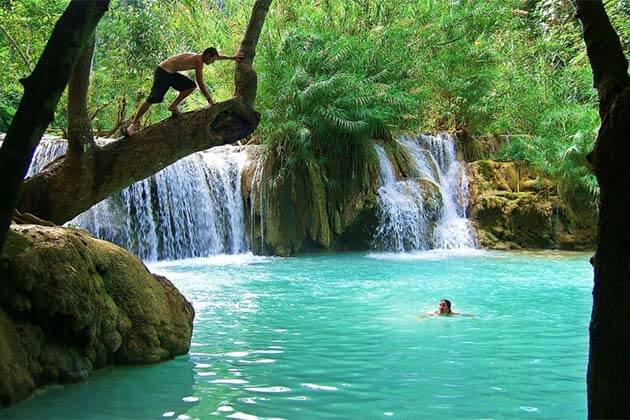 Visit Buddha Park
By Laotian standards, Vientiane is a busy and hectic city but is still by far one of the most chilled out capitals you'll ever visit. It's a pretty place with a village rich in culture, full of green spaces scattered between French-colonial architecture and gilded temples. The unique Buddha Park, 25km south of the city, offers a somewhat otherworldly day out as you wander between hundreds of bizarre and varied Hindu and Buddhist statues. Though the statues appear to be ancient, they are the brainchild of an eccentric priest-shaman who began the park in the 1950s and is made from reinforced concrete. Children can run about between the monuments to their heart's content, taking in the fascinating and sometimes alarming images which seem almost like something from an Alice in Wonderland dream world...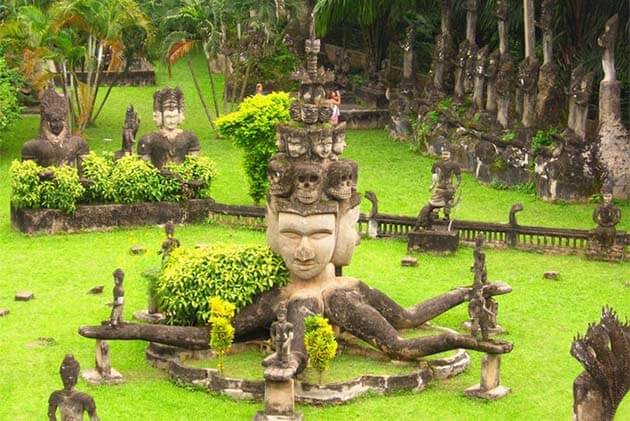 Luang Prabang Night Market
The Luang Prabang night market is one of the most famous things to see in Laos, which is considered as one of the biggest night markets in the world. The night market runs around pm to ăă pm every evening. Strolling around the market where you can see the store full of colors such as handicrafts – jewelry, clothing, toys, ceramics, lamps, scarves, and many others. Wandering through the night market every evening on our way to dinner and we loved browsing through the huge number of stalls. We found the quality and authenticity of products here to be among the best we have seen in any of the markets we have visited in Asia.