Travel in the opposite direction from the south to the north of Laos with 3 major cities: Pakse, Vientiane, and Luang Prabang. During the journey, explore the great combination of natural sightseeing, the tradition and unspoiled beauty along the way. This 7-day 
Laos tour package
is a summary of the most valuable, exotic destination in "the land of a million elephants". Prepare yourself to be surprised!
Tour code:
Duration: 7 Days/6 Nights
Date: Optional (Available all time)
Start/End: Pakse/ Luang Prabang
Tour Route: Pakse – Khong Island – Tadlo Waterfall – Vientiane – Luang Prabang
Tour Type: Adventure and Experience
Tour Categories: Laos Vacation Packages 
Tour Customize: Absolutely (Feel free to tell us your requirement in the inquiry form)
Guides: Local Guide (Available in English and also other languages if requested)
Transportation: Private first-class air-conditioned motor coach
Accommodation: Listed below or equivalent. Rooms with private bath or shower, hotel taxes, porterage, tips, and service charges
Brief Itinerary
Day 1: Arrival – Pakse – Khong Islands
Day 2: Khong Island – Phou Asa – Pakse
Day 3: Pakse – Boloven Plateau – Tad Lo waterfall
Day 4: Tadlo waterfall – Pakse – Vientiane (Flight)
Day 5: Vientiane – Luang Prabang
Day 6: Luang Prabang – Pak Ou Caves
Day 7: Luang Prabang – Departure
Full Itinerary
Price & Inclusion
Accommodation
Photos
Day 1: Arrival – Pakse – Khong Islands
Once you have arrived at Pakse Airport, our guide will pick you up and take you to the Mekong River to go on 2-hour cruise to Champassak on a traditional boat.  On arrival on this town wharf, we will head to Wat Phou, one of the UNESCO World Heritage Site, which is a temple situating mountaintop. Now we have an opportunity to explore these Khmer remaining at the base of Mount Phu Kao.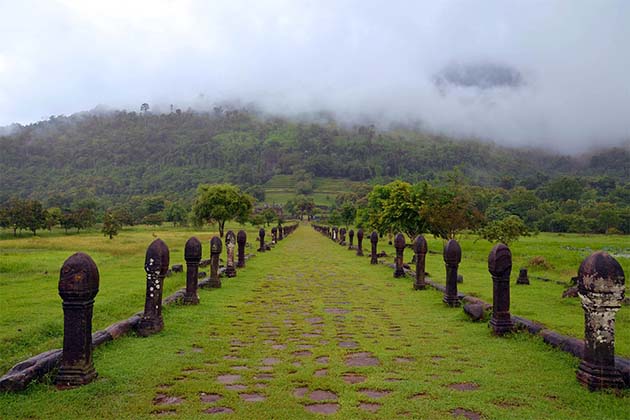 In the afternoon, we will travel on the road to the south to 4000 island area, where the Mekong flows into Cambodia. The rare Irrawaddy Dolphin is also living in this area. Moreover, along the way, there are chances to visit the ancient ruins of Oup Mong, Khmer temple at Ban Houay Tomo.
You will arrive at Ban Nakasang late in the afternoon and transfer to a long tail motorboat for the trip to peaceful Don Khong Island.
Overnight on Khong Island.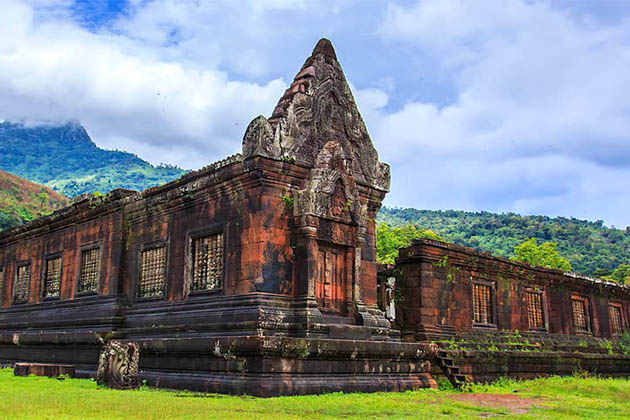 Day 2: Khong Island – Phou Asa – Pakse(B)
Today we start a little bit earlier than the other day to explore Khong Island. Laos has been under the control of French Colonial in the past, the remaining evidence is at Ban Khone, where is still exists old colonial house and first Laos railway with its own locomotive. If you are lucky enough, you might be able to catch a glimpse of rare freshwater Irrawaddy Dolphin at Ban Hang Khone. We then move to the wonderful Liphi waterfall, also called Samphamith, a natural site separate Laos and Cambodia.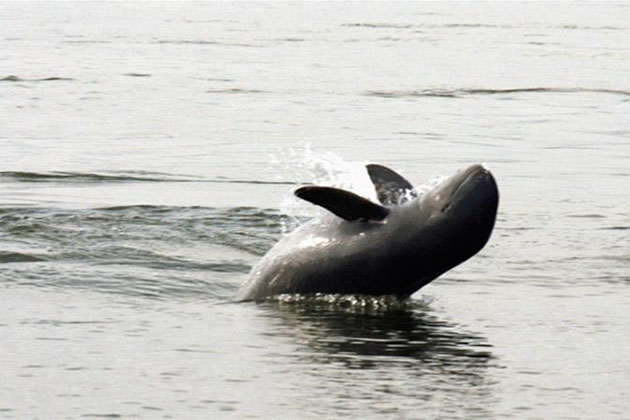 After coming back from Liphi waterfall to Nakasang, we will head to Khonephapheng Waterfall which is considered as the largest waterfall in South East Asia "Niagara of the East".
This afternoon, we drive toward the north to Pakse and discover Phou Asa with the ruins of a temple back to the 18th century. Varying to the situation at that time, a chance to experience elephant activities will save the amazing moments during your days in Laos. Before the sunset, we will be able to reach Pakse and transferred to your new hotel.
Overnight in Pakse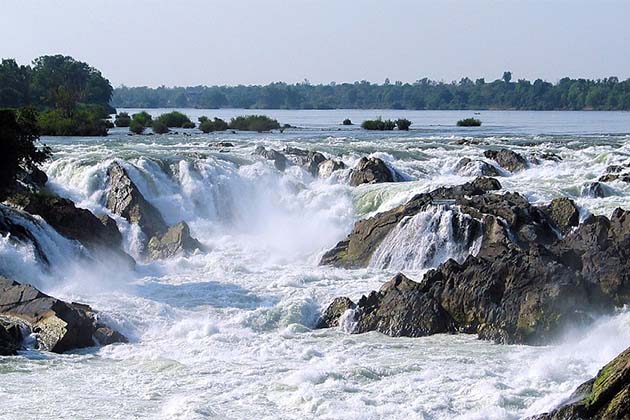 Day 3: Pakse – Boloven Plateau – Tad Lo waterfall (B)
This morning we will enjoy the natural scenery on the Bolevan Plateau. The first site is the waterfall area with the two best Tad Fan and Tad Ngeuan. Tad Fan is famous for its twin falls pouring down over 100 meters to the valley floor below and Tad Ngeuan is popular for its pristine pools for taking a refreshing dip. And the unique thing is the coffee shops and plantation around. You can try the real coffee of Laos with a strong taste and absolutely delicious. You are not only about to see the coffee crop but also have a chance for sightseeing at tea, cardamom, bananas, and other crops.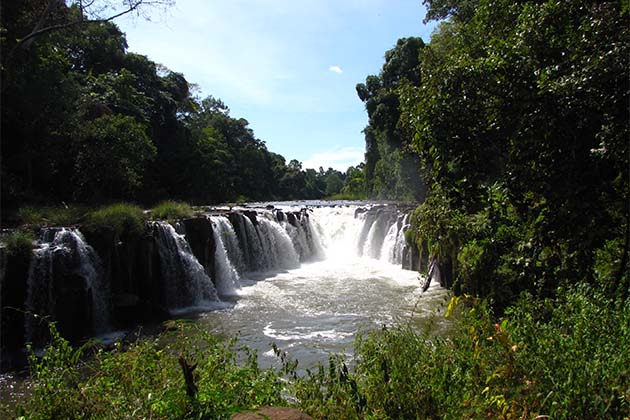 Next, we will head to Tad Lo, but before Tad Lo, we will stop at villages of Alak, Nge, and Katu.
Overnight in Tad Lo.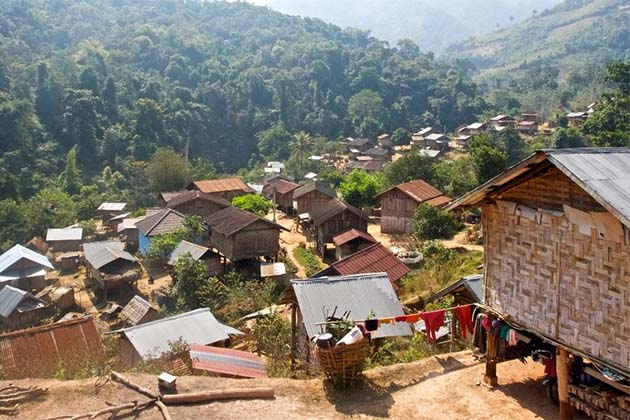 Day 4: Tadlo Waterfall – Pakse – Vientiane (Flight) (B)
From Tadlo waterfall, we will drive back to Pakse to catch our flight to Vientiane.
After the flight, our city tour will start right away with "temples tour". Wat Sisaket is the oldest temple in Vientiane with thousands of miniature Buddha statues; the former royal temple Wat Prakeo contains Emerald Buddha Image.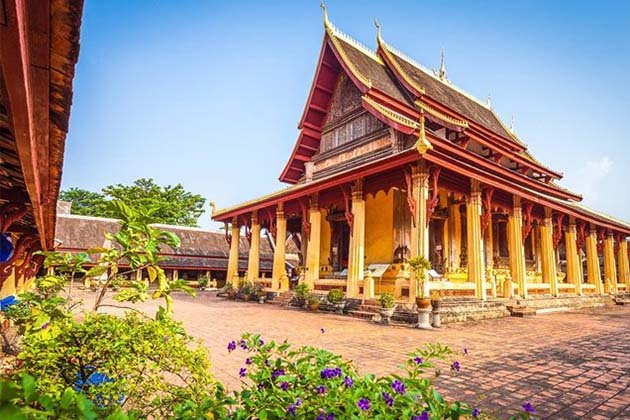 On the way to visit the national icon of Laos, That Luang Stupa, we will stop and take some photos of majestic Patuxay Monument, which is called Vientiane's own Arc de Triumph and finally, COPE Center. COPE Center is a special site in accordance with the need to provide care and support to UXO survivors by way of orthotic and prosthetic devices. It has been established in 1997 to help victim during the Indochina War recover.
The evening is totally up to you. You can choose whether enjoying a few drinks while watching the sun going down on the Mekong River or exploring the Night Market.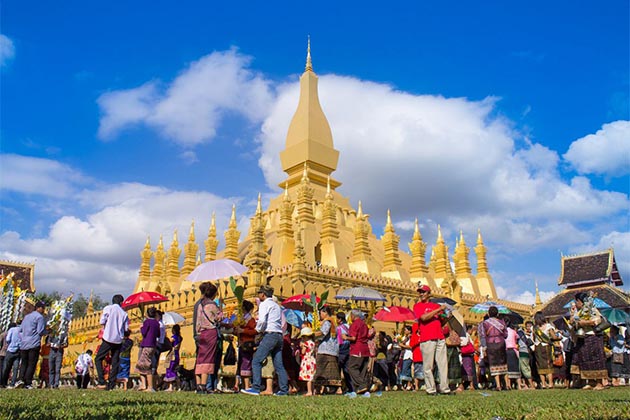 Overnight in Vientiane.
Day 5: Vientiane – Luang Prabang (B)
Say goodbye to Vientiane, we will change our location to Luang Prabang. Check-in hotel and be prepared to see the city's oldest temples, the glorious Wat Xiengthong with its long, giant roof spreading low to two sides and almost reach the ground. Moreover, there are also the impressive stupa of Wat Visoun and the shrine of Wat Aham.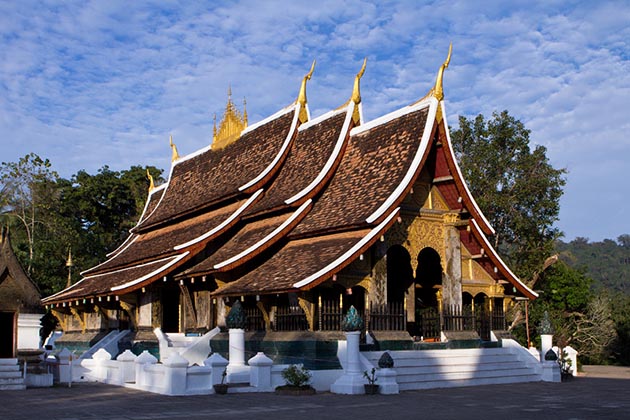 And then we climb to the peak of Mount Phousi. You will be amazed by sacred gilded stupa and see the city from a different view and sunset over the Mekong River.
In the evening, your time will spend in the famous Luang Prabang Night Market. It is easy to encounter many kinds of local produce such as textiles, handicrafts, foods,… made by both local and Laos ethnic tribes.
Overnight in Luang Prabang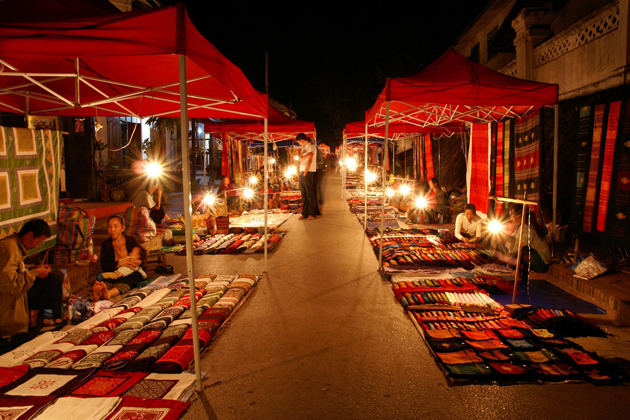 Day 6: Luang Prabang – Pak Ou Caves (B)
Today will be a whole day to discover and gain some experiences about Laotian culture. We will be back on Mekong River and this time on a private boat, head to the mysterious Pak Ou Caves.
This morning we visit the Arts and Ethnology Centre to learn about Laos' many ethnic cultures. You can enjoy a coffee at the center's café if you chose before we head for the Mekong River and board our private boat for a pleasant and scenic cruise up on the Mekong River to the mysterious Pak Ou Caves. In the past, these caves are former religious sites. Therefore, right now, there is a lot of gold lacquered Buddha images left over.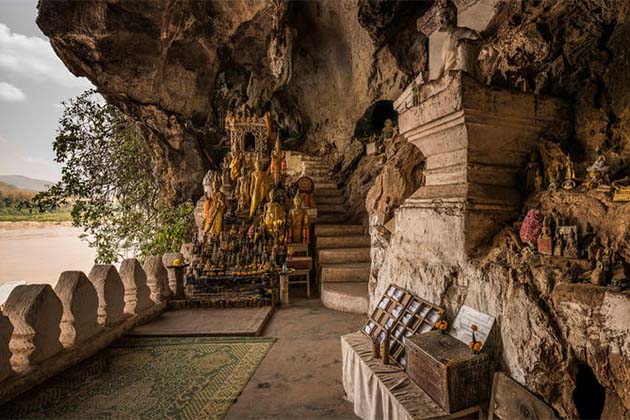 On the way back, we leave the boat and depending on your interest, we can have a short drive to Ban Phanom, which is famous for hand weaving or it is just time for you to enjoy yourselves.
Your afternoon is free to treat yourself to a spa treatment or massage, go exploring or do some shopping or relax at your hotel.
Overnight in Luang Prabang
Day 7: Luang Prabang – Departure (B)
Finally, we will spend in Dalat Sao, a local morning market where has all types of food from the farms and jungles surrounding Luang Prabang. Then, we can take a short walk to Royal Palace Museum where represents a wide range of artifacts from the Royal Period in Laos (because Luang Prabang is the former capital of Laos in the past).
We then transfer to the airport for your departure flight.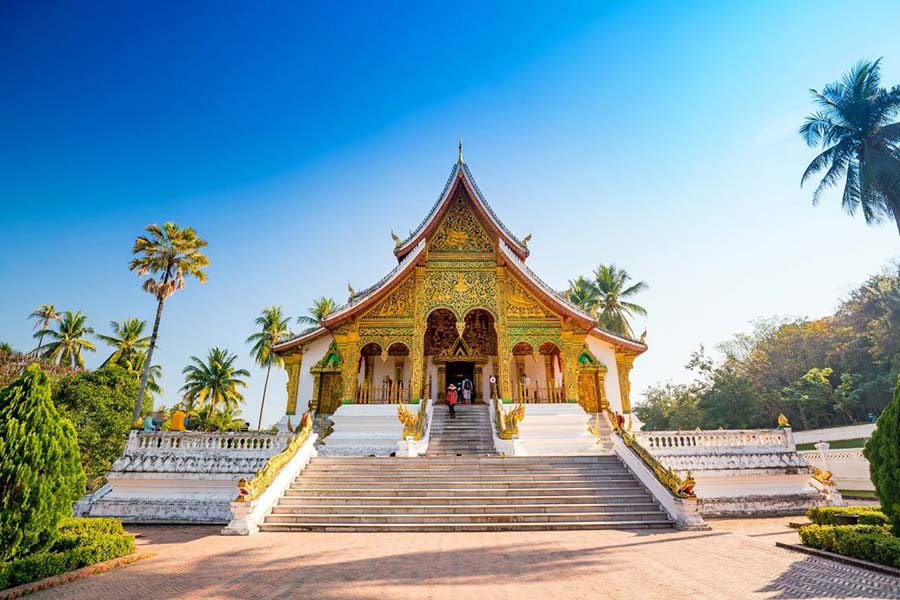 What's Included?
Accommodation in twin shared basis
Private, Air conditioned Transport
Boat trips as stated in the itinerary
English speaking guide
Admission fees to sites stated in the itinerary
Meals: daily breakfast at hotel
Gov't taxs and service charges
Luggage handling
Drinking water
What's Excluded?
Visas and Immigration fees on arrival
Domestic air ticket
Int'l air tickets to/from Laos
Travel and/or Medical Insurance
Lunch or dinner unless stated in the itinerary
Single room accommodation (quoted separately)
Child or adult in triple share accommodation
Foreign language guides other than English
Peak Season or Special Events Surcharges
Tip, drinks and other personal expenses
Additional Remarks:
Itinerary is subject to change depending on flight availability, road and/or weather conditions and room availability.
Group of 10 persons and above will use separate vehicle in Luang Prabang due to UNESCO restrictions on large coaches entering downtown Luang Prabang.
Hotels listed above may not meet international star rating standards, especially in the remote areas where accommodation options are limited.
Room rates quoted above do not include compulsory fees for special events, peak season such as Christmas and New Year or Gala Dinners etc.
Prices are subject to change at any time as a result of VAT, Fuel Excise or other tax increases and USD currency fluctuations.
Recommended Accommodation List

Location
Boutique Option
3* Standard
4* Standard
5* Standard
Khong Islands
…
Pon Arena

Standard

Pon Arena

Deluxe

Pon Arena

Mekong Riverview

Pakse
…
Athena

Standard

Champasak Grand

Deluxe

Champasak Grand

Premier

Tadlo
…
Sinouk Coffee Resort

Standard Riverside

Sinouk Coffee Resort

Superior Riverside

Sinouk Coffee Resort

Deluxe Garden

Vientiane
…
Season Riverside

Standard

Lao Plaza

Regular

Settha Palace

Deluxe

Luang Prabang
…
Sada Hotel

Deluxe

Villa Santi Resort

Deluxe

Luang Prabang View

Superior
Room type is based on Double bed or Twin-shared rooms by 2 people
Inclusive of Daily breakfast & taxes