If you're finding a luxury tour in Lao, Laos Luxury Tour in a week is an ideal suggestion for you. During 7 days in this tour, we specially made suit to you and ensure that you have a Laos vacation as its name, a luxury tour. Exploring the beautiful scenery, visiting the famous historical places, or joining in the interesting outdoor activities are the highlights in this tour. Additionally, you will be served by the professional tour guide and the best services bring for you an unforgettable memory in Laos.
Tour Code:
Duration: 6 Days / 5 nights
Start/ End: Vientiane / Luang Prabang
Tour Type: Experience, Leisure, Luxury and History
Tour Categories: Laos Travel Package
Tour Customizable: Definitely!
Guide: Local Engish Speaking Guide (other languages upon your Request)
Transportation: Private transportation by air-conditioned car
Brief Itinerary
Day 1: Vientiane Arrival
Day 2: Full Day City Tour in Vientiane
Day 3: Vientiane – Luang Prabang
Day 4: Luang Prabang – Half Day City Tours – Kuang Si Waterfall
Day 5: Luang Prabang – Boating to Pak Ou Caves
Day 6: Luang Prabang – Manda Lao Elephant Camp (Full Day Trek Tour)
Day 7: Luang Prabang Departure
Full Itinerary
Price & Inclusion
Accommodation
Photos
Day 1: Vientiane Arrival (D)
On arrival at Vientiane airport, as soon as landing in Laos, our driver and tour guide is waiting for you. Transfer to your hotel, take a rest before starting your trip in Laos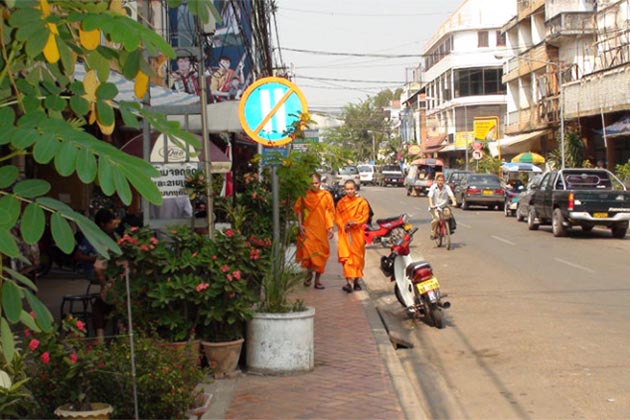 Day 2: Full Day City Tour in Vientiane (B, L)
After breakfast, we explore Vientiane, the heart of Laos. By Laos is the land of Buddhism, it's not surprising when there are many temples in Laos as well as Vientiane. One of the famous temple attracting tourists is Wat Sisaket which includes thousands of miniature Buddha statues. Then, moving to the ground of Laos, visit That Luang stupa with the reference, our guide will tell you about the story of Buddhist and his teaching.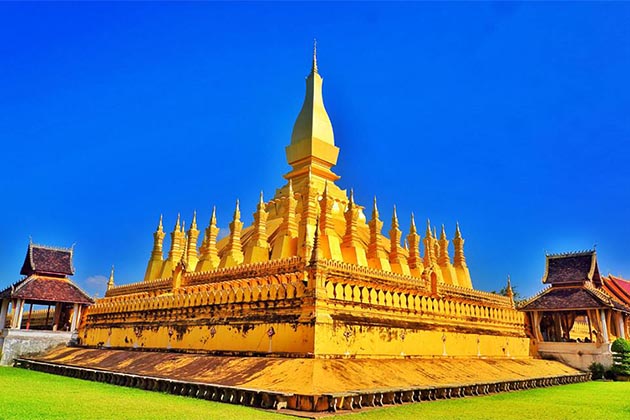 In the afternoon, we continue visiting the rest of Vientiane by foot, it's convenient to visit 3 temples next together: Wat Ong Tue, Wat Inpeng and Wat Haisok, although, each of them has its own special architecture, it brings Buddhist identity of Laos.
After visiting three temples, we will go to the major shopping area, the Vientiane Central Market of Talad Sao and Talad Koadin where various goods are displayed for sales. In the late afternoon to admire the sunset. Sip a beer Laos and snack, enjoy the relax minutes mix with the fresh air, wow, it's an amazing view!
Overnight in Vientiane
Day 3: Vientiane – Luang Prabang (B, L, D)
Flight to Luang Prabang, after enjoying the luxury breakfast at your hotel, we transfer to the airport for the short flight to Luang Prabang, which is the best-preserved traditional city in Southeast Asia. After checking into your hotel, visit the oldest temples in Luang Prabang: Wat Visoun, the shrines of Wat Aham and Wat Mai.
Free time at leisure.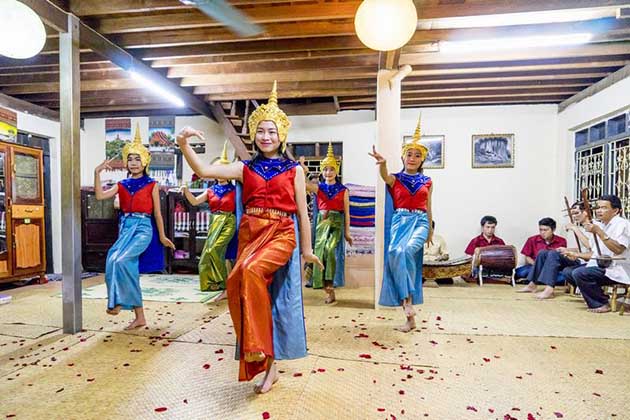 In the evening, attending a special dinner with the Baci ceremony and Lao traditional dance show. (The Baci ceremony is a ritual to celebrate a special event, whether a marriage, a homecoming, a welcome, a birth, or one of the annual festivals).
Day 4: Luang Prabang – Half Day City Tours – Kuang Si Waterfall (B, L)
Wake up early than others day to have a good breakfast, start joining in the daily morning rituals of saffron-clad monks collecting offerings of Alms from the faithful residents. It becomes a unique culture in Laos, being the only Buddhist nation still preserving the tradition. if you want to take part in the ceremony, you can tell your guide and he/she will prepare food for you or you can buy in the pot near that. This early morning ritual dates back generations in Laos. Watch the town come to life in the morning then return to the hotel for breakfast or join the locals for a bowl of delicious noodle soup after the alms giving ritual.
Note: (If you do not wish to make an offering, please keep an appropriate distance and observe the ritual in silence. Dress appropriately – shoulders, chest, and legs should be covered).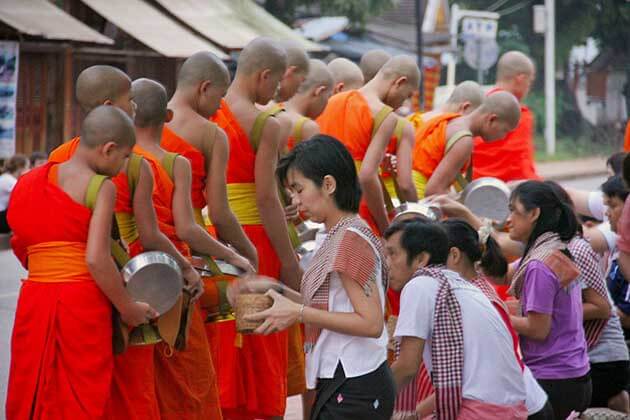 Begins your half-day city tour with a visit to the Royal Palace Museum, which hosts a range of interesting artifacts. Then, we visit Wat Xieng Thong with its roofs sweeping low to the ground, which represents classical Laotian architecture. Next, we stop at the central market to see local trader do their business before enjoying the lunch at a local restaurant.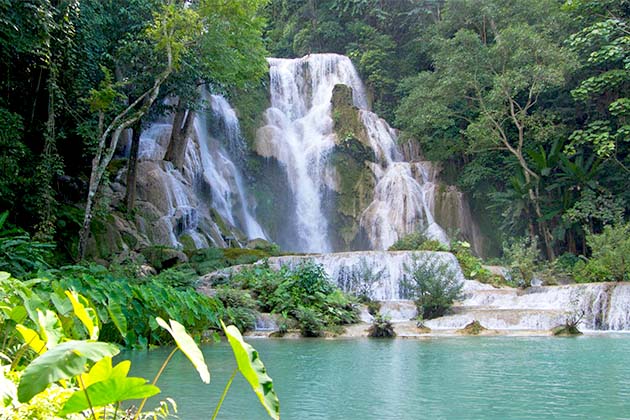 In the afternoon, we will visit the stunning view, Kuang Si waterfall, which is known as the most beautiful waterfall in Southeast Asia. Go to the waterfall, it seems that you're lost in the paradise in the ground, the waterfall with a strange color. What's more interesting when immersing yourself in the cool water. It's a really great experience for you.
Overnight in Luang Prabang
Day 5: Luang Prabang – Boating to Pak Ou Caves (B, L)
Breakfast is ready for you in the morning, if you impressed the rituals of saffron-clad monks collecting offerings of Alms in the last day, you can join again. From there, we will take a short visit to the morning local market near the Royal Palace, you can buy a variety of products which displayed in the market.
Continue to the trip, floating on the Mekong river to go Pak Ou Caves, you will see the dreamy natural landscape, the high mountain, and the villages near to the banks where the children play near there and waving their hands with you. On the way to the Pak Ou, stop at Ban Muang Keo, a well-known village for its traditional Lao rice whiskey distilling. In front of you, you will see the mouth of caves, the Buddhists are placed from outdoor to indoor with other shapes and sizes left by pilgrims. Back into Luang Prabang in the late afternoon and continue by car to the outskirts of town to visit Ban Xang Khong, a village well – known for its wood papermaking and also silk weavings with natural dyes.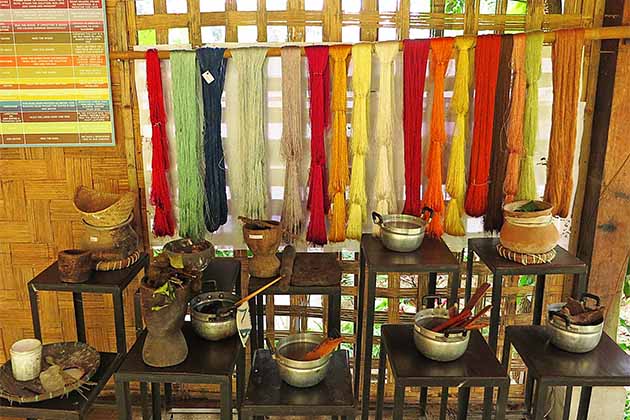 If time permits, we will make a short stop at Ock Pop Tock Living Craft Center where you can learn about the traditional weaving in Laos.
Overnight in Luang Prabang
Day 6: Luang Prabang – Manda Lao Elephant Camp (Full Day Trek Tour) (B, L)
Enjoy a good breakfast to ensure that you have enough energy for all-day, today you will be introduced to friendly giant friends. Gather at the hotel lobby and our tour guide and driver will transfer you to Manda Lao Elephant Camp. After a short briefing and a welcome drink offered, continue to the trip by a quick boat ride across the Nam Khan River, which will deliver you to the waiting elephants, a new friend in Laos. Then, you will begin walking with your begin an instant friendship and walking with your new gigantic companions through the jungles of Laos.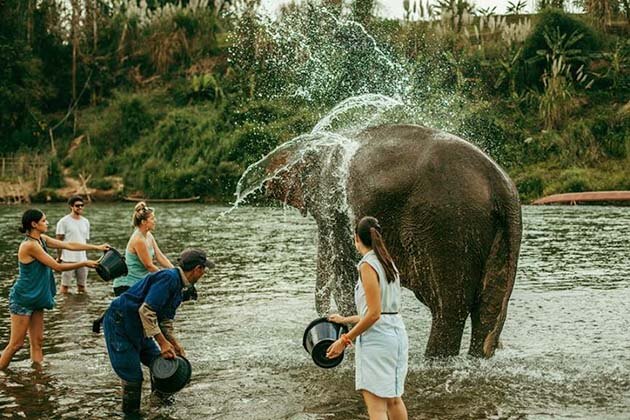 After 2 hours trekking through the beautiful Laos Jungle, past traditional Laos Farm, and past though the cool Houy Nok stream, which brings to you the most feelings playing with your new friends in the water. Walk along with the elephants on the dirt track listening to their soothing footsteps and the sound of the jungle around you. You will also experience a profound sense of understanding, respect, and caring for these amazing animals.
Companying with your friend to past a lovely stretch of rice field and entering a patch of forest where you can rest, relax and eat. At noon, you will be served in the international Laos fashion, eating on bamboo mats on the forest floor.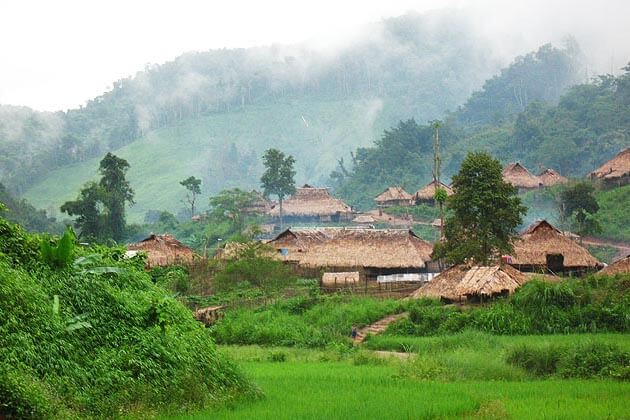 Tad Kang Song Waterfall, which was named after a Golden Deer spirit seen standing on its crest many centuries ago. A trip to the waterfall that you can take a cool dip, wade, stand under the soft showers of the waterfall, and enjoy the happy time meditating and admiring the private beauty of this rarely seen the natural treasure. After enjoying the meal, take your time to visit a small Khmu Village and experience at one of the many different ethnic groups living in Laos. Visit the village, take it easy to understand the different language and religious beliefs than other Lao people which you have heard before during your Laos Trip. A special warm welcome is for you and gives you their traditional handmade crafts at a cheap price if you like this.
Continue to the trip with your friends, you and the mahouts will walk to their nighttime feeding grounds. Enjoy a short moment to think about your experiences from the day as you look out at the vast Luang Prabang mountain range from the terrace at MandaLao. Then, we will drive you back to town.
Trekking time: 3 hours
Overnight in Luang Prabang.
Day 7: Luang Prabang Departure (B)
After breakfast, free time for you till private transfer to the airport for your departure flight. Upon your time, you can seat in the coffee corner on the street, look around and take some pictures to save the ancient beauty of Luang Prabang.
End our services!
"Free inquiry if you interest this tour or create your own trip with our travel expert!"
What's Included?
Private transport by van
All transfer in/out
Accommodation in sharing twin / double sharing room with meals as mentioned in the Itinerary
Admission fees to tour sites
English Speaking guide with the legal license
Government tax, service charge
Bottled water & wet towel on the van during the trip
Meals sited on the Itinerary (Breakfast = B, Lunch = L, Dinner = D)
What's Excluded?
Travel Insurance
Entry visa fee
Drinks during meal
Personal expenses
Banking transfer fee
International airfare (flight in & out Laos)
Recommended Accommodation List (Superior)
| | | | |
| --- | --- | --- | --- |
| Location | Hotel Category | Hotel name | Room Category |
| Vientiane | 4* Standard | Ansara Hotel | Savy |
| Luang Prabang | 4* Standard | Santi Resort & Spa | Deluxe |
Recommended Accommodation List (Deluxe/the best available in the cities)
| | | | |
| --- | --- | --- | --- |
| Location | Hotel Category | Hotel name | Room Category |
| Vientiane | 5* Standard | Green Park Boutique Hotel | Deluxe |
| Luang Prabang | 5* Standard | Luangsay Residence | Pioneer Suite |