Whatever is more interesting to explore the ancient town in Laos, Luang Prabang! I bet that its beauty will make you infatuation at first glance. Start your tour in Luang Prabang town, through stunning scenery and friendly local villages, visit the magical waterfalls are the highlights in this tour. There is one thing that we make it different with other tours, you will live in the homestays with the locals, try to live like the locals, romp with the children, and join in burning the campfire. So, don't be hesitant, travel with us!
Tour code:
Duration: 7 Days/ 6 Nights
Date: Optional (Available all time)
Start/End: Luang Prabang/Luang Prabang
Tour Routines: Luang Prabang – Nong Khiaw – Lao Leu Village – 100 Waterfall trek – Khmu Village – Na Luang – Nam Ou River – Pak Ou – Luang Prabang
Tour Type: Discovery of Laos
Tour Categories: Luang Prabang Tours day trips
Tour Customize: Definitely!
Guides: Local English speaking guide (also other languages if requested)
Transportation: Private, air-conditioned means of transportation
Accommodation: Comfortable hotel/guesthouse/ homestay accommodation on a twin share basis
Brief Itinerary
Day 1: Luang Prabang Arrival
Day 2: Nong Khiaw – Lao Leu village
Day 3: Trekking to 100 Waterfall  – Khmu Village
Day 4: Na Luang Trek
Day 5: Jungle trek to Nam Ou River – Muang Ngoi
Day 6: Boat to Nong Khiaw – Pak Ou Cave – Back to Luang Prabang
Day 7: Luang Prabang Departure
Full Itinerary
Price & Inclusion
Accommodation
Photos
Day 1: Luang Prabang Arrival
Upon your arrival, our guide and driver will welcome you at Luang Prabang international airport. We will be transferred to your hotel in the ancient town. Take a rest before the exciting tour, you can visit some historic temples which give Luang Prabang with the name "the ancient town". If the time permits, you have free time to explore the city.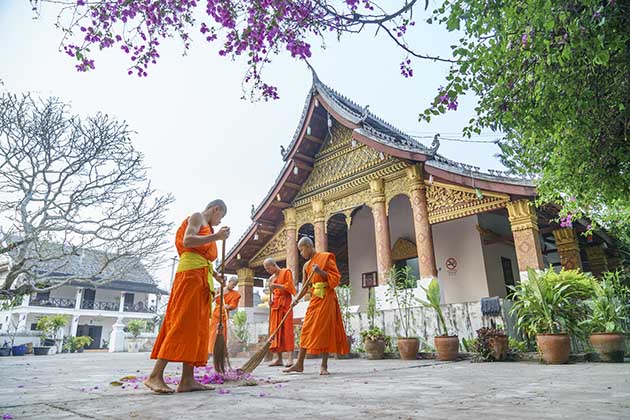 Overnight in Luang Prabang
Day 2: Nong Khiaw – Lao Leu Village (B, L, D)
On the second day during your Laos tours, you will meet your guide in Luang Prabang to enjoy a scenic drive winding along the Nam Ou River to the small town of Nong Khiaw. On the way, we will stop at Ban Na Nyang, the village is known for its Lao Leu traditional-style houses and handicrafts. In the afternoon, it's time for you to explore the surrounding village. Your local guide will introduce to you about history, culture, and some famous places in the village. In the late afternoon, your guide will take you some local food for dinner.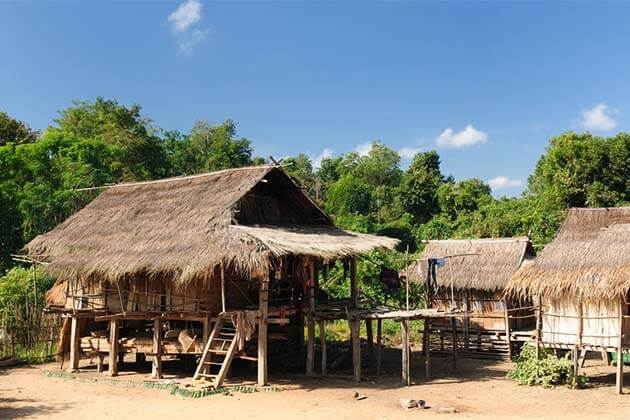 Overnight in Nong Khiaw
Day 3: Trekking to 100 Waterfall – Khmu Village (B)
As soon as arriving at the 100 waterfalls I bet that most of the travelers will say "wow" from the amazing waterfall hike and river trip. Today, we start with a peaceful boat ride on the Nam Ou, floating to the river, immerse yourself in the amazing scenery which mixes with the light wind makes you more comfortable. Along with to the river, you will visit a small Lao village before heading to the waterfalls. The time flies, open your eyes, walking through small streams and rice paddies, you are in the 100 waterfalls.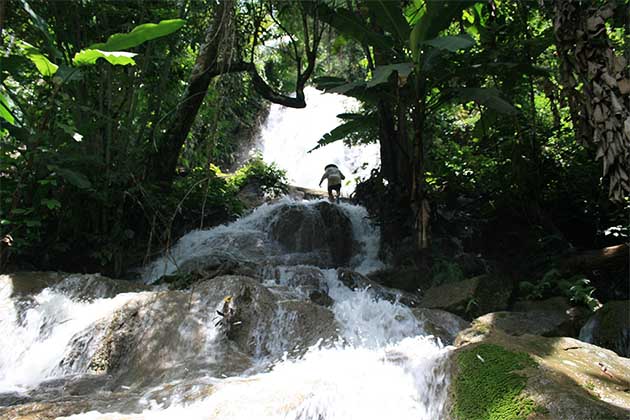 Take a few hours you will see only water and jungle and hear the sound of clear waterfall cascades, it seems that you are losing in lively music. In front of you, there is a pool with clear water as waiting you splash cool water in your face. Pass through the cascade and prepare a local style lunch near the falls in the middle of amazingly green nature. Definitely, here is the best moment you never ever tried. Continuing to the tour, the guide will head you to the village's trail on the top of the 100 waterfalls which will lead you down into the valley offering wide views over the landscapes of the Nam Ou valley. Then, we hike back to the Nam Ou River for our boat to transfer to Ban Houay Goong, a traditional Khmu village in a stunning setting on the riverbanks, where you will overnight homestay here.
Overnight at Khmu Village homestay
Note: Because of the terrain, you should wear a strap on sandals or quick-drying shoes in case your feet may get wet.
Day 4: Na Luang Trek (B)
Make sure that you are fully in the morning before transferring by boat and vehicle to the trailhead, headed to Na Luang. Start trekking bypassing small paths past rice paddies and through the preserved forest with huge trees and great views. After a long day trekking, enjoy your lunch under the huge tree in the jungle. The route has a little difficulty with the tough road, up and downhills. Finally, we visit a Lao style village where the locals still live in tradition. Explore the village by following the guide if you luck, you have a chance to visit the Cay School built and maintained through the proceeds of visitors such as yourself. In the late afternoon, we prepare for our overnight stay in the local house and have dinner with them. At night, you can make friends with the children by playing the traditional game with them or burn the campfire, mix with them and dance.

Overnight at the village homestay
Day 5: Jungle Trek to Nam Ou River – Muang Ngoi (B)
Add more energy for one day by breakfast before departing from the village via a local walking trail to the Nam Ou River. Definitely, this is one of the most spectacular routes in the area taking you through a canyon pass with mountains rising on both sides of riverbanks. Actually, en route have a little difficulty when trekking through, it takes about 4 hours to go trekking there. Continue to trekking, it is a challenge with us when passing to the uphill due to its difficulty unless you are fit, the time for this challenge can be stretched of an hour. Then, we will walk through the jungle, across rocks, and through rice fields to visit a Khmu village nestled on the banks of the Nam Ou River and see its gardens. Of course, today, you will enjoy a special lunch cooked by Lao style. After your meals with the full stomach, go to the boat and visit the secluded village of Muang Ngoi.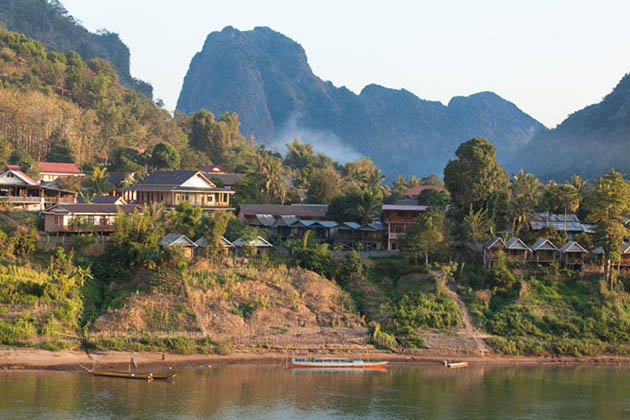 Trekking time: 4 hours
Overnight in Muang Ngoi
Day 6: Boat to Nong Khiaw – Pak Ou Cave – Back to Luang Prabang (B, L)
Let the sound of birds wake up you, enjoy your breakfast and ready for taking a short boat trip to Nong Khiaw and continue our return by vehicle to Luang Prabang. On the road, we stop to visit the mysterious Pak Ou Caves which places thousands of Buddha sculptures and images left over the years from the pilgrims along with the country when visiting the caves. The cave also becomes the special cave by owning two small caves, Tham Ting and Tham Thung with natural beauty.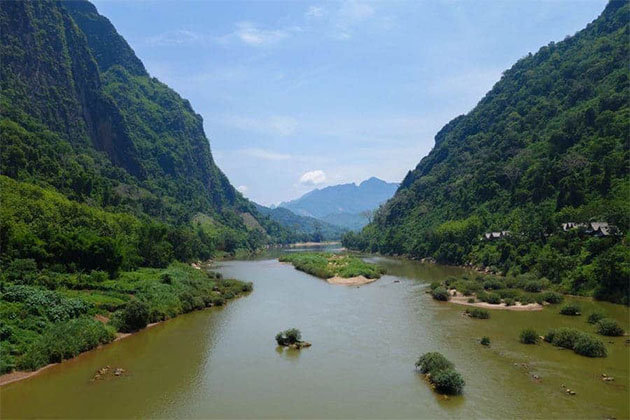 Overnight in Luang Prabang
Day 7: Luang Prabang Departure (B)
Wake up early on the last day in Luang Prabang, go to downtown to join in the alms giving ceremony, which becomes a part of Laos culture. You can tell your guide if you want to make an offering so he/she can prepare for you to hand over the monks or you can buy food on the spot. Back to your hotel to have breakfast or you can choose your breakfast in the Morning Market. While waiting for your driver to transfer you to the airport, take some pics in the old town before leaving to save a little bit of memory in Luang Prabang.
Note: (If you do not wish to make an offering, please keep an appropriate distance and observe the ritual in silence. Dress appropriately – shoulders, chest, and legs should be covered).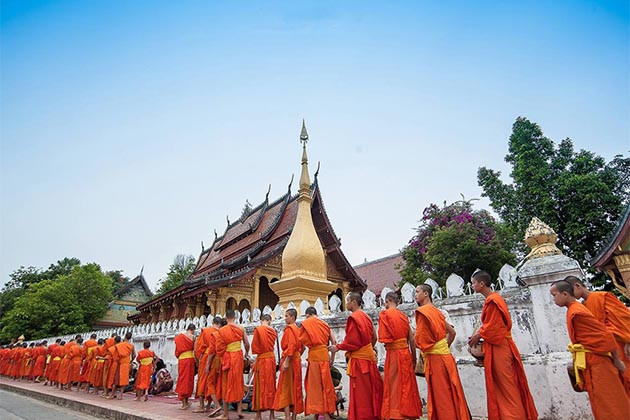 End our service and hope you like it!
What's Included?
Private, air-conditioned means of transportation
Accommodation upon your requests
English speaking guide (Other languages upon requests)
Admission fees to the sites mentioned in the itinerary
Meals: as mentioned in the itinerary ( Breakfast = B, Lunch = L, Dinner = D)
Tax and service charge
Baggage handling
Drinking water
What's Excluded?
Travel insurance and/or medical insurance
Peak season or special events surcharge
Tips, drinks, and other personal expenses
Beverages and other meals do not indicate in the program