Duration: 1 day
Date: Optional (available all time)
Start/End: Luang Prabang / Luang Prabang
Tour Routes: Luang Prabang ancient town – Wat Visoun – Wat Xieng Thong
– Phou Si Hill
Tour Type: Explore and Experience
Tour Customize: Absolutely! (feel free to tell us about your requirement)
Guides: Local Guide ( Available in English and other languages if requested)
Transportation: Private car or minivan
Accommodation: Upon the request
Brief Itinerary:
Day Routes: Luang Prabang ancient town – Wat Visoun – Wat Xieng Thong – Phou Si Hill
Luang Prabang Ancient Town – Wat Visoun – Wat Xieng Thong – Phou Si Hill
Start your Luang Prabang Tour by waking up early to participate in giving food to hundreds of Buddhist monks, which is regarded as one of the highlights in Laos culture. To Prepare for this ceremony, you can tell your guide to buy some food for you. Otherwise, if you like to see the exciting atmosphere of the local market in the morning, you can go there to see the variety of Lao local products. Then, back to your hotel for breakfast or go to the locals for a bowl of delicious noodle soup after the alms giving ritual. There are some notes during the ceremony, you must dress appropriately ( shoulders, chest, and legs should be covered)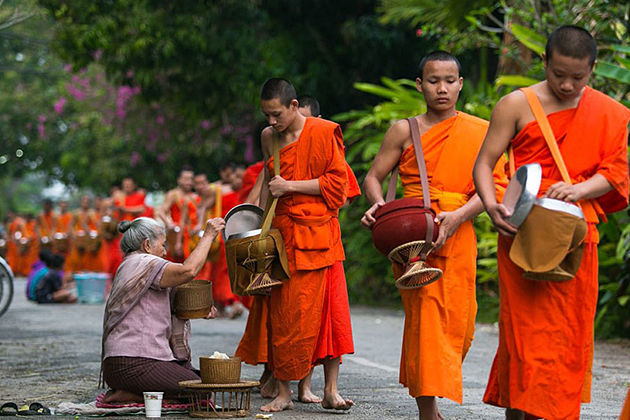 After breakfast, we begin the tour to go to the important Luang Prabang temples Wat Visoun and Wat Mai, which own the ancient beauty with the sculpture pictures. Continue to another temple in your trip, we stop at the most famous temple in Luang Prabang, Wat Xieng Thong, which epitomizes all the elegance and grace of the city's architecture. Moving on to the other destination in your Luang Prabang Tour, the traditional Arts and Ethnology Centre is the next destination, which is known as the first exhibition space and fair trade store dedicated to the collection, preservation and present the Laos traditional arts and lifestyles.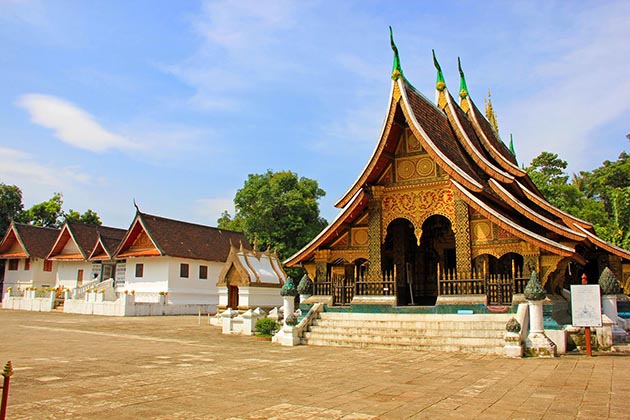 Travel in Luang Prabang, we can't miss the National Museum and the former Royal Palace, home to a collection of valuables including the famous Prabang Buddha statue as well as gifts received from foreign dignitaries. Before visiting Phousi Hill, we move to H'mong market and craft shop to buy some souvenirs made from the H'mong people.
Finally, we will visit Mount Phousi where you can see the whole of the ancient town, Luang Prabang.
End our service!
Note: To ensure you have the best trip in Luang Prabang, I suggest you should go by Tuk Tuk or minivans which is convenient to move in the city.