Duration: 6 days/5 nights
Date: Optional (available all time)
Start/End: Luang Prabang/Luang Prabang
Tour Routine: Luang Prabang – Ban Xeng Mean – Ban Chan Neua – Ban Khoksavang – Ban Na Kham – Ban Houay Tan – Ban Son – Ban Phu LuangTai – Ban Houay Pong – Ban Muang Kham – Luang Prabang
Tour Type: Adventure and Experience
Tour Customize: Absolutely! (tell us your requirement in the inquiry form)
Guide: Private English speaking guide (other languages upon your request)
Transportation: Bicycle, boat, and private minivan
Accommodation: Upon your request
Brief Itinerary
Day 1: Luang Prabang Arrival
Day 2: Luang Prabang – Ban Xeng Mean – Ban Chan Neua – Ban Khoksavang
Day 3: Ban Khoksavang – Luang Prabang
Day 4: Luang Prabang – Ban Na Kham – Ban Houay Tan – Ban Son – Ban Phu LuangTai
Day 5: Ban Phou Luang Tai – Ban Houay Pong – Ban Muang Kham – Luang Prabang
Day 6: Luang Prabang Departure
Day 1: Luang Prabang Arrival 
When you set your foot in Luang Prabang, the English speaking guide will welcome and transfer you to the hotel. Take a rest the day free for leisure or sightseeing near your hotel (upon your arrival time) in Luang Prabang and prepare your cycling trip.
Day 2: Luang Prabang – Ban Xeng Mean – Ban Chan Neua – Ban Khoksavang (L, D)
After departing at 8:30 am from your hotel, we will start the first point at the river bank and take a ferry to cross the Mekong River to Ban Xeng Mean.
We cycle off-road, exploring the area with several stops to take pictures before we continue on to a village where we can see villagers making local crafts such as pots, jars.
After that, we continue cycling and pass rice paddy, at noon, a picnic lunch will be served along the way. And the next destination, we move to Ban Khoksavang (Lao village) where the locals will be your host in a small party at night.
Day 3: Ban Khoksavang – Luang Prabang (B, L)
The second day of the tour, enjoy a local breakfast prepared by your host family before saying goodbye with them. The next point we cycle to the beautiful waterfall, Tad Hoy Koua ( Hundred families waterfall). Take a refreshing swim, immerse in cool water, we continue our cycling adventure on small trails that lead from village to other villages.
At a bamboo hut in the middle of picturesque green rice fields, a special lunch will be served. Remember don't miss to take tons of pictures here.
Next, we head towards the Mekong River where we take the ferry to return to Luang Prang in the late afternoon.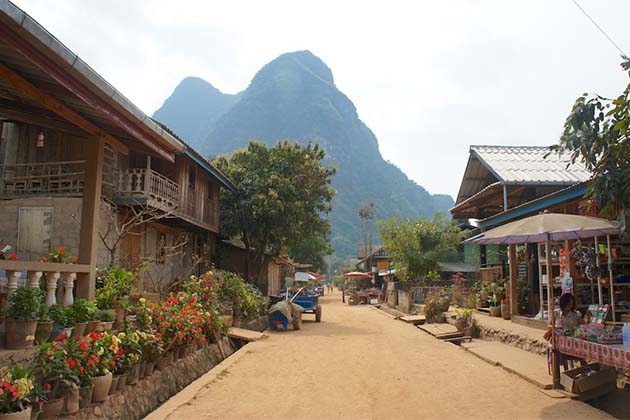 Day 4: Luang Prabang – Ban Na Kham – Ban Houay Tan – Ban Som – Ban Phu LuangTai (B, L)
As on day 2, we cycle downhill to the boat docking station to cross the Mekong River by boat to Ban Xieng Man. Cycle the village of Ban Na Kham. The village is well known with sugar cane and Kalam( sticky rice and beans in bamboo), which are tasty local treats.
Before cycling to Ban Houay Tan (Khmu village), take a short break to look around this village, then continue to cycle along the way to Ban Som where a local style lunch will be served in the village.
After lunch, we change from biking to trekking. We will pass some rice fields and then crossing a stream. Go trekking for about 2 hours will take uphill through the forest until arriving in Ban Phou Luang Tai ( Hmong village). Overnight in the village of eco-lodge.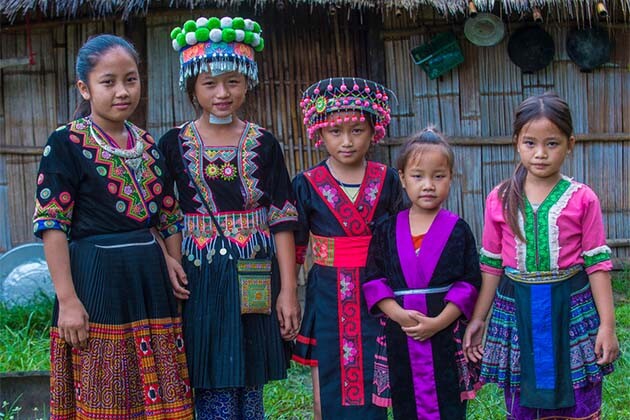 Day 5: Ban Phou Luang Tai – Ban Houay Pong – Ban Muang Kham – Luang Prabang (B, L, D)
Finish your breakfast prepared by the local host family, we start our last day trek that passes the forest to Ban Houay Pong (Khmu village) to relax and have lunch at the there. Continue your day tour, visit Muang Kham village that produces river weed (a Luang Prabang specialty; only in the dry season). From here, take a 20 minutes boat ride back to Luang Prabang.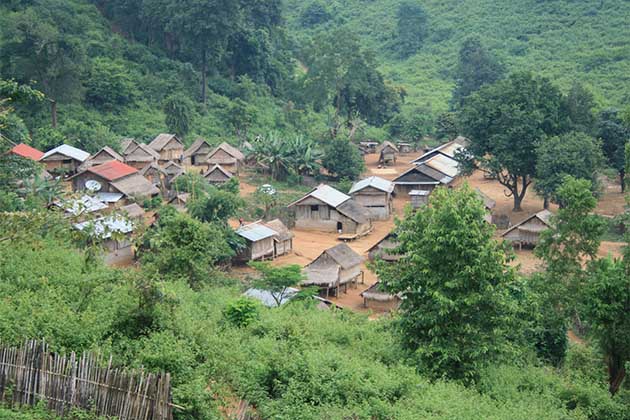 Day 6: Luang Prabang Departure (B)
This time is free to enjoy the beauty of the town. Drop in the shop in Luang Prabang to buy some souvenirs. Transfer to the airport or bus station to visit other places in your Laos Tours.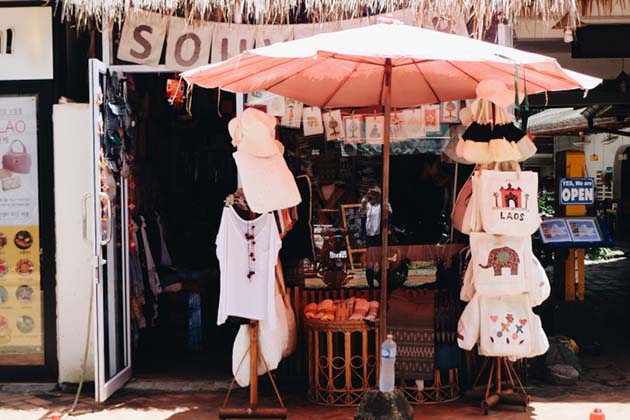 "Free inquiry if you interest this tour or create your own trip with our travel expert!"