Duration: Half-day
Date: Optional (Available all time)
Tour Type: Adventure & Experience
Tour Categories: Luang Prabang Tours
Tour Customize: Absolutely!
Guide: Local guide (English or another language upon your request)
Transportation: Tuk-tuk, bicycle and walk
Luang Prabang Local Market – Ban Vieng May
Gathering on the main street opposite the fountain to meet the guide who will walk with you to the nearby morning market where the local in Luang Prabang sells the goods. It can be said that here are the paradise of the cuisine, the guide will introduce all of the street food in the market as well as the different meats, fruits, vegetables, herbs, and spices. In fact, some of them are only in Laos, and your guide will explain how the locals use in the kitchen. You also can buy it to make the Lao traditional cuisines after this tour. After visiting the local market, move to the most famous Laos coffee shop where you can sit by the Mekong river and enjoy the coffee with some snacks.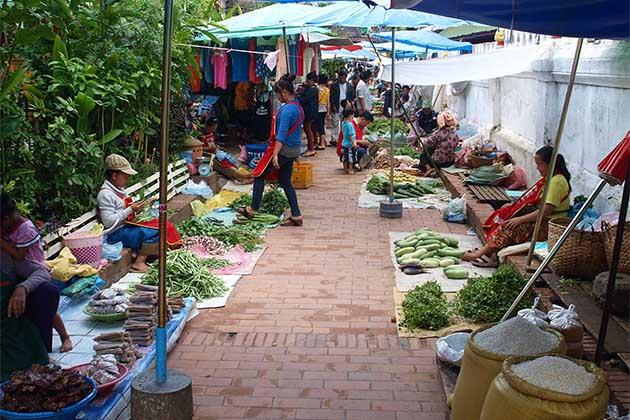 Along the Mekong river nearby, try Kai Paen, a kind of fried river weed and famous in Luang Prabang. Cycle a short way to Ban Vieng May village and try Jaew Bong, a sweet and spicy chili paste made with Laos chilies, galangal and other ingredients commonly found in Laos. Its distinguishing ingredient is water buffalo skin.
Ban Vieng Xay village – Ban Xieng Lek village – Ban Khuanamkhan
Continuing this tour, ride along to Ban Vieng Xay village, sit at a local street restaurant and try a variety of food including Neam Khao (a rice noodle crepe filled with minced meat and mushrooms and assorted herbs. It is cut in the little piece and comes with a dipping sauce containing minced nuts, lemon, chili, coriander and Khao Piak Khao (a local rice soup).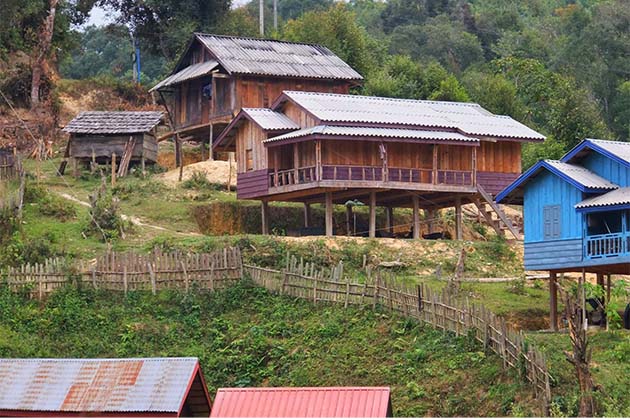 Next, cycle across the "old" bridge to the other side of the Nam Khan River and Ban Xieng Lek village and check out local weaving and paper handicrafts. After that, we via the "new" bridge to and stop in Ban Khuanamkhan and spend the time to play "Petanque". On the way to the city center, stop in a local "Kaw Chi" bakery which supplies many street stalls and restaurants in the town. The tour ends with you returning the bicycles to the gathering place.