Kuang Si Waterfall is one of the most picturesque and enchanting destinations of the Laos tours. Nestled in the heart of Laos, this stunning waterfall is located just a short distance from the city of Luang Prabang and is a must-visit spot for anyone traveling to Laos.  In this article, we'll explore everything you need to know about Kuang Si Waterfall, from its location and accessibility to the best things to do and see in the area.
Necessary information
  Address: Th Khem Khong Old Town, Laos
  Opening hours: Open from 8:00 am – 5:00 pm
Kuang Si Waterfall Overview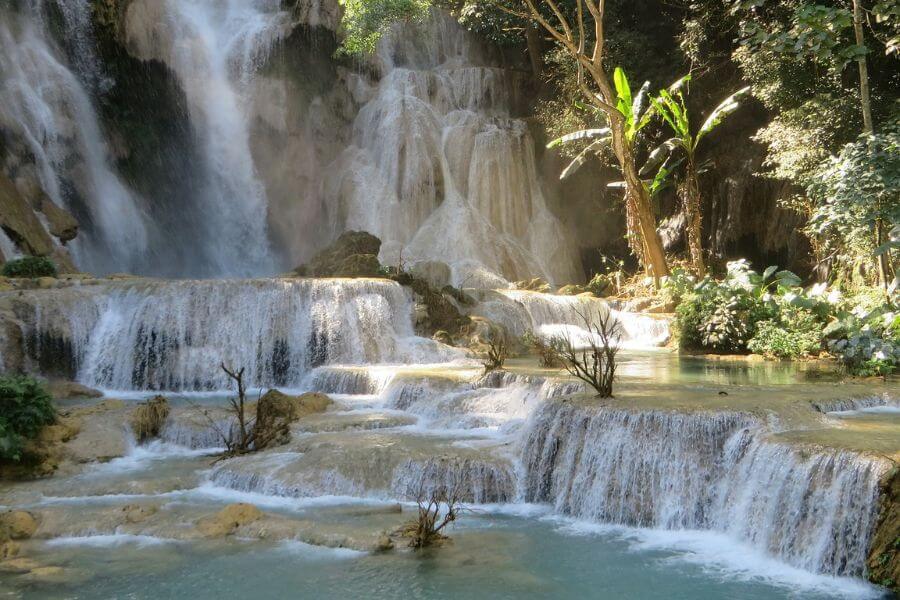 Kuang Si Waterfall is a three-tiered waterfall cascading over limestone rocks, creating pools of crystal-clear water perfect for swimming. The waterfall is approximately 60 meters high and 30 meters wide, making it one of the largest and most beautiful waterfalls in Laos.
How to get to the Kuang Si Waterfall?
Kuang Si Waterfall is located approximately 29 kilometers south of Luang Prabang, in Huay Pu Keng village. The easiest way to get to Kuang Si Waterfall is by hiring a tuk-tuk, taxi, or taking a minibus from Luang Prabang. The journey takes around 45 minutes, and there are plenty of scenic views along the way.
Swimming in the Kuang Si Waterfall
Swimming in the natural pools of Kuang Si Waterfall is an unmissable activity for anyone on a Laos vacation. The pools boast crystal-clear waters that are both refreshing and invigorating, offering a great way to cool off from the heat of the day. With multiple pools to choose from, visitors of all ages and swimming abilities can find a suitable spot, from shallow pools for kids to deeper ones for experienced swimmers.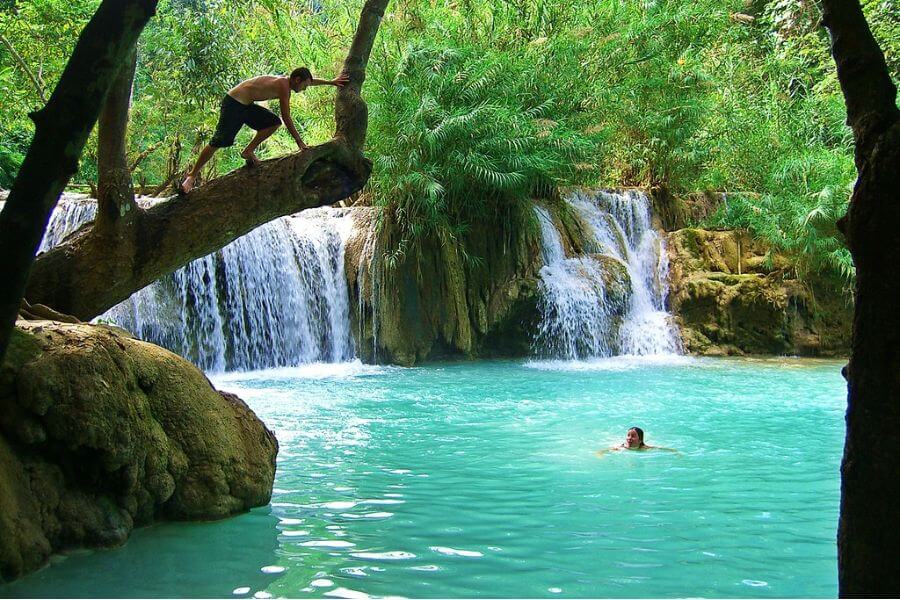 For the adventurous in Laos tour, some of the larger pools even offer opportunities to jump off rocks and dive into the refreshing water. However, it's important to note that swimming is only allowed in designated areas, and safety rules must be followed to prevent accidents.
When is the best time to visit the Kuang Si Waterfall?
The ideal time to visit Kuang Si Falls is typically between December and April or May, after the monsoon season has ended and the waterfall's flow has stabilized. For the best experience, you should be better visited on a weekday to avoid the crowds of peak season.
Hiking and Trekking in the Kuang Si, Luang Prabang
In addition to swimming, Kuang Si Waterfall also offers several hiking and trekking opportunities. The surrounding area is filled with hiking trails that lead to scenic viewpoints and photo opportunities. Visitors can choose from easy, medium, and difficult hikes, depending on their fitness level and experience. This is the most popular hiking trail in the area, taking visitors to the base of the waterfall. The hike is relatively easy, and it takes about 20-30 minutes to reach the waterfall from the entrance.

When hiking and trekking in Kuang Si, it is important to stay hydrated, wear comfortable and appropriate shoes, and be prepared for different weather conditions. It is also recommended to hire a local guide to ensure your safety and make the most of your experience.
Suggested Food and Accommodation in Kuang Si Waterfall – Luang Prabang
Kuang Si Waterfall has several restaurants and food stalls that serve delicious local cuisine. Visitors can sample traditional Laotian dishes such as laap, a spicy minced meat salad, and khao soi, a coconut curry noodle soup. There are also plenty of refreshing drinks available, including fresh coconut water and iced coffee.

While there are no accommodations directly at Kuang Si Waterfall, visitors can choose from several options in nearby Luang Prabang. There are plenty of hotels, hostels, and guesthouses available, ranging from budget-friendly to luxury accommodations. Many of these accommodations offer shuttle services to and from the waterfall.
Other Attractions Kuang Si – Luang Prabang
There are several other attractions and points of interest in the area surrounding Kuang Si Waterfall. Visitors can explore the nearby Kuang Si Butterfly Park, Pak Ou Caves, and Royal Palace Museum. Additionally, visitors can experience traditional Laotian culture by participating in activities such as cooking classes, weaving workshops, and alms-giving ceremonies.
Tat Kuang Si Bear Rescue Centre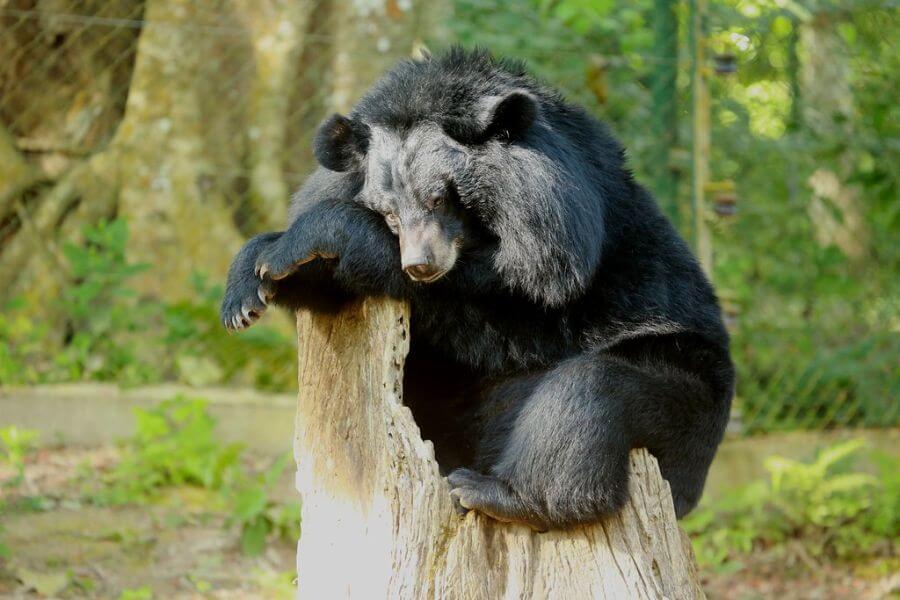 This is a great place to visit if you are interested in wildlife and conservation. The centre is home to rescued Asiatic Black Bears, and visitors can learn about their rehabilitation and observe them in their natural habitat.
Pha Chuk Cave Trek
This is a more challenging trek that takes you through the jungle to a cave with a Buddha statue inside. The trek takes about 1.5 to 2 hours and can be slippery in some areas, so proper hiking shoes are recommended.
Ban Thapene Village Trek
This is a cultural trek that takes you through the countryside to a traditional Lao village. Visitors can learn about the local way of life, visit a school, and even participate in a traditional Baci ceremony.
Kuang Si Butterfly Park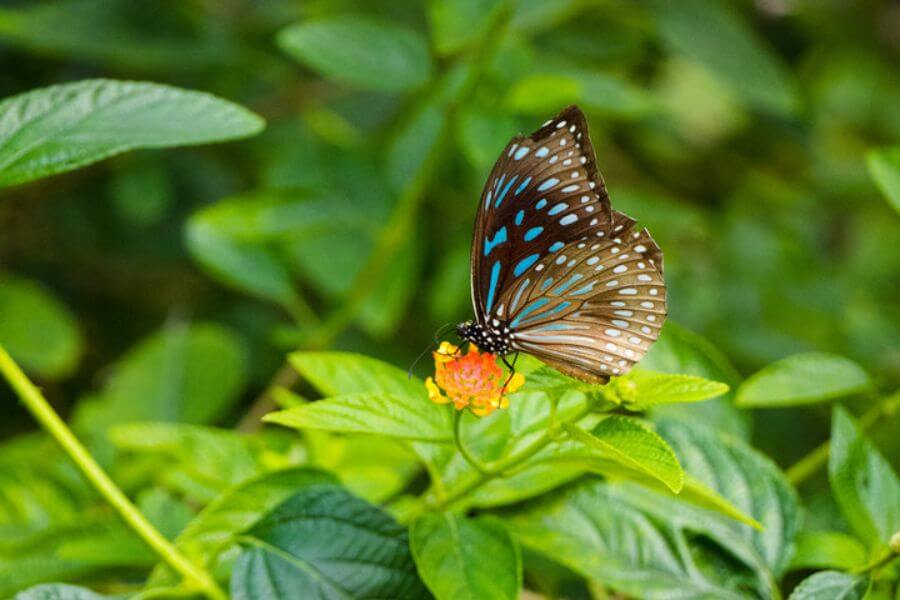 This park is located near the entrance to the waterfall and is home to a variety of butterfly species. Visitors can take a leisurely stroll through the park and learn about the life cycle and behavior of these beautiful insects. Kuang Si Waterfall is a natural wonder that truly deserves its place among the top attractions in Laos. With its stunning turquoise waters, lush greenery, and peaceful ambience, it's a must-see for anyone visiting the region. We encourage readers to see and experience the beauty of Kuang Si Waterfall themselves.