This efficient Lao Railway 'Lane Xang' Electric Multiple Unit (EMU) service makes it easy to travel between Luang Prabang and Vientiane during Laos tour packages. Luang Prabang, the former capital of Laos and a major Buddhist center, and Vientiane, a bustling economic hub, are two cities in Laos known for their significant cultural and contemporary influences. You may securely travel between the two cities with family, friends, or new acquaintances from around the globe by using a railway service.
About Lane Xang | Lao's New Railway
The high-speed railway Lane Xang EMU that runs between the capitals of Yunnan province (China) and Vientiane, Laos, formally opened for business on December 3, 2021. Future train stations in the cities of Luang Prabang, Vang Vieng, and Vientiane aim to boost tourism in Laos. Let's explore a new approach to travel around Laos.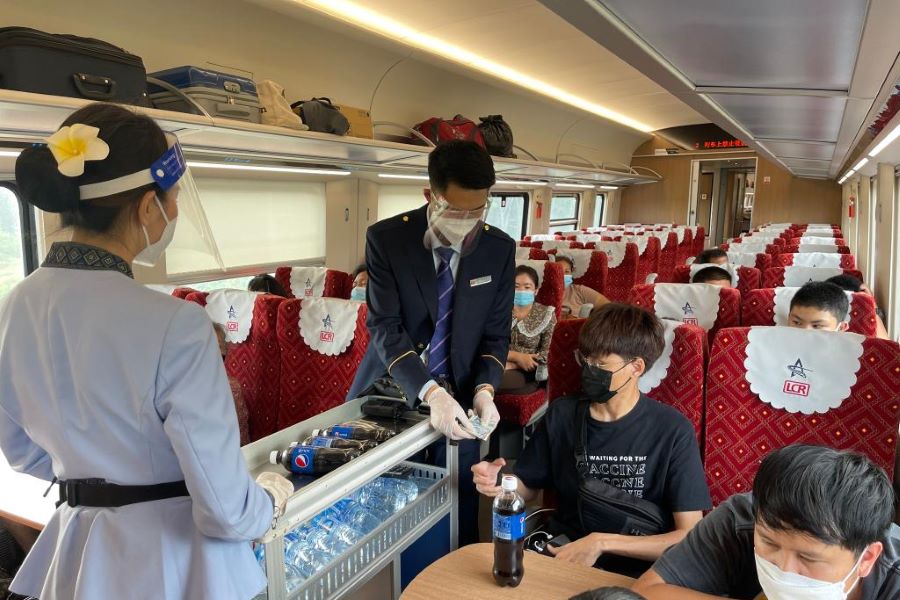 The red, blue, and white of the Lao flag are used to paint this high-speed train. At the same time, traditional Chinese and Laotian motifs are incorporated into the interior design, reflecting the Lao people's aspiration for a better living and their connection with the Chinese.
It will be more convenient to choose this option than taking a plane because of the spacious, spotless terminal, cutting-edge machinery, and affordable costs. The roomy, air-conditioned carriages have roomy, comfortable seats and are equipped with outlets that meet Chinese and Lao requirements. The catering cars are well-equipped to accommodate passengers' demands for eating and sleeping, and all displays, broadcasts, and service signs are in English, Chinese, and Lao. For the benefit of passengers with disabilities, the fourth carriage is fitted with modified seating, handrails, restrooms, SOS call buttons, and Braille signage.
The high-speed train has a top operational speed of 160 km/h and has nine rail vehicles, including a locomotive, main dining, first-class vehicle, and six second-class cars, totaling 720 seats.
Lao Railway's Lane Xang | Map & Stations
Finding Lane Xang
The 422.4 kilometer Lane Xang EMU railway line connects Vientiane with the Chinese border through Luang Prabang, Oudomxay, Luang Namtha, and 75 tunnels totaling 197.83 km in length. Vientiane, Phonhong, Vangvieng, Kasy, Luang Prabang, Nga, Xay, Namor, Nateuy, and Boten are among the other 11 passenger stations.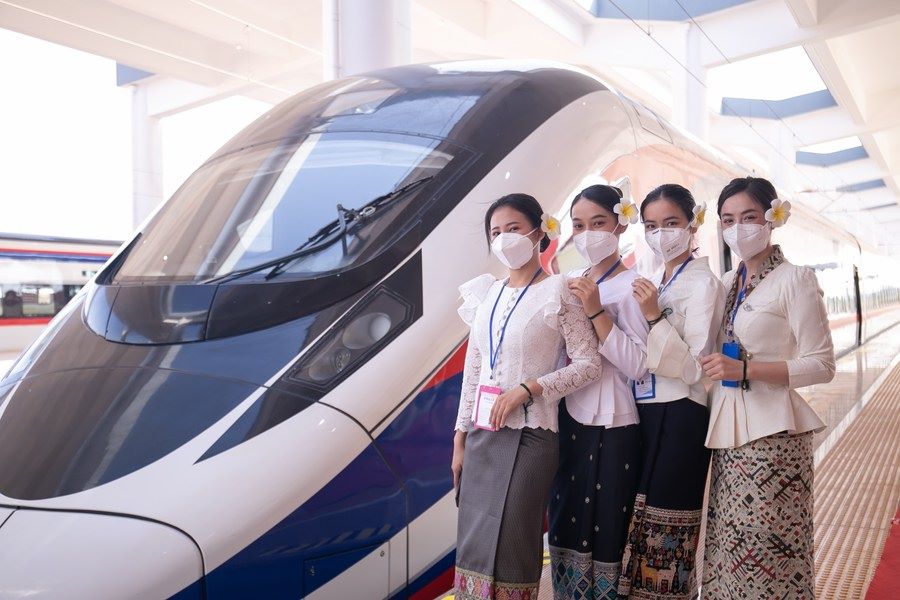 Lane Xang's Map
The railway has 33 stations, including 12 for people and 20 for cargo. Express services will use five of the key stations as stops. The railway travels via 62 kilometers of bridges and 198 kilometers of tunnels with a maximum operating speed of 160km/h.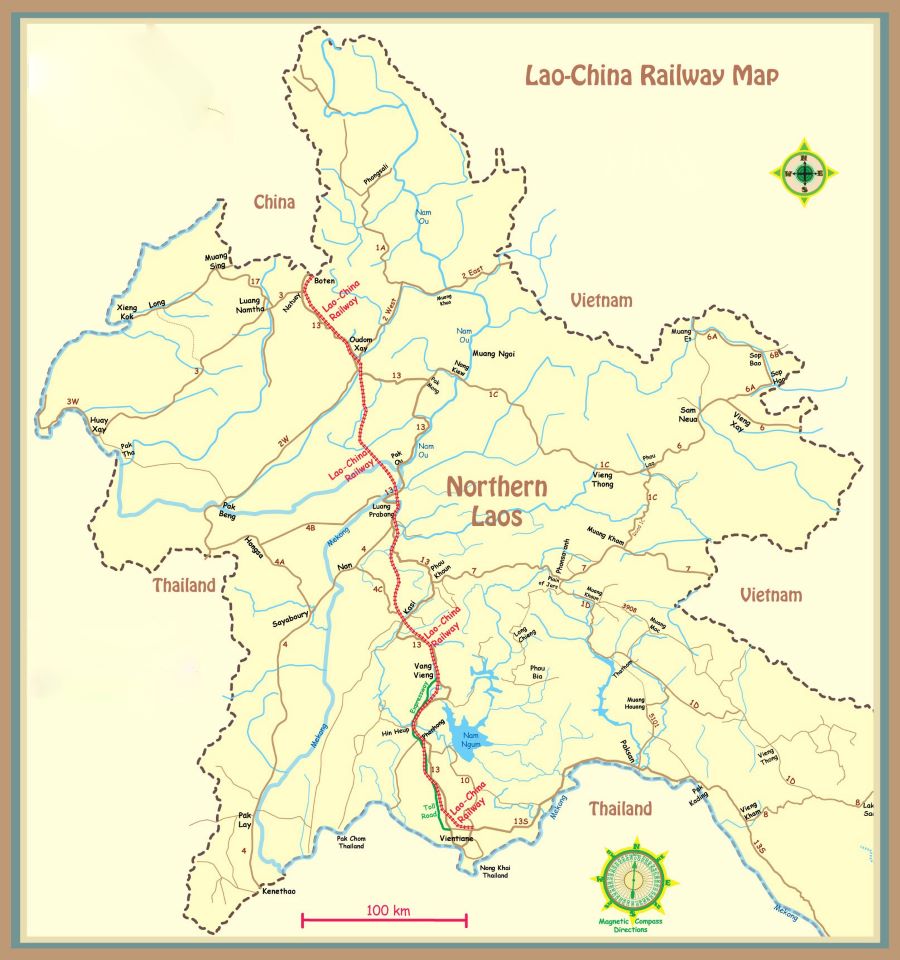 Lao Railway's Lane Xang | Ticket & Price
How Much is The Ticket
Depending on the distance and destination, prices range from 38,000 to 529,000 Kip. The ticket price for the board from Vientiane to Luang Prabang, where a first-class seat costs 313,000 Kip (around $21), a second-class seat costs 198,000 Kip ($13). The cost of the typical Lane Xang railway is around 140,000 Kip ($9).
Compare transportations from Vientiane to Luang Prabang:
| | | |
| --- | --- | --- |
| Transportation | Price | Hours |
| Cars | 22 – 32 USD | 10 – 13 hours |
| Plane | 70 – 400 USD | 2 hours |
| Railway | 9 – 13 – 21 USD | < 2 hours |
How To Buy Lao Railway Ticket
Time: Each day from 10:00 – 14:00 and then from 12:30 – 15:30, people can purchase up to two tickets at the ticket office.
Place: Initially, tickets for only three routes will be available for purchase at the office, namely Vientiane to Boten, Muang Xay, and Luang Prabang.
Vientiane Center shopping complex in Vientiane Capital.
Phothisalath Road in central Luang Prabang City
At the main stops at the stations
Payment:
The ticket office is not yet accepting cash payments. The office allows passengers to purchase tickets three days prior to departure. Buyers must provide a valid ID.
The price of tickets purchased in the office is 20,000 Kip ($1.32) more than online prices, and they may only be paid for using a UnionPay card or a QR code (OnePay, UnionPay, Alipay, or WeChat) at the POS machine at this time. Note, that the internet ticketing system is not yet working.
Luggage:
On K11/K12 slow trains, people will be permitted to bring additional luggage with them. Each person is limited to 20 kg on the fast train.
Lao Railways Timetable:
Take note of the Lao railway departure timings and purchase your tickets up to 3 days or two to three hours beforehand to avoid having to wait too long at the ticket booths.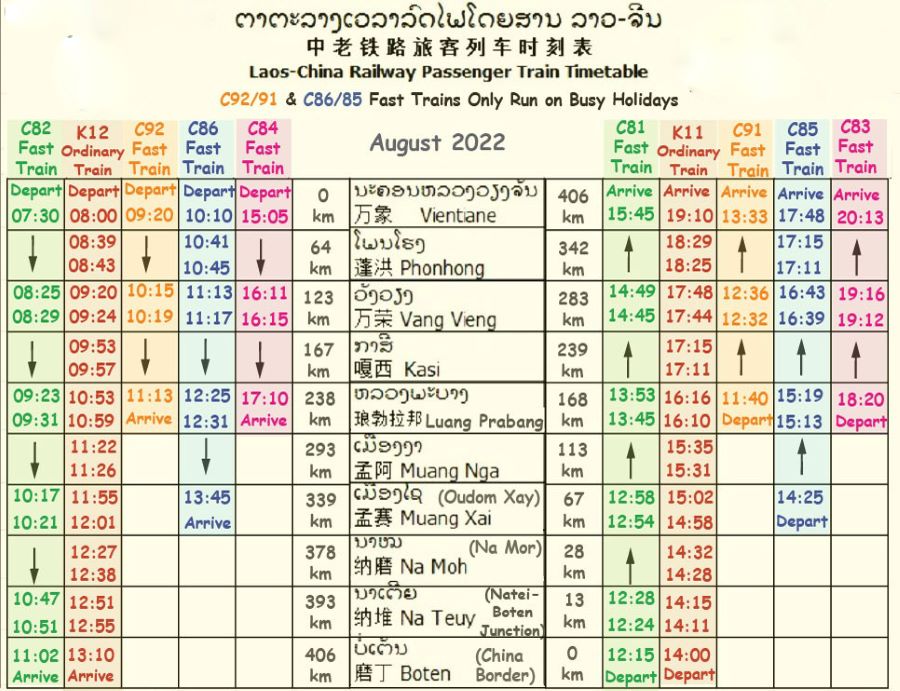 Lao Railway's Lane Xang | Additional News
​​The Lane Xang EMU only travels domestically because of the complicated circumstances surrounding the Covid-19 pandemic.
Passengers are required to provide their proof of citizenship as well as their vaccination certificate (full vaccinations against Covid-19). Before boarding, everyone will have their temperatures taken and checked.
Be aware that there is no English-language signage on the railways, and it is required that customers produce their tickets as they exit the station, failing which they risk being fined the maximum ticket amount or perhaps being charged with the crime.
There are no restrooms or other amenities outside of the main train stations, which are only open for a brief period before and after the regular train departure hours. With little shade, it's not a nice spot to wait for very long.
Both in the train cars and at the stops, there is no provision for food or drink. Food and beverages should be brought by the travelers.