Lao Dance is truly amazing with the mixture of Laotian, Thais, and other neighbors' cultures. Three main traditional dances in Laos are Lam Vong, Phra Lak Phra Ram, and Bamboo Dance. Each of them has interesting features and creates the uniqueness of Laotian dance together with Lao music. We often see Laotian people perform the dance in the festival or special ceremony, which reflects their special mark in everyday life. During your Laos Tour Vacations, if you fall in love with Laos Traditional Dances which combine with Laotian traditional music, I bet that it's too hard to back your home.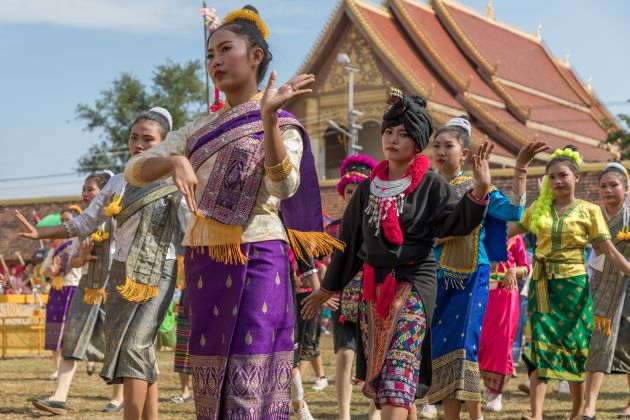 Lam Vong Dance – The Famous Lao Dance
The common folk dance sharing among Southeastern countries: Laos, Cambodia, Thailand is so popular for men and women. Its origin comes from the Khmer Empire many years ago. The basic idea is a slow dance around a circular. Each of them will pose a graceful hand gesture with simple footsteps in the Laos music rhythm. One notice is that you are not allowed to touch your partner while dancing. The men will create an inner circle while the women will create an outer circle when they are dancing around each other. The name Lam Vong literally means dancing in the circle or circle dance. Therefore, it is really simple and suitable for everyone.
Because of its popularity, Lam Vong is considered as Laos national dance. Everyone knows how to do Lam Vong dance whoever they are children, soldiers, farmers, etc. There are many variations of the dance in each religion, but the spirit remains the same. Lam Vong is carried out on special occasions such as guest welcoming, wedding by the groom and the bride, celebrating New Year, at parties, festivals, etc. At parties, people don't usually wear Laotian traditional costume, therefore, they can do the traditional dance without it. But when women take part in a formal event such as a wedding, they have to wear "sinh" as compulsory. In contraction, men don't have to wear Laotian traditional costume; the only moment when they wear it is at their wedding.
Phra Lak Phra Ram – Lao Dance of Buddhism
If Lam Vong is Laotian national dance, Phra Lak Phra Ram is a Laotian religious dance depicting an epic tale of Buddhism. Through dancing, we are told about the story of two brothers Phra Lak and Phra Ram (relating to Buddhism). Phra Lak Phra Ram is usually played in Royal Ballet Theater in Luang Prabang, where can be seen as the cradle of Buddhism in Laos.
In contrast to Lam Vong's costume which is the simple traditional costume, the male and female dancers in Phra Lak Phra Ram wear elaborate costumes and colorful masks. They are trying to demonstrate Buddhist tales and legends.
Bamboo Dance – Lao Dance of Mountainous Areas
Bamboo Dance is the most exciting dance in Laos' mountainous area. This kind of dancing requires your flexibility and skillful feet in each move. Your job is to listen to the music and try your best to move with the rhythm while two other persons tap and switch the bamboo poles on the ground and against each other. The pleasure and enjoyment of the dance are created in order to celebrate a special occasion or festival. This dance belongs to one of the most popular in Southeast Asia, you can also find a similar dance in Vietnam, the Philippines, etc.
So, if you want to Laos traditional dances and culture of Laos as a part of your highlights in Laos tour, free contact us to create your own trip with us.