For a very long time, some countries have very strong relations with the sport which is an integral part of the country's culture. But in Laos culture what is the most popular sport and traditional game? Strolling around from the North to South in Laos, Go Laos Tours will give you the secrets, let's explore with us!
Sepak Takraw (Kataw) – Laos National Sport
In Laos, the most popular sport is Sepak takraw also known as kataw. The principle is simple: you need a net, a rattan ball (or plastic), and two teams of three partners. Like volleyball, the principle is to do 3 passes maximum to your teammates or to yourself and to send the ball to the other side. If your opponents can not send it back or if it gets out of bounds, you score one point. To win the match you have to win 2 innings with 21 points each.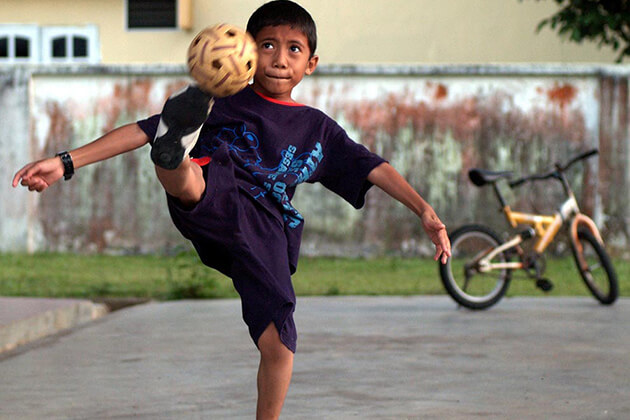 The kataw is practiced like football with all the surfaces of the body apart from hands and arms! As you understood, you will have to show flexibility, endurance, technique, and dexterity!
Petanque – Laos National Game
The petanque was first a French game in which players throw or roll a hollow metal ball as close as possible to a small wooden ball named jack (meaning "piglet"), the nearest pitch wins. Meanwhile, players must stay inside a circle with both feet standing on the ground. The name Pétanque comes from petanca in Occitan, derived from tancats pears means "planted feet".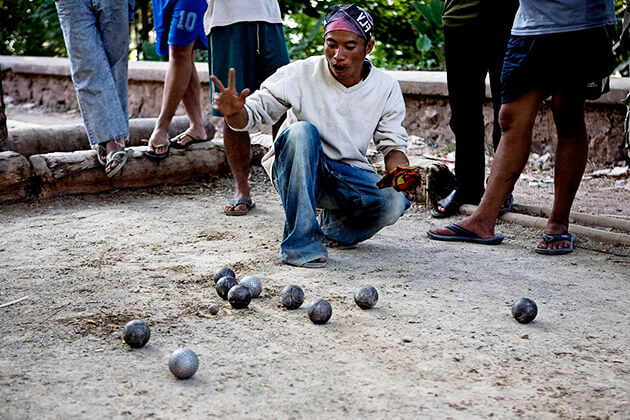 The game of petanque can be played almost everywhere, from hard ground to gravel, from the street to the parks. However, players must avoid concrete or asphalt otherwise the balls will break the surface. In fact, the Laotian plays petanque everywhere, and the game has become an indispensable tradition for locals. If you are visiting Laos, especially the rural area, you will find many local children or even adults playing petanque. Since this game requires no thinking and everything is a matter of skill, it makes people happy and relaxed after hours of hard work.
Muay Lao – Famous Laos Sport of Boxing
Muay Lao or traditional Lao boxing is an ancestral art that has the reputation of being one of the most violent fist-fist disciplines (French boxing, American boxing, English boxing, kickboxing). The fighting takes place according to a fascinating ritual. The boxers, before fighting, kneel to pay homage to their Master and pray. All the matches are played on a musical background played by a small group of traditional musicians.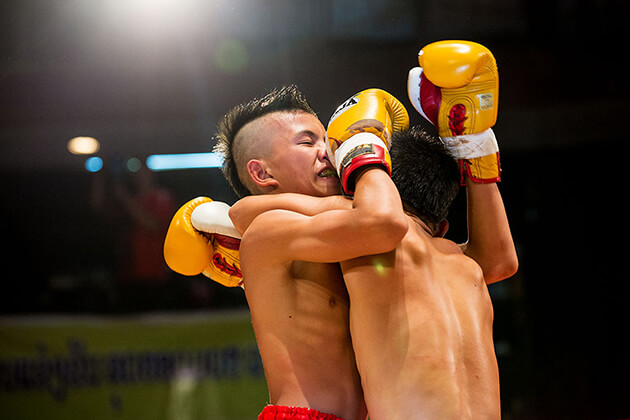 Cock Fighting in Laos – One of the Most Popular Laos Games
This activity is very popular, especially in the Luang Prabang area and further of the north, in Nong Khiaw. It has been officially banned since 1993, but the application of this law is quite symbolic. It usually takes place on weekends or on certain religious holidays. The bet is organized, even if officially, again, gambling is prohibited in Laos. This is a game of violence and cruelty. All traditions are not so good to keep.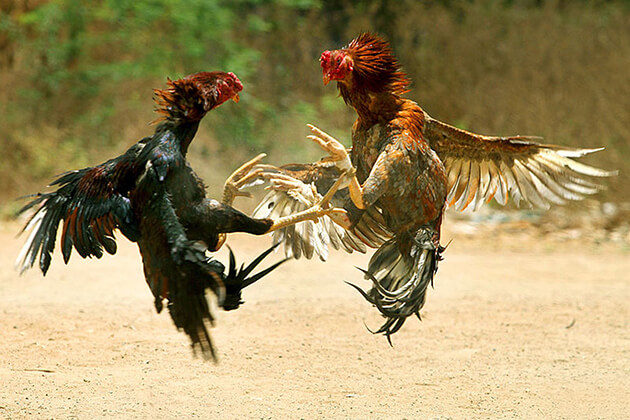 Southeast Asian Games in Laos
In addition to petanque, sepak takraw, and several other sports, billiards was also represented at the 25th edition of the Southeast Asian Games in December 2009 organized in Vientiane, the capital of Laos. Indeed, Laotians are passionate about this sport. That's why you will find in all the bars of Laos a pool table. Also, you can participate in a tournament that is always organized in a good mood but the desire to win is omnipresent.