The Laos traditional wedding ceremony has been around for generations and very important for younger generations to pass down. A Laos wedding ceremony, or suu khwan, is full of traditions involving the entire village or community. The marriage is taken seriously by Laotians and all parties involved, and it's considered as a lifelong commitment made by the couple. In the eyes of the Buddhist religion, the marriage is recognized and sacred, but the wedding ceremony need not be conducted in the presence of monks and is usually performed at the bride's home. Travel to Laos, if you luck, you will have the chance to attend a Lao wedding.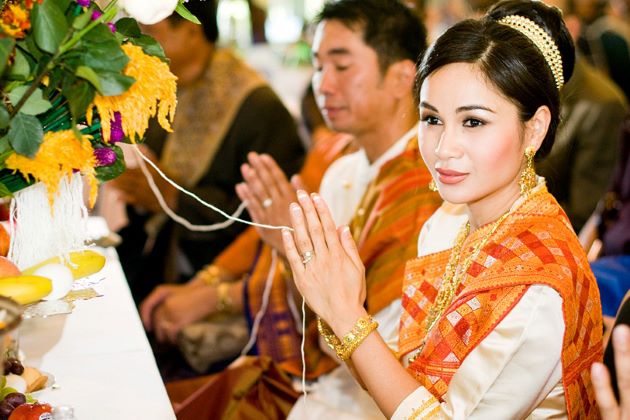 What Should be Prepared in Laos Wedding Ceremony?
Traditionally, The Lao held a wedding ceremony in the lunar calendar, so parents from either or both sides usually consult elders or senior ex-monks who understand the Laos tradition and culture, then they choose a good date to organize the wedding.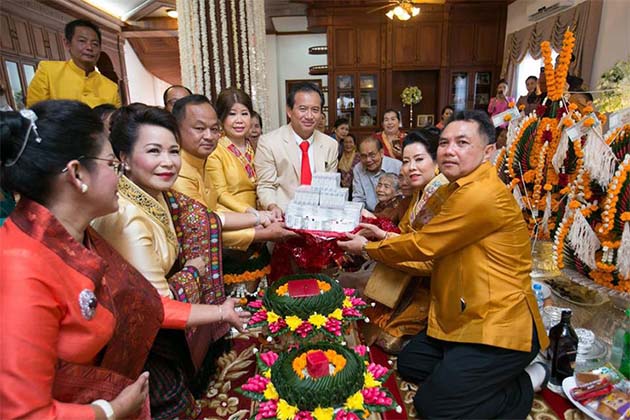 The wedding ceremony takes place can either be in the morning or afternoon. The family members take responsibility for preparing food for the luncheon reception. The bride begins her preparations earlier than the groom since her costume is much more intricate. She wears a traditional Laotian wedding outfit consisting of sinh, a Laotian silk shirt, and paa bien, a scarf, both made from raw silk, and decorates her hair in a traditional bun with ornate gold jewelry. The style of the wedding outfit and hair will vary depending on the family's wealth and the region of Laos they are from. The guests, mainly family and close friends, gather at the bride's family's home.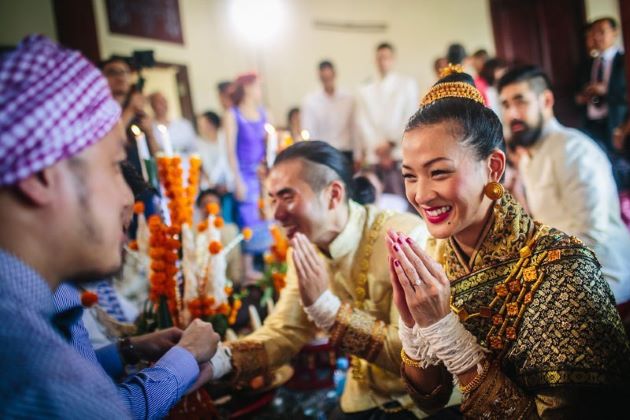 The Wedding Processions in Laos
The ceremony commences when the groom, along with his family and friends, leads a procession from his family's home through the village to the bride's home. Upon arrival, the groom's entourage must convince the bride's family of his worth before he can enter the house and wed his bride. The ceremony continues with more blessings for the bride and groom, as the guests tie the white strings to the bride's and groom's wrists. The string-tying provides an opportunity to share a personal message and blessing with the bride and groom. The ceremony is followed by the lunch reception. At the end of the wedding day, an evening reception, often held at a hall or hotel, features live traditional Laos music, dancing, speeches, and delicious Laos food.