Memories of time and history have created an impressive Putuxai in the heart of tourists and a victory monument in the center of Vientiane, Laos. And definitely, here is one of the most attractions you cannot miss during Vientiane tours as well as Laos Tours.
Patuxai Monument – Victory Arches of Laos
Patuxai is built in the center of Vientiane, Laos, at the end of Lan Xang Avenue on the Northeast. This is a famous architectural structure of art and sculpture, which is considered as the symbol of Vientiane capital. It is called Patuxai Arch or the Arc de Triomphe of Vientiane resembling the Arc de Triomphe in Paris but followed the Laotian design. Although it has not completed perfectly yet, Patuxai has attracted many Laotians, and tourists from all over the world come and admire.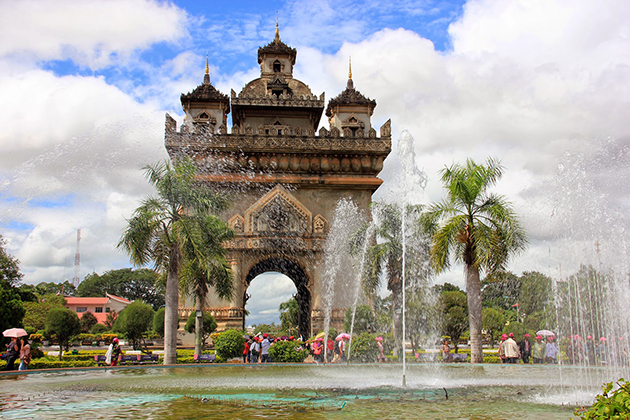 The Patuxai History
Patuxai, as well as Anosavari Monument, was built between 1957 and 1968 when Laos was a constitutional monarchy with the literally meaning Victory Gate or Gate of Triumph. It resembles the Arc de Triomphe in Paris but typically follows the Laotian design. The cost of Patuxai estimated about 63 million kips. It is built as a memorial to those soldiers who died during World War II and the independence war from France in 1949. Through many times unfinished because of lacking expense and other reasons, so far Patuxay has not completed perfectly but Laos people have continued the construction as it shows a part of a hard time during Laotian history. This architectural work is considered as a message for future generations to know about the resilient past of the old generation when they devoted themselves to the country.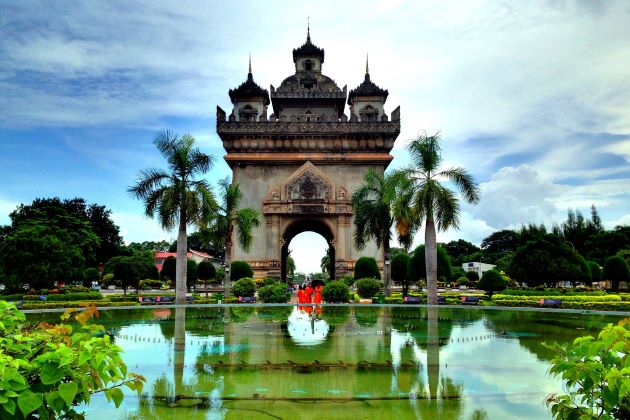 The Architecture of Patuxai 
Monument
The monument was designed by a Laotian architect with five towers representing the five principles of peaceful coexistence as well as the five Buddhist principles "thoughtful amiability, flexibility, honesty, honor, and prosperity". It has gateways on four sides oriented towards four main directions with a pond in front of each gate meaning the reverence of Laotians to the brave warriors. Patuxai has seven main floors and two extras with 55 meters high and climbs up there by a spiral staircase. Standing on to the seventh floor, you can have a fantastic view of the whole Vientiane city and other architectural works around. With the ponds and park around the area, Patuxay is laid on a spacious and airy space nearby the headquarters of many important office buildings of Laos.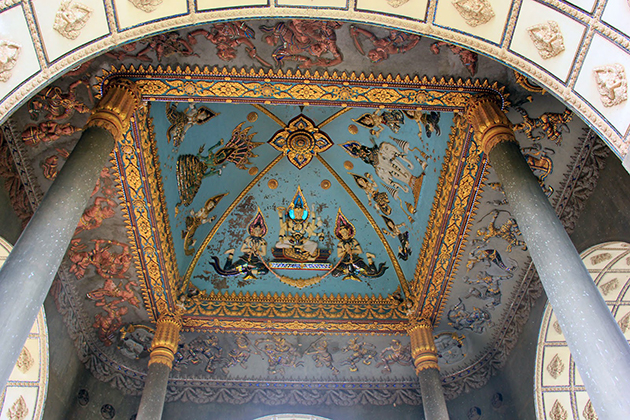 Patuxai Victory Monument is typically decorated with mythological creatures such as the kinnari – half female, half-bird, the statues of Naga King – the mythical symbol of Laos. Come inside, you can easily see the interior decoration with depictions of the gods Vishnu, Brahma, and Indra from left to right or frescoes of foliage or cultural stories.
In spite of bearing a rigid appearance of cement covering outside, Patuxai is harmoniously combined with the large and beautiful square, which creates a wonderful site for Laotians as well as tourists coming here. When the sunshine fades away gradually, people of Vientiane gather in the space of Patuxai where families walk around slowly, children play together, elders do healthy exercises and some couple lovers together sit around the fountains. All these simple images have made Patuxai Victory Monument become more impressive, spectacular, and intriguing.
Patuxai Monument Entrance Fee & Opening Hours
Patuxai Victory Monument is opened from 8 a.m to 16h30 p.m on Mondays to Fridays, and 8 a.m to 17 p.m on Saturdays and Sundays with an entrance ticket about 3.000 kips then you have to take the stairs to climb up on the Patuxai Tower. There are gift shops, museums, and galleries inside Patuxai where tourists can pay money by Kips, Bath, or USD.