Tad Sae waterfall, a spectacular spot that you shouldn't miss during your Laos vacation. Even though it's not as famous as Kuang Si waterfall, it's still a worth-visit place for tourists to experience.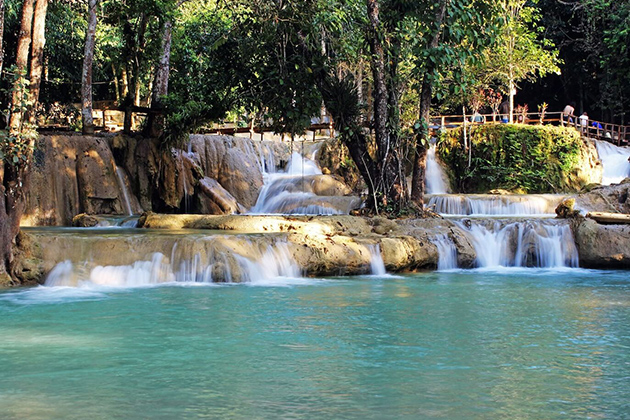 The Turquoise 
Tad Sae 
Waterfalls
About 12 miles from Luang Prabang, going south to Vientiane, Tad Sae waterfall appears and attracts people by its picturesque beauty. This place prefers those who choose tranquility and who love Laotian and want to socialize and exchange language as well as culture. For recent years, Tad Sae has become an elephant center where tourists can meet and experience riding the elephant
Tad Sae waterfall is not as large as Kuang Si water, but it is worth-visit with lovely falls, refreshing water, tranquil space as many local people come here than tourists; Besides, this beautiful site is suitable for many outdoor activities such as swimming, diving, sunbathing on wooden chairs and especially elephant riding – a really cool experience. Tad Sae waterfall is more popular among Laos families and Laos youngsters than foreign tourists. They come to the waterfall for a picnic and enjoy bathing with modest clothes so it's better not to show off too much. If you are in Luang Prabang, don't hesitate to visit here, enjoy the fresh air, and cool down your body by soaking in the blue water.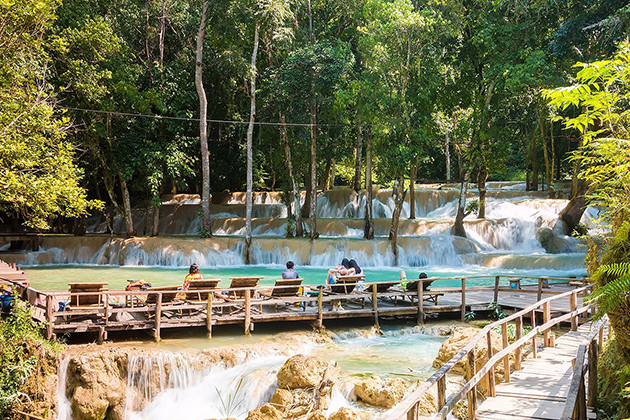 There are also full of amenities with small restaurants serving Laotian dishes and snacks, coffee shops, guest houses, and souvenir shops. You can also book a bamboo table right placed in the pools of water to chill in your own ways. High recommended bringing your own food like a picnic as it is cheaper and you will have more fun.
Best Time to Visit Tad Sae Waterfalls
The best time to visit Tad Sae waterfall is in the wet season, the falls pour over the limestone formations through some levels into the larger pool below, which cascade and make a thunderous sound. The crystal clear water, the green trees, the yellow-brown limestones, and numerous pools in "stairs", all of them blend with each other making a fantastic and glorious place. In the dry season, Tad Sae has little or even no water flowing through these dull yellowish limestones.
How to Get to Tad Sae Waterfalls
Tad Sae waterfall is open from 8 a.m to 5.30 p.m. From Luang Prabang, you can take a tuk-tuk to pass the Nam Khan river then come here. The price is flexible so it's better to check before leaving. During the wet season, hiding a tuk-tuk is around 50,000 kips one way and 150.000 kips for the return trip.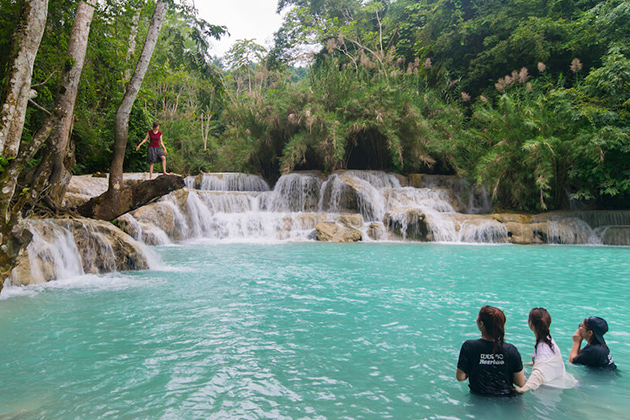 Tad Sae Waterfall or Kuang Si Waterfall?
Kuang Si waterfall, the biggest water in Luang Prabang area with three tiers leading to a 50 meter and many smaller cascades of up to 5 meters high drop into the pools before flowing to the mainstream. It is surrounded by lush tropical forest, you can climb up to the top but be careful with the slippery path. Kuang Si waterfall will energize anyone who loves adventures and exploration by its majestic scenery. This place is famous for most visitors so that it is always bustling and sometimes noisy with the thunderous sound and chatters of people around.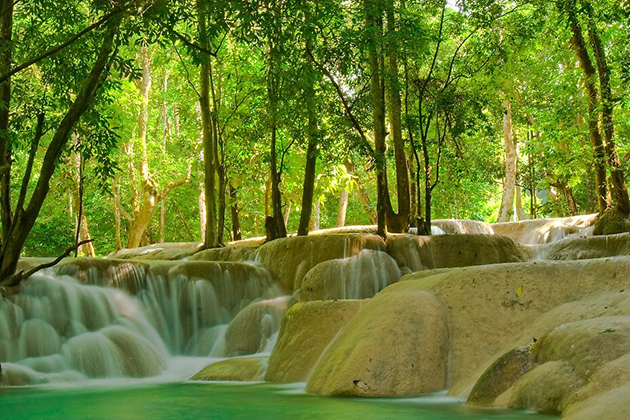 In contrast, the Tad Sae waterfall is a perfect destination for people who love quietness as it is less known by foreign tourists. Tad Sae is exactly the definition of chilling and tranquility. You can even come here alone and enjoy a good time in your way. Imagine that you are in a peaceful place with turquoise falls, green trees, and fresh air around you, booking a bamboo chair in front of the natural pools, you can have a sunbath, read a book, eat your snack and even take a nap. You are chilling and harmonizing with the beautiful nature, a little noisy of the thunder-sound from the waterfall, a little quietness of the forest, fewer activities of other people. All that things create a wonderful Tad Sae waterfall, not famous but worth to come.