Throughout your Laos tours, if you are an adventurer, try to experience the feeling of floating on a wooden boat, passing through the limestone corners or standing in front of the gates, try to feel swallowed once. Let's go to Tham Kong Lo (Kong Lor Cave)where you will enjoy the full adventure of mystery.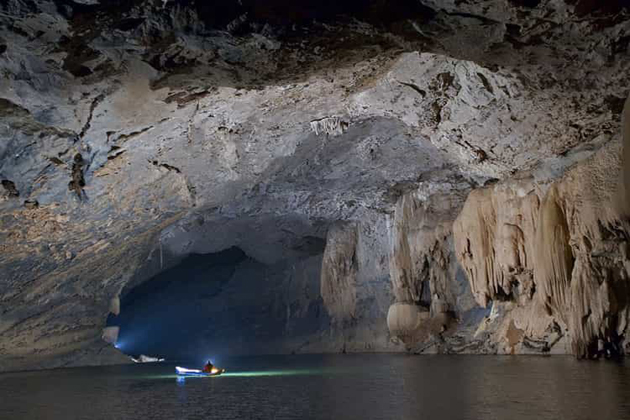 Tham Kong Lo Cave Attractions
Known as the Konglor cave, hidden in the wilderness of central Laos, is one of the famous geological wonders of Southeast Asia. Tham Kong Lo is more distinctive than the other caves because of Nam Hin Bun River flowing inside the cave, its various stalactites, bizarre limestone karsts and 300-foot-high ceilings that make this cave more and more highlight and attract many visitors go to Laos.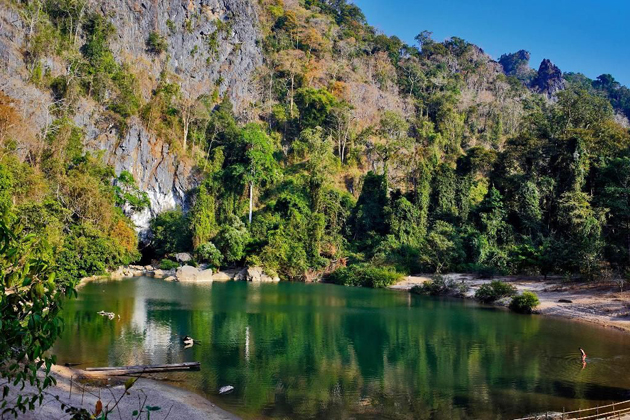 To explore the cave, you need to rent a motorboat from the Kong Lor Cave, cost per person about $6. It is noted that long and narrowboats are difficult to balance and that just suitable for experienced boatmen. Usually, a boat can carry 5 passengers and 2 crew members.
Taking 5 minutes, the boat will stop ashore in the cave, you can now ashore and walk to explore. In the cave there are colorful lights and a few more dramas for you to experience in the dark, remember that you should go to the paving stones to avoid slipping or falling on the wet limestone.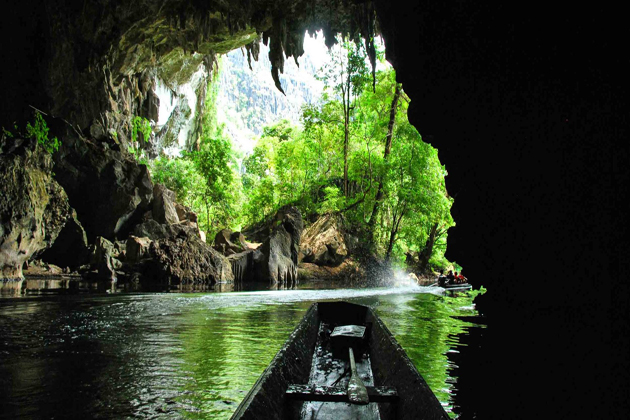 At the widest of Tham Kong Lo, the cave chamber rises at a height of 100 meters compared to the water and nearly 90m compared to the wall. The boat will take you to a hidden valley where you can have a short break and buy some snacks from friendly local vendors. Then come back to the way you get in.
How to Get to 
Tham Kong Lo
Tham Kong Lo has located 1 km from Kong Lor Village at Phu Hin Bun National Park, in Khammouane Province. It's about 315km or 6 to 7 hours from the starting point in Vientiane, and about 300km from Savannakhet, 515 km from Pakse, and around 320km from Thakhek. The area is quite remote. Only one bus from Vientiane and this bus will return to Vientiane the next day. If you want to go to other places, you have to take that bus to the main road (N13) and then take another bus. But do not let this stop you from going there. Because, in Laos, the journey is always an interesting one.
Ban Khoun Kham and Ban Kong Lo are two arrivals for visitors that are quite close to Tham Kong Lo. Various types of vehicles are available for tourists at reasonable prices.
Best Time to Visit 
Tham Kong Lo
From November to April is the best time to visit Tham Kong Lo is during the dry season in Laos. More carefully, do not come in the dry season especially since the boat can hit bottom if the water level is low.
Tham Kong Lo
Accommodations
Homestays can be found in Ban Kong Lo Village with a price ranging from about $5 – $10. They have basic services but the hosts do not speak English. However, in Ban Khoun Khan, Inthapanya Guesthouse will offer you an English-speaking staff. It is a wonderful choice if you want to visit Kong Lor Cave by a long day exploring.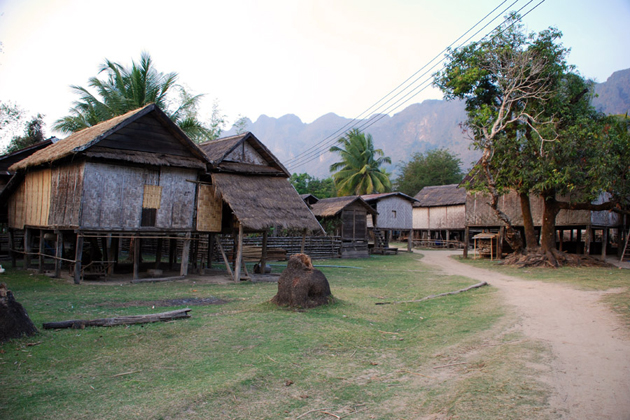 Some Tips to Travel in Tham Kong Lo Cave
Remember to wear shoes that can go on wet stones and can wade in the water
Confirm your boat price includes entrance fee (less than 1 USD)
The scenery around the village and the caves are extremely beautiful, but still lurking behind the bomb squares some of the areas have been noted, you should avoid these areas.
In the area around the river, there are really a lot of mosquitoes that you need to protect carefully for your health.
Although boaters are experienced professionals, you should remember that avoid bothering and moving around to be safe.