Known as Laos' National Treasure, the 400 years old, That Ing Hang Stupa is one of the most notable attractions in the province of Savannakhet. Come to Laos tours and drop in Savannakhet, don't miss That Ing Hang, the stupa will help you find more information about Buddhism as well as Savannakhet province. Now, don't be hesitant, let's find the miracle at That Ing Hang!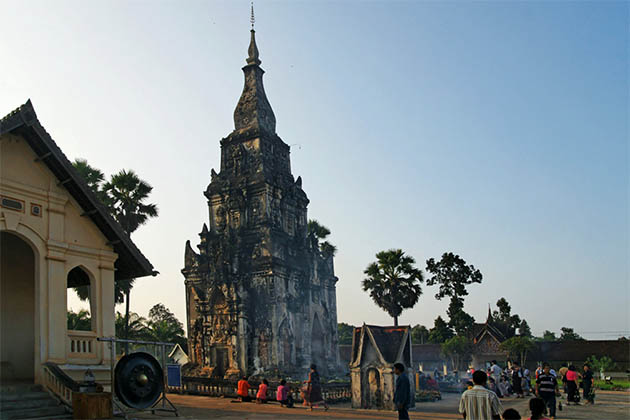 That Ing Hang Stupa – A Bright Spot in Savannakhet Tourism
With nine meters high with beautiful carving and decoration, That Ing Hang appears as the picturesque of Savannakhet. Built from the 16th century, That Ing Hang is located at the center of Laos, Savannakhet. In fact, the place where is the birthplace of Laos' popular former leader, Kaysone Phomvihane.
A sacred stupa is an important place of worship not only for Laotian Buddhist but also for Thai Buddhists who live in northern Thailand. Visit any stupa or temple in Laos, remember "dress with respect" is a must. Especially, women may be required to wear traditional pahsin ( a kind of Lao style – sarong) before entering the grounds of the temple. On the full moon of the first lunar month, the That Ing Hang Festival is held every year and attracted a lot of visitors.
What is "That Ing Hang"?
A long time ago, the Lao believe that the Buddha has stopped here when he was sick during his wanderings backs in ancient times. At that time, he rested by leaning (ing) on a hanging tree ( thus Ing Hang). Based on the Lao's history, a relic of the Buddha's back spine is reputed to be kept inside the thâat.
The Special Architect of That Ing Hang
Not including the Mon – inspired the cubical base, That Ing Hang was substantially rebuilt during the reign of King Setthathirat (1548 – 71), therefore, That Ing Hang brings the highlight architect from that time. Now features three terraced based topped by a traditional Lao stupa and a gold umbrella weighing 40 baht (450g). There is a hollow chamber in the lower section contains a fairly undistinguished collection of Buddha images. By Laos' religious custom, women are not permitted to enter the chamber. In 1930, the That Ing Hang was restored by the French.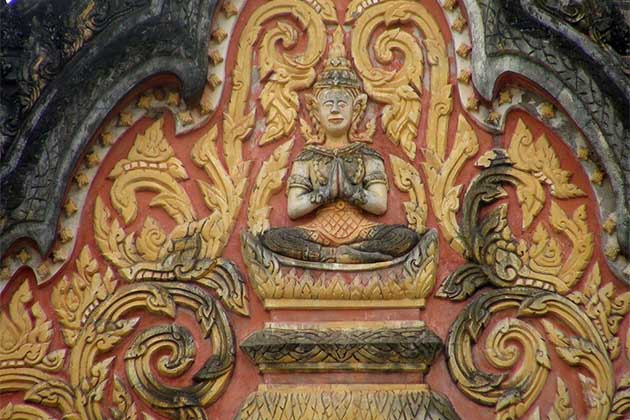 How to Get That Ing Hang?
Lied in Ban That Village about 15k north of Kaysone Phomvihane District, Savannakhet, you can take a tuk-tuk for the round trip or rent a motorbike. However, if you from Thailand, you can cross easily the 1.6 km long Friendship Bridge from Mukdahan Province to Laos' Savannakhet. The time opening is daily from 8:00 to 18:00.