Traveling is not a story about how many sites have you visited, but rather a story of what you have learned from the trip. The market can be considered as a shopping place, more than that it is a chance for you to observe the daily of locals. The 3 markets in Laos mentioned below are distinctive and have their own unique characteristics. They might not an ideal destination for you to do shopping, but will be an ideal place for gaining insight into Laotian Life. Here are the top 3 best vibrant Laos markets which many tourists choose during Laos local tours.
Morning Market in Luang Prabang For a Culinary Adventure
Morning Market is an essential part of every Laotian life or every Asian Life in general. Unlike Western countries or developed countries where they will head to the supermarket and get all the food for the whole week, Laotian goes shopping every day in order to get the freshest food for the whole family. That's why fresh markets exist in every corner in Laos ranging from the big one to even a very small one.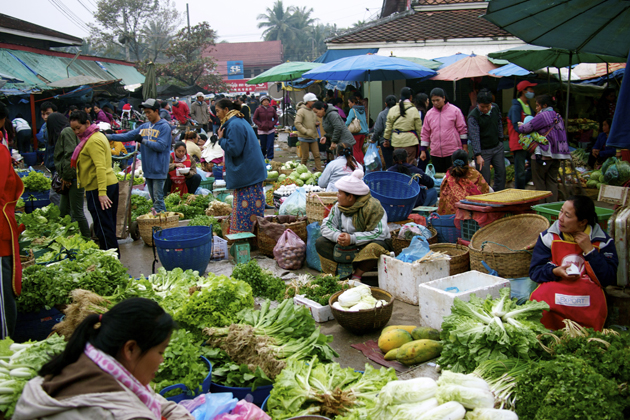 After taking part in Alms Giving Ceremony in the early morning, just take your time and walk to the area near the Royal Palace, you will definitely notice it right away with many locals passing by and bargaining. This market is opened with the main purpose to serve locals; therefore, it is not a shopping destination for tourists but a great place to witness the daily life and see what Laotian do regularly or what they eat normally.
There are a lot of spectacular ingredients that you might not have a chance to encounter before such as worms, grasshoppers, bee's larvae, crickets, butterfly chrysalis. Besides that, many kinds of local seasonings, herbs, rice, freshly caught fishes, poultries, tropical fruits, etc are sold, which creates a very special atmosphere here.
Opening hours: 6 AM – 10 AM, the most crowded time is 8 AM
Luang Prabang Night Market – The Paradise of Shopping in Laos
Life in Luang Prabang is always busy with so many things to do. If in the morning, you have visited Luang Prabang Morning Market which is a market for locals, and then in the evening, Luang Prabang Night Market is opened for you.
Be honesty, the market is a little bit touristy, but a good thing is that they offer a variety of things to choose from. You can easily find a small food stall to fulfill your stomach (they even have a buffet at a good price) or a fabric store with many tribe patterns or traditional decoration (bed covers, fabric bags, etc.) This the best spot for a souvenir-holic, they even sell clothes in a very big size which is fit with Western Size, hand-made bags, handicrafts, sliver bracelets, sliver bowls, etc. Many of them are good choices as decoration for your house which will remind you of this memorable local-experience journey.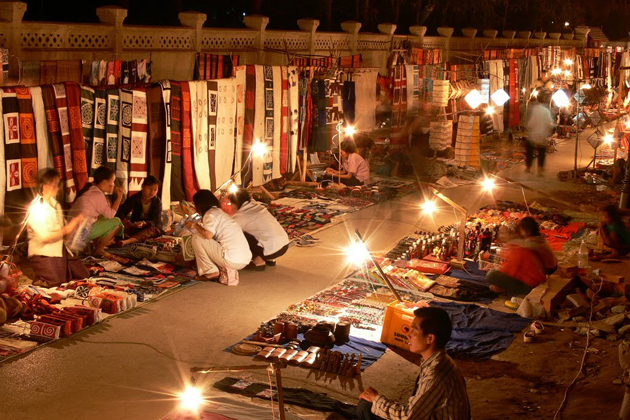 One more special thing is that you might be able to have a chance to encounter many hills tribal Laotian selling their textiles with ethnic decoration at a cheap price. Unlike in other countries, you definitely have to bargain a lot, pricing is not a big problem in Luang Prabang Night Market, everything is cheap already. To make sure you get the right deal, you can bargain, but not too much.
Opening hours: From 6 PM – 11 PM
Vangthong Evening Food Market – Vientiane Night Food Market
First, don't mistake Vientiane Night Food Market with Vientiane Night Market, they are totally two different markets. Please make sure you know this thing clearly. This is a food market with the original name Vangthong Evening Food Market. Another feature is that it is near the Laos National Stadium.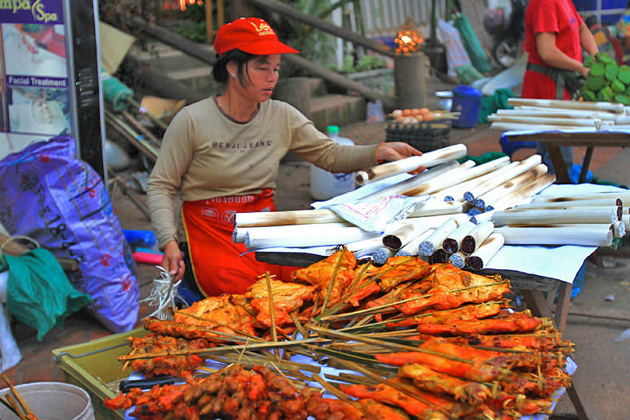 Secondly, the name of the market has already made you excited since nothing is better than a food market, a paradise for the food-addicted. The Morning Market in Luang Prabang shows you the ingredient which is needed to make the dish with all the fresh, raw components, and Vang thong Evening Food Market will finish the culinary adventure by showing all local cooked dishes. A tip for you is that just try a small piece of each dish then you can become an expert in Laotian Cusine, otherwise your stomach will become bigger and bigger. The five most common foods to try are Bla Kan Sung – Grilled fish, Gayoor Toort – Deep-fried spring rolls, Bet Yang – Roasted duck, Sai Oua – Laotian sausage, Khao Lam – Pounded sticky rice with coconut cream grilled inside bamboo. These are also the best recommendation for you to try first.
Despite the fact that Laotian often visits this market for late dinner on their way home, foreigners are also welcomed as locals. It is a perfect spot for the backpacker to be in the midst of locals and enjoy local food. One more notice for you is that food in this market is a little bit pricy compared to others but only try some of them is not a big problem for your budget. Moreover, the experiences are not only about the food but also about the atmosphere, the feeling that you won't get anywhere else.
Opening Hours: 5 PM – 10 PM