Duration: 14 Days/13 Nights
Date: Optional (Available all time)
Start/End: Luang Prabang/Cambodia Border
Tour Routine: Luang Prabang –  Xiengkhuang – Vang Vieng – Vientiane – Ban Na Hin – Pakse – Khong Islands – Cambodia Border
Tour Type: Natural and Landscapes, History and Culture
Tour Customize: Absolutely (Feel free to tell us your requirement in the inquiry form)
Guides: Local Guide (Available in English and also other languages if requested)
Transportation: Private first-class air-conditioned motor coach
Accommodation: Listed below or equivalent. Rooms with private bath or shower, hotel taxes, porterage, tips, and service charges
Brief Itinerary
Day 1: Arrival – Luang Prabang
Day 2: Luang Prabang – Pak Ou – Luang Prabang
Day 3: Luang Prabang – Khouangsi Waterfall
Day 4: Luang Prabang – fly to Xieng Khouang
Day 5: Xieng Khouang – Vang Vieng (Road)
Day 6: Vang Vieng – Vientiane (Road)
Day 7: Vientiane City Tour
Day 8: Vientiane – Ban Na Hin (Road)
Day 9: Ban Na Hin – Khong Lor – Ban Na Hin
Day 10: Ban Na Hin – Savanakhet – Pakse (Road)
Day 11: Pakse –Tad Lo (Road)
Day 12: Tad Lo – Champasak – Khong Islands
Day 13: Khong Islands – Done Det – Done Khone – Khong Islands (River+Road)
Day 14:  Khong Islands – Cambodia Border
Day 1: Arrival – Luang Prabang (D)
On arrival at Luang Prabang International Airport, you will meet your local guide and transferred to your hotel.
Finishing up thing at the hotel, we will go out to visit the most ancient temples, the outstanding Wat Xiengthong with the long roof structure sweeping low to the ground, which is the typical architecture in Laos' temple in the past, the outstanding stupa of Wat Visoun and the shrine of Wat Aham. Up to the top of Mount Phousi, we will have a chance to discover the sacred gilded stupa and see the city from scenic view and the last glow of the sunset on the Mekong River.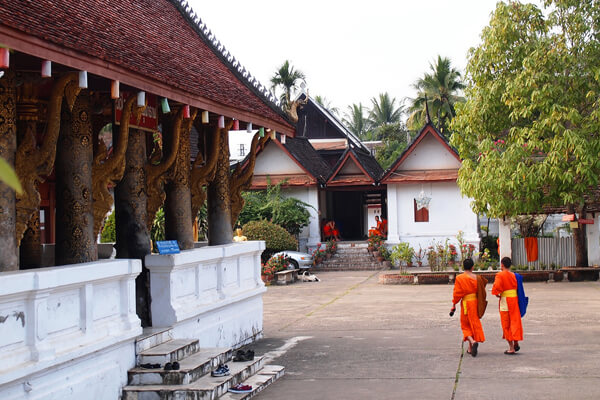 Coming back from the mountain, the famous Luang Prabang Night Market will be the last destination of the day. You can see many shops with local sellers or watch local children help their parents do their business. In this night market, you can find a lot of handmade products or textiles made by ethnic group and tribes around Luang Prabang. Feel free to explore the market and sample some traditional Lao cuisine at one of the many restaurants the town has to offer.
Overnight in Luang Prabang.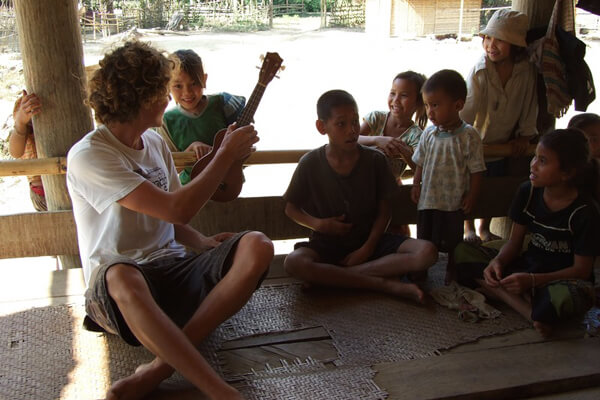 Day 2: Luang Prabang – Pak Ou – Luang Prabang (B)
This morning, we will pay a visit to the Arts and Ethnology Centre to gain some knowledge about Laotian culture in the ethnic group. It is possible to enjoy a coffee at the center's café before we head to the Mekong River for our private boat for a peaceful and natural scene upstream Mekong River to Pak Ou Caves. These caves are famous as an ancient pilgrimage site and amazed tourist by thousands of hundred-year-old gold lacquered Buddha images inside.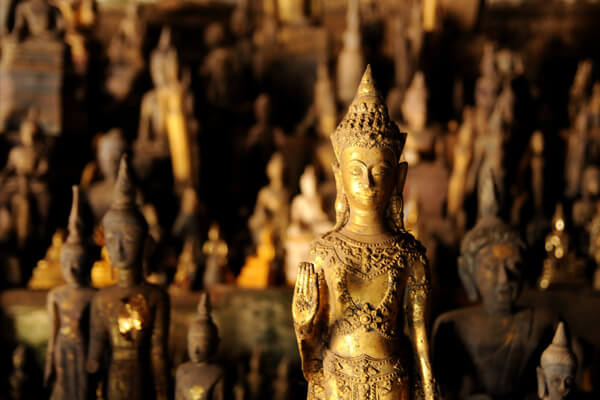 From Pak Ou Caves, we are back to Luang Prabang on a boat, and it is up to you whether we should head to Ban Phanom,  a famous weaving village or returning to the hotel for relaxation.
If you prefer staying at the hotel, the rest of your afternoon and evening is your own time to explore Luang Prabang town to get used to this city and to enjoy the night.
Overnight in Luang Prabang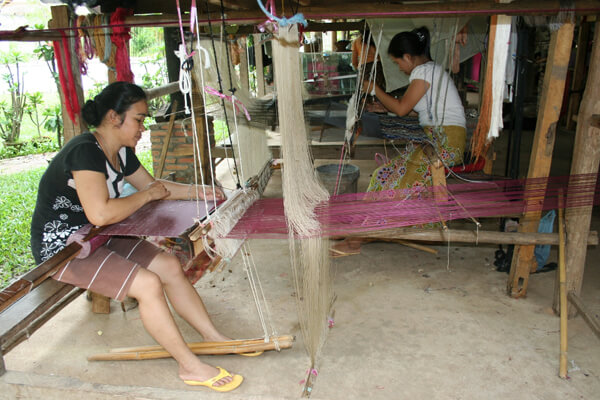 Day 3: Luang Prabang – Khouangsi Waterfall  (B)
After breakfast, we will head to Royal Palace Museum which exhibits a variety of interesting artifacts from the Royal period
After breakfast, we visit the Royal Palace Museum. You will encounter a range of interesting artifacts from the Royal period in Luang Prabang.
And then, on the way to Khouangsi Waterfall, you will have a chance to explore the morning market, Phousi Market. This market is familiar with Laotian and is where they shop all the necessities for their life such as fresh fruit, vegetable, poultry, meat, fish, etc. You will encounter many local products serving daily life in Laos.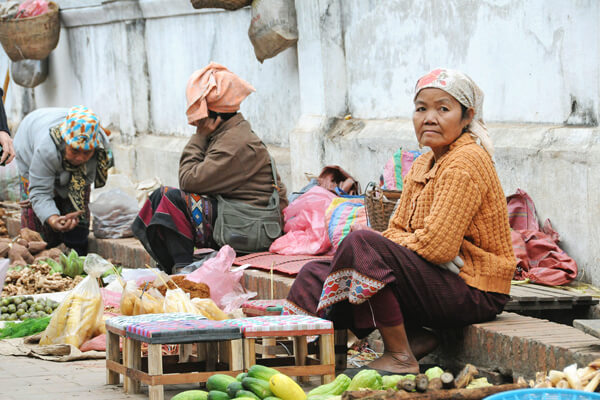 Here comes Khouangsi Waterfall, especially in the hot of the summer, it is easy for you to cool off with a refreshing swim in the cool, crystal clear water, then walk on the forest pathway leisurely and visit the Bear Sanctuary.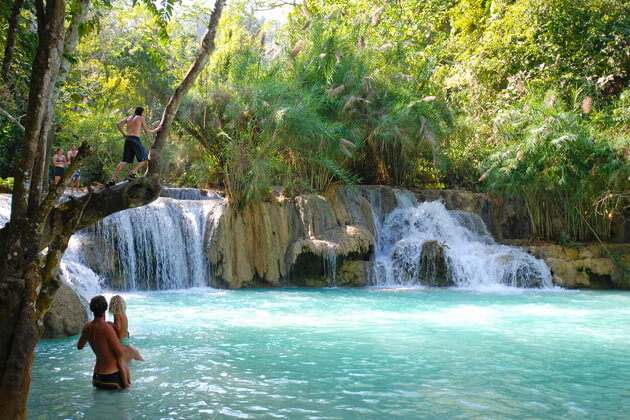 After a long day of walking, return to Luang Prabang mid-afternoon, you are free to receive a spa treatment or massage. Refill your energy at the hotel or head to the Night Market to shop some souvenir.
Overnight in Luang Prabang.
Day 4: Luang Prabang – Fly to Xieng Khouang (B)
We take an early start this morning for the drive from Luang Prabang to Xieng Khuang Province, the home of the Plain of Jars. The scene along the way is stunning and amazing, which offers you a great opportunity to take some pictures through the car's window and also directly when we stop along the way to explore hill tribe villages.
On arrival at Xieng Khouang, after check-in your hotel in Phonsavan, the provincial capital, there is time to go over the town. You might visit the MAG Centre or have a drink at the hotel.
Overnight in Xiengkhuang.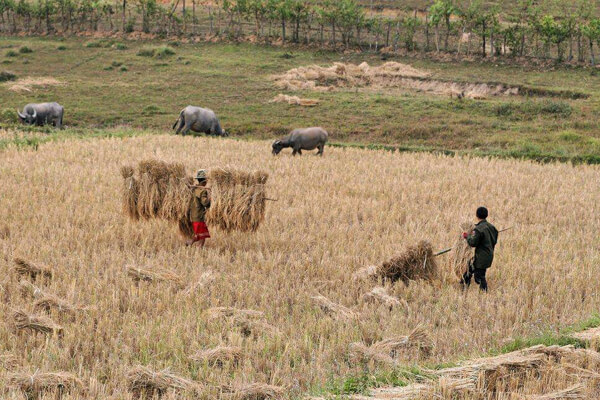 Day 5: Xieng Khouang – Vang Vieng (Road) (B)
We have an early start this morning as we head out to explore the Plain of Jars. We will be visiting Sites 1, 2 & 3 as well as taking a short trek to Tai Dam and Lao Leum village along the way.
Say goodbye to Xieng Khouang, we are heading to a small town lying on one side of Nam Song River, Vang Vieng.
We leave Xieng Khouang for our scenic drive to Vang Vieng a small town nestled on a bend of the Nam Song River. Its stunning scenery and limestone outcrops offer you perfect photo opportunities. Depending on road and traffic conditions, we will arrive at Vang Vieng by early evening.
Overnight in Vang Vieng.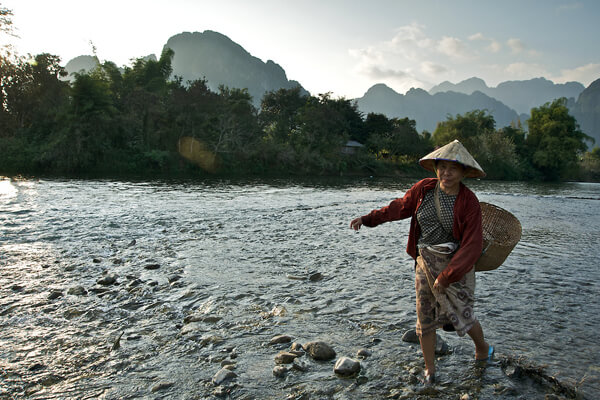 Day 6: Vang Vieng – Vientiane (Road) (B)
Another early morning, start your day at the local market and see how a Laotian life is. Then, we will have a short rafting adventure on Nam Song River. Across the river, it is time for you to explore the well-known Tham Jang Cave, regarded as a defense against Chinese enemies in the 19th century by locals.
Leave Vang Vieng and take 4-hour driving, Vientiane is before your eyes horizon. The capital Vientiane is located on the bank of Mekong River, and its diversity is affected by many cultures: Laos, Thai, Chinese, Vietnamese and French.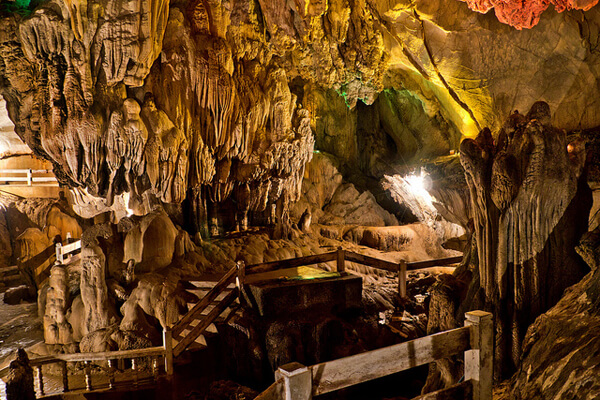 After check-in at your centrally located hotel, your evening is free to explore the town, take a stroll along the waterfront or relax at your hotel.
Overnight in Vientiane.
Day 7: Vientiane City Tour (B)
After few days traveling continuously, today you have a morning off to go around the city by foot or treat yourself to a spa treatment or massage.
In the afternoon, we will be able to visit the major highlights of the city. The first destination is the most ancient Buddhist temple, Wat Sisaket, with a lot of miniature Buddha statues, and nearby is the former royal temple of Wat Prakeo, which contains a lot of Emerald Buddha Image.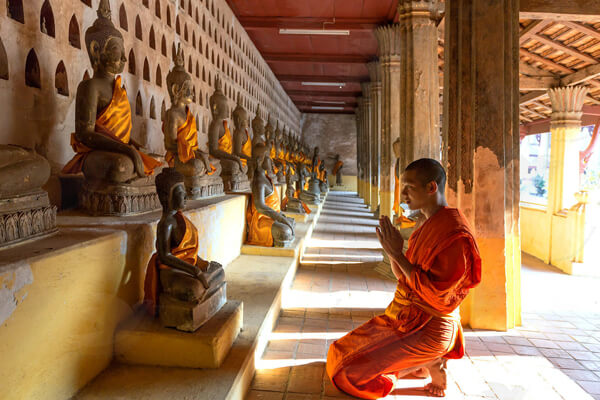 Next, on the way heading to That Luang Stupa, the national icon of Laos, we will stop at Patuxay Monument, which is called Vientiane's Arc de Triumph, a great place to get beautiful pictures. From there, we move to COPE Center which is built to give UXO survivors support that they needed the way of orthotic and prosthetic devices. In 1997, this museum was established to help the victim during the Indochina war.
Spend your evening near the waterfront to chill out over a few drinks, watch the glorious sunset over Mekong River and enjoy the night in the busy, animating Night Market
Overnight in Vientiane.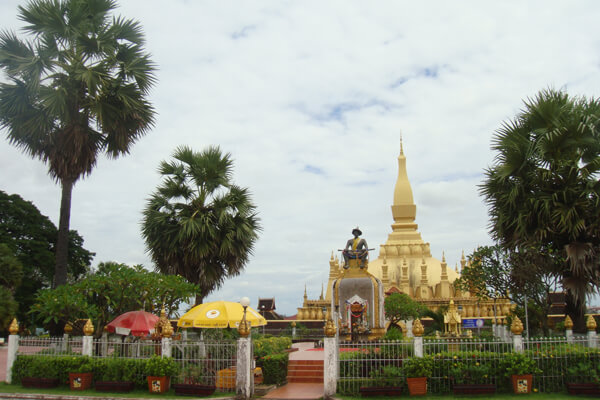 Day 8: Vientiane – Ban Na Hin (Road) (B)
Today, we will get up early to head for Khammouane Province. There is plenty of time on the car for you to relax and catch the stunning moment of the scenery at several stops on the way.
Depending on road and traffic conditions we will arrive at Ban Na Hin, the gateway to Khong Lor Cave, by late afternoon.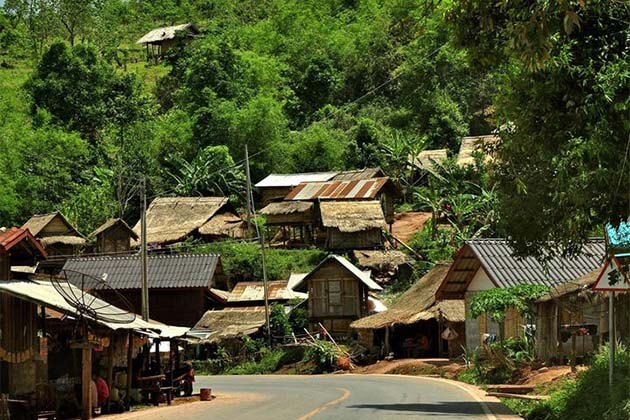 On arrival, we will get used to this beautiful village by taking a short walk around the village. You will find some interesting fact about local culture and lifestyle.
Overnight in Ban Na Hin.
Day 9: Ban Na Hin – Khong Lor – Ban Na Hin (B)
In the morning, we will pay a visit to the fascinating Khong Lor Cave formed by the Hinboun River. This river flows through the mountain range 7.5km. Therefore, we will take a local motorized canoe going inside the cave. There is lots of limestone formation forming the cavern and you will be amazed by its height, 100 meters.
Returning to Ban Na Hin we stop along the way to explore That Mouang and That Namsanam Waterfalls.
Overnight in Ban Na Hin.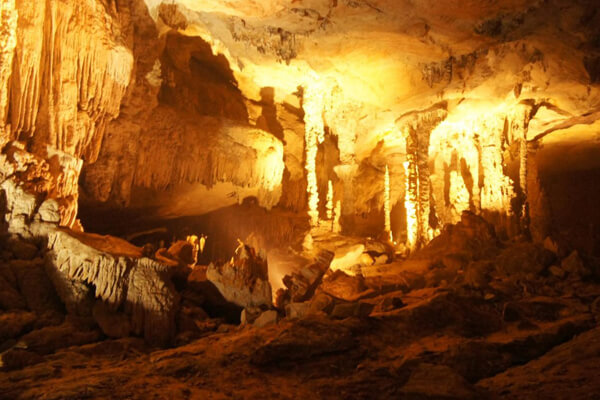 Day 10: Ban Na Hin – Savannakhet – Pakse (Road) (B)
After spending two days in Ban Na Hin, we will leave this village this morning and move to Southern Laos to discover the more wonderful place in Laos. The first destination is the outstanding city in the southern, Pakse.
The trip is a little bit long so we will stop for lunch at Savannakhet.  This developing town is now raising its importance in trade between three countries: Vietnam, Laos, and Thailand. Its architecture still remains many old French colonial building and the sense of the old time.
We arrive in Pakse Town by late afternoon and have time to go around and have our first glimpse of the town.
Overnight in Pakse.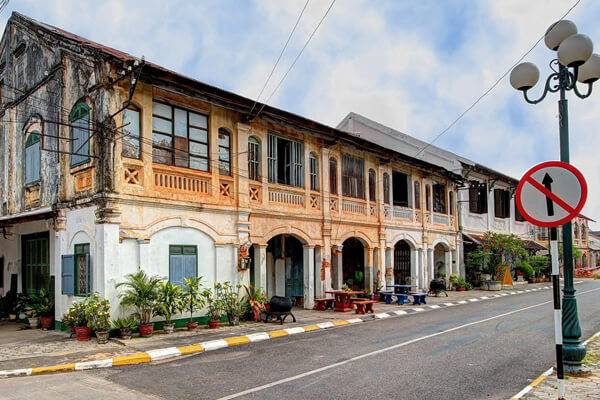 Day 11: Pakse –Tad Lo (Road) (B)
Start your day by embarking on the Bolevan Plateau with a refreshing atmosphere. This area is popular with many waterfalls, especially the two that we are going to visit. Tad Fan impresses tourists with twin falls pour down over 100 meters to the valley floor below, and Tad Ngeuan is famous for its pristine pools presenting the natural beauty. Bolevan Plateau is also famous for coffee with coffee shop and plantation which offer you a chance to experiences real Lao coffee.
Along the way to Tad Lo, rich soils are next to each other with coffee, tea, cardamom, bananas, etc. This area contains a variety of waterfalls and countless ethnic groups. Before arriving in Tad Lo, we will stop at the villages of Alak, Nge, and Katu.
Overnight in Tad Lo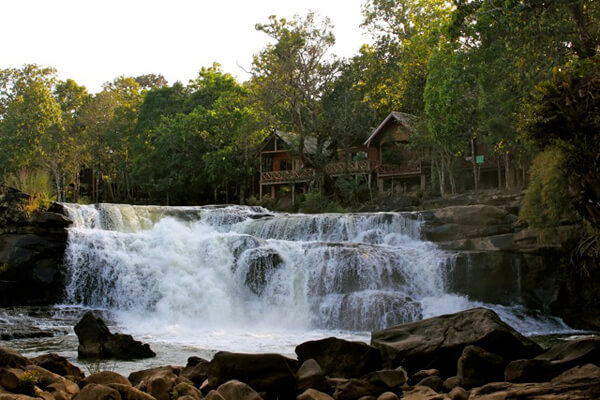 Day 12: Tad Lo – Champasak – Khong Island (B)
Down the mountains, we go further to the south to Champasak and 4000 islands area. Pass through Pakse and downstream in the Mekong River by ferry, here comes Wat Phu, the delightful pre-Angkorian ruins. It is one of few Southeast Asia's temples located in the mountain's top.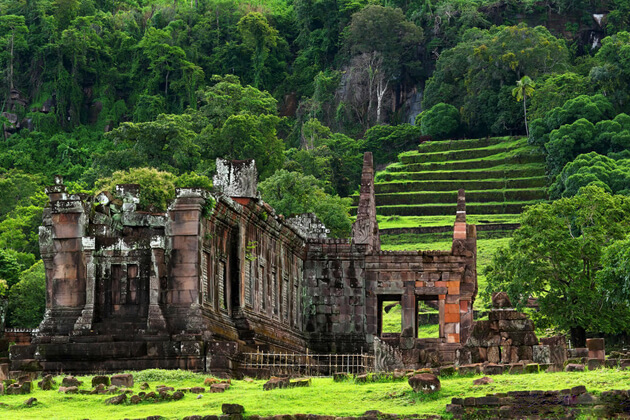 After lunch, continue our journey by road and ferry to Don Khong, here you will have a chance to explore the island by bicycle and enjoy the fresh air or enjoy the sunset over the Mekong River.
Overnight in Khong Island.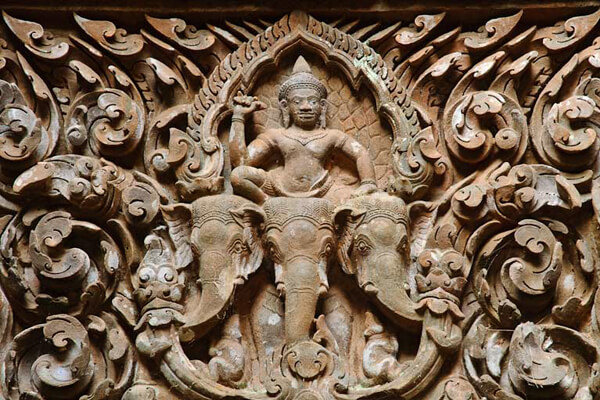 Day 13: Khong Island – Done Det – Done Khone – Khong Island (River+Road) (B)
Finish your breakfast and today, we cruise to the south by our longtail boat, passing 4000 islands region to Done Khone.
After arriving at the hotel and do a check-in, we will discover the French Colonial Period in the past by seeing many colonial houses still existed and take a glimpse at the first Laos railway. The wonderful Liphi waterfall is the next destination, known as Samphamith or "Corridor of the Devil", serving as the natural border between Laos and Cambodia.
Visiting Ban Hang Khone this afternoon if you are lucky enough, you can have a chance to see the rare freshwater Irrawaddy Dolphins at play.
Overnight in Khong Islands.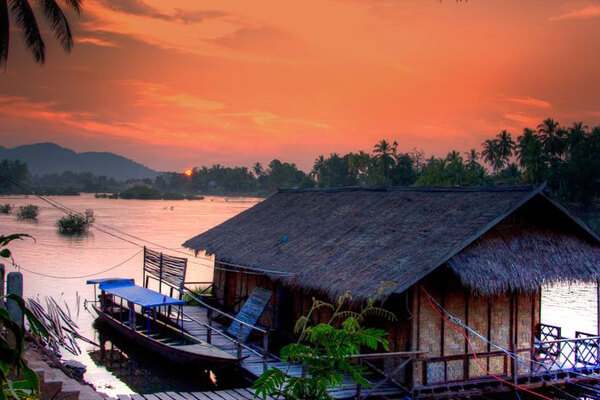 Day 14:  Khong Islands – Cambodia Border (B)
A local boat will take you to Ban Nakasung and from there you will travel by car to Laos – Cambodia borders. On the way, we will be amazed at the breathtaking Khone Phapheng Waterfall, the largest waterfall in South East Asia, which is usually called Niagara of the East.
The trip ends after a transfer to the Laos-Cambodia border at Veukham or Dong Kalor border crossing.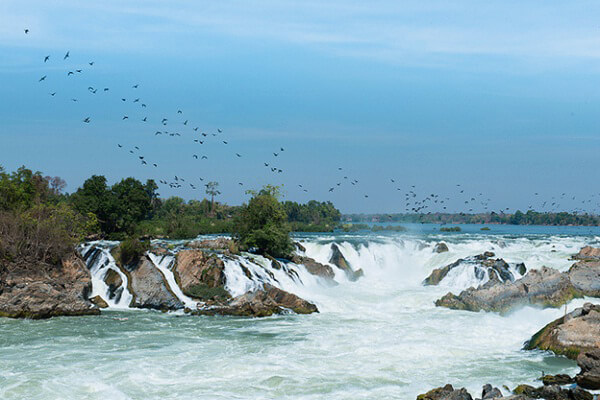 "Free inquiry this tour if you interest or share your plan with our travel expert"