General Information
Duration: 7 Days/6 Nights
Date: Optional (Available all time)
Start/End: Vientiane/Luang Prabang
Tour Route: Vientiane – Vang Vieng – Luang Prabang
Tour Type: Natural and Landscape, History and Culture
Tour Customize: Absolutely (Feel free to tell us your requirement in the inquiry form)
Guides: Local Guide (Available in English and also other languages if requested)
Transportation: Private first-class air-conditioned motor coach
Accommodation: Listed below or equivalent. Rooms with private bath or shower, hotel taxes, porterage, tips, and service charges
Brief Itinerary
Day 1: Arrival – Vientiane
Day 2: Vientiane – Vang Vieng
Day 3: Vang Vieng – Luang Prabang (Baci Ceremony)
Day 4: Luang Prabang – Full day city tour
Day 5: Luang Prabang – Khouangsi Waterfall – Pak Ou Caves
Day 6: Luang Prabang – Living Land Farm
Day 7: Luang Prabang – Departure
Full Itinerary
Day 1: Arrival – Vientiane
Right after arriving at Vientiane, the first destination that we will visit is the major temples of Vientiane's area. The oldest is Wat Sisaket which is now still kept many miniature Buddha Statues, and nearby is the former royal temple of Wat Prakeo which is famous for Emerald Buddha Image. Next, we will head to the national symbol of Laos, That Luang Stupa and along the way, there will be opportunities to take some great pictures of majestic Patuxay Monument usually considered as Vientiane's Arc de Triumph.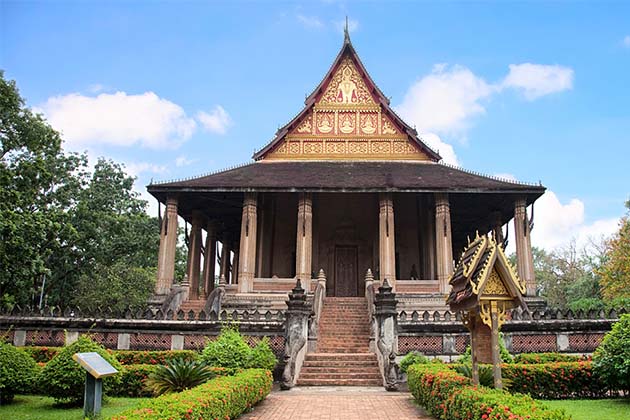 COPE Center is the last destination of the day which relates to history. After the Indochina War, it is necessary to create a center to support UXO survivors with the care and need by way of orthotic and prosthetic devices. Therefore, in 1997, this center or museum has been established to help all the victims.
Overnight in Vientiane.
Day 2: Vientiane – Vang Vieng (B)
Early breakfast and we will start our journey to the northern part of Laos. After 4 hour driving through the beautiful countryside, then we climb into the mountains. There is a lot of wonderful natural scenery during the trip and we will have a chance to meet a wide range of hill tribes in the local market where they come to trade goods and buy provisions. We will spend our lunchtime in Vang Vieng, more specifically at the Organic Farm. In here, all kinds of traditional Lao food will be served. Moreover, they also offer some goat cheese sample and mulberry wine.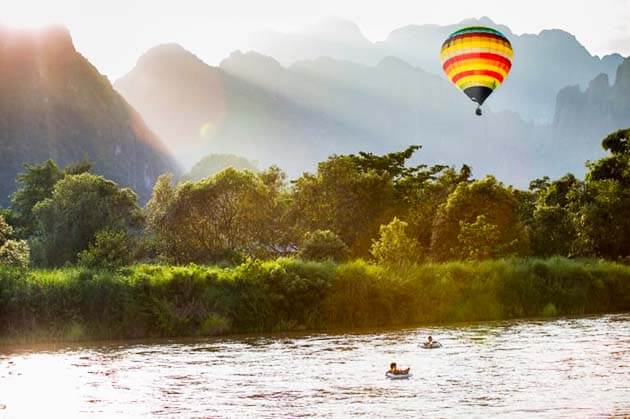 In the afternoon, we will visit the famous Tham Jang Cave. in the past, local people have been used this cave to hide from Chinese invaders during the war. The rest of the day can be spent exploring Van Vieng by foot or bicycle or taking a boat upstream on the river, or just simply being at your leisure at the hotel. Overnight in Vang Vieng.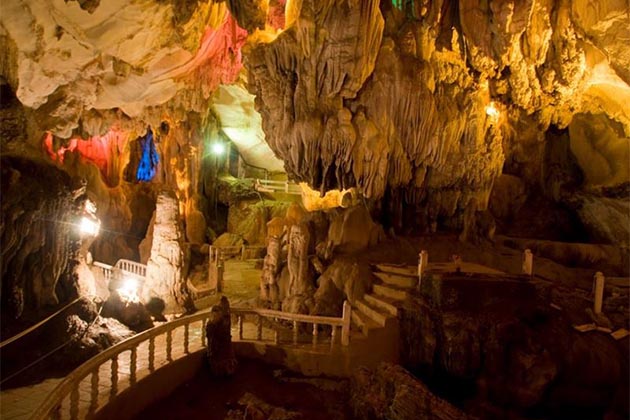 Day 3: Vang Vieng – Luang Prabang (Baci Ceremony) (B, L, D)
Today we will spend the whole morning driving through spectacular scenery and numerous hill tribe villages. Your lunch will be carried out at the height of approximately 1,300 meters above the sea level and among endless mountain peaks of this remote region.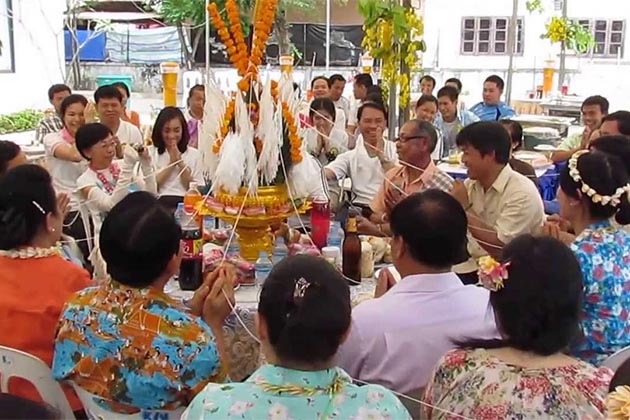 After lunch, we continue heading to Route 13 and arrive in Luang Prabang late afternoon. In the evening, you can choose whether watching the Traditional Baci & Cultural Show or not. Baci is a Phi Ritual used to celebrate important events and occasions in Laos everyday life such as births, marriages, entering the monkhood, departing, returning, beginning a new year, and welcoming or bidding. The basic thing will happen is that locals will type strings around an assigned person's wrist to maintain good luck to you. During the dinner, the locals will carry out a traditional dance performance. Overnight in Luang Prabang
Day 4: Luang Prabang – Full Day City Tour (B)
This morning, our tour will start on a bicycle to the Royal Palace Museum where exhibits a lot of interesting artifacts from the Royal period since Luang Prabang was once Laos' capital in the past. Then, there comes the impressive Wat Xiengthong with classical Lao architecture: the long, giant roof spreading low to the ground. Nearby are the outstanding stupa of Wat Visoun and the shrine of Wat Aham.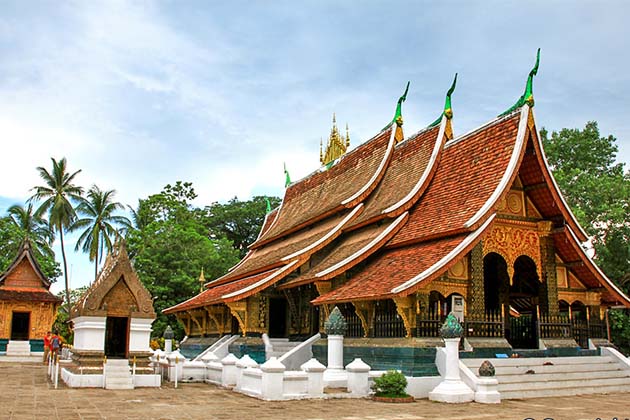 Come back to the hotel for lunch and then in the late afternoon, you will explore the Arts and Ethnology Centre to gain more knowledge about Laos' ethnic cultures. The Mount Phousi is the next stop where the sacred glided stupa presents. From there, you can catch a glimpse of the city from a different view and watch the sun going down on the Mekong River. Descending the mountain, the famous Luang Prabang Night Market is an interesting stop. You will encounter a wide range of local products such as handicrafts, textiles, street food, etc. they are made by both ethnic Lao and hill tribe people in the surrounding area. Overnight in Luang Prabang.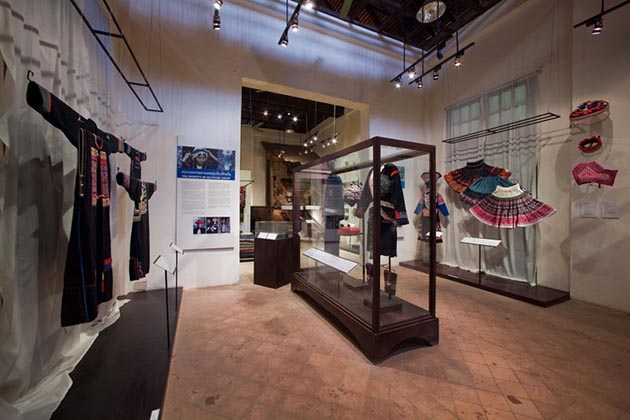 Day 5: Luang Prabang – Khouangsi Waterfall – Pak Ou Caves (B, L)
In the early morning, you might choose to take part in the traditional ritual routine, Alms Giving. There will be a long queue of saffron-clad monks collecting offerings or 'Alms' from local residents. This unique custom still exists in Laos, which makes Laos is the only Buddhist nation still maintain this process.
After breakfast, on the way to Khouangsi Waterfall, we will stop at the morning Phousi Market where all the locals do their regular shopping. You will easily find Lao local foodstuff and products such as dried buffalo skin, local tea, saltpeter, poultry, fish, all kinds of meat and fruits, etc.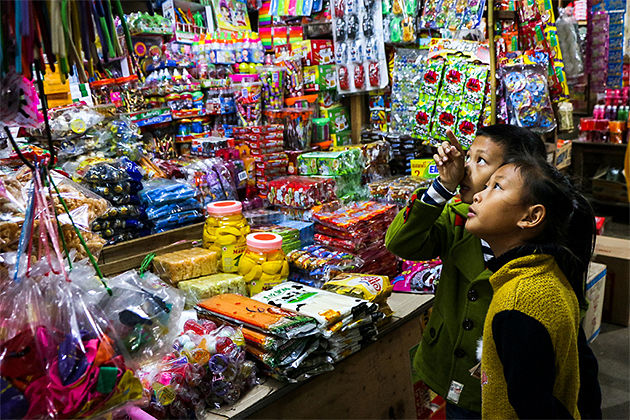 Once arriving at the Khouangsi Waterfall, especially in the summer, a refreshing swim in the topaz pools below the falls will cool off all the heat immediately. If you are not planning to swim in, you can walk along the forest pathway and visit Bear Sanctuary.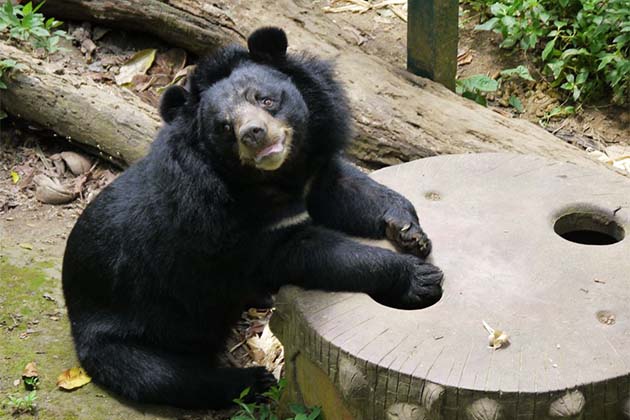 Come back to Luang Prabang, by using our private boat, you are about to enjoy a pleasant and scenic cruise up on the Mekong River to the mysterious Pak Ou Caves. This is once a pilgrimage site and now still have thousands of ancient gold lacquered Buddha Images.
Returning to Luang Prabang we disembark our boat and have the option of taking a short drive to Ban Phanom, a village famous for its hand weaving or returning to the hotel for free time to relax. Overnight in Luang Prabang.
Day 6: Luang Prabang – Living Land Farm (B)
Today is an interesting day for you. We will head to Living Land Farm, a working community farm, which is 5 kilometers away from the town. There you will learn all about the rice-growing process and do all the daily task of a farmer in the seasonal farm such as: as identifying viable rice seeds, plowing with a buffalo, hand planting, weeding, and harvesting rice and threshing rice seed.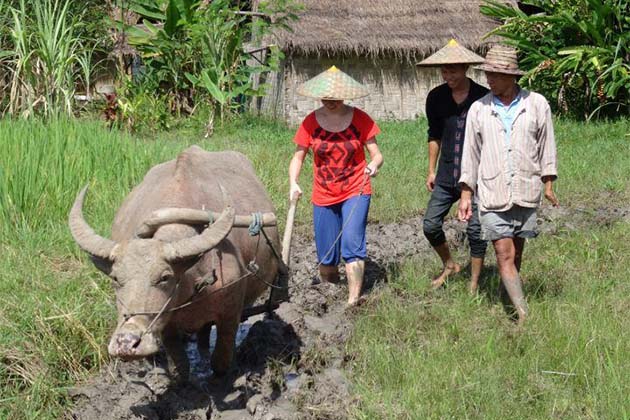 After a morning spending on the farm, this time is to enjoy the meal. You can pick the fresh vegetables from the organic garden or catch fish to cook for lunch. Moreover, at lunch, you can try samples of local rice products. We will return to Luang Prabang late afternoon. Overnight in Luang Prabang.
Day 7: Luang Prabang – Departure (B)
Breakfast, you are free until transfer to the airport. Thank you for making your Laos tour with Go Laos Tour!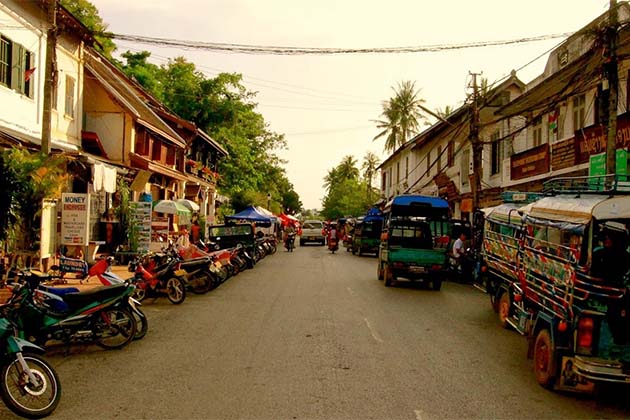 "Free inquiry if you interest this tour or create your own trip with our travel expert!"