Duration: 7 Days/ 6 nights
Start/ End: Luang Prabang / Vientiane
Tour Type: Discovery and Experience
Tour Customizable: Definitely!
Guide: Local Engish Speaking Guide, other languages upon your request.
Transportation: Private transportation by air-conditioned car
Brief Itinerary
Day 1: Luang Prabang Arrival
Day 2: Luang Prabang City Tour
Day 3: Kuang Si Waterfall – Pak Ou Caves
Day 4: Luang Prabang – Elephant village half day – Pottery village
Day 5: Flight to Vientiane  – Vientiane Half day
Day 6: Vientiane City Tour – Buddha Park
Day 7: Vientiane Departure
Day 1: Luang Prabang Arrival (D)
Welcome to the ancient town, Luang Prabang, the city is well known by many heritage sites, the old town. Come to Luang Prabang, you will be surprised by this scenery, the old houses with the appearance of miniature France. As soon as you set your foot in Luang Prabang, our driver and tour guide will be waiting in the exist. Transfer to your hotel and check in before your 7-day journey in Laos.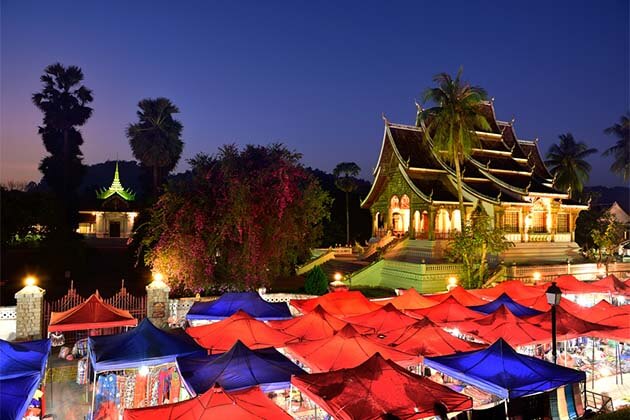 Overnight in Luang Prabang.
Day 2: Luang Prabang City Tour (B)
Good morning Luang Prang! Let's begin our today by taking part in the morning alms giving ceremony, which has become a part of Laos culture. Let's tell your guide if you want to join in, and they will prepare food for you. During the ceremony, let show your respect to Laos culture by dressing decently. Especially, don't show your shoulders, chest and your legs. End of the ceremony, back to your hotel and enjoy the breakfast.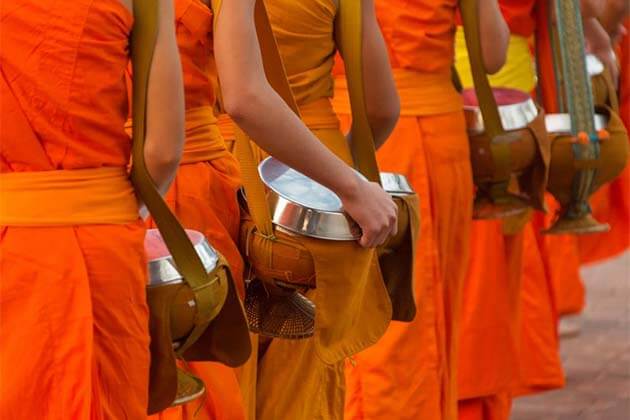 Wat Visoun will be the first site in your Luang Prabang city tour which owned many the ancient beauty in the past. Then, let's move to the proud of Luang Prabang, Wat Xieng Thong, which is the oldest temple in Luang Prabang built since 1560. Continue to your trip in Luang Prabang, we will visit Wat Mai, the impressive temple is one of Luang Prabang 's largest and most richly decorated temples. Next to Wat Mai, spend your time to visit the Royal Palace, back to Laos history, where you will be more understanding about the King's life. Most of the objects are still intact.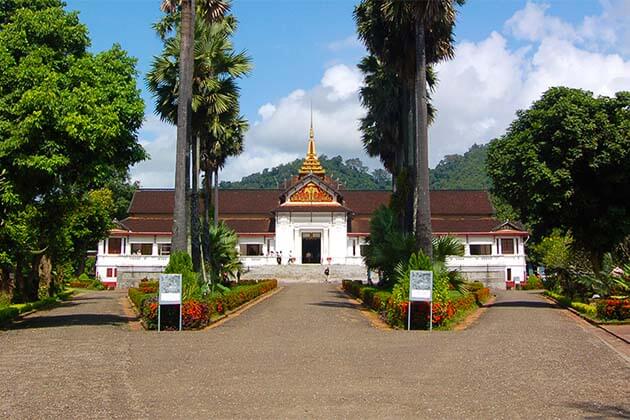 Now, let's climb to Mount Phousi where you can see the whole of the peaceful Luang Prabang. What's better when seeing the sunset from the top, spectacular scenery in front of you.
Back to your hotel and enjoy the beautiful night in Luang Prabang.
Day 3: Kuang Si Waterfall – Pak Ou Caves (B)
Have the breakfast in the hotel and we will visit the most beautiful waterfall in Luang Prang, Kuang Si Waterfall. There is no word to describe its beauty which is highlighted by the watercolor, not the same with any waterfalls in the world. Soak in the cool water, and get out the mass in your mind.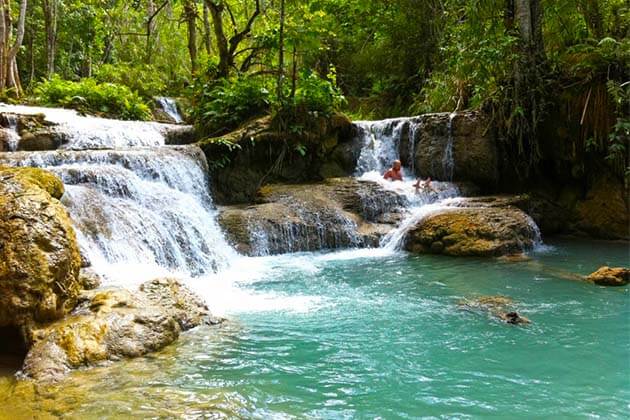 Travel to Luang Prabang, your trip will not be completed if you don't go to Pak Ou Caves where you will see a thousand Buddhist Statues displayed inside full of size. Go deep inside, take an explore Tham Theung and Tham Ting cave with amazing limestones.
On the return, drop in Ban Xang Hai and Ban Xang Khong villages which are famous for Lao Lao (Laos whiskey), silk and Saa Pa (paper made from the bark of the Saa Tree)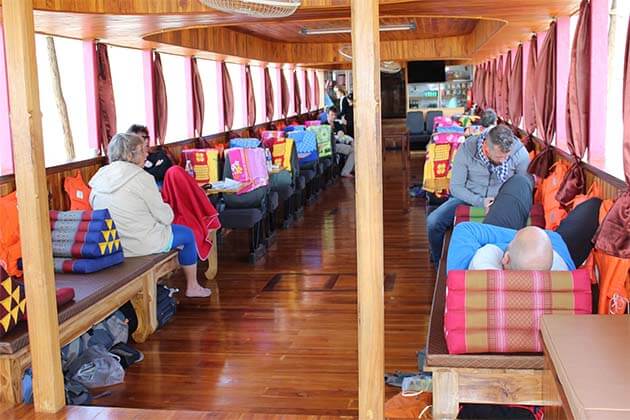 Overnight in Luang Prabang
Day 4: Luang Prabang – Elephant Village Half Day – Pottery Village (B)
Sure that you have a big breakfast in the hotel before going to the Elephant village. At the village, make friend with the elephants which will lead you to visit the villages around and listen to their stories. Enjoy the joyful time with your friend, and if you want to look after them by yourself such as bathing, please tell your guide.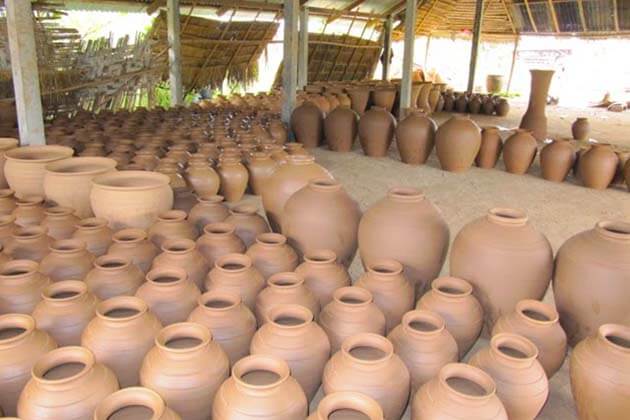 Then, take a visit to Ban Chan Pottery village where you can see a lot of pottery made by the master pottery crafter. Overall, you also have a chance to make your own unique pottery by hand with teachers. Feel free to create the pottery in your own way.
Overnight in Luang Prabang
Day 5: Flight to Vientiane – Vientiane Half Day (B)
Please recheck your luggage in your hotel before we move from Luang Prabang airport to Vientiane. After a short time, you are in Wattay International Airport (Vientiane International Airport), our tour guide and driver will pick you up and transfer to your hotel in Vientiane. Enjoy your lunch in the local restaurant in Vientiane. In the rest, time is free for you to explore Vientiane around your hotel or you can drink coffee on the street.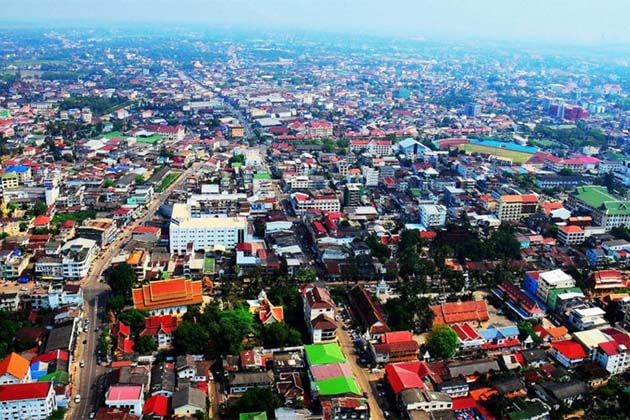 Overnight in Vientiane.
Day 6: Vientiane City Tour – Buddha Park (B)
Wake up early, enjoy breakfast in your hotel before exploring the heart of Laos, Vientiane. Firstly, let's go to That Luang stupa, which is the symbol of Vientiane as well as the proud of Laos. Come to That Luang, you will be heard the story behind which will make you have a different view of the temple. Beside to That Luang, That is a gift of French, Patuxai victory gate, which was built by French during the war.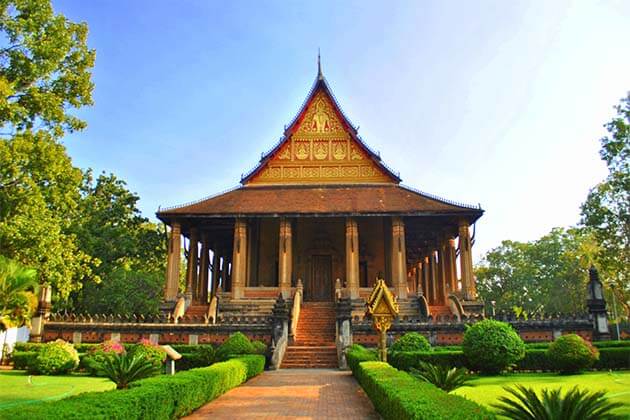 Following our guide, he or she will lead you to visit Ho Phra Keo which is a former Buddhist shrine dating back from 1565 to now. As a museum of religious art in Vientiane, the locals call it "the temple of the Emerald Buddha" which owns a gilded throne meant for the Emerald Buddha, and now sits on the grounds of Bangkok's Grand Palace.
Wat Si Saket will be the next destination in your Vientiane city tour. Known as the oldest temple of the town that is still its original form. With a giant knowledge, our tour guide will introduce the story behind it.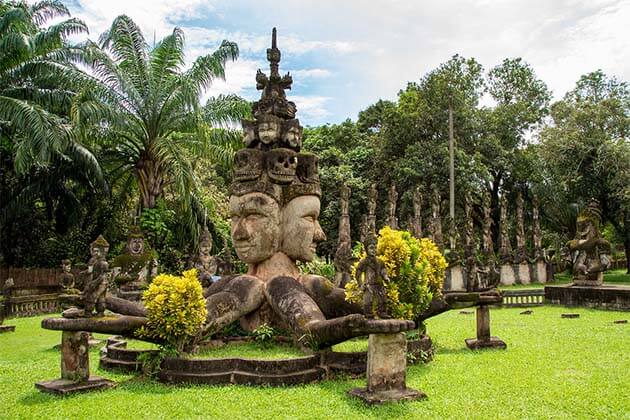 The last destination is Buddha Park, displayed more than 200 statues Hindus and Buddhists with full size and shape. The Park was built by a priest-shaman, Luang Pu Bunleua Suliat who integrated Hinduism and Buddhism.
End of your day tour and back to your hotel.
Overnight in Vientiane.
Day 7: Vientiane Departure (B)
Time flies like an arrow, end of your 7 days tour in Laos. It's time to say goodbye to Laos. Before leaving, please check once again your luggage. When you come back home, don't forget to share us about your journey in Laos.
Wish you have a safe flight!