General Information
Duration: 7 Days/6 Nights
Date: Optional (Available all time)
Start/End: Vientiane/Luang Prabang
Tour Routine: Vientiane – Luang Prabang
Tour Type: Adventure and Experience
Tour Customize: Absolutely (Feel free to tell us your requirement in the inquiry form)
Guides: Local Guide (Available in English and also other languages if requested)
Transportation: Private first-class air-conditioned motor coach
Accommodation: Listed below or equivalent. Rooms with private bath or shower, hotel taxes, porterage, tips, and service charges
Brief Itinerary
Day 1: Arrival – Vientiane
Day 2: Vientiane – Luang Prabang – Half day city tour
Day 3: Luang Prabang – Cooking Class
Day 4: Luang Prabang – Elephant Village + Kuang Si Fall
Day 5: Luang Prabang – Ethnology Centre – Ock Pop Tok
Day 6: Luang Prabang – Living Land Farm
Day 7: Luang Prabang – Departure
Full Itinerary
Day 1: Arrival – Vientiane
Upon arrival at Wattay International Airport, your local guide will fetch up at the airport and take you to the hotel. Depending on your arrival time, the timetable will be flexible. You are about to visit some major temple of Vientiane such as Wat Sisaket which is the most ancient one and has a lot of miniature Buddha statues, Wat Prakeo the former royal temple, containing the precious Emerald Buddha Image.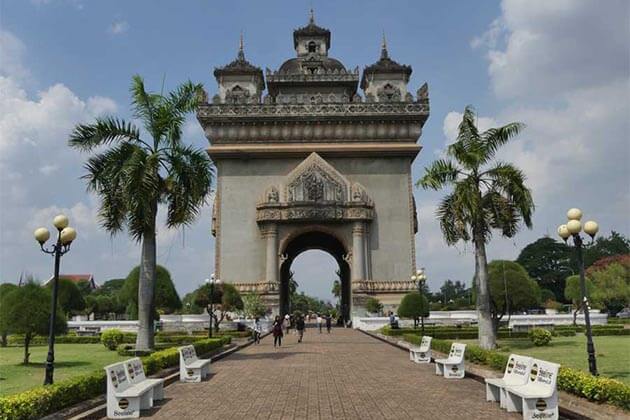 To continue our journey, we will head to the national icon of Laos, That Luang Stupa and then stop along the way to see what is called Arc de Triumph of Vientiane, Patuxay Monument. After finishing two destinations, the last stop is the COPE Center, which is built with an aim to give UXO survivors the care and support they needed by way of orthotic and prosthetic devices. Overnight in Vientiane.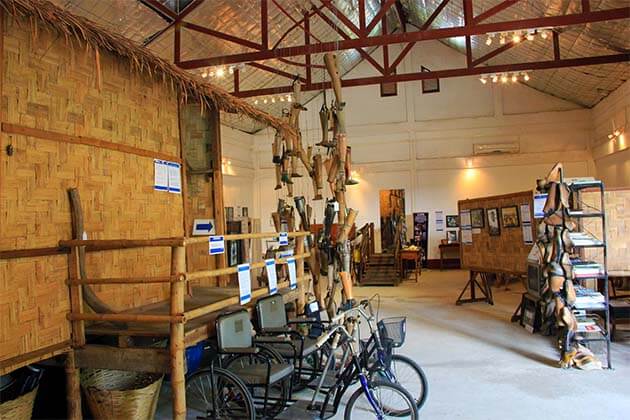 Day 2: Vientiane – Luang Prabang – Half Day City Tour (B)
In the morning, you will be back to Wattay Airport in order to travel to Luang Prabang. A new local guide is assigned and transfers you to the hotel. Take your time to relax and freshen up because next, we will visit many attractions in Luang Prabang on bicycles, a good way to enjoy this former capital. The first destination is Royal Palace Musem, where are the oldest temples, marvelous Wat Xiengthong with the long, giant roof continuing down to the ground, which clearly represents typical Laos' architecture in the past, existing. Moreover, there is also the amazing stupa of Wat Visoun and the shrine of Wat Aham.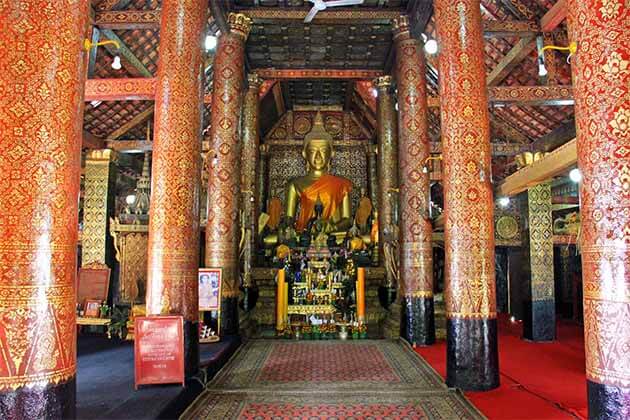 The rest of the day, we will climb up Mount Phousi to explore the sacred gilded stupa and refresh your mind by looking at the city from a panoramic view and see the sun going down on the Mekong River. Down the mountain, a lively atmosphere prevails in the famous Luang Prabang Night Market. In this night market, you can find a variety of handmade textiles and local handicraft made by Laos' ethnic group around Luang Prabang. Overnight in Luang Prabang.
Day 3: Luang Prabang – Cooking Class (B, L)
Optional: One of the specialties in Luang Prabang's morning is Alms Giving Ceremony, you will encounter a lot of saffron-clad monks queuing to collect offers from locals. Laos now is the only Buddhist nation continuing this tradition. If you want to take part in, tell your guide so he or she can prepare some food for you. or you can go to the spot near there to buy. Watch the town come to life in the morning then return to your hotel and enjoy breakfast. Or you can join the locals for a bowl of delicious noodle soup after the alms giving ritual.
Note: If you don't wish to make an offering, please keep an appropriate distance and observe the ritual in silence. remember dress appropriately. some parts of the body needed covering such as shoulders, chest, legs)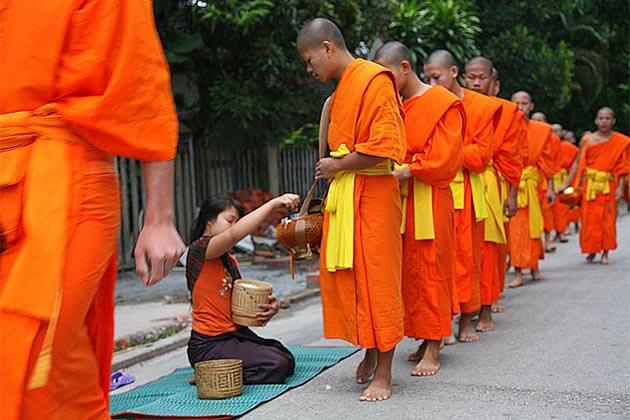 After finishing breakfast in the early morning (if you want), you will spend your whole day at cooking class. First, you will enter a local market where the chef will show, explain to you all kinds of herbs and spices used in Lao's daily life and purchase the ingredients for today's dishes. After discovering all the local stuff, we will head to Tamarind Gardens Cooking School located among fish ponds and tropical gardens.
Your menu today will include:
–    Varieties of jeow: the fundamental Lao spicy dipping sauces
–    Mok Pa, a popular dish of fish steamed with herbs in banana leaves
–    Tamarind's specialty: lemongrass stuffed with chicken & herbs
–    Orlarm, Luang Prabang's eggplant based specialty: delicious & unusual
–    Dessert course: a surprise!
–    And of course, you'll learn the art of perfecting sticky rice and its eating etiquette.
Enjoy your work and fulfill your stomachs, then come back to town, you can choose whether going on a Sunset Cruise (Nava Mekong) on the Mekong River or be at your leisure in the hotel. Overnight in Luang Prabang.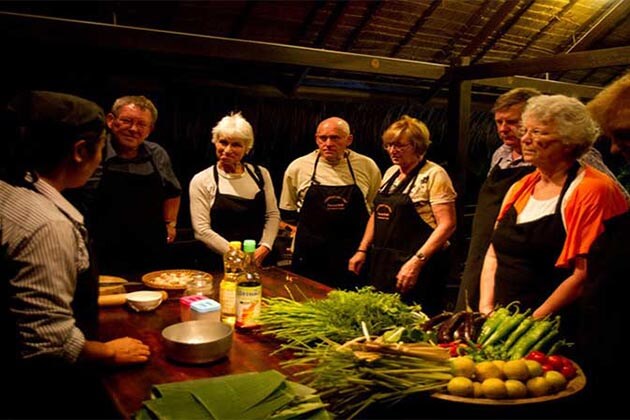 Day 4: Luang Prabang – Elephant Village – Kuang Si Fall (B)
Approximately 45 minutes away from Luang Prabang by car, in the morning you will have a chance to experience full of elephant activities through hundreds of teak trees and following along the riverside in Luang Prabang Elephant Village. The good thing is that these elephants have been once employed in the logging industry and how they live their own lives in the village with nature.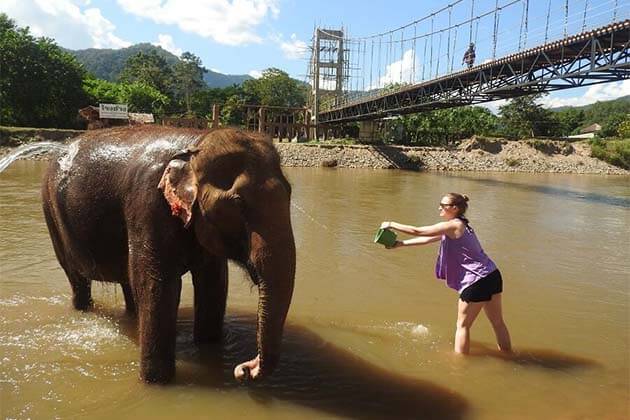 Say goodbye to Elephant Village, we head to impressive Khouangsi Waterfall where you can enjoy the crystal clear water pouring down to the topaz pools. Then following the pathway, we visit the Bear Sanctuary where Asiatic Bears be free from poachers in Northern Laos. In the late afternoon, you will have free time to discover the city on your own, and have dinner in one of many restaurants in town or just relax at the hotel. Overnight in Luang Prabang.
Day 5: Luang Prabang – Ethnology Centre – Ock Pop Tok (B)
Today we will be overwhelmed by culture and handicrafts with the starting point at The Art and Ethnology Centre, which provide you a chance to explore the culture and history of some minorities that occupies a large part in Laos population. Nearby, there is a shop where find many quality gifts and souvenirs and a café for you to enjoy. Continuing your day, Ock Pop Tok Living Crafts Centre & Shop is the next destination. You can directly witness the silk weaving process and purchase the type of traditional Lao textiles. The Centre also has a restaurant where you can enjoy traditional and fusion dishes with the gentle melody of weaving looms humming in the background.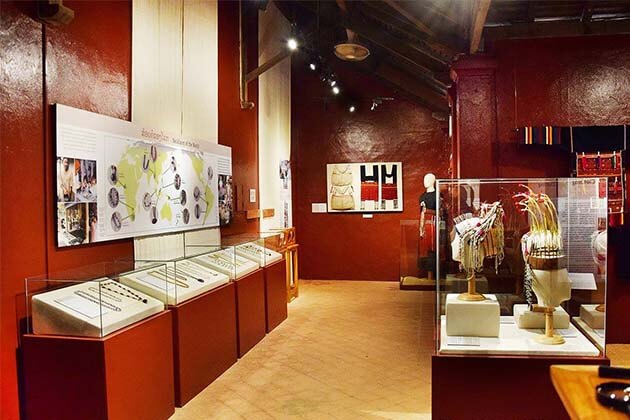 At the end of the day, we will stop at Yen Sabai Book and Arts Centre where you have a chance to take part in a traditional Paper Stenciling class (only available Monday – Friday). You can make your own paper stencil as a reminder for yourselves or use it as a present to give your friend and relatives by using traditional tools and patterns for the murals at Wat Xiengthong. The culture and handicraft trip has come to the end. The whole afternoon is all for you to relax and enjoy yourselves. Overnight Luang Prabang
Day 6: Luang Prabang – Living Land Farm (B, L)
5 kilometers outside the town, starting your day by heading to Living Land Farm, you will gain experiences about how to grow rice in the rural area including identifying viable rice seeds, buffalo plowing, hand planting, weeding and harvesting rice and threshing rice seed. By picking fresh vegetable from the organic garden or catching fish by yourselves, you can have an organic lunch with a sample of many local rice products.
Return to Luang Prabang late afternoon. Overnight in Luang Prabang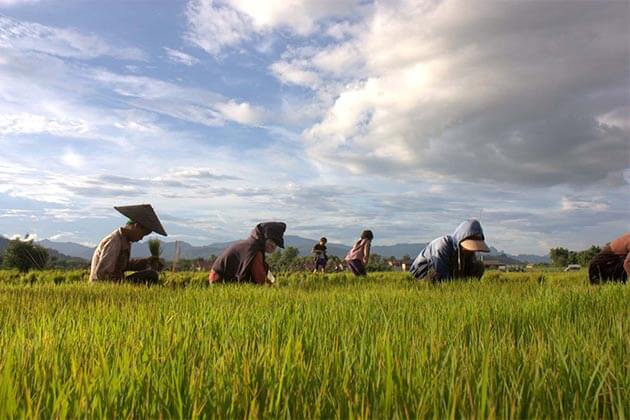 Day 7: Luang Prabang – Departure (B)
After breakfast, you are free until transfer to the airport catching your departure flight. Thank you for joining Laos tour with Go Laos Tours!