Duration: 10 Days/9 Nights
Date: Optional (Available all time)
Start/End: Luang Prabang/Pakse
Tour Routine: Luang Prabang – Xieng Khoang – Vientiane – Pakse
Tour Type: Adventure and Experience
Tour Customize: Absolutely (Feel free to tell us your requirement in the inquiry form)
Guides: Local Guide (Available in English and also other language if requested)
Transportation: Private first-class air-conditioned motor coach
Accommodation: Listed below or equivalent. Rooms with private bath or shower, hotel taxes, porterage, tips, and service charges
Brief Itinerary
Day 1: Luang Prabang – Arrival
Day 2: Luang Prabang – Morning Alm giving – Ancient town –  Pak Ou Caves – Ban Xanghai – Ban Xangkhong – Mount Phousi – Night Market
Day 3: Luang Prabang – Rice experience at Living Land Farm – Khouangsi waterfall
Day 4: Luang Prabang – Xieng Khouang – ancient town of Mouang Khoun
Day 5: Xieng Khouang – Plain of Jars – Fly to Vientiane
Day 6: Vientiane – City tour & Buddha park
Day 7: Vientiane – Fly to Pakse – Tadlo – Pakse
Day 8: Pakse – Wat Phou – Done Daeng
Day 9: Done Daeng – 4000 Islands & Surroundings – Done Daeng
Day 10: Done Daeng – Pakse – Departure
Day 1: Luang Prabang – Arrival
Warmest welcome from Luang Prabang! After finishing checking out the airport, our local guide will pick you up and accompany you to your hotel for check-in. The rest of the day is at your leisure and enjoy the 1st night in Luang Prabang.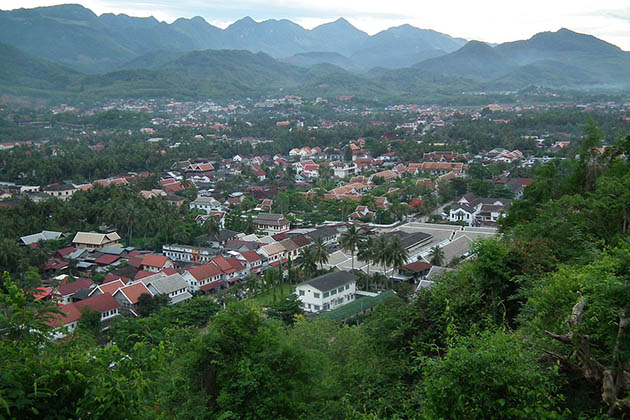 Day 2: Luang Prabang City Tour (B, L)
Grab this chance to wake up before dawn to observe or to take part in Alms Giving Ceremony – a traditional ritual rite with hundreds of saffron-robed monks in the early morning.  Arrange beforehand with your guide about your intention so he/she can bring along some local food to hand over the monk. Notice to dress formally, it means your shoulder, chest, and legs had better be covered. If you don't want to make the offering, just watch the practice from an appropriated distance quietly.
Then visit the Morning Market with a variety of regional products and food such as local tea, dried buffalo skin, saltpeter, poultries, vegetables, handmade weaving from ethnic groups, etc.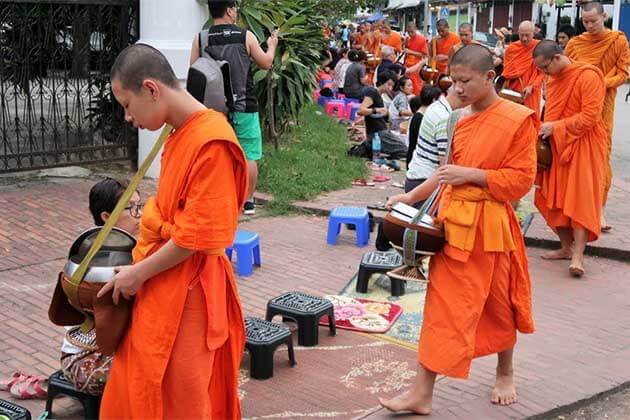 Have breakfast at the hotel, Luang Prabang National Museum at the former Royal Palace where presenting artifact collection of Laotian culture from the very beginning monarchy up to now is the first destination to spend the morning. Follow your guide to luxurious Wat Xiengthong with giant, big and long roof spread to the ground which still remains the sense of classical Laotian architecture. Next, join in a cruise upstream on Mekong River, which gives you a general view of natural beauty, heading to Pak Ou Caves where plenty of gold lacquered Buddha statues in all kinds of size and shape exist in two linked caves. On the way to the caves of Tham Ting and Tham Phoum, we will stop at Ban Xang Hai – a rice wine village. Have lunch at a local restaurant.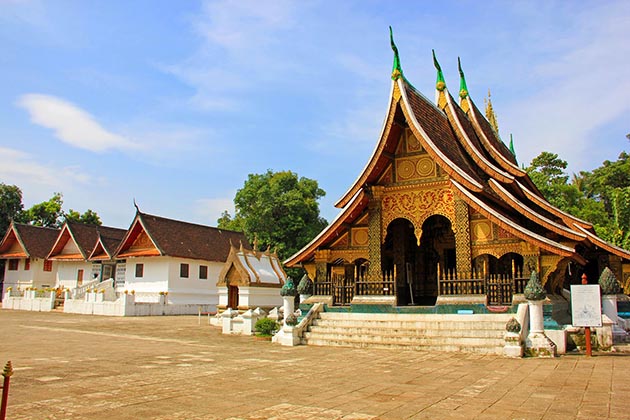 Back to Luang Prabang in the afternoon and finish 328 steps of Mount Phousi in order to view gilded stupa, an amazing sunset picture of the city and also Mekong River. In the evening, Luang Prabang Night Market is the spotlight of the night with a variety of handmade textiles from minorities and local people.
Overnight in Luang Prabang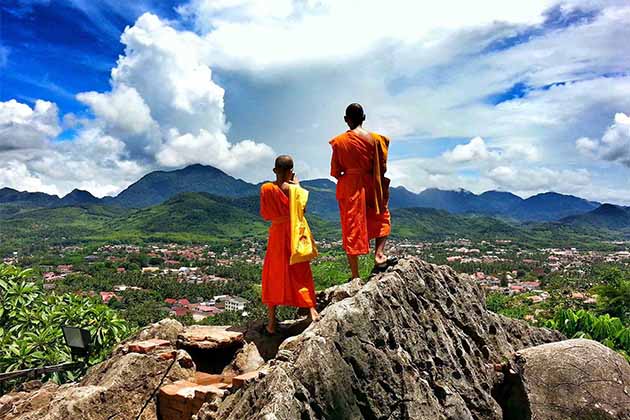 Day 3: Luang Prabang – Rice experience at Living Land Farm – Kuang Si waterfall (B, L)
Visit a community based living rice farm in the peaceful, serene countryside, the center of many mountains and rice fields. You are offered a chance to experience a morning being a farmer and to learn local housework. All the activities from rice terraces to the organic farm to local handicraft workshops such as bamboo weaving, blacksmith work, sugar canes processing, etc. will bring a lot of enjoyment and great photo as memories.
Have lunch at Living Land Farm.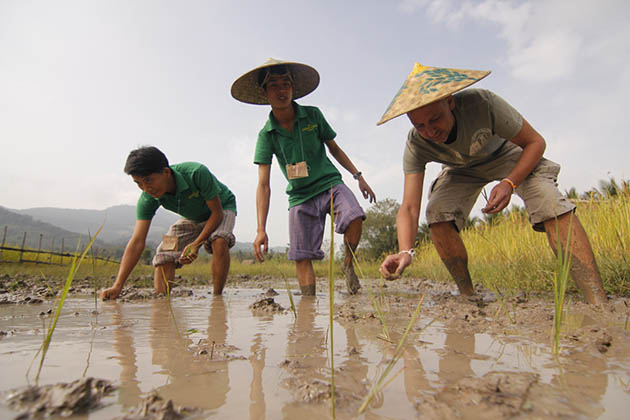 Refill energy and explore Kuang Si waterfall private vehicle. On the route, there will stop at Ban Ouay Village, Ban Ou village and Ban Thapene Village where many ethnic groups are now living. Once arriving at the Kuang Si waterfall, take your time to go to the national park and visit the Asian bear rescue center. The atmosphere is different from before with fresh water, cool temperature. Swimming is also allowed. Return to the hotel.
Overnight in Luang Prabang.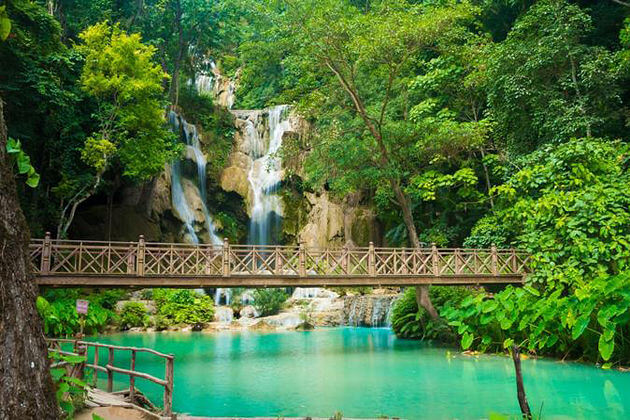 Day 4: Luang Prabang – Xieng Khouang – ancient town of Muang Khoun (by road) (B)
After 6-7 hours driving, seeing the tremendous natural beauty, we will arrive at Xieng Khouang, take your chance to make some amazing photos. The trip will not be complete without a visit to the old town of Muang Khoun which is the former center of the city. There are lots of ancient pagodas in the Lanna style That Fun sputa, especially Wat Phiawat where a giant sitting Buddha state still exists. Transfer for check-in and spend the 4th night in Xieng Khouang.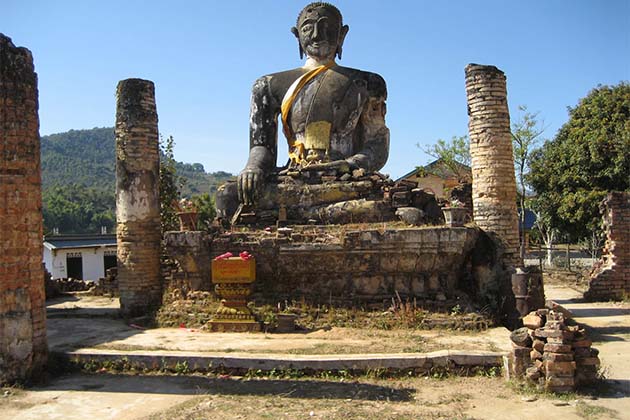 Day 5: Xieng Khouang – Plain of Jars – Fly to Vientiane (B)
Discover the local lifestyle in the Central Market in Xieng Khouang and next, visit the UXO MAG Exhibition Room. Afterward, before transferring to the airport and taking a flight to Vientiane, you are overwhelmed by hundreds of jar sitting on top of a hill at Jar Site ranging from Site 2, Site 3 to Site 1.
On arrival at Vientiane, our local guide will pick up at the airport and then take you to your hotel for check-in.  the rest of the day is leisure on your own.
Overnight in Vientiane.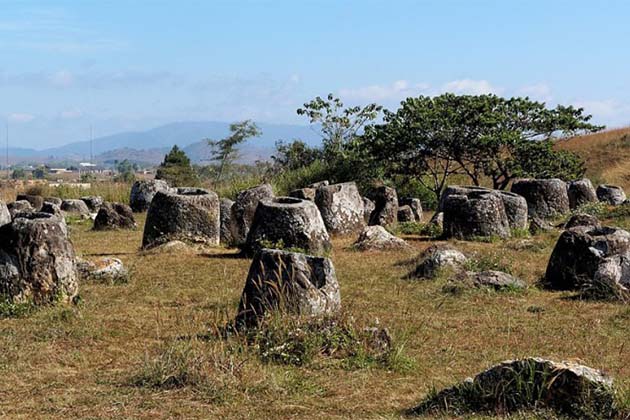 Day 6: Vientiane – City tour & Buddha park (B)
Right after breakfast, start your day at the city's most ancient temple Wat Sisaket. Has been existed form 1818, Wat Sisaket contains various Buddha images from many countries, unique long-lost structure, cravings, and arts. Wat Prakeo is another temple once built for royalties in 1565 is home to Emerald Buddha with lots of Buddhist sculptures. In the direction heading to That Luang Stupa, the car will stop at Vientiane's own Arc de Triumph, Patuxay Monument.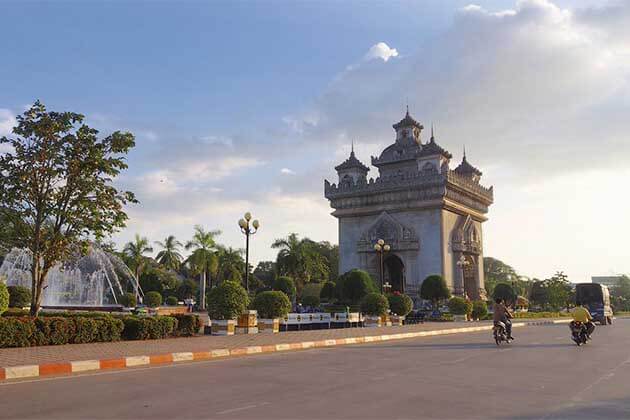 Finish morning and here comes afternoon with a trip to the outskirt of the city to Buddha Park in order to discover Buddhist and Hindu statues from India.
Back to the city and view the sunset on Mekong River.
Overnight in Vientiane
Day 7: Vientiane – Fly to Pakse – Tadlo – Pakse (B)
Breakfast at hotel and then a morning flight to Pakse, a new local guide will see you there.
Then, heading for Sravanh province, we stop at Tateng Village. This offers you a chance to observe all steps of the locals in making tea and coffee and also a chance to try a fresh-made cup before spending time on the road to Boloven Plateau Area.
Upon arrival at Tad Lo Waterfall, villages of Alak, Nge, Katu ethnic group is our destination.
Overnight in Pakse.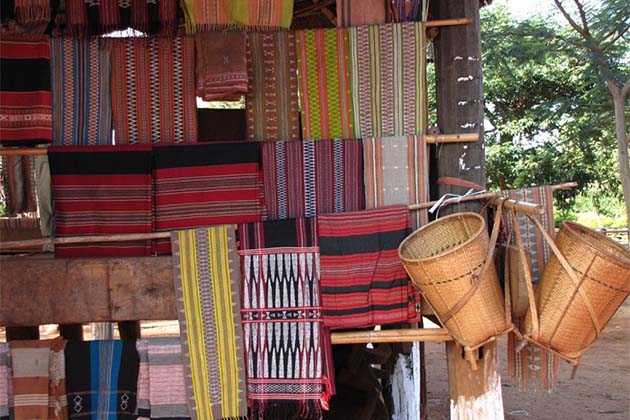 Day 8: Pakse – Wat Phou – Done Daeng (B)
After an early breakfast, we travel by road via Pakse town crossing the Mekong by Laos – Japanese Friendship Bridge to visit the fascinating pre-Angkorian ruins of Wat Phu, UNESCO World Heritage Site which reflects Khmer Culture.
The group can make a quick stop at Wat Luang, before going to Done Daeng.
We then continue our journey by car then take a boat to cross the Mekong River to Don Daeng Island. The rest of day is free at leisure.
Overnight in Don Daeng.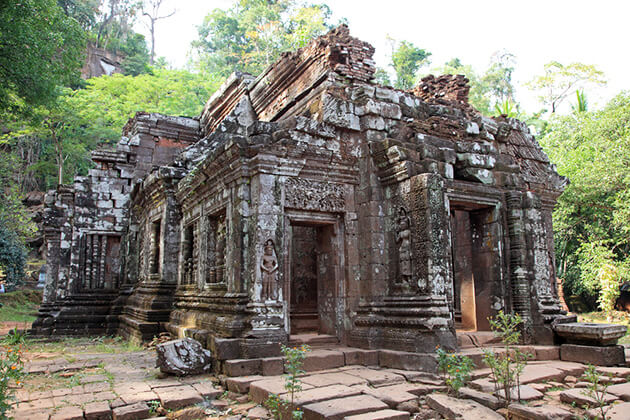 Day 9: Done Daeng – 4000 Islands & Surroundings – Done Daeng (B)
After breakfast, join in a long tail boat tour of the Don Khone area to observe the remaining from French time and Liphi Waterfall – "the Corridor of the Devil". Afterward, witness life in the mainland in Ban Nakasang – a fishing village and head to the south to explore Khone Phapheng – the gigantic waterfall in South East Asia with the wildest scenery, the most heart-stopping natural beauty in Laos.
Overnight in Don Daeng.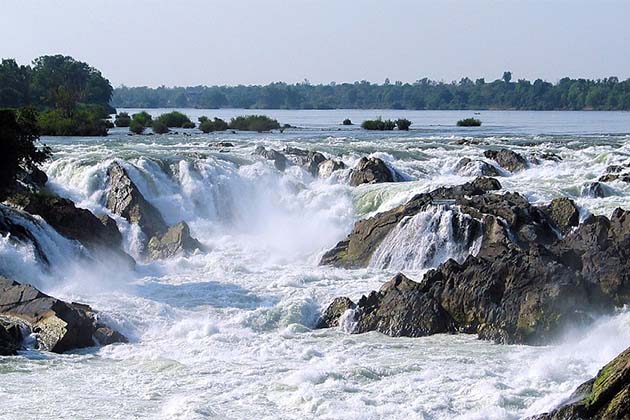 Day 10: Done Daeng – Pakse – Departure (B)
Last breakfast in Lodge, take your time in the morning and relax at La Folie Lodge. Say goodbye to this delightful mainland heading to the airport in Pakse for departure.
The tour ends.