Tour Route: Luang Prabang – Pak Ou Cave – Khoang Si – Muong Khouan – Xieng Khoang – Vang Vieng – Vientiane – 4000 Island – Bolaven Plateau – Pakse
Duration: 15 days/14 nights
Date: No fixed departure dates. You may go whenever you wish.
Start/End: Luang Prabang/Pakse
Tour Type: Adventure, Experience, Discovery
Tour Customizable: Definitely! Tell us about your specific requirements.
Guides: Local Guide (English Speaking Guide, Other Languages upon Request)
Transportation: Private first-class air-conditioned vehicles
Brief Itinerary
Day 1: Luang Prabang Arrival
Day 2: Luang Prabang – City Tour – Pak Ou Cave
Day 3: Luang Prabang – Full day Elephant Village and Trekking to Ban Suan Dala – Joined Tour
Day 4: Luang Prabang – Khoang Si Waterfall
Day 5: Luang Prabang – Xieng Khoang – Plain of Jars
Day 6: Xieng Khoang – Muong Khouan – Xieng Khoang
Day 7: Xieng Khoang – Vang Vieng
Day 8: Vang Vieng – Free day
Day 9: Vang Vieng – Blue Lagoon & Tubing
Day 10: Vang Vieng – Vientiane via Ban Bor and Nam Ngum
Day 11: Vientiane – City tour – Buddha Park
Day 12: Vientiane – Fly to Pakse – Wat Phou – 4000 Island
Day 13: 4000 Island – Surroundings
Day 14: 4000 Island – Bolaven Plateau – Pakse
Day 15: Pakse Departure
Day 1: Luang Prabang Arrival
Arrival, our guide will pick you up and transfer to the hotel for checking-in. The rest of the day is spent for you to prepare for the next day.
Overnight in Luang Prabang.
Day 2: Luang Prabang – City Tour – Pak Ou Cave (B)
After breakfast, your city tour starts with the first station – Wat Visoun, was known as 'The Water Melon Stupa' due to its shape. Next, we visit Royal Palace and the magnificent Wat Xiengthong which is representing the classical Luang Prabang style.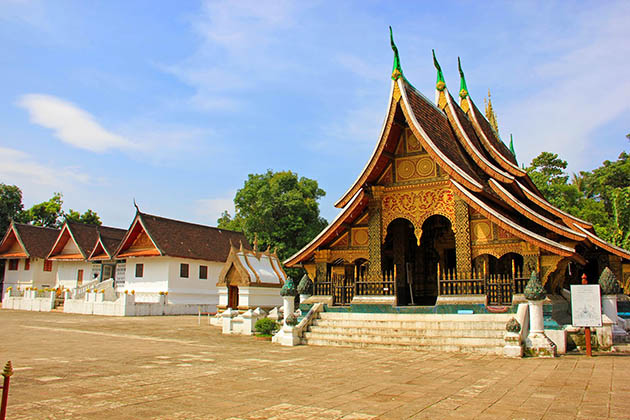 We then board a cruise upstream on the Mekong River, which gives us a panoramic view of the tranquil countryside. Stop in Ban Muangkeo where we take a short trek to reach the mysterious Pak Ou Caves, two linked caves crammed with thousands of gold lacquered Buddha statues of various shapes and sizes. Before returning, we stop at the village of Ban Xanghai, where the local specialty of rice wine is produced.
Overnight in Luang Prabang.
Day 3: Luang Prabang – Full day Trekking to Ban Suan Dala – Joined Tour (B, L)
The first destination of today is the Elephant Village Camp. You will participate in a short briefing about elephants before joining the activities with your new friends.
Next, we take trekking to Ban Huay Fai. Enjoy a 4 km trek on foot through the diverse landscape. You will visit the Khmu village of Ban Huay Fai, where you can explore local Khmu people's life, the house styles, customs, different ethnic groups, etc. After that, you will walk down through the beautiful forest and see the natural fruits that grow in the forest.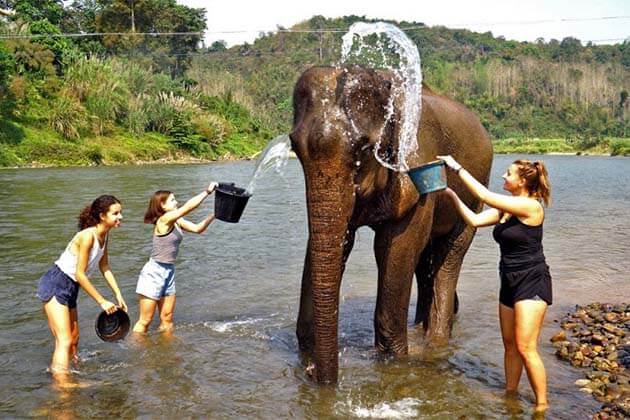 Lunch will be in the forest surroundings with a picnic box, prepared just for you at our camp restaurant and served with drinking water.
Afternoon, we trek to Ban Suan Dala with 3 km trek on foot surrounded by unique tropical vegetation and different farmland. Arrival, exploring a real mixture of cultures including Lao, Hmong and Khmu. Passing by the Nam Khan River in a traditional Lao long boat, back to the Elephant Camp. You may see the traditional methods of net fishing and other various activities in here.
Overnight in Luang.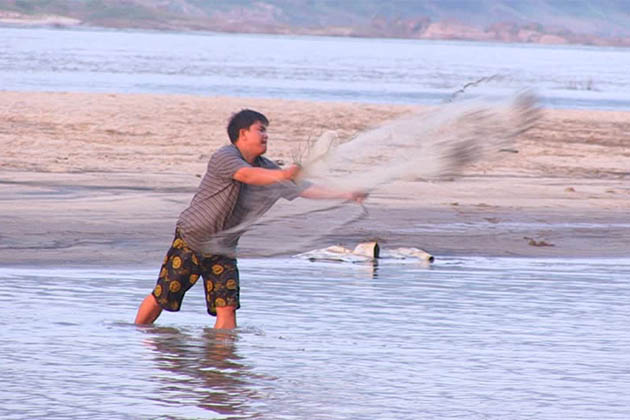 Day 4: Luang Prabang – Khoang Si Waterfall (B)
Today's morning is free, you can get up early to see the Morning Alms Giving from hundreds of saffron-robed monks – an awe-inspiring sight. You can tell your guide a day in advance if you wish to make an offering so he/she can prepare some food for you to hand over to the monks. Or you could buy the food on the spot. This early morning ritual dates back generations in Laos. Watch the town come to life in the morning then return to the hotel for breakfast or join the locals for a bowl of delicious noodle soup after the alms giving ritual. (If you do not wish to make an offering, please keep an appropriate distance and observe the ritual in silence. Dress appropriately – shoulders, chest, and legs should be covered).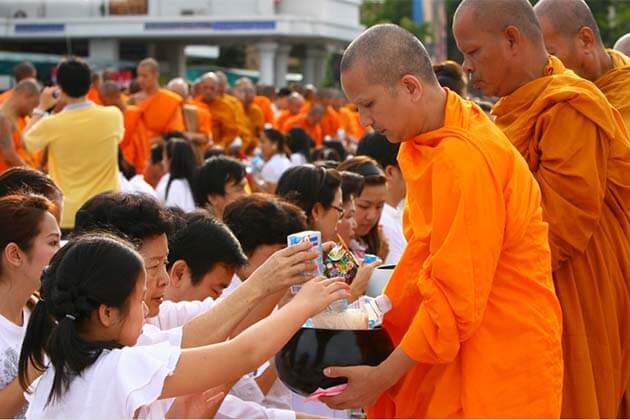 Laos is also known for its traditional crafts, and this afternoon you will visit local villages of Lao ethnic minority groups at Ban Ouay, Hmong Village and Ban Thapene, Khmu Village. Next, drive to the beautiful Khouangsi Waterfall where you can refresh with swimming in the turquoise pools or walk along the forest trails.
Overnight in Luang Prabang.
Day 5: Luang Prabang – Xieng Khoang – Plain of Jars (B)
We start early this morning for driving to Xiengkhuang, famous for the 'Plain of Jars'. We make our first stop at Houi Hei, which offers great views of the surrounding mountains. We then continue to come to Ban Kiu Kam Pone of Khmu people to explore, before having lunch in Phou Khoun. We continue on the road into Xiengkhuang province, reaching our highest altitude of the day 1500m above sea level, just after Phou Khoun. We have time to make a stop at Ban Son Boom of Hmong people.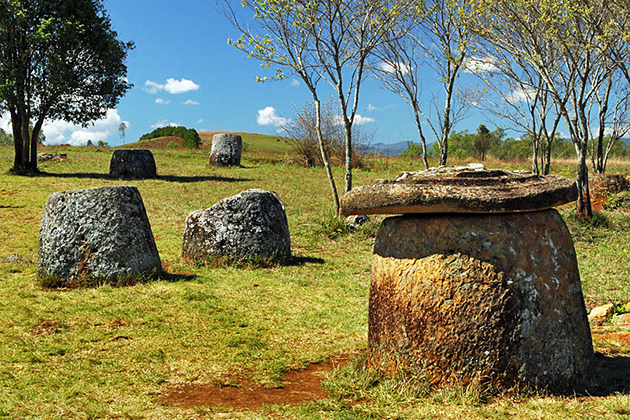 Our final stops of the day is a region played a major part in the past time of the Vietnam War – Buddha Cave was served as an army hospital during the war. An optional stop to visit is an Old Russian tank.
Overnight in Xiengkhuang.
Day 6: Xieng Khouang – Muong Khouan – Xieng Khoang (B)
Morning, you will be driven to visit Plain of Jars site 1, 2.
Afternoon, you visit the Muong Khouan – the ancient capital with giant Buddha statues. Overnight in Xieng Khoang.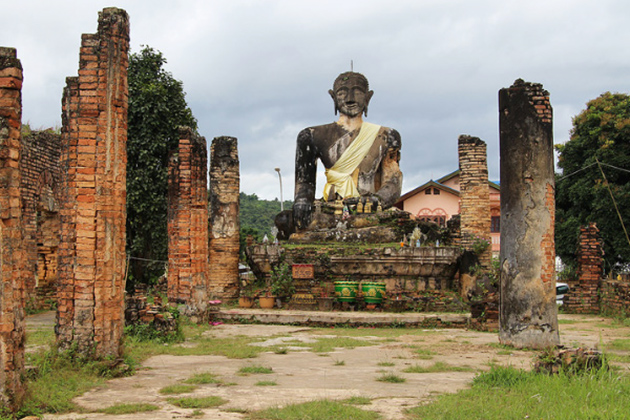 Day 7: Xieng Khouang – Vang Vieng (B)
After breakfast, we drive through the scenic road to Vang Vieng. The trip will last about 7-8 hours and we have a chance to stop for photos along the way.
Overnight in Vang Vieng.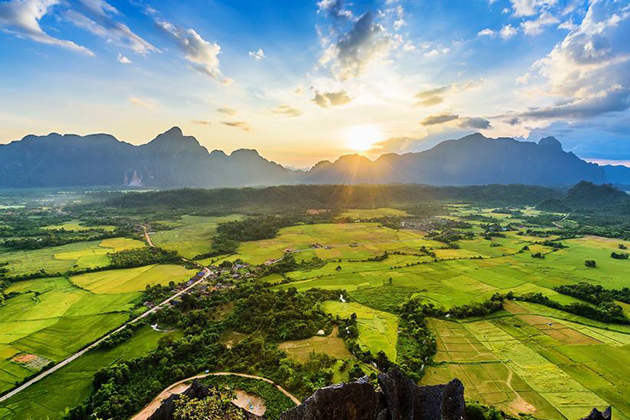 Day 8: Vang Vieng – Free day (B)
Today is free for you to recover after a long trip and take activities on your own. Overnight in Vang Vieng.
Day 9: Vang Vieng – Blue Lagoon & Tubing (B, L)
The day will start with a 14km ride to the first station – Tham Xang (Elephant Cave). It is an important Buddhist Temple, remark limestone formation. You will then pass through a small Laos farm and village. Afterward, you will have the chance to swim in the clear, cool spring water that lies at the mouth of Tham Nam.
A free BBQ lunch aside Tham Nam will be served for you.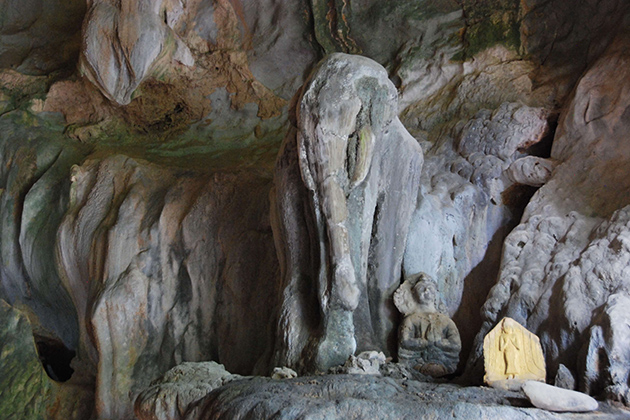 Back to a village, start your kayaking and drive to Khmu Village, 10km North of VangVieng. You'll have a chance to stop at bars throughout the river, like Fluid Bar & Restaurant, where you can get some refreshments. It's a great place to swim with fantastic views or play some games.
Once the kayaking is completed, we'll take a truck ride to the famous Blue Lagoon, where you will have the chance to swim in the lagoon or just relax in the small bamboo huts before coming back.
Overnight in VangVieng.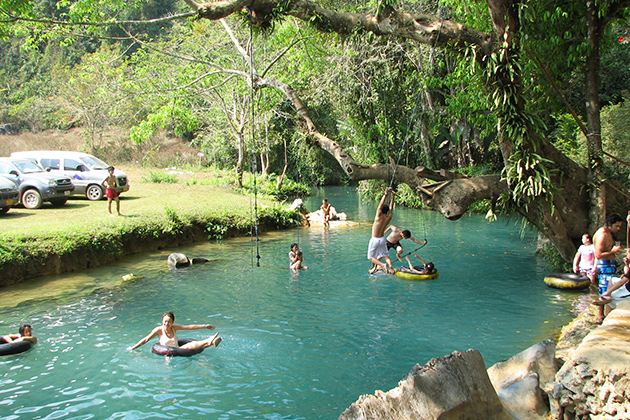 Day 10: Vang Vieng – Vientiane via Ban Bor and Nam Ngum (B)
After breakfast at the hotel, the morning is free for you.
Afternoon, we spend time driving to the capital city Vientiane, which is located on the banks of the Mekong River. We will stop to visit Ban Bor, a village where natural salt is produced and the Nam Ngum Lake with hundreds of small islands.
Overnight in Vientiane.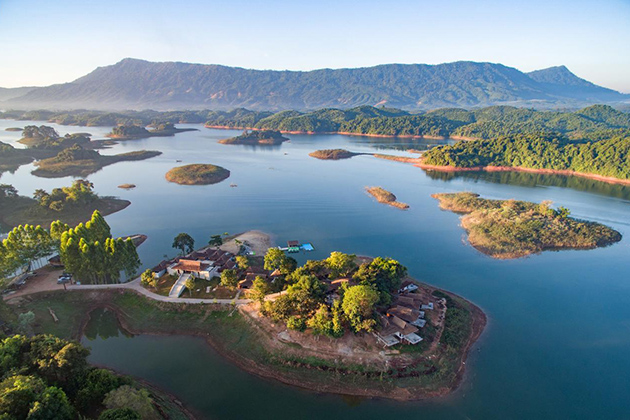 Day 11: Vientiane – City tour – Buddha Park (B)
Today we will visit the most prominent locations in Vientiane. First stop is Wat Si Saket, one of the most important pagodas in here, displaying more than 2000 Buddha statues with many shapes and sizes. Nearby is Wat Hor Prakeo, the most famous in Vientiane, was known as Royal Temple. Then we visit That Luang Stupa.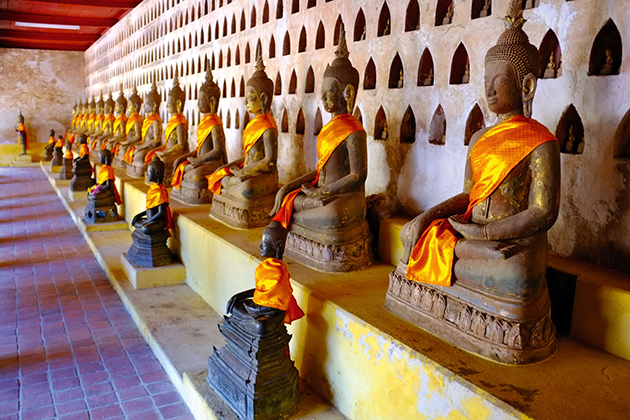 The afternoon we visit the Buddha Park of Xieng Khuan, a collection of hundreds of Buddha statues. Also, we go through small peaceful villages along Mekong River, enjoy the simple but spectacular scenery. Especially, we will have a chance to watch Mekong Friendship Bridge – the border of Laos and Thailand. After that, back to Vientiane, visit Ban Nongbuathong, the famous weaving village here. Wandering along Mekong River's bank before returning.
Overnight in Vientiane.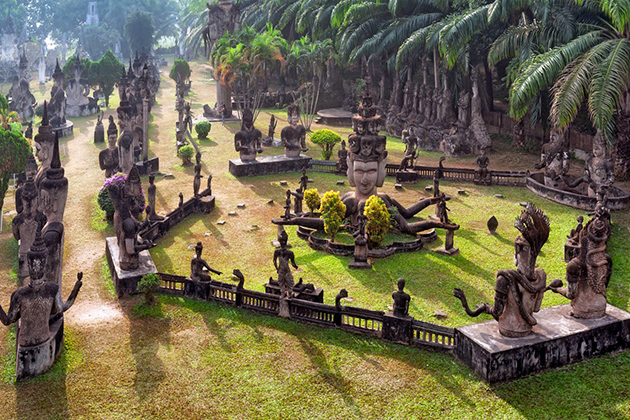 Day 12: Vientiane – Fly to Pakse – Wat Phou – 4000 Island (B)
You will move to the airport early this morning for the flight to Pakse. Arrival, you will be transferred directly by car to Wat Phou, another World Heritage Site in Laos, which was recognized by UNESCO in 2002. Wat Phou is the site of ruins that were once part of a temple built before Angkor Wat in Siem Reap.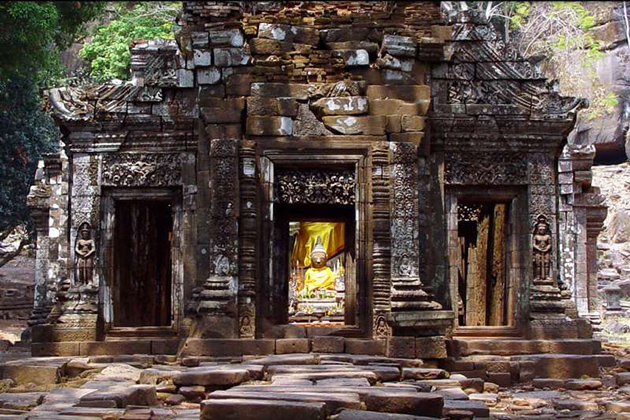 In the afternoon you will drive to Don Khong, an area of 4000 islands which is the widest point of the Mekong River during the rainy season, having thousands of islands and islets. En route, we visit the atmospheric ruins of the Khmer temple of Oup Mong at Ban Houei, located in the forest. Arrive at Khong Island.
Overnight on Khong Island.
Day 13: 4000 Island – Surroundings (B)
Following breakfast, we will pay a visit to the surrounding countryside, embark on a boat to Don Khone, where we can explore the island by bicycle, visit the remains of the French period and Liphi Waterfall or "the Corridor of the Devil".
We return to the fishing village of Ban Nakasang and drive further south to visit Khone Phapheng which is considered the largest waterfall by volume in South East Asia, making Laos-Cambodia border is one of the most breathtaking destinations.
Overnight in Khong Island.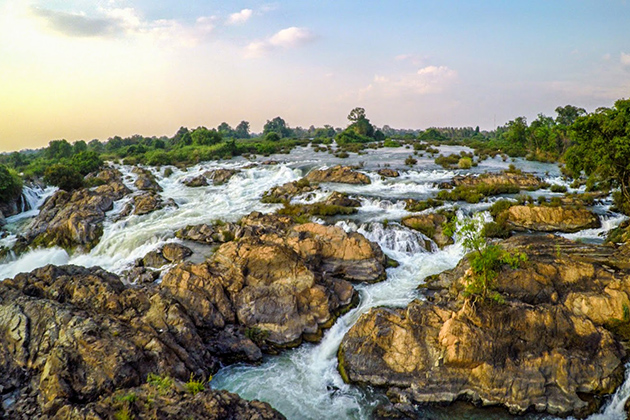 Day 14: 4000 Island – Bolaven Plateau – Pakse (B)
Remember to get up early to drive North to the Bolaven Plateau. This place located high above the Mekong Valley was known for its cooler temperature. Our first stop is Houey Ten, a Katu village specializing in knifemaking. Next, we stop at a tea plantation, followed by a stop at Tad Fan Waterfall, a picturesque twin chute waterfall.
In the afternoon, we stop at a coffee plantation, en route to Tha Teng Market, a colorful ethnic minority food market. We arrive at the beautiful Tadlo Waterfall by late afternoon. On the way come back to Pakse, we stop at Ban Houi Hun, an Alak weaving village, where they keep coffins under their houses, and at another picturesque waterfall, Paxuam.
Overnight in Pakse.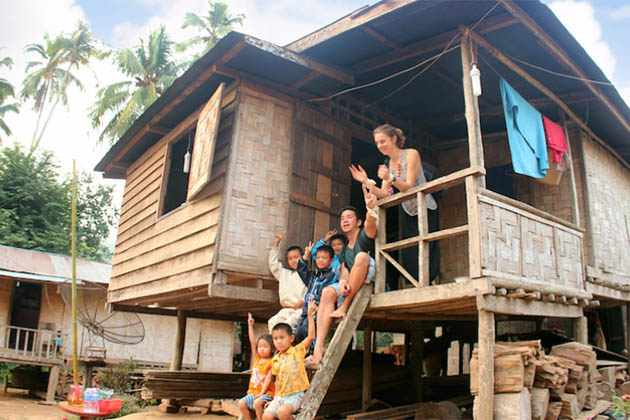 Day 15: Pakse Departure (B)
After breakfast, there will be free time for your own exploration of Pakse Town before connecting your departure flight. Tour ends.
"Free inquiry if you interest this tour or create your own trip with our travel expert!"