Food is always a hot topic for anyone who wants to travel to another country. It is not just a simple dish or drink but it also represents a culture of that country. Once you have a chance to go to Laos tours, you often wonder what foods they often eat as well as what is the famous specialties of Laos cuisine. This complete guide will bring you the world of Laos food cultures.
Laos Cuisine Origin
In the past, Laotians moved from the north, which nowadays has become part of China. Of course, when moving, They bring tradition and culture to the places they come. Because of the historical travel to the areas adjacent to Thailand and Cambodia, Laos cuisine is spicy, sour and sweet which is similar to its neighboring but it still remains the own style.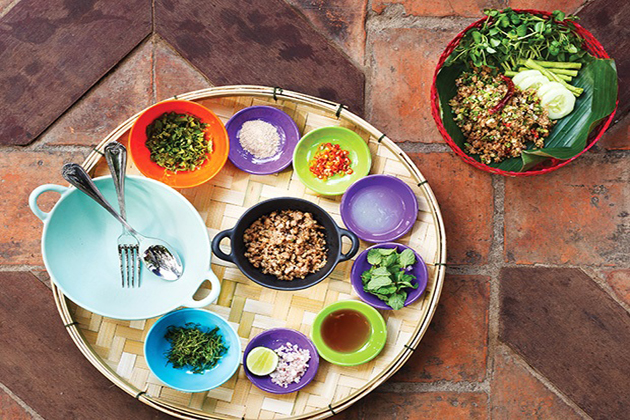 Laos Cuisine Styles
In addition to the fish caught in freshwater lakes, the Laotians also eat other types such as chicken, duck meat, pork. Like every other Southeast Asian country, in every Laotian meal, rice is considered the main meal. They like to use spices such as ginger, tamarind, lime leaves or chili peppers to enhance their flavor. Especially chili peppers of Laos is super spicy. There are many kinds of chili, such as boiled chili, fried chili or sour chili.
The spicy is also a cultural feature because most of Laos use manual labor, spicy taste, create delicious food, help workers eat more, increase labor. In each region, there are also typical dishes, with different names and processed according to the characteristics of each region, but cannot be without the spicy of chili. A typical dish of the Laotian people is the mix between spicy and sweet, be more neutral herbs.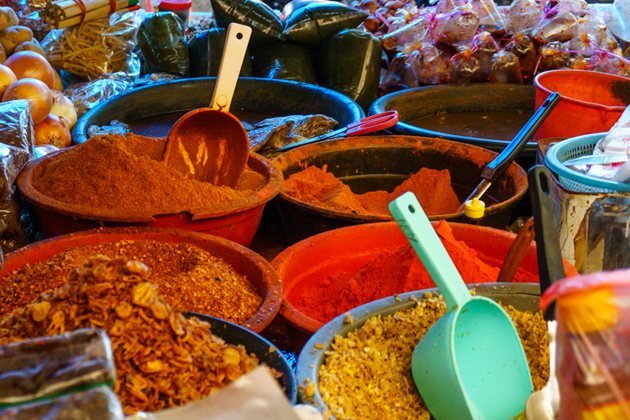 Fish sauce (pa dek) and "Cheo" sauce include buffalo skin, roasted peppers, grilled garlic, roasted vegetables, sugar mixed with herbs mixed or Muok fish sauce consisting of chili, lemongrass, onions almost fish sauce is very popular in Laos.
One of the hallmarks of the Laotian cuisine is that people of Laos often build a vegetable garden next to their house, where they grow vegetables such as onions, sweet potatoes, cucumbers, radish, celery, lettuce, etc. It is a supplement to the daily meals of the Laotian.
Laotian Eating Style during Meals
Unlike Westerners who sit high on the table, they clean up their own dishes, which they prefer to squat on the floor or sit on a red carpet, sitting around a small table woven made from rattan called ka toke. The dishes are arranged on ka toke which is of a standard size. The places Where there are many diners, the ka toke will be prepared. Each ka toke will have one or more baskets of sticky rice, shared by all diners at ka toke. In recent times, eating at a ka toke is not compulsory. However, at the temple, the monks still maintain their meals on a ka toke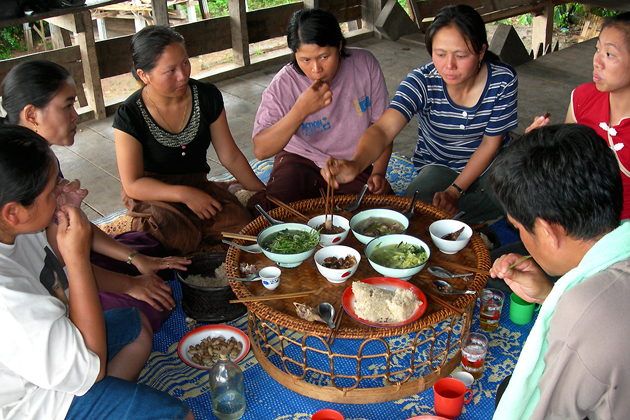 Piep – is the parents, the superior will pick up the first piece of food to the banquet. And those who visit and dine also adhere to their rules, such as not eating when others stand up. Whenever guests arrive at their home, the meal is always a party. The food is made in the amount of double the number of guests. The habit of Laotian is to always leave a little food on the plate. If you do not leave food, the host will think they are not good reception, guests are not full enough, and the host will lose face. The water is very thorough and clean, before eating, they wash their hands thoroughly and after eating.
Laotian meals usually consist of a soup, a roast, sauces, greens, and a stew or mix (koy or laap). Green vegetables are usually green vegetables, herbs and other vegetables, although depending on the dish they come with, they can also be steamed or more commonly boiled.
The Strangest & Most Famous Laos Dishes
It can be said that Laos is very diverse and rich. In addition to the daily dishes, a number of dishes when referring to Laos cuisine as Tam Maak Hung also known as papaya salad of pickles, papaya, coconut and then mixed with dozens of spices eat very strangely. Besides, Tam Maak Hung, there are other dishes such as Dumplings, Tiger Prawns, Grilled Fish and so on. Each dish has other ingredients such as pork, minced, mixed with Laos spicy, eat with sticky rice or rice, mixed with spicy chili, grilled fish is salted skin, when cooked, fish skin is not burning but white salt, fish meat does not stick to the skin, fragrance, dot with water "chil" (specially made from chili , garlic, onions, salted fish, salt, marshmallow and lemon).
Food from Insects
Like the Cambodian and Thai cuisine, Laotians also like dishes made from insects. From rice crisps, egg ants, to tomato sticks, spiders in fried foods, stir-fried, peanuts to steamed rice or pickled vinegar are very tasty.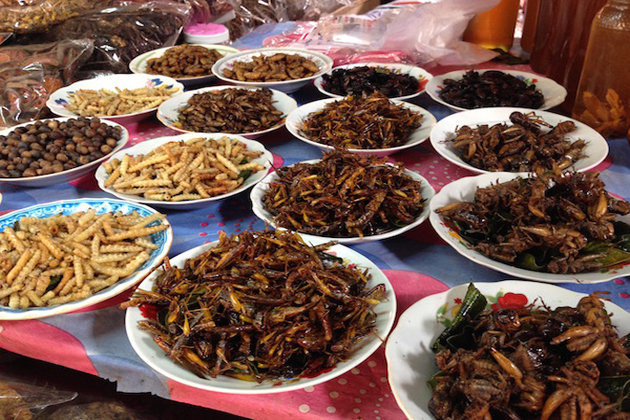 Stingrays – a useful insect living in the Cambodian rice field imported by the Laotian people for a very expensive price is the most popular insects with the spicy aroma. The dishes of the insect is very rich in protein, the Laotians are processed variety, attractive and fancy just like the taste of it.
Tam Maak Hoong
Tam Maak Hoong is considered Laotian specialties, also called vegetarian or papaya mixed meat. These famous dishes include pickles, papaya, chopped peppers, chopped parsley and then mixed with the same spices to give each customer a very strange feeling when sipping piece by piece.
"Moss"- One of the Strangest Laotian Dishes
Laos cuisine will be less special if not to mention Laos moss. Moss but strange but familiar. Moss on rocks, river banks, streams is cleaned, refined, added spices and pressed into thin sheets. Deep fried green mussel, very crunchy and rich. This is a delicious dish to serve Laotian people.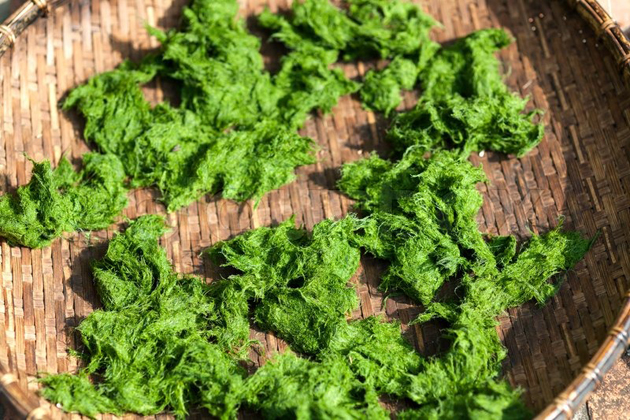 Grills
Entering the stores at night markets of Laos, you will easily see barbecue stalls displaying a continuous table with lined green banana leaves, greasy grease stickers. Skewers filled with table tops such as grilled snakehead fish, grilled seabass (or snapper) grilled charcoal, chicken thighs, chicken wings, or chickens that are either skewered or clamped with bamboo skewers.
Next, to the grilled meat or grilled fish, there is a sausage made from pork, called "sai gog". This dish is made from minced pork, rice, rancid and other spices. This sausage can be fried and then heated on charcoal.
Laap
In Laotian, Laap means luck, which is traditional food in the Laos festival and also the food of their closest ethnic. Made from animal meat, usually beef, deer meat or maybe buffalo meat. Meat is mixed with mint and lemon juice. People often use Laap with vegetables such as cruciferous, coriander. Laap is a party dish, usually served on special occasions or for guests traveling to Laos.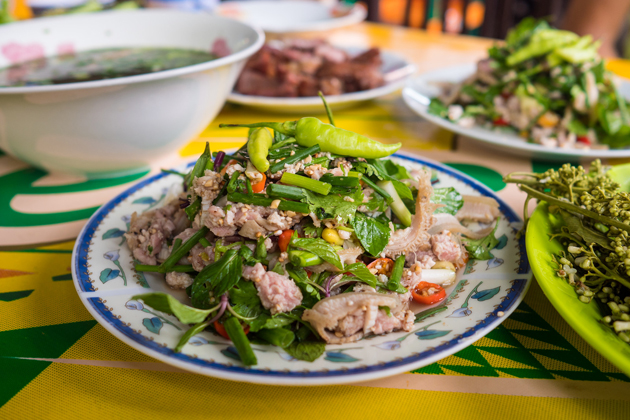 "Rock Salt"- a Special Spice of Laos
It is processed by drying puddles and dead bays during the retreat to leave the salt product and then buried by the geo-structural method of the earth's crust. "Rock salt" in Laos is used as cooking salt and sold as souvenirs for tourists.
Laos Specialty Drinks
Drinks of Laos include laulao, fanthong (similar to wine), namsa (blended tea), coffee … especially roasted coconut. Coconut is baked enough then peeled and chilled. When drinking, it is very delicious. Laulao is a mild wine made from glutinous rice fermented with lemon and Pepsi. Lao's wine is very easy to drink, hard to say, but when drunk, it does not cause headaches.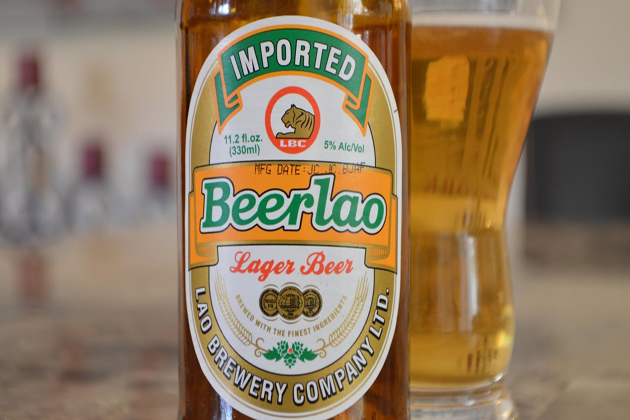 One of the most popular drinks, contributing to the flavor of the dish is the Laos beer. Made from local rice and best quality Maltese oysters should have a unique flavor. Beer is bright yellow as amber and very light so it is suitable for women. Beer can be used for a variety of foods, but especially delicious with grilled dishes are the traditional dishes of Laotian beer. It is known in 1973 and has become the leading and the best-selling brand in Laos, Asia's best beer. In Laos, BeerLao is found everywhere from toad shops, sidewalks to luxurious 5-star restaurants. Laotian beers are delicious and strong, the drink has been chosen is the best beer in Asia and visitors on Laos tours cannot be ignored.
Laos Cuisine Culture
Kitchen Utensils
In kitchen utensils, The typical Laotian stove or brazier is called a tao-lo and is fueled by charcoal. It looks like a bucket, there is room for a pot or pan to sit on top. The pan, maw incense in Laos, is used to fry and stir fry. Sticky rice is steamed inside a bamboo basket, a huad, on the top of a pot, called a burning maw.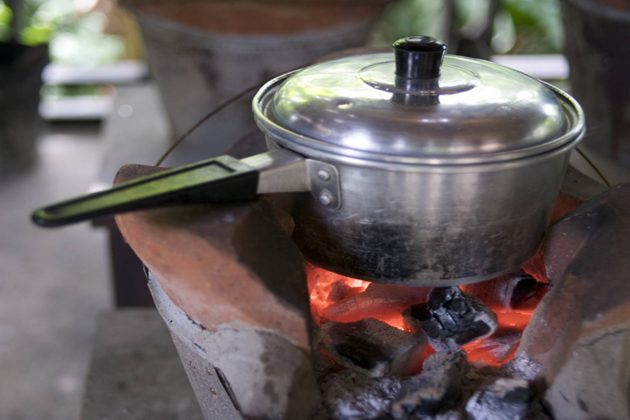 Cooking Methods
Roasting, boiling, stewing, steaming, tearing and blending (as in salads) are all traditional cooking methods. Stir-fry is now popular but considered to be China's influence. The stew is usually green, as most vegetables are used as well as ya leaves. Soup/stew are classified as follows, tom, tom jeud, kaeng, and kaeng soua. Mint and lemongrass are one of the indispensable ingredients in the cuisine of Laos. Besides, Galangal is a favorite vegetable cooking in Laos, unlike in neighboring countries. It appears in most Laos dishes, along with common herbs: garlic, shallots, lemongrass, etc. A distinct characteristic of Laos food or rather, Laotian eating habits, is The food is usually eaten at room temperature. This may be due to the fact that Laos food is served with sticky rice traditionally handled.