One of the most interesting things in a country is tasting all the delicious dishes of it. Although being influenced by the neighbor countries like Thailand and Vietnam, Lao cuisine will capture your heart by its unique flavor that you cannot find anywhere else. Here are the top 7 mouthwatering dishes you cannot miss in your Laos tour. Enjoy reading!
Lao Noodle Soup (Khao Piak Sen)
As one of the most popular in Laos, Khao Piak Sen is quite similar to the Pho of Vietnam. You can taste Lao Noodle Soup at any time of the day. It is a combination of beef or chicken, broth, and flat rice noodle. This top-notch noodle dish is often served with fresh herbs. Its also accompanied by an optional garnish of chili oil, lime juice, bean sprouts, long beans, holy basil, and cilantro. With 10,000 Kip or 40 Baht, you can have a delicious bow of Laos Noodle Soup.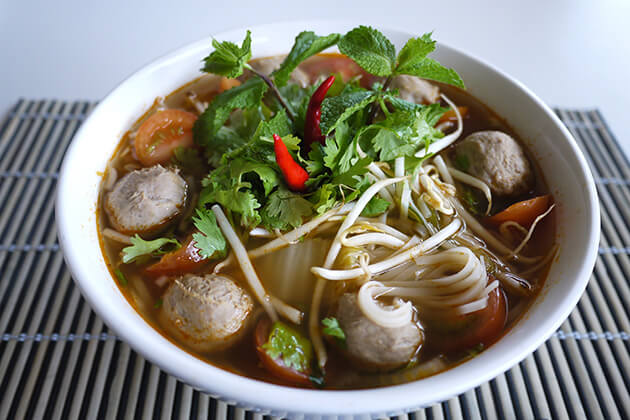 Green Papaya Salad (Tam Mak Hoong)
Imported to Bangkok from Lao immigrants, Green Papaya Salad is similar to Thailand's Som Tam dish, but does not contain peanuts and is usually made with fermented fish sauce. To make this dish, strips of green papaya are pounded together with a handful of basic ingredients including palm sugar, lime, fish sauce, peanuts and chilies in a traditional mortar and pestle. Tam Mak Hoong brings the signature sweet, sour, salty and hot signatures of the region. Other optional Lao ingredients include soft-shelled crab, pickled fish sauce (padek), garlic, tomatoes, dried shrimp, raw eggplant, and Makok a sour olive shaped berry. Enjoy it with sticky rice for the perfect flavor.
Fresh Spring Rolls (Yall Dib)
This dish is probably a replicate of Vietnam fresh spring rolls. It is healthy food with fresh ingredients such as vermicelli (rice) noodles, fresh herbs, and choice of meat (fresh prawns please). All of them are wrapped tight in a thin rice paper. The chili fused peanut dipping sauce makes this dish more special. Beside Fresh Spring Rolls, Laos also has summer rolls which is an ideal choice for vegetarians and Chew Yaw which comes with meat and veg rolled in rice paper and deep-fried to crisp. The price of Yall Dib is about 15,000 Kip or 60 Baht for 3 to 4 wraps.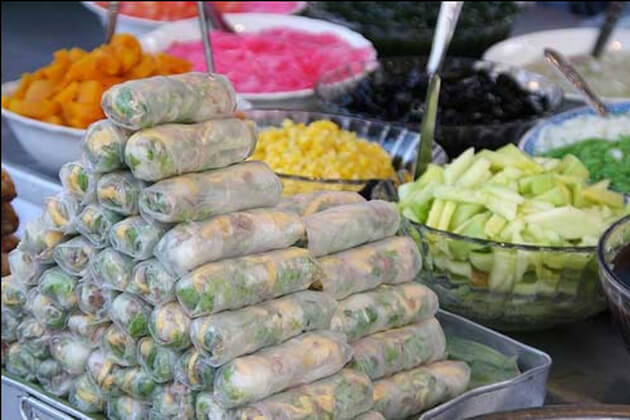 Lao Sausage (Sai Oua)
When visiting Laos you will easily see Sai Oua drying at roadsides or strung up at local markets. Lao sausages are made of minced pork combined with sours of lemongrass and kaffir lime and the fiery kicks of chilies and galangal. Unlike the famous Chiang Mai sausage in Thailand, the Laos Sausage comes served with sticky rice and a tasty dry chili dip (Nam Cheo).
Minced Pork Salad (Laab Moo)
Minced Pork Salad is a must try for any visit to Laos. This special dish comes with stir-fried minced pork cooked with shallots, coriander, chilies, and mint leaves. Enjoy it with fish sauce and sticky rice. Yummy! Note that, Laab Moo costs roughly 20,000 Kip or 80 Baht.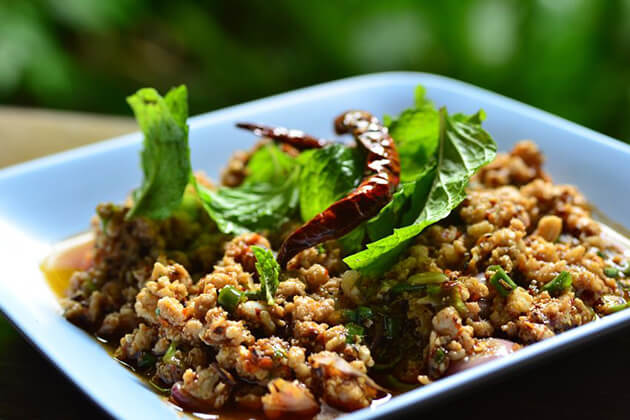 Lao Fried Rice
Lao Fried Rice is a catch-all dish where all bets are off and anything goes into the work. The ingredients of the traditional Lao fried rice are Thai basil, green onion, carrot, fish sauce, soy sauce, sugar, and hot peppers. Do not forget to enjoy this dish with veggies or add shrimp or chicken to the mix.
Tropical Fruits
Like other Southeast Asian countries, Laos is also famous for tropical fruits. There are a ton of fresh fruits from melons, pineapples, custard apples to mangoes, rambutan, dragon fruit, guava, mangosteen, and the smelly-sweet durian. You absolutely will love the fruit shakes there. Especially, Laos has a unique art form from fruit which is melon carving. You can easily see it on banquet tables at weddings and other events in this country.