Laos is a landlocked country which is famous for many tourist destinations such as Vientiane capital, Luang Prabang or Vang Vien. These cities are the most popular places for backpackers and travelers. If you want to discover lesser-known attractions, check out the following destinations we recommended for you.
The 4,000 Islands
Some people will be confused when hearing about this place because Laos is a landlocked country. In fact, the 4,000 islands are islands ranging in size from tiny (think bush-size) to huge inhabitable landmasses on the Mekong River. The largest island is Don Khong which will give you a view into local life away from the tourist trail. Don Khon and Don Let are the most popular islands with a chain of hostels, luxury hotels, and tour agencies. These islands are ideal places to relax and indulge in a lot of exciting activities such as kayaking, tubing, and visiting waterfalls. Visit other islands for new feelings and tons of joy.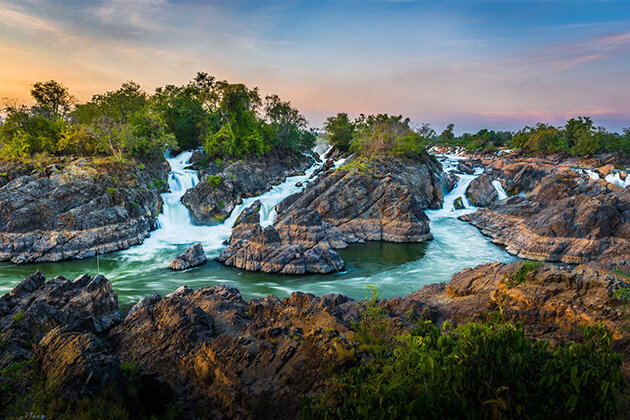 The Bolaven Plateau
The Bolaven Plateau enchants tourists by its beautiful coffee plantations, serene tiny villages and approximately twenty silver waterfalls. Rent a motorbike to discover the beauty of this land by yourself. Miss Noy's Motorbike is a good choice with high-quality bikes as well as a map and great information on where to go and where to stay along the loop. You can hike around some popular waterfalls like Itou Falls, Tad Yuang and Tad Fane fall. Bolaven Plateau will bring you many interesting experiences such as hiking, appreciating countless waterfalls and amazing tours of coffee plantations. Visit a minority village outside of Tad Lo where you will eat noodle soup for breakfast and chat with local people. Take a chance to experience their simple lives to know more about their culture and customs.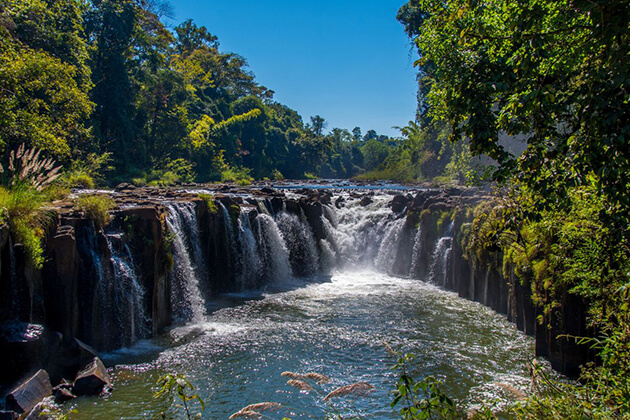 Champsack and Thakhek
Champsack is another off the beaten track destination you can not miss in your Laos tours. It is well- known for the ancient Khmer temple complex which is a UNESCO World Heritage site. The Thakhek motorbike loop in central Laos is also worth visiting with a variety of stunning caves. Both of the two destinations are not tourist traps, therefore, you can relax and enjoy your vacation without bothering.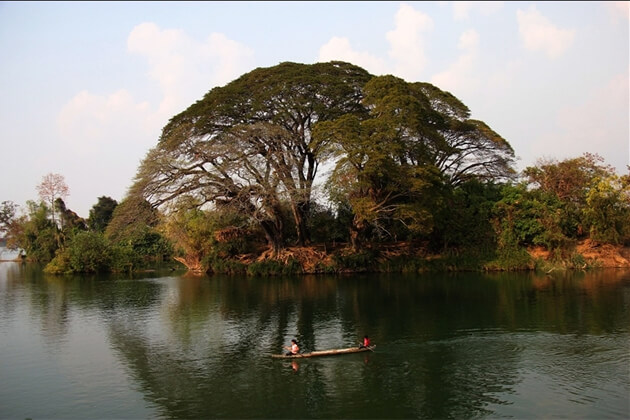 Muang La
Just 28km from Udomxai towards Phongsali, Muang La is a great destination to escape from the bustling city. It's a peaceful small town built onto a small patch of flat land tucked into a river bend flanked by cliffs. Scenic Muang La will welcome you with its charming beauty. In the central of Muang La, there is a classically styled temple that hosts one of northern Laos' most revered Buddha statues, the Pra Singkham Buddha.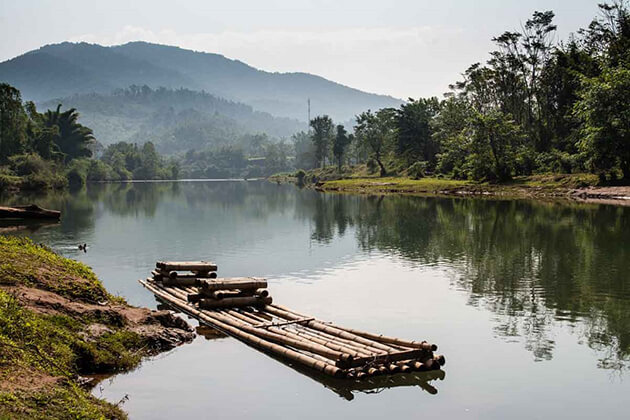 Nam Et-Phou Louey National Protected Area
Located in the north-east of Lao PDR, Nam Et-Phou Louey National Protected Area is a habitat of open forest and shrubland where there's a chance to spot Laos' wildlife. Visit Et-Phou Louey National Protected Area you will be impressed with its wildlife and have an opportunity to capture photos of animals as dears, muntjacs, langurs, different cat species, bears etc. Taking a trekking tour in NEPL NPA is a unique opportunity to visit and stay overnight in the protected area's core zone and view rare wildlife. You also can take a traditional long-tail boat to enjoy some great nature activities that include bird watching, wildlife tracking, nighttime wildlife spotting, medicinal plant exploration, and easy hiking.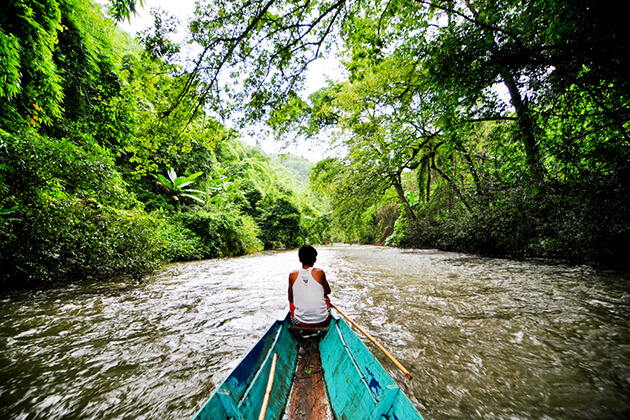 Nong Khiaw
Nong Khiaw is not a standout place in Laos but it guarantees you a wonderful trip with its stunning landscape from limestone hills and immense forests. It's can be said that Nong Khiaw is heaven for travelers with pampering, mouthwatering food, comfortable accommodation and bags of interesting activities. Climb up to the top of a mountain to get the breathtaking view of the town. Spend a night in Nong Khiaw and sweat out stress as well as soothe tense muscles with the traditional herbal sauna.
If you fall in love with 6 off the beaten track destinations above, you totally can add in your Laos itinerary. Contact us and our happy consultant to plan your trip. Check out more at Laos adventure tours.