The mysterious 2000-year-old plain of stone jars scattered across the field still has no satisfactory answer. Who did make these stone jars and what for? A real experience to this astonishing destination during your Laos tour will absolutely satisfy your curiosity.
The Unique Plain of Jars
The plain of jars is located around the city of Phongsavan in Xiang Khouang Province, Northeast Laos with thousands of stone jars scattered on 52 sites of the field. These stone jars have shrouded the secret and mystery for thousands of years.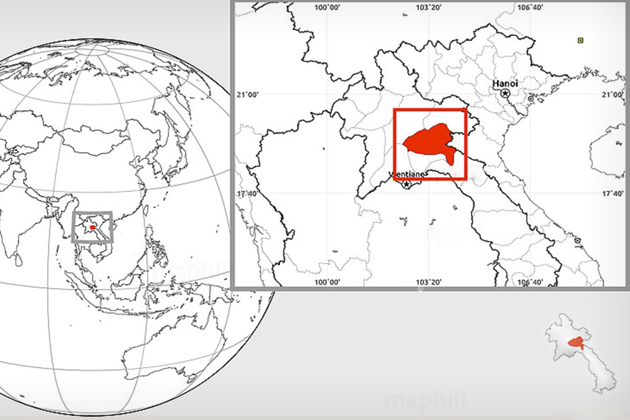 Look from a far distance, the plain of jars looks like a giant chessboard with clutter chessman, but getting closer, these stone jars are scattered, different shapes and sizes. Some stone jars are big, some are small, some are erect or even inclined, all of them are mixed making the plain of jars look weird but truly fantastic.
These mysterious jars were made from granite, most of them were from 1 to 2 meters high and medium weight from 600 kilograms to 1 ton. However, nothing was the same, some jars were made from sandstone including feldspar quartz and mica. Top of each jar was carved with human or animal form and some other symbols. People found lids nearby the stone jars, maybe it was used to cover the mouth of the jar but for some reasons, it was removed or another purpose. Now, there is only one jar probably originally sealing off with a lid.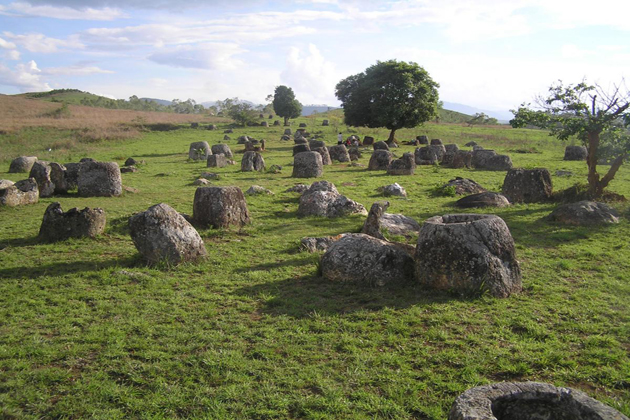 The Mysterious Plain of Jars
Where to bury dead people? It was found bones, tooth, brass bracelets, and glass necklace inside and hypothesized to be burial plots of dead people. But local legend tells that the stone jars were made by a race of giants as cups to drink rice wine. Another legend believes that an ancient king Khun Cheung were made these jars for rice wine fermentation to celebrate the military victory. Some say Xiang Khouang is highland and old people made them store water. After all, no one knows the secret shrouded behind the plain of jars.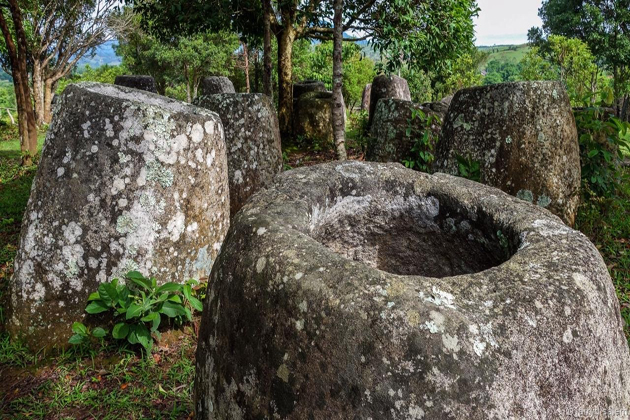 In the early 1930s, a French geologist and archaeologist Madeline Colani hypothesized the limestone cave nearby the plain of jars was used for cremation, and after that, ashes would be put into the jars to bury. Human bones, tooth, and the limestone cave are evidence consolidating the hypothesis that the plain of jars is to bury dead people. Walking on the field, there are dozens of red and white markers placed carefully on the ground – the signs of extreme mysterious secrets.
Plain of Jars – Remnants of the war
In the period of war (1964-1973), plain of jars area was suffered enormous quantities of bombs and mines by the United State Air Force and become one of the most dangerous archaeological sites in the world. Due to the incident of the war, plan of jars was sunk into oblivion, until 1989, it was opened. Although unexploded bombs have been carried out at most visited sites, it is strongly recommended staying in the safe marked paths.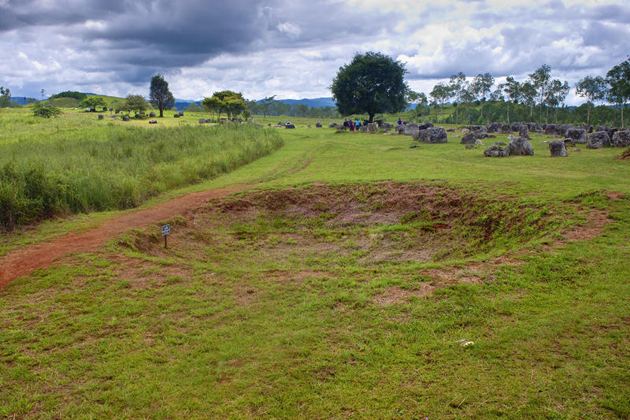 Plain of Jars – a World Cultural Heritage Site
Nowadays, Plain of jars is ranked among 7 mysterious world heritages that human still has no decryption. Thanks to the unique beauty and mysterious stories about the origin of the stone jars, this site gets strongly attractive for tourists. You are permitted visiting 3 sites around Phonsavan, but it is estimated that each year, plain of jars attracts millions of visitors, including 60% of international visitors. With what Laos government and UNESCO organization have carried out, hope that plain of jars would be free entirely for tourists coming here to touch the rough stone jars comfortably and vaguely feel the deep mystery of history.
If you are curious about the story, why don't you take a trip to Laos, and explore the mysterious story about Plain of Jars? Contact us!
Suggestion tour: Culture and Heritage Tour in Laos – 5 Days