Vang Vieng is known as the best paradise for backpackers who enjoy a good time in Laos. If you are planning a Lao street food tour, Vang Vieng is the next destination. Feel free and go to explore the new land in Laos. Vang Vieng is not only owned the natural beauty but it also has amazing street foods bring Laos as well as Vang Vieng taste. Set your foot in Vang Vieng, you will wallow in the flavor which makes you lost easily. If you are considering what are the best street foods in Vang Vieng? Here is the best food you should try once.
Sandwiches – A Gift from the French in Vang Vieng
Like the gifts from the French friends, holding a delicious freshly baked bread which is an indelible bread. A sandwich which is wrapped in paper or placed in a styrofoam clamshell makes for an easy on the go meal. Upon your interest, you can order more eggs, chicken, or bacon and smothered in gooey cheese to make your bread tastier than your image.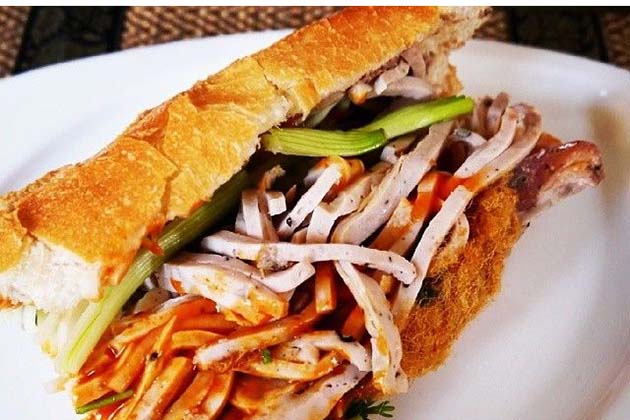 Pancake with Condensed Milk in Vang Vieng
Not only do you enjoy the delicious cake, but you also witness the magical show from the transformation of a little ball of dough become fried pancakes is pretty amazing. The assistant smacks the dough into the circle and fried it with an egg to crispy golden perfection. Then, the pancake is cut into bite-sized pieces and drizzled with your topping of choice. Condensed milk is a favorite, but you can opt for Nutella, honey or an assortment of other flavors them eat the pieces out of a bag with a toothpick.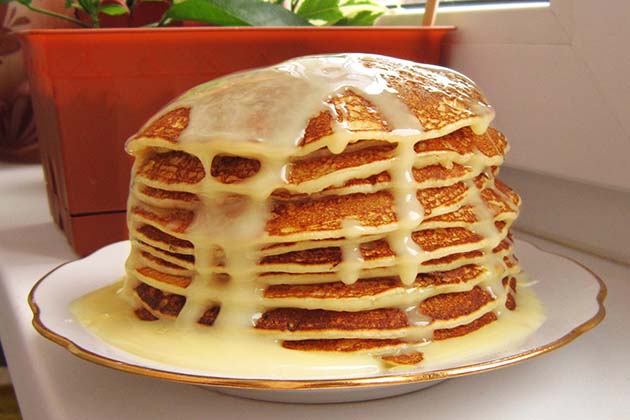 Meat on a Stick – Tastiest Food in Vang Vieng
The culture of barbecue in Laos is no exception and Vang Vieng is too. Order a meat popsicle in fish, beef, chicken or pork and it of a bamboo skewer. Eating meat off the street might seem risky but if the stall appears to be clean and the meat is served hot off the coals you won't have a problem.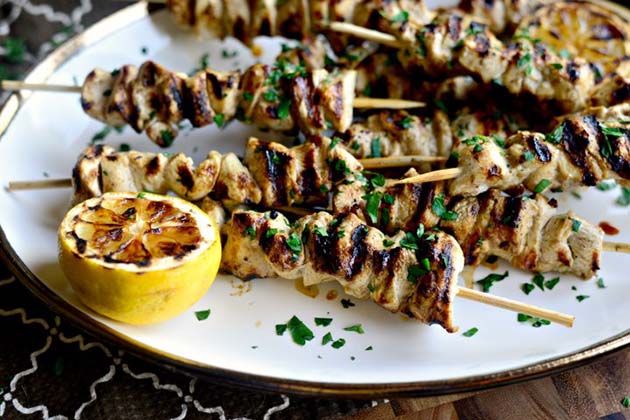 Coconuts – A Special Drink in Vang Vieng
After a long day of hiking or tubing, drink coconut water is the best way to refresh through a straw fresh from the source. You will find vendors with impressive knife skill using a cleaver to hack the tops of these massive fruits to access the insides. After drinking til the bottom, open the shell to snack on the coconut meat inside.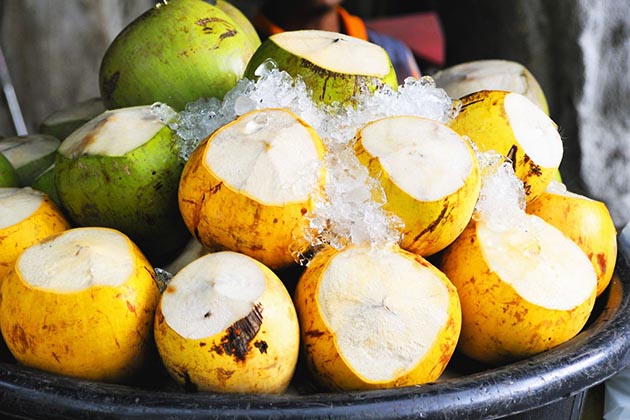 Bagged Ice Coffee – An Unique Style Coffee in Vang Vieng
Drink ice coffee with a cup which is regarded as a normal, however, whenever you heard that drink ice coffee with the bag? Try to the unique style that only in Vang Vieng. Order your iced cup of joe to go and you will get it double bagged in plastic with a straw. Choose a flavor you like such as Ovaltine, chocolate, condensed milk, and sugar. Then, you can enjoy your drink immediately, sip your caffeine fix out of the sack and stroll through the Vang Vieng street.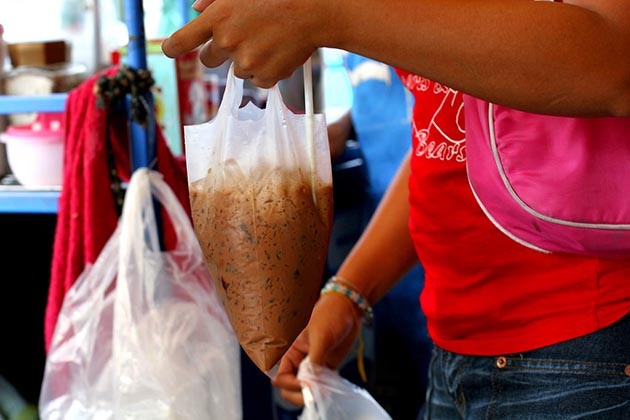 Boiled Peanuts – Amazing Food You Must Try in Vang Vieng
Instead of adding salt and roast as the Western do, the Lao boil their peanuts whole and serve them piping hot in the shell. Grab a bag and take it with your friends which will make your friendship closer. By boiled carefully, the Peanuts is soft on the inside and packed with protein, they have created a great snack on the go.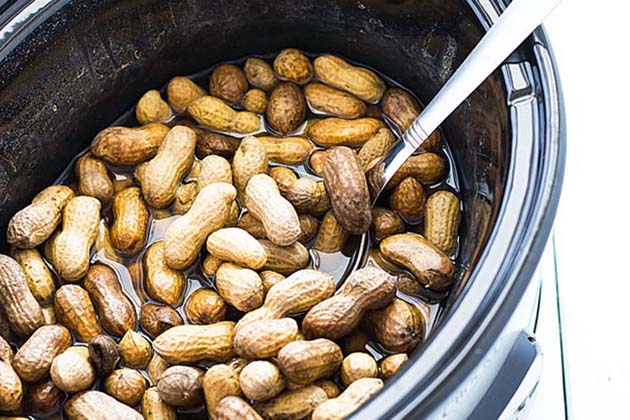 Kanom – The French Hidden Tasty Bread in Vang Vieng
Before leaving in Laos, French left the tradition, the taste of food, especially in bread and pastries. Drop by a coffee shop or on the street, pick up a muffin, doughnut, or pastry to start your day off with a sweet day and provide full of power. "Kanom" in the Lao Language, is the general term for dessert food. Enjoy your breakfast by a "Kaonom" and drink some tea to refresh your day.