Wake up at a house on the mountain, watch the sunrise, enjoy trekking and admire the beauty of sunset behind the mountain chains, you can find all of these alluring views in Phongsaly, Laos. Phongsaly is the highest city in Laos, it may be not as significant as others, but it will satisfy you like nature heals every soul.
Geological location of Phongsaly
Phongsaly is located in the North of Laos, which shares with Yunnan (China) and Dien Bien (Vietnam). Phongsaly Province lies at a high altitude so that its climate is always pleasant and fresh compared to the common weather of Laos. The population is made up of 28 ethnic groups and the most common groups are Khmu, Phounoy, different Akha, Tai Lue and Hor with their own culture, traditions, costumes, and languages. The large forests are home of abundant flora and fauna, and many undiscovered species new to science. Generally, Phongsaly's topography mainly is mountain and less delta or the midland, besides, it has not affected by urbanization and tourism, which makes Phongsaly remain its pristine beauty. Come and enjoy the green nature and the slow pace of living peacefully and gently.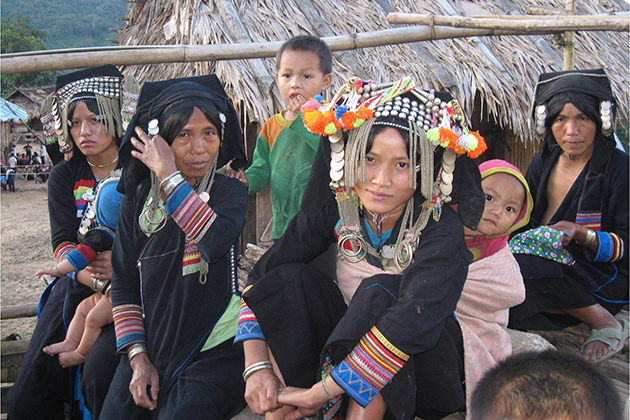 Things to do and see in Phongsaly
Phongsaly town is surrounded by rolling hills and built on the side of Phou Fa Mountain (1625m). It takes about 45 minutes to climb up to the top of the mountain and admire the spectacular views of the whole town. In Phongsaly, tourist can spend their time trekking to remote villages around the province like Boun Neua, Muang Khua along the Nam Ou River or visiting "Nam Lan Conservation Area" at Boun Tai District. Finding the farthest district, Gnot Ou, you must come over Wat Luang, a gorgeous Buddhist monastery from 1445 AD. Another interesting place is the "Museum of Ethnic Groups" in Phongsaly, you can admire a variety of local clothes, artifacts, and handicrafts and learn about some ethnic groups living here. Not like many other cities in Laos, Phongsaly town has not been destroyed in the American War so that it remains an old quarter with Yunnanese wooden architecture, visitors can discover the rare antique things.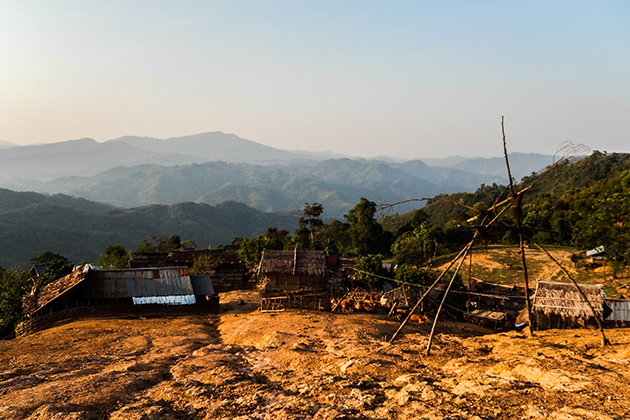 Cuisine in Phongsaly
To anywhere, the cuisine is a favorite part for all visitors and Phongsaly also has no exception. Phongsaly offers a variety of delicious and exotic cuisines that consists of wild forest ingredients like fragrant herbs, bamboo and rattan shoots. After the meal, let try a shot of strong wine – a special kind with the green color absorbed from the freshly picked raspberry leaves during the final stage of the distillation process. Another cuisine is Chinese-style green tea of Phongsaly, which received worldwide recognition for high quality and superb taste. Tea leaves are picked from the 400-year-old tea trees with 6m in height and 30cm in diameter. These tee trees are grown and taken care carefully by Phounoy minority women, no fertilizers and chemicals. After that, the precious tea leaves are compressed in bamboo cylinders and kept in cigar-shaped tubes. Phongsaly people drink a daily cup of tea to keep the body in health, reduce fat and have a clear mind.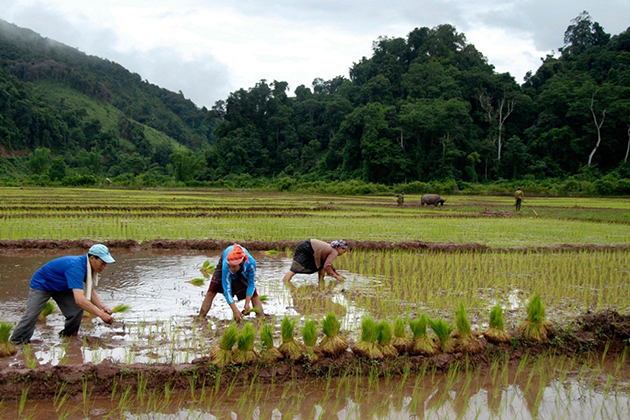 Highlights in Phongsaly
Phou Den Din NBCA
Phou Den Din National Biological Conservation Area is a large and remote area, where contains wild animal and has no presence of the human. The only way to access this area is to go by small boat from Nam Ou River. The trip is only for truly adventurous people, you must prepare everything carefully, bring food, light camping, equipment to protect yourself and a local guide as you are in the most undisturbed areas of the forest.
The Nam Lan Conservation Area
It contains 22.000ha densely forest with at the steep terrain, picturesque villages with paddy flank at the northern and eastern boundaries of the area. Some ecotourism lodges are being built in these villages and it will become an interesting destination to explore soon.
Trekking in Phongsaly
Several trekking tours have been organized by the Provincial Tourism Office Phongsaly. With the mountainous terrain and a diverse ecosystem, this place will energize any trekkers. You can take easy trekking along the ridge lines to the Northeast and Southeast or challenge trekking along the Jurassic escarpment.
Ou River
Ou River is one of the tributaries of the Mekong River in northern Laos with 236 miles long, flows through the gorges and mountain valleys before joining the Mekong. Travelers drop by here and enjoy its fantastic scenery.