Come to Bokeo Nature Reserve, you will never forget your experiences of the fresh green rainforest, interesting treehouses, arduous footbridges and suspension bridges.
Bokeo – Hidden Paradise in Laos
Find to Northwest Laos, you will see Bokeo Province, the metropolis of Bokeo is Ban Houayxay nearby Chiang Khong Province of Thailand the Mekong River. Bokeo has a large reserve of gems so it is named after that with the meaning "The pearl mine". However, tourists do not come here for seeing or finding gems, but for the natural environment: pristine and carefully preserved.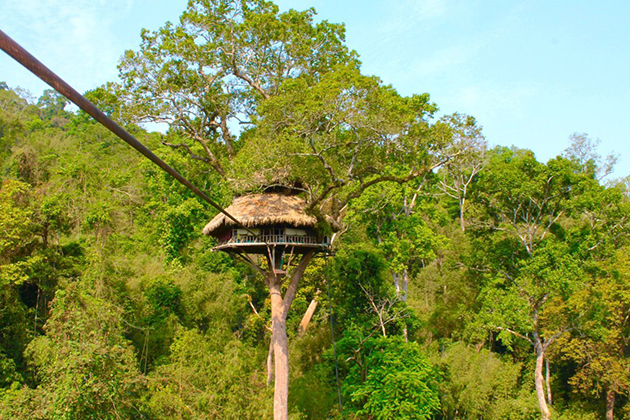 Visit Bokeo the National Nature Reserve, you will feel like joying a truly ecological tour by its irresistible beauty. It was established in 2004 and contained a rich biodiversity with the duty of reserving 123.000 ha mix-deciduous forest and mountainous terrain, where many animals like tiger, bear, elephant, monkey, birds and insects live, especially black-cheeked gibbon – a species of ape.
You will be overwhelmed when stepping into this immense and majestic land with some interesting treehouses, it feels like you got lost in a wonderful wild land from the movie. At Bokeo, tourists can be experienced to swing the cable to move from the treehouses or try out the tottering footbridges. Can you imagine yourself as Tarzan and fly over the forest by zip lines, sleep in cabins at over 40 meters above the ground? It must be amazing. The highlight is counted on its completely unique wilderness which makes Bokeo become extremely attractive for every tourist.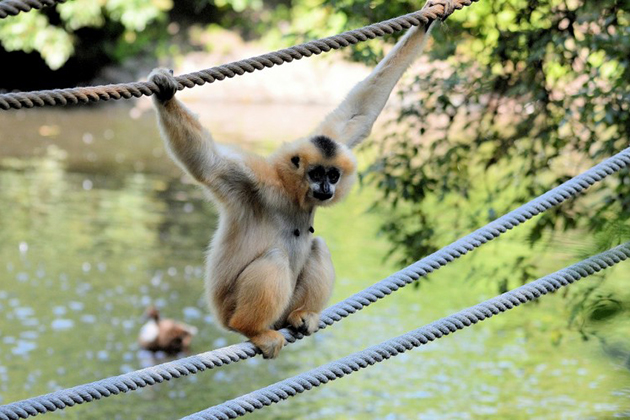 With the guarding strictly and carefully every day, the deforestation and illegal animal hunting are becoming less and less. Moreover, a part of Bokeo Nature Reserve is also planned for local people to use for culture purposes, and the other is for the ecological tour. This land probably will energize your adventure and exploration.
The Gibbon Experience
Operation and protection of Bokeo Nature Reserve is The Gibbon Experience, the unique adventure in the heart of Bokeo, which has approved by Laos Government since 2007. Gibbon Experience is a series of treehouses which allow people to get close views of Black-cheeked Gibbons. They exploit the tourism but still maintain the nature, create more livelihoods for laborers and support local people to develop cultural sustainable development. This is a model exploitation for ecological tourism in form of exploring and prot
ecting the environment naturally. All funds received from ecotourism are put back into the project. Gibbon Experience project is to educate local people about conservation as well as change the slash – and – burn farming situation