Pakse is known as a peaceful city with many famous temples and pagodas of the country. Everything seems so gentle and tranquil in Pakse; However, there are some highlights about the nightlife in Pakse that makes you feel another side of this sleepy city. Come for good time and stay until the town shuts down.
Sedon Terrace
Sedon Terrace is a lounge bar of The Residence Sisouk hotel with the scenic view over Sedon river, Mekong river and mountains surrounding Pakse. It serves Laotian and French food and drink. The bar looks very modern and bright in ivory white tone with full of accommodations: air-conditioner, free wifi, flat screen LCD TV, etc. There are 16 rooms including the deluxe rooms, superior rooms, and standard rooms. The brown color of wooden floor, sofa in the white background makes it a cozy and luxury place.
Opening: Sun-Sat: 5:00 pm – 11:00 pm
Meal service: Dinner
Atmosphere: Cozy, Boutique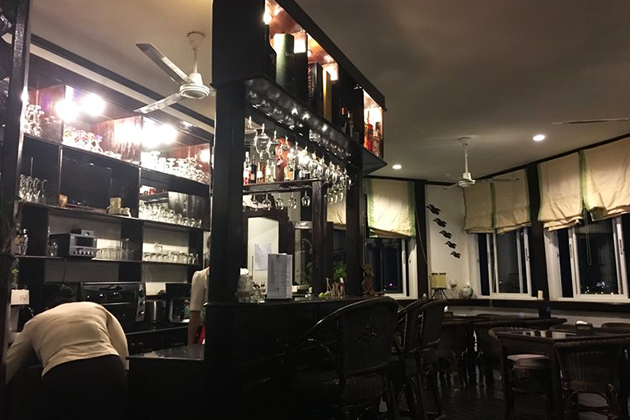 The Brick Pakse @ Pakse
The Brick Pakse is not a large bar with the red brick tone and the low lights. Everything is decorated in the simplest way, you can even see the tables made from the car tire, the stools around and other old digital electronics as decorations. This bar serves acoustic atmosphere, visitors can come here to enjoy Laotian food as well as music acoustic or karaoke. Both outdoor in indoor seating is available.
Opening: Sun-Sat: 6:30 pm – 11:30 pm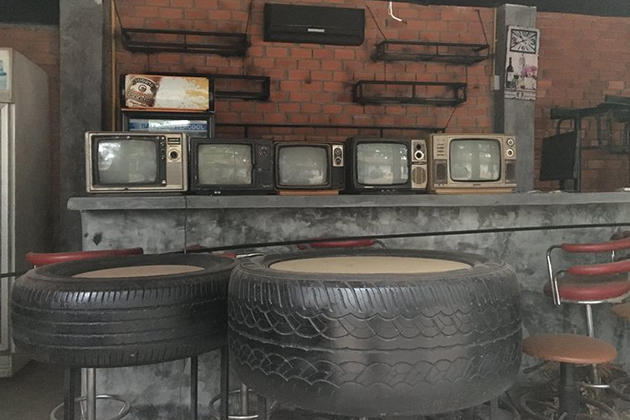 Pizer Bar
Pizer is a must-visit bar if you want a wonderful night in Pakse. Space is exciting and stylish. It has a big outdoor patio area and a stage inside where a talented live music band from Laos and Thailand comes in every 8 pm. It is a perfect combination when you sit with your friends, taste snacks, Laotian food, alcohols and enjoy live music of eastern and western.
Sun-Sat: 4:00 pm – 12:00 am
Meal service: Dinner, Late Night
Atmosphere: Outdoors, Stylish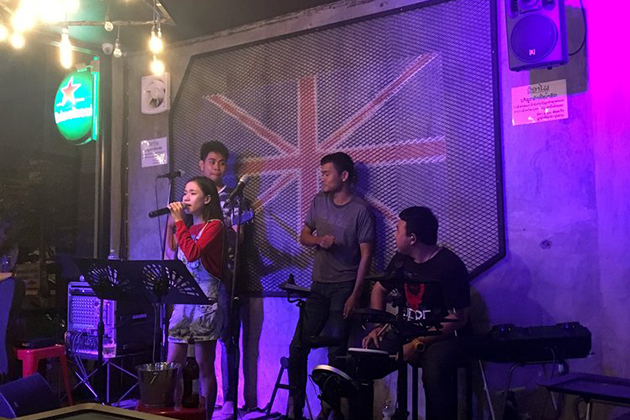 The Lao Restaurant and Bar
This a commonplace run by a local woman but the best little traditional food in Pakse. It isn't decorated as beautiful as other places, but you will be impressed with the good food, cheap drink, and friendly staff here. It is worth-try for every food-lovers.
Opening: Sun-Sat: 12:00 pm – 11:00 pm
Meal service: Lunch, Dinner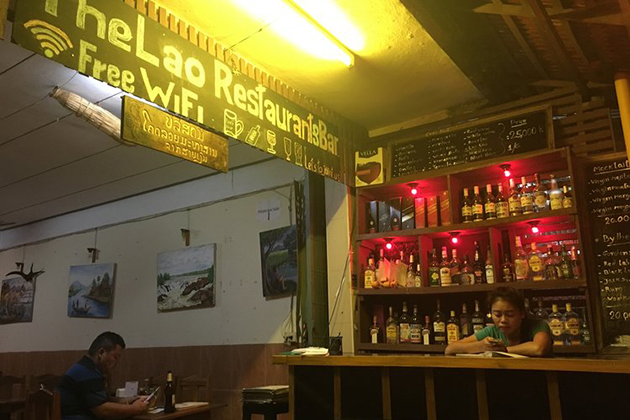 Han Sin Jang
Han Sin Jang is a local bar where every party organized. Most guests are young Laotian coming for eating, drinking, live music and also loud karaoke. It is an outdoor, large, and noisy place. If you want to join with the youngster, come here then try Laotian food and drink.
Opening: Sun-Sat: 12:00 pm – 12:00 am
Meal service: Dinner, Late Night
Atmosphere: Outdoors, Traditional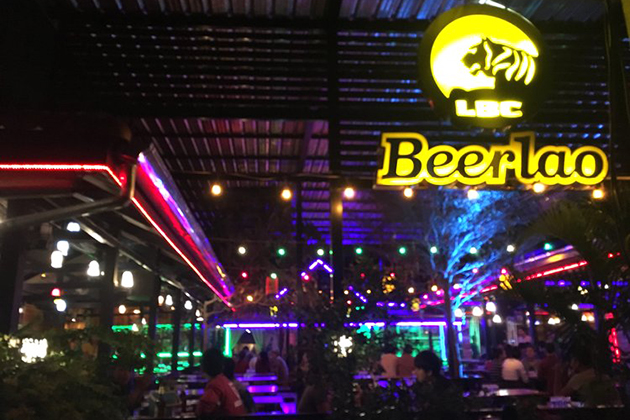 Le Panorama at Pakse Hotel
Le Panorama is on the rooftop of Pakse hotel located near the central market. It is large and pretty high, you can have a spetacular view of the town's surrounding. This is one of the best places to have a romantic dinner and admire the sunset. The restaurant serves many delicious foods in western style as well as cocktails, wines, beers and ciders. Le panorama offers an excellent buy-one-get-one in the happy hour each evening and free appetizers. This is truly the most picturesque bar in Pakse.
Opening: Sun-Sat: 3:00 pm – 10:00 pm
Meal service: Dinner
Atmosphere: Boutique, Open Kitchen, Outdoors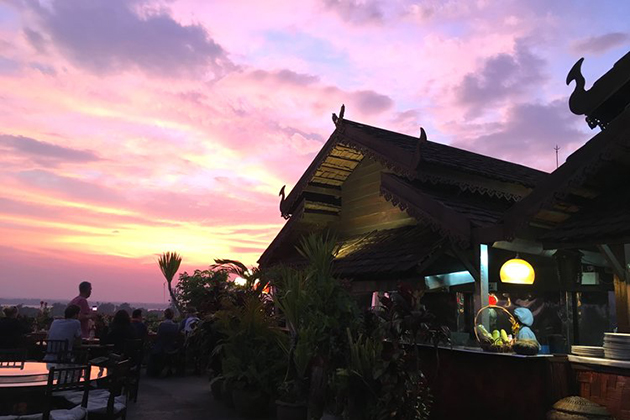 Arawan Pool Bar
The Arawan pool bar is on the roof of the Arawan Riverside Hotel and Conference Center – one of Pakse's largest hotel complexes. Their Mekong Riverside pool terrace and bar is the perfect place to soak in the sun, dip and enjoy a cocktail or beer. The price here is reasonable, and the staff is friendly and helpful. You will be satisfied with the great view of Mekong river
Opening: Sun-Sat: 12:00 pm – 9:00 pm
Meal service: breakfast, lunch and dinner
Atmosphere: outdoors, ventilated.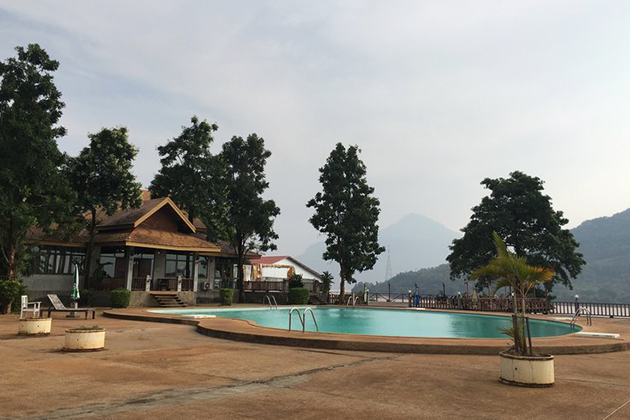 Brick House Bar and Restaurant
Brick house bar is a sport and coffee bar and restaurant nearby the Champasak palace hotel. With the large, clean and modern space, this is the best place for a night hang out to watch a football match, play some game then taste many kinds of cupcakes, cocktails, fruit juices and other drinks. It also offers an extensive beer selection, menu and cakes to order
Opening: Sun-Sat: 4:00 pm – 10:00 pm
Meal service: Dinner, Afternoon Tea
Atmosphere: Modern, Unusual
SEB'S
Seb's is the first sport western bar that runs by Adam – a British living in Southern Laos for many years, located in the center of Tha Luang, Pakse. It offers a variety of western entertainment programmes from live sports, music, darts, and bar games. He cooks up ribs, barbecue, onion rings and garlic bread for guests who sip beer Laos or cocktail while watching sport on the big screen. Seb's provides many options of great western food and drink such as cocktail, beers, wines, ciders and spirits. "seb" in Laotian means "delicious" and this is what you want, the best place to socialize with foreigners and local people.
Opening: Sun-Sat: 9:00 am – 11:00 pm
Meal service: Lunch, Dinner, Late Night
Atmosphere: Casual, Relaxed
SÉSÉ Wine & Beer
Sésé wine and beer is a cozy, simple and nice welcoming place with tasty and affordable French food and drink. It is located in the ground floor of a restaurant in Tha Luang. Guests coming here to enjoy wines, beers and snacks such as cashews, charcuterie, cheeses and bread. There are many excellent selections of French cheeses accompanied with proper baguette bread and French wine selections are good as well. If you miss the tasting of French food and drink, this is the most suitable place for staying longer and chatting with others.
Opening: Mon-Sat: 5:00 pm – 11:00 pm
Meal service: Late Night
Atmosphere: Cosy, Modern, Relaxed