Pha Tad Ke Botanical Garden is a new interesting spot in Luang Prabang, Laos. It is the first and only of its kind, where preserves Lao's biodiversity and ethnobotanical heritage. For those who have love with nature, Don't miss this point during your Luang Prabang Tours.  Let's come and find out how fascinating it is.
Pha Tad Ke – A new botanic garden
Pha Tad Ke was established in 2008 by Rik Gadella the Dutchman, who bewitched the slow pace of life and unique architect of Laos, and bought the huge land of an old royal family – a hunting estate. Draped in 40 hectares of thick tropical jungle, limestone cliffs and next to Mekong River, Pha Tad Ke appears as one of the newest and most ambitious botanic gardens in Asia. Traveling to Pha Tad Ke is a true field trip for all visitors, not only for sightseeing but also for educating people about botany.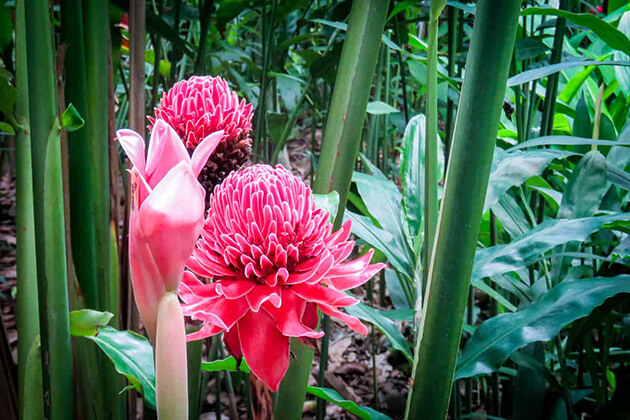 Pha Tad Ke is a large jungle divided into 10 different garden area. Some needed services for tourists are also available such as reception, shop, toilets, private office, café shop, Baci Sala and even viewpoint:
• Limestone Habitat (20.000 sq. m): this area shows local plants from limestone cliffs like cycads and tree ferns. The limestone mountain environment owns distinctive biodiversity and geology so that it possesses only some unique fauna and flora.
• Ethno – Botanic Garden (3.000 sq. m): this is the centerpiece of Pha Tad Ke. 10 series of gardens show the rich plant life of Laos and its daily operation. You must be curious about the medicinal plants for people and elephants, which plants are used for textiles, which is poisonous plants and many other kinds of special species.
• Ginger Garden (1.200 sp. m): this garden grows 100 different ginger species including edible species, natives and ornamental displays around the pond.
• Arboretum (25.000 sp. m): there are more than 200 tree species found around the local area, which offers a beautiful spot for walking.
• Palm Garden (6.000 sq. m): this garden contains over 30 kinds of palm and includes the famous Rattan – a palm can grow up to 200 meters high.
• Bamboo Garden (4.000 sq. m): it grows over 30 bamboo species – a kind of tree used as food and materials for construction and handicrafts in Laos.
• Mist House (300 sq. m): the new-opened area features many beautiful flowers such as orchids, ferns, and carnivorous in an enclosed environment. You can admire its delicate beauty here and understand the risk facing them.
• Orchids Nursery (500 sq. m): they opened an only nurseries area for orchids with 260 species and ferns 150 species. they organize a free small talk here to educate tourists about orchids.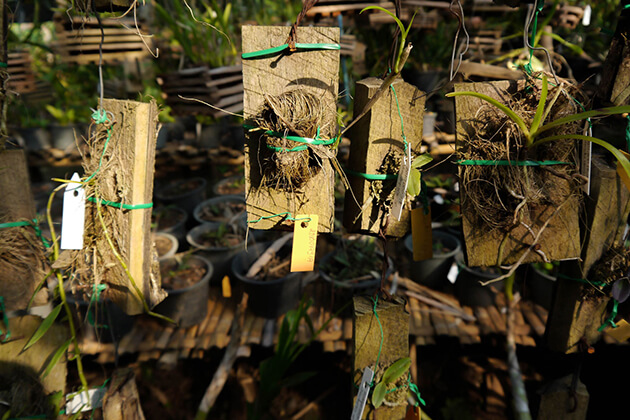 • Organic and Educational Garden (1.500 sq. m): this garden share with you the knowledge and experience with organic gardening and food gardening.
• Permaculture Demonstration Farm (1.000 sq. m): Laos biodiversity is threatened seriously by unsustainable farming methods like slash-and-burn. This farm often organizes workshops for Laos farmers and tourists to talk about the problems and solutions, offers sustainable methods to help farmers improve their livelihood.
Things to do in Pha Tad Ke Botanical Garden
You surely will have a wonderful day tour with a variety of activities that help you explore the lovely nature here
• Eco treks: you will take a trek around this huge area, explore the fauna and flora, check-in some small romantic streams. There are many exciting and well locally organized treks are offered for you such as The Gibbon Experience in Northern Laos, Nam Et-Phou Loue Protected Area Trekking and Vientiane Orchid in Phou Khao Kuay Protected Area.
• Café shop: there is a simple café shop near a beautiful pond with numerous delicious dishes and drinks offered.
• Educational programs: they have the Scientific Committee and organize workshops regularly to educate and promote people at every age to learn and keep the environment green. You have a chance to meet excellent Laos scientists as well as International scientists.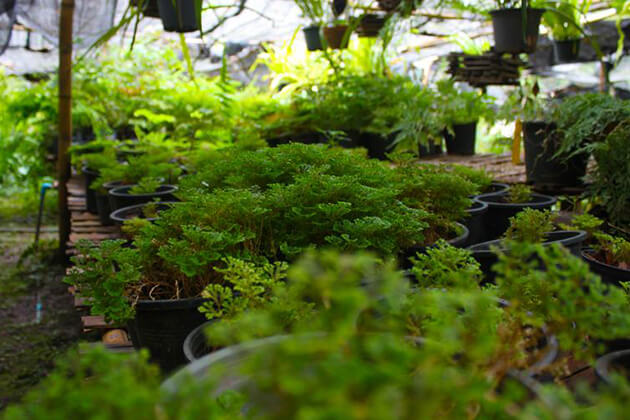 More travel information
Open hours: 9.00 am – 17.30 pm (closed on Wednesday)
Tourists can buy the entrance ticket at the office located in Wat That village, next to Luang Prabang Provincial Office down to the Mekong river.
Pha Tad Ke Botanical Garden is situated on the opposite side of the Mekong river. After having the ticket, tourists are guided to take a boat from the town and more 15 minutes to get to the gardens.