Vang Vieng is known as one of the highlights for entertainment in Laos. Besides the outdoor activities in Vientiane or Luang Prabang, if you are planning to make an adventure tour during your Laos trip, Tubing in Vang Vieng is the best suggestion you can't be ignored. So, what makes Tubing in Vang Vieng stand out?
Why Tubing in Vang Vieng?
The tranquil agricultural village Vang Vieng has changed itself by a new backpacker's hotspot on Nam Song river. It's floating down the beautiful river in old tubes, all you need to spend at least 3 hours doing nothing, just tubing, chilling and admiring the beautiful landscape. There are a lot of bars along the way, you can stop for a quick drink before going on and leaving with a whole new set of friends. You even can stop at the riverbank and have a picnic with your team if you can bring some food and drink with. It surely will be your worth-trying experience and good fun. Floating down the gentle blue water river, releasing your soul, enjoying the sunshine and lovely sightseeing, this gentle pastime has never been so exciting!
The tubing route starts at Nam Song River and ends at Smile Beach Bar having a small party with the bonfire. You rent rubber tubes from the offices in town for about 55.000 kips and charge a 60.000 deposit for returning your tube before 18.00 pm then together with your teammate jump in your tube and start floating. The price includes a tuk-tuk to take you and your tubes to the beginning of the river. Highly recommended for going to a group at 3 people to watch out any cases happened.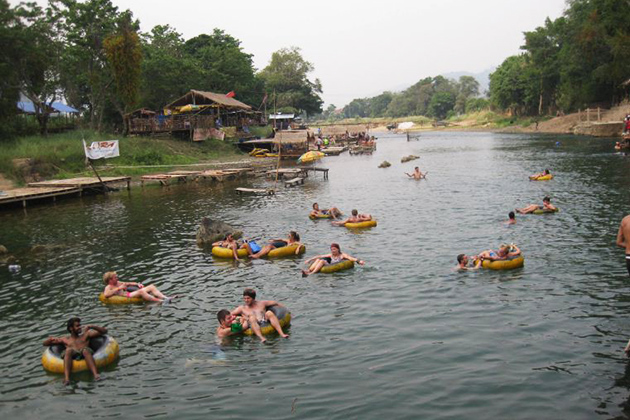 What to Prepare Before Tubing?
You should put all your valuable things in your room, just wear your swimming suit and a bath towel then start your journey, but do not show off your body too much as Laos is conservative. Wear sandals or flip-flops instead of shoes or barefoot.
Besides, prepare for yourself the sunscreen, sunglasses or maybe a hat, a water-proof bag is really needed as you may want to bring your phone, or camera, your money or a dry cloth to cover up.
Best Time to Go Tubing in Vang Vieng
If your goal is to float on the river as long as possible, get ready in the morning, you can take a break at the bars along the Nam Song river.
If your goal is the party at Smile Beach Bar, the suitable time to go around 2 or 3 pm. You can have a decent lunch and take a nap before starting your routine.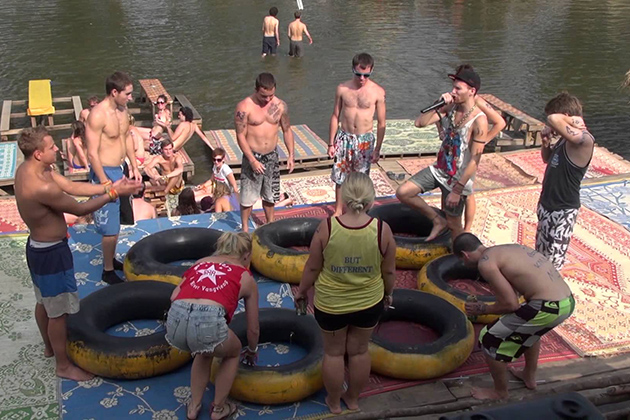 Some Tips for a Safe Tubing Journey in Laos
– Don't pre-drink: you can drink before a party starts but surely don't drink before approaching the water. It's unnecessary and dangerous as the amount of alcohol will defeat you while you are about one the river and under the sun.
– Keep an eye on time: If you want your 60.000 deposit back, you must be back at 6 pm, if you don't, they just send you back a little. Besides, tubing after sunset is not safe anymore as the water is getting cold.
– Don't dive into the river: Nothing can sure that tubing at Nam Song river is 100% safe. There are numerous rocks in the river and you may be in danger at any times. It is fun enough to stay on the tube.
– Bring cast, not the whole wallet: You may bring some money for hiring tube and drinks at the bar, but you probably should prepare your food as food in Vang Vieng is cheap but food around the river isn't.