Here is good news for a short-day visitor in Vientiane, Laos. Recently, Vientiane has started to launch a sightseeing bus for tourists.
There have been so many visitors in Vientiane but not everyone has the same travel plan or follows same Laos' Tour. Some people prefer a long-day visit or the other prefer short-term visit, therefore, their decision on transportation is not the same with other. in realizing that short-term visitors just spend about 1-2 days in Vientiane and they want to visit all the attractions of Vientiane, sightseeing bus was born.
This new service is provided by Xanglao Travel Sole Co., Ltd since February after two trial months with positive responses. The bus is designed in green, yellow, white and red, which brings a friendly impression for tourists. It was originally a double-decker bus and has been turned into opened air vehicles with appropriate shade and rain cover to deal with the heat and humidity of tropical weather.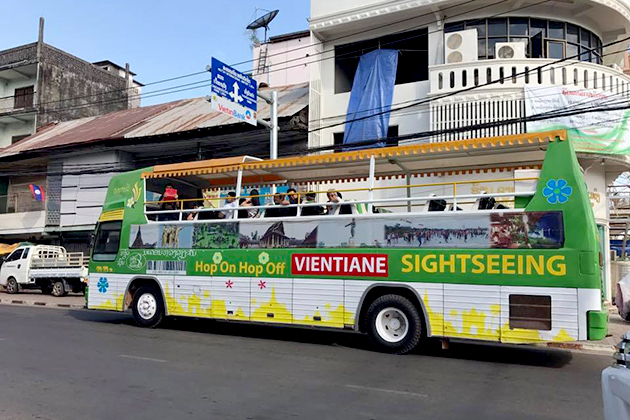 The special thing about this new kind of transportation is that it will take you to the most important venues and tourist spots in the capital. In each site, the passengers will have from 5-10 minutes to visit the sites and take some photos.
For individual customers, the bus will follow a fixed schedule in each site and for tour group charter, the company will set different times for visiting tourism sites.
The charging fee is 40,000 kip for a person with the starting point from Vat Ong Teu Temple in Chanthabouly district at 8:30 AM and the bus will pass the fountain Nam Phou and then visits Hophrakeo (hall of the Emerald Buddha) and Sisaket Museum.
The Bus is run daily from Monday to Sunday with two journeys from 8:30 AM to 11:30 AM and from 1:30 PM to 4:00 PM
It doesn't mean the customers will be limited in 5-10 minutes in each stops, in contrast, they can take their time and come back one later bus by the same company.
This is a new way for visitors to experience Vientiane in a different way and add up a little up of adventurous sense to your Laos Tour.