Art galleries often exhibit and keep old documents, artifacts related to one or more fields such as history or culture. You can go to an art gallery to study, research or simply to visit and admire the things you never know before. Besides famous attractions in Vientiane like That Luang, Patuxai, Wat Pra Keo… maybe art Gallery in Vientiane are must-visit destinations for those who want to explore the capital Vientiane through the thickness of history.
National Institute of Fine Art
National Institute of Fine Art is situated in an old building in Ban Anou, Khoun Boulom Road, Vientiane, Laos. This is an ideal place for tourists to explore modern work of art of Laos. This gallery displays a lot of excellent paintings and sculptures of the talented students of the country. Today, it belongs to Ministry of Information, Culture, and Tourism. Visitors coming here not only have the opportunity to watch great work of art but also purchase them at a bargain price.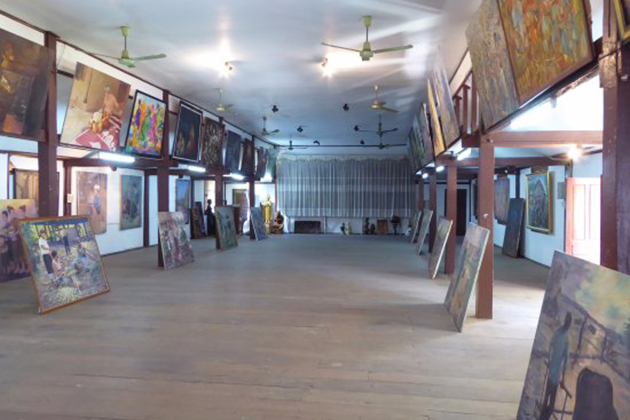 M Gallery
Located at 133 Samsenthai Road, Ban Anou, Vientiane, Laos, M Gallery was established in 2008 and can be said that the gallery contains the work of the most famous artists of Laos. The specialty of the gallery is that besides exhibiting contemporary work of art of Laos, it also displays outstanding arts of Thailand and Vietnam. Actually, there is also another M Gallery in Singapore, work will be enjoyed in Vientiane first and then moved to Singapore for displaying.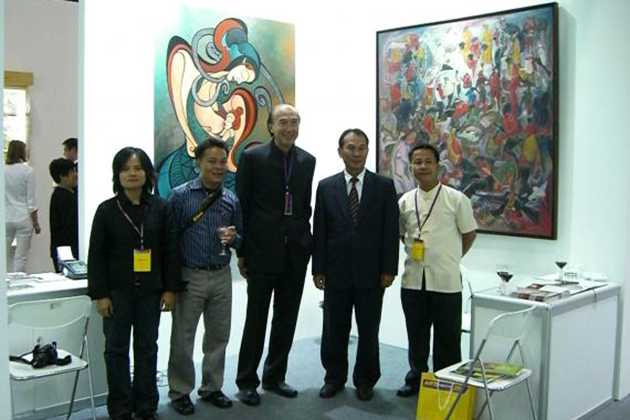 Treasures of Asia
Treasures of Asia is located at 86/08 Setthathirath Road (opposite Vat Hong Teu), Vientiane, Laos. The gallery was established in 2004 and is well-known for the oldest contemporary art gallery of Laos. Moreover, it possesses the largest number of contemporary work of art of Laos compared to any gallery in the country. The work here is extremely diverse bringing many different schools from surrealism to abstract.
Lao Textiles
Lying in a French colonial villa by Mekong River in Ban Mixay, Vientiane, Laos, through the name, we can guess what the gallery displays. It was founded in 1990 by an American named Carol Cassidy. A huge amount of the exquisite hand-crafts made of 100% natural silk such as wall paintings, scarves are exhibited. The difference is that the work here is the combination of Lao traditional textile and western technical, creating unique work. The work here even is displayed in The Textile Museum in Washington DC and The Philadelphia Museum of Art and the Fashion Institute of Technology in New York.
I:cat Gallery
i:cat Gallery is a small gallery on Settathirath St, Si Muang, Vientiane. It was opened the first time in 2009, displaying contemporary work of both domestic and international artists. Nowadays, it is not only a gallery exhibits arts but also is the location to hold a lot of cultural, entertaining activities such as visual art, music shows, poetry readings, fashion shows or book launches.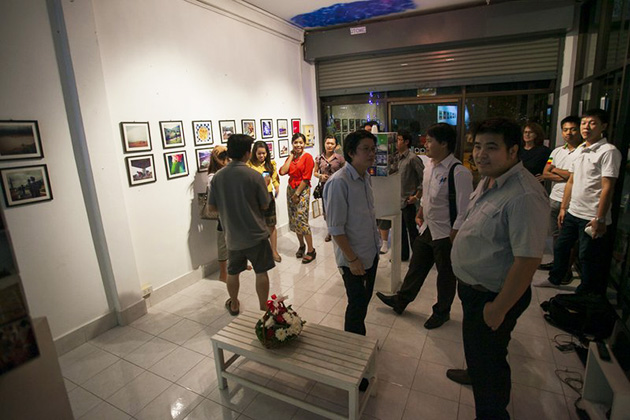 T'Shop Lai Galley
This gallery is situated in Th In Paeng, the heart of Vientiane, behind Vat Inpeng – one of the most famous temple here. The gallery was established in 1997 and is the favorite place for those who love arts and shopping in the capital Vientiane.
T'Shop Lai Gallery is an ideal shop in Vientiane with a variety of handmade items of Laos. You can purchase natural products like shampoos, soaps, balms, mosquito repellents, essential oils, spices, as well as handicrafts and furniture. Moreover, these things are made by disadvantaged people, so buying them is a meaningful action.
Besides, similar to other galleries, T'Shop Lai Gallery is a place to admire the work of contemporary art, antiques, and ornaments… This place also regularly takes place cultural exhibitions.