The Blue Lagoon in Vang Vieng, Laos is a turquoise natural lake that you may fall in love with easily as it is beautiful like a dream come alive incredible. As long as you visit Vang Vieng, you can't miss this amazing spot. An attractive destination in Laos Tours.
The Blue Lagoon – A Must-Visit Destination
A scenic ride on the unpaved road through Vang Vieng, small villages, and along the paddy field leads to The Blue Lagoon and Tham Phu Kham cave. The Blue Lagoon is a small island in Nam Ngum, a must-visit destination for any tourist distances from Vientiane capital on 13 roads towards Luang Prabang.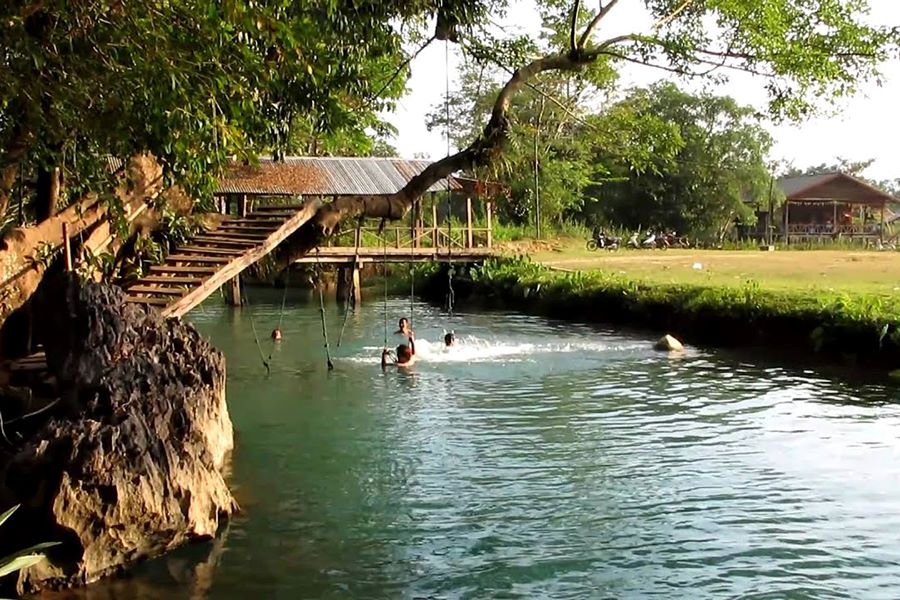 Right at the way leading into the Blue Lagoon, you will be marveled at its dreamy beauty. You walk on a long wooden trail between a small pond and trees in green-yellow color. Standing at any spot in that trail, you can take numerous nice photos with the fantastic background around.
The Blue Lagoon is divided into two main lakes Standing at the entrance, the right lake, or the Blue Lagoon 1 is a space for those who love tranquility, sunbathing, and relaxation; behind it is Tham Phu Kham cave. the other called Blue Lagoon 2 prefers for youngsters with many dynamic activities such as swinging, swimming in the cool water and jumping from the tree into the lagoon, or even lounging on the grass. You should try a jump like a wake-up call from last night's antics. There are a volleyball court and a small playground for any other activities. Laos is a landlocked country but the Blue Lagoon looks like a small beach version. It surely won't let you down.
Hence its name, the Blue Lagoon is a sparkling turquoise lake, the water is clear that you can see much fish underneath. In Iceland, there is another lake with the same name and as beautiful as the Blue Lagoon of Laos. Laos Blue Lagoon is crystal clear water and makes people cool down on hot summer days, but Iceland Blue Lagoon is hot blue water, which prefers for winter. If you can't afford to Iceland, it's ok, let's try Laos Blue Lagoon as it's cheap, marvelous, and worthwhile as well. If you don't try once, you can't imagine totally its beauty with the mixture of yellow sunshine, suspension bridges, lush green trees, and turquoise water.
The Blue Lagoon gives you a comfortable atmosphere, where owning both excitement and fun as well as relax and tranquility. You can free yourself with fun, roam around, take an album selfie then come back and rent a tent, have a picnic, chill, and take a nap in the bungalow. This is a suitable place to have fun in a day before riding a bike back to Vang Vieng and admiring the sunset. It would be a perfect day!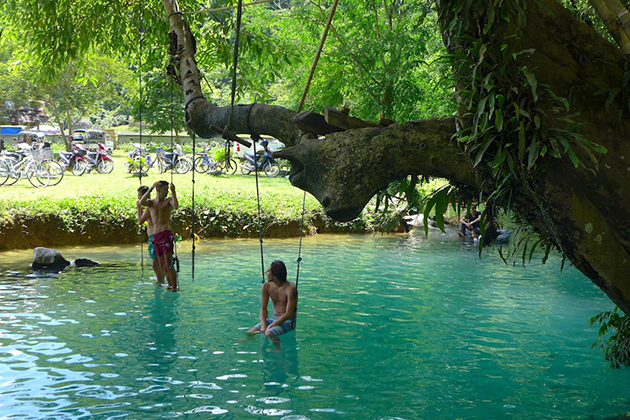 The Blue Lagoon – Tham Phu Kha Cave
Besides relaxing activities on the lake, tourists can explore the cave near the Blue Lagoon to escape from the crowded area. Though it is not as interesting as other caves in Laos it is enough to make tourists feel curious about it. The entrance fee is 10.000 kips and 5.000 kips for a torch. You don't need a guide since the cave is not too dangerous to explore.
The way to the cave is a steep trail; inside, it has light bulbs, you will see a bridge across the Nam Song river. From the bridge, tourists can admire the majestic scenery of Tham Phu Kha cave, where the river and forest are blended together. Inside the cave, there are some gilded Buddhism statues, a connection between Buddhism and natural wonder conservation.
How to Get to Blue Lagoon in Vang Vieng
The Blue Lagoon is located near the village of Ba Na Thong, at the end of Tham Poukham road around 7 km West of Vang Vieng. There are many options for to you get to the Blue Lagoon by tuk-tuk, rent a motorbike or mountain bike.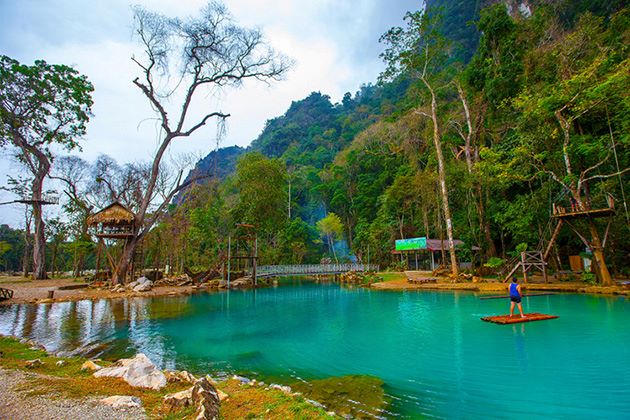 Option 1: If you are in a group, you should flag down a tuk-tuk. It is the fastest and most convenient way to get to the Blue Lagoon. Don't forget to negotiate a price, the average price for a return trip fluctuates between 30.000-50.000 kip per person.
Option 2: Hire a motorbike or a bike for the day with the price of 10.000-30.000 kip.