Have you planned a Laos Trip? How much does it cost to travel to Laos? I bet that this is a big question for those who prepare to go to Laos. To give you the best answer,  all the information about the cost of traveling in Laos below will give you a perspective view before your Laos vacation.
Laos Currency & Money Exchange
The monetary unit of Laos is the kip. Euros and dollars are easily converted into kips in most banks of tourist cities (rate is a little better in Vientiane). Be careful, this will not necessarily be the case in remote corners.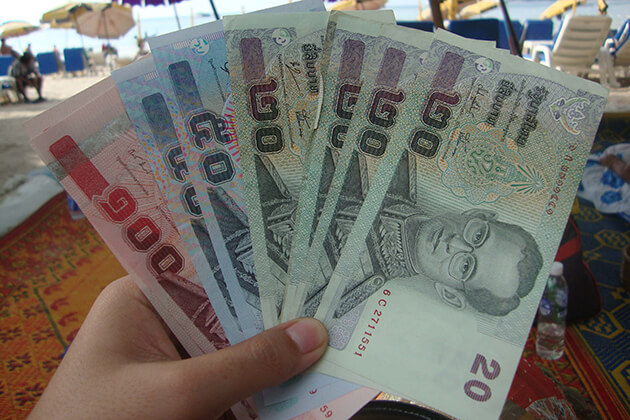 So either change enough as soon as possible or take away a reserve of dollars, more easily accepted everywhere. Exchange offices can also help, they take in principle euros. Notes must be in good condition. Finally, there is no limitation on the entry or exit of foreign currency. Attention, it is almost impossible to change his remaining kips outside the country or, when it happens, the rate is very disadvantageous. However, if you want to change your currency before leaving, go to the jewelers in the big cities. They can buy kips against currencies.
Card Payment in Laos
ATM: There is easy access to ATMs operating with major international bank cards in big cities. However, in small towns or remote places, you are almost impossible to find an ATM. Note that many ATMs issue only 1 million kips (about € 105) maximum (but up to ten times a day), which multiplies the fixed fees charged to each transaction by your bank, but also by the local establishment (about 20,000 kips).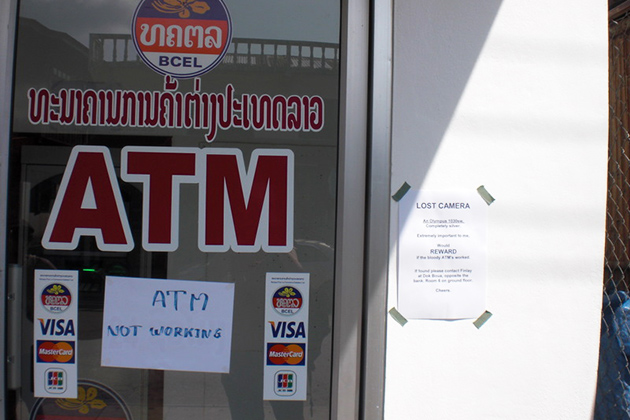 The ANZV network (in Vientiane) and Banque Franco-Lao can withdraw up to 2 million kips (about 210 USD) up to four times a day, but the commission charged by the Laotian bank is also twice as much high (40000 kips).
Payment by credit card is generally accepted in major hotels, some opulent shops, in some luxurious restaurants of Vientiane and Luang Prabang, or at the bank counter to withdraw kips, dollars, or bahts with a Visa or MasterCard.
Cost of Traveling to Laos
Laos remains a very affordable destination for Western visitors even if, in the tourist season, some hoteliers and restaurateurs have considerably increased their prices, without improving the service so far. In Vientiane and Luang Prabang, the costs are higher. At the time of the local New Year, prices increase also.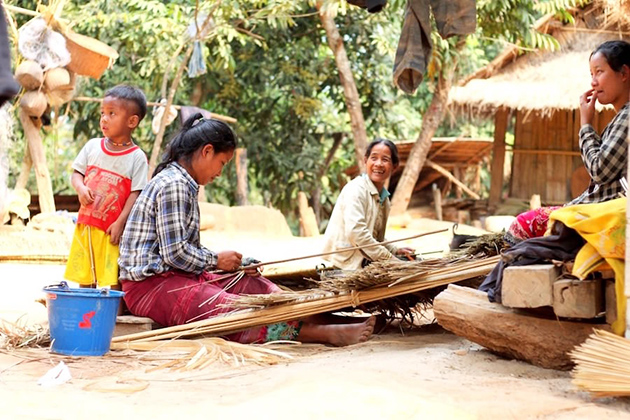 Cost of Accommodations in Laos
These prices correspond to a double room, except for dormitories in the "very cheap" category where prices are given per person. Breakfast is almost never included in the price of the room for establishments in the "Very Cheap" and "Cheap" categories. The Wi-Fi is almost everywhere, for free.
For the most important cities of the country (Vientiane and Luang Prabang):
Very cheap: less than 100,000 kips (about 11.7 USD).
Cheap: from 100,000 to 200,000 kips (11.7-23 USD).
Average prices: from 200 000 to 400 000 kips (23-46 USD)
A little more chic: 320 000-550 000 kips (37.6- 64.6 USD)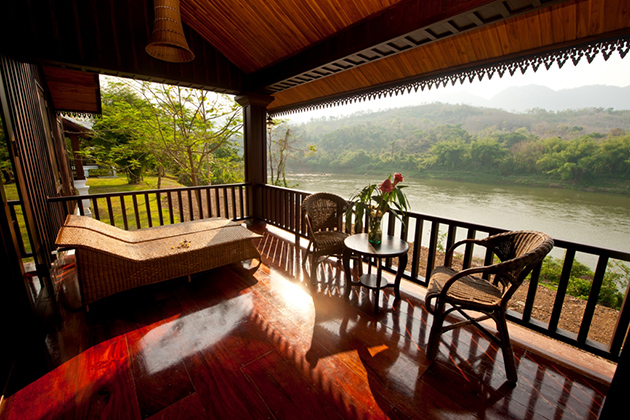 For the rest of the country:
Very cheap: less than 80,000 kips (9,50 USD)
Cheap: 80,000 to 150,000 kips (about 9,50-18 USD)
Average prices: from 150 000 to 500 000 kips (about 18-35 USD).
Chic: 300 000 to 500 000 kips (about 35-60 USD)
Cost of Foods in Laos
Our prices correspond to a dish.
Cheap: less than 25,000 kips (about USD 3).
Average prices: from 25,000 to 60,000 kips (3-7 USD).
Chic: 60,000 to 100,000 kips (7-12 USD).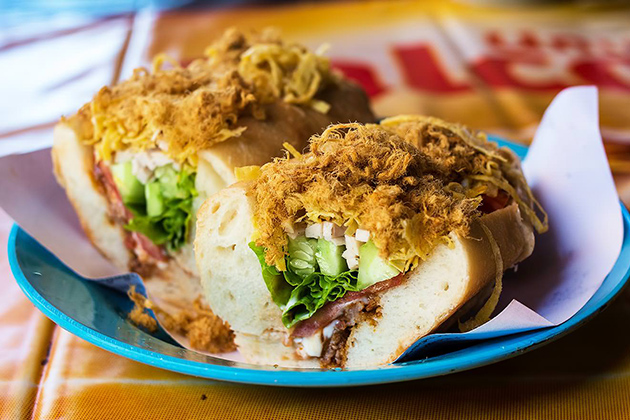 Advice on Tipping in Laos
In restaurants, there is nothing obligatory, but you can leave a small note for classy establishments if you are satisfied with the service. When you visit a pagoda, always have changed to slip a small donation in the boxes provided for this purpose. Don't forget to give tips for saying thank your guide. For a driver, count about 20 000 kips / per person. Do not give money to children, who sometimes ask for them in tourist sites.
Shopping & Souvenirs in Laos
Weaving is the most widespread and the most typical element. Each region has its own style of silks or cotton fabrics. There are also quilts and embroidery. Laotian silk is expensive but of very good quality.
Beautifully carved objects in wood or horn can be found here, more rarely in stone. But these objects like Buddhas, animals, are rather expensive, even very expensive.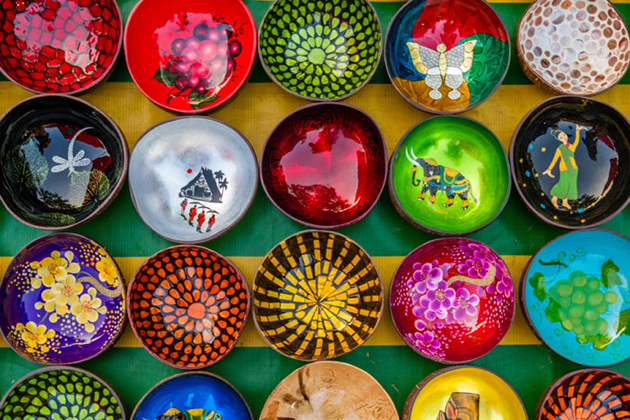 Laos has a very long time goldsmith tradition. People sometimes make jewelry from silver and gold. The silver metalworks are of very good quality and the prices are affordable.
Coffee and tea Bolavens: You can find some in Vientiane, but if you can, buy them in their production area in Pakse or Paksong and Phongsaly for green tea.
Finally, one can acquire at a reasonable cost of very beautiful things of basketry peasant.
Cost of Transportation in Laos
The plane in Laos
It is rare that the visitors choose to fly to travel inside Laos. It is possible, however, but remains much more expensive than other means of transport, which also takes much more time.
Nevertheless, these are two for those who really want to save time during a trip to Laos:
Houeixay – Luang Prabang (or Vientiane)
Vientiane – Pakse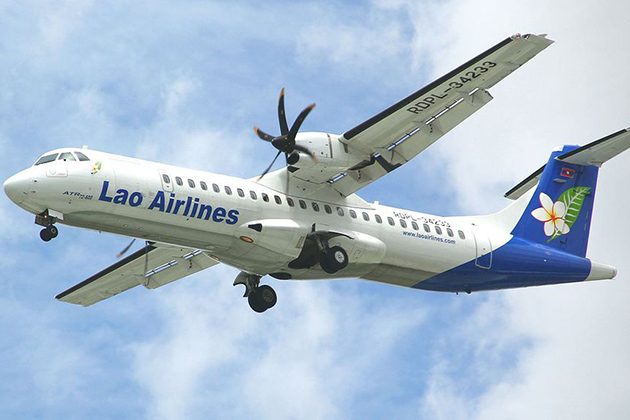 The prices vary but overall we have to pay 40€ one way for these two flights. The trip Pakse – Vientiane may be interesting knowing that it saves you a whole night on a bus. It is the company Lao Airlines that realized the trips by plane.
Buses in Laos
It's a kind of local means of transport. The bus network covers all provinces, though the density is not that great. More seriously, bus trips in Laos can be a little exhausting because of the length, but overall, it is really good and it is by far the most economical means of transport in Laos.
Here are some travel price ideas to get from city to city:
Vientiane to Luang Prabang: Overnight bus, about 10 hours for 80,000 to 120,000 Kip (10 USD –15 USD)
Pakse to Savannakhet: 5-hour bus ride on a local bus for 40,000 Kip (5 USD)
Savannakhet to Muong Khong in the South of Laos: 8-hour bus ride on a local bus for 70,000 Kip (8.75 USD)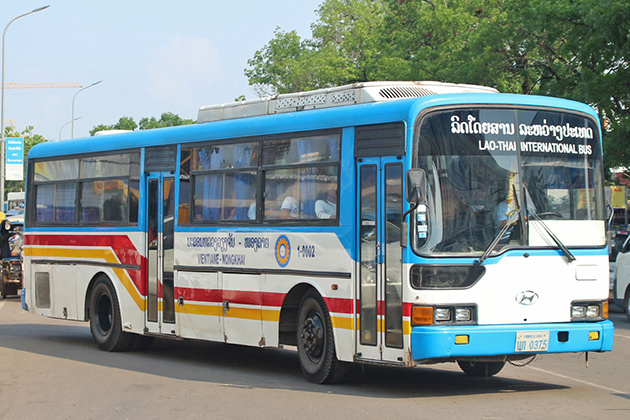 Train in Laos
Apart from a small line outside Vientiane, Laos does not have a developed railway network.
Tuk-Tuk in Laos
As in Thailand, or in other neighboring countries of Southeast Asia, you are advised to systematically negotiate the price of Tuk-Tuk.
These are some prices suggested for some trips:
Luang Prabang -> Kuang Si Waterfall: 1h- 30000 Kip,
Nong Khiaw -> Ban Nayang: 30 Km- 50000 Kip.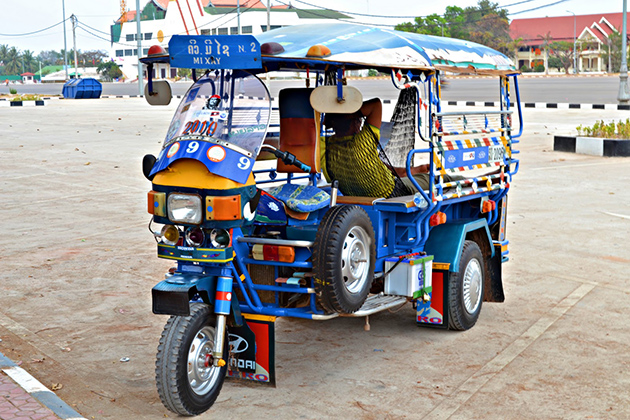 Renting Bike in Laos
Daily rental varies from 15000 to 20000 Kip/day
Tour of Don Khon Island (4000 islands): 20000 Kip/day
Renting Motorbike in Laos
The rental is variable and negotiable when you rent for several days.
Rental for the Bolovens plateau 4 days: 50000 Kip/day
Price of gas: 10000- 11000 Kip.
Boat in Laos
Again, the prices are according to the race and the boats. Here are some suggestions:
Ban Nakassang -> South of Don Det (4000 Islands): 20 minutes – 20000 Kip
Luang Prabang -> Pakbeng: 130000 Kip – 165 Km (Mekong Rise)
Nong Khiaw -> Muang Ngoi: 20 Km – 25000 Kip
Mong Khua (not far from the border of Vietnam for the passage to Dien Bien Phu): 5h – 100000 Kip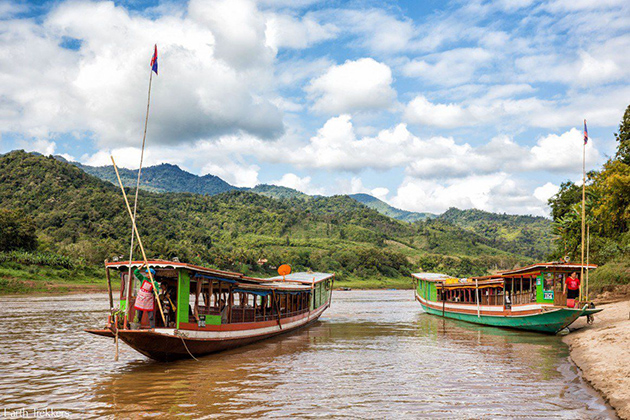 How Much Money to Bring on a Laos Trip
In total for a month spent in Laos, you are suggested to bring at least 650 USD or about 23 USD per day for 2 people.
Accommodations: 52000 Kip per night (about 5 USD/ night)
Transport: 77000 Kip/ day (about 7 USD/ day)
Food: 67000 Kip/ day (about 6.3 USD/ day)
Miscellaneous expenses: 48000 Kip/ day (about 4.5 USD/ day)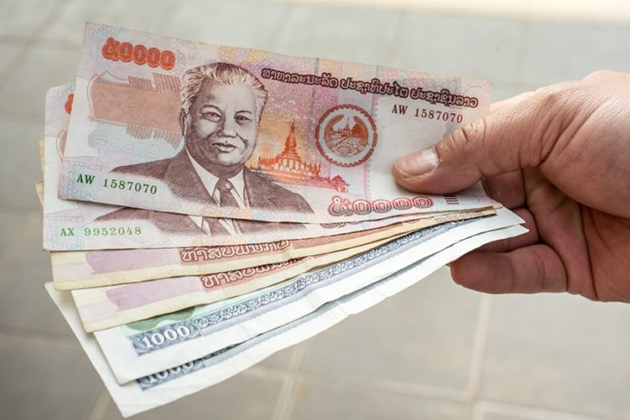 It is actually impossible to give you exact figures, everything will depend also on your way of traveling, your notion of comfort, where you will stay, how you will move in the country, or activities that you will do. This article is based on the view of an economic mode, or 23 USD per day. The same budget can be previewed for a trip to Thailand, except for the budget to go to Laos which may be higher. For larger budgets, 30 USD and 40 USD per day are suitable.