Nowadays, just with the internet and several clicks, we are able to buy some books to read when being free. However, no matter how strongly the technology develops, the feeling when holding and inhaling a book is never replaced. The ancient capital of Laos – Luang Prabang does not exist any skyscrapers or modern buildings, it only owns poetic landscape, peaceful small villages with rivers, lakes around as the thing making tourists remember forever. Admiring the idyllic scenery and then coming over some bookshops in the town, buying some as souvenirs cannot be a better experience! If you never hear bookshops in Luang Prabang, this will be an amazing opportunity for you to enjoy the best space to read the books you love during your Luang Prabang day trip.
L'etranger Books and Tea
This lovely bookstore is set at 3 Th Kingkitsarat ban Aphay Luang Prabang, Luang Prabang is a charming space for those who prefer a cozy atmosphere. There is an awesome book library upstairs which not only possesses nice books but also cute souvenirs for visitors to buy as a present. Besides, you can also watch interesting movies while enjoying a great drink or any food on the menu. The owner and enthusiastic staff serve in English and French in an extremely friendly manner… It is available from 7 am to 22 pm.
Call: +856 71 260 248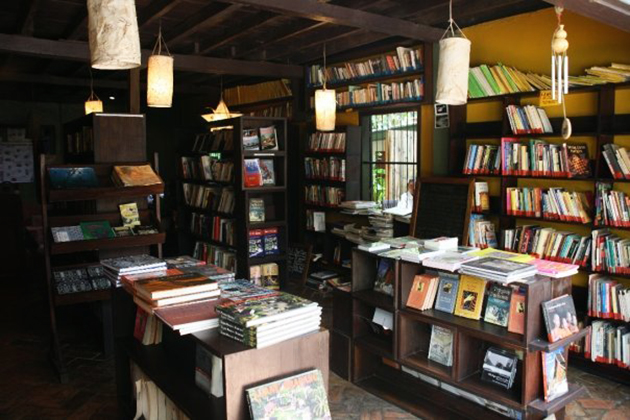 Monument Bookstore
Monument Books at 2, Thou Gnai Thai Rd, Luang Prabang is in the chain of Monument Books throughout the country. Similar to other Monument Books, it sells many kinds of books such as guidebooks, travel books, magazines, novels…in various languages like English, French, German, Lao…
Call: +856 71 254 954.