Evolving from a poor Mekong agriculture country with a simple life and unstable economic condition, nowadays, Laos has transferred into the modern and busy life with the world. Despite locating next to Thailand, the bustle hustle neighbor, nightlife in Laos still retains its tradition in accordance with Laos lifestyle. Do not spend your night at the hotel but let it be exciting with an energetic life when the sun goes down in Laos.
A Little about Nightlife in Laos
Street food seems to be an essential part of Laotian culture. Whenever visitors bump into a night market or a street vendor on the side street, they might encounter many manual workers are having a quick late dinner on the way home. Moreover, in the night market, the evening time is for delicious local street food. Visitors just can't resist the amazing smell and flavor from spectacular dishes in many small food stalls.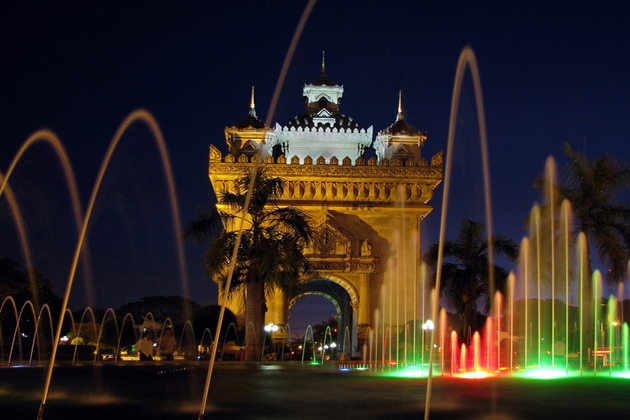 In a strongly Buddhism influenced country like Laos, daily work often starts in the early morning. Especially for the former religious capital of Laos, Luang Prabang, the majority of the city is morning-oriented, they often get up very early in the morning around 5 AM and go to bed around 10 PM. People work hard and try coming back home early after a tiring working day. Not a surprise, in Luang Prabang, the road is clear around 10 PM, leave the city in peaceful darkness and calm sceneries. It might be a little bit boring for a Buddhist country, but it is their tradition, nightlife in Luang Prabang is exceptionally unique for its tradition.
Vientiane Nightlife – The Most Bustling City at Night
For the capital Vientiane, nightlife here is much more exciting and busy. Since the capital receives many influences from its neighbor Thailand and Western culture, there are many bars and clubs opening until midnight which mainly serves foreigner and young people in Vientiane. Even though, if we compare them to Thailand, the nightlife scene is more of a low-key affair. Right now, there is a growing collection of bars and pubs where you can spend your time meeting a new friend and chit chat with a total new stranger and exchange your travel experiences during your Laos vacation.
Vangthong Food Market – The Paradise of Laos Cuisine in Vientiane
Running parallel to Khounboulom Boulevard, Vangthong Food Market opens for just before sunset. Guests can enjoy the best everyday Laotian food. Although some tourists may worry that the preparation of food is less than hygiene but it is a popular dining destination that always meets the needs, high demand for visitors, and the raw materials are always fresh.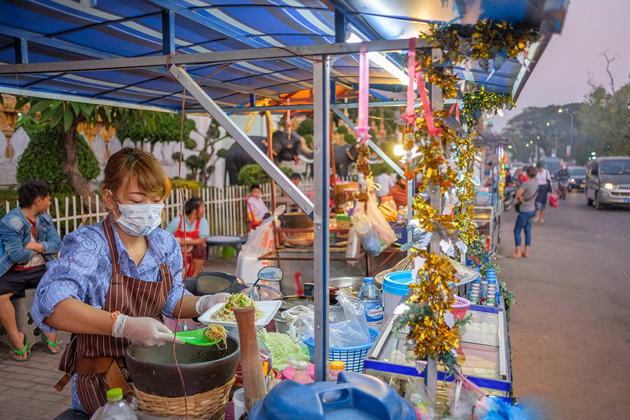 After dinner, take a stroll along the banks of the Mekong, immerse yourself in the crowds. The nightlife of Vientiane is lively but limited in space. There are no live shows or 'pubs' treated like in neighboring Thailand or the Philippines. But, if you're prepared for a night of fun, this small metropolitan city has an incredible number of bars and clubs. Vientiane's nightlife has a number of outdoor bars on the waterfront, which is ideal for relaxing and watching the sunset on the Mekong River. You can also talk freely with foreign tourists or locals. As a rule, all entertainment venues must be closed before 23:30.
Vientiane Riverside Night Market & Nam Phou Fountain Square
Most of the nightlife revolves around this majestic river in the heart of the city. Riverside Night Market and Nam Phou Fountain Square are the most popular nightlife spots in the quiet city of Vientiane.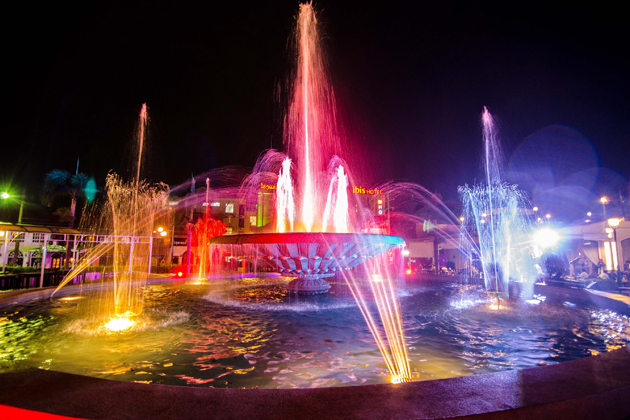 Along the banks of the Mekong River, Vientiane's night market comes to life. Riverside Night Market is open nightly along the banks of the Mekong River in the vicinity of Chao Anouvong Park, one of the most populated areas of Vientiane. The Night Market has red roof stalls with various merchandise, handmade gifts, or souvenirs of bold Lao culture.
Pakse Nightlife – Enjoy the Interesting Things at Night in Pakse
If Vientiane nightlife is a bustling city, Pakse nightlife is no less attractive. After a long day trip around Pakse, perhaps, the first thing you want to see is the sunset, darkness gradually covering the center of Pakse, a scene is very beautiful and peaceful.
Have Meals at the Best Restaurants in Pakse
In Pakse, there are many famous restaurants with many delicious dishes, fresh, clean and bold traditional Lao. If you are looking for a nice view restaurant, the restaurant has a terrace suitable for those who want to enjoy the beautiful river view. Moreover, the quality of food is always satisfied by customers and the beautiful space. Please note that these dining outlets are usually closed at 11:30 pm according to local regulations.
Explore Nightclubs at Pakse
Shortly after sunset, the best nightclubs in Pakse usually start being open to party lovers if they are looking for parties during their vacation. The reason why they particularly fancy participating in nightspots is that they can experience memorable moments of drinking and dancing. Perhaps, many of the participants did not seem to feel sleepy in this cheerful atmosphere, though quite late.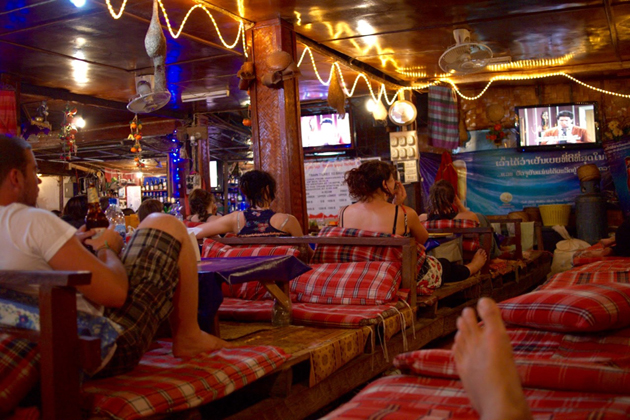 Visit Champasak Plaza Shopping Center
Your evening in Pakse will be more meaningful and enjoyable than ever if you spend time wandering along the small streets and shopping to buy souvenirs for family members as well as your friends. What you need is to go to the  Champasak Plaza Shopping center, where many stalls sell such as souvenirs, silk, clothing, electronics, and many other things that Pakse owns. Then, choose one item that you want to buy and even more according to your preferences. Fortunately, shopping in Pakse is much cheaper than in urban areas like Luang Prabang or Vientiane; and of course, you can freely choose the cute gifts without having to worry about the price.
Luang Prabang Nightlife – The Best Nightlife in a Peaceful City
Luang Prabang is the sleepy city of Laos. During the day from visiting the temples to swim in the waterfalls, nightlife activities are harder to find.
Night Market – The Best Destination You Should See at Luang Prabang Nightlife 
One of the special things in the Luang Prabang night market is that the number of visitors here is mainly foreigners, very few local people here shopping. The night market in Luang Prabang has divided into 2 lanes: The main one lies on Sisavangvong Road, which mainly sells main items such as clothes, souvenirs, and handicrafts. But, the second one is more interesting. It í a bit hidden at the corner of Sisavangvong Road and around 25 street food stalls. You can buy and enjoy some beers at a cheap price. There is a note for this place, it's quite dirty and messy so you shouldn't stay too long.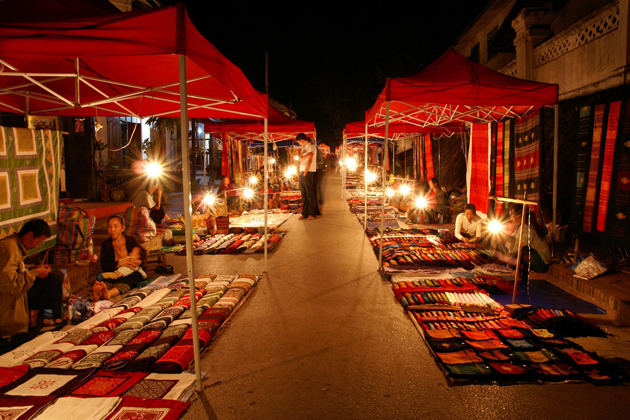 Utopia- an Ideal Suggestion You Must Go at Luang Prabang Nightlife
Utopia is a bohemian-style riverside restaurant / café / bar, 5 minutes' walk from the center. It is a place that attracts not only locals but also backpackers. On normal nights, when they do not have any special event, it will be comfortable, with easy to play music in the background (most likely reggae). People will just sit on the mattress and relax. You can also play games or smoke shisha. From time to time, they can hold a movie, a live concert, a volleyball competition.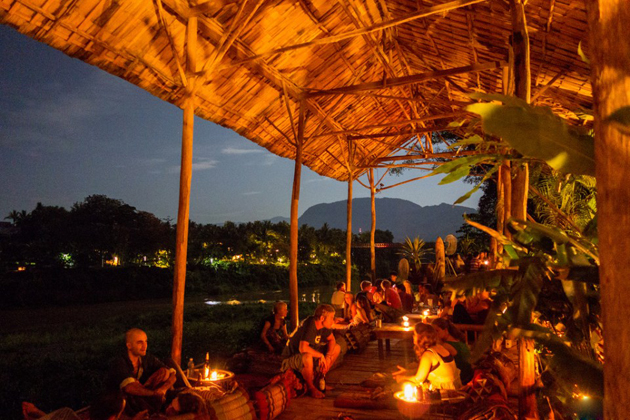 Luang Prabang Bowling Alley – One of the Most Famous Place Attract Tourists 
The Luang Prabang Bowling Alley is famous for being a place of entertainment not only for local people but also for foreigners. It is also home to Asia's huge pop music, local whiskeys, and famous Lao beers, with very cheap prices for bowling and bowling at 20,000 kips/ person/game. Here, you can play until 2 am, the guests often come here are backpackers. You can say the bowling alley is one of the few places you can go after the local government's strict hour is 23.30 PM. The bowling alley is located on the outskirts of the town. You may want to arrange a fare with the driver to wait for you or alternatively you can pick a car from the Phu Si Mountain base.