Although Laos is a country without a sea, Laos is still an ideal place for those who love Laos' natural beauty. If someone tells you that "Laos has nothing to see", it means that they are wrong completely. In 10 days
Laos Tour Packages
, we will prove to you that How beauty Laos is, which is not the same as any country in the world. Truthfully, we can say that Laos likes a pearl that is being polished to become a shining gem in the future. And now, let's explore that beauty with us!
Tour Code:
Duration: 10 Days/ 9 nights
Start/ End: Luang Prabang/ Pakse
Tour Type: Explore, Experience, History, and Nature
Tour Categories: Laos Tour Packages
Tour Customizable: Definitely!
Guide: Local Engish Speaking Guide
Transportation: Private transportation by air-conditioned car
Brief Itinerary
Day 1: Arrival – Luang Prabang Sightseeing tours
Day 2: Luang Prabang – Pak Ou – Luang Prabang Cruising Tour
Day 3: Luang Prabang – Ethnic Villages – Kuang Si Waterfall
Day 4: Luang Prabang Sightseeing Tour – Xieng Khouang – Plain of Jars
Day 5: Xieng Khouang – Vientiane – Mekong River Side
Day 6: Vientiane City Tour
Day 7: Vientiane – Pakse –Done Khone Island – Sightseeing Tour
Day 8: Don Khone Island – 4000 Island
Day 9: Don Khone Island – Tadlo – Pakse
Day 10: Pakse Departure
Full Itinerary
Price & Inclusion
Accommodation
Photos
Day 1: Arrival – Luang Prabang Sightseeing Tours
Say "Sabaidee" with Laos, upon your arrival at the airport in Laos, you will be met our guide and driver transferred you to your hotel. Take some minutes to rest before exploring Luang Prabang, the best preserved traditional city in Southeast Asia. The tranquility and charm of this town with its splendid natural scenery and cultural sights make it one of the most delightful places to visit Laos. Now, let's visit the impressive stupa of Wat Visoun and the shrines of Wat Aham and Wat Mai. After the meaning visit, we climb up to the top of Mount Phousi for an enjoyable exploration of the sacred, gilded stupa as well as a beautiful sunset view of the city and the Mekong River.
When the dark falls down, we explore the Night Market, where you can find a lovely selection of handmade textiles made by the local and hill tribe people surrounding Luang Prabang.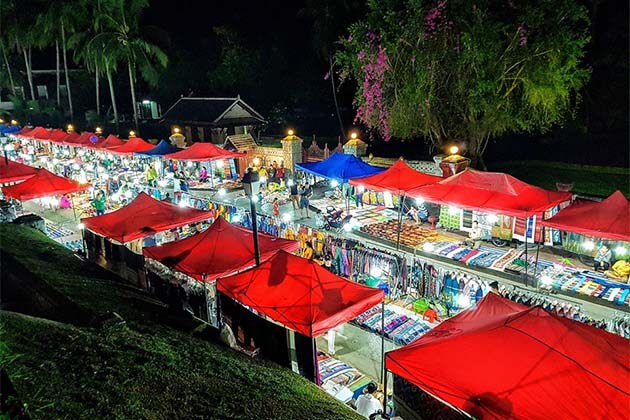 Overnight in Luang Prabang.
Day 2: Luang Prabang – Pak Ou – Luang Prabang Cruising Tour (B)
After breakfast, today, we will take a short guided tour seeing the city's oldest temple Wat Sene and the magnificent Wat Xieng Thong with its roofs sweeping low to the ground, representing classical Laotian architecture. Then, we board upstream on the Mekong River where you can see the panoramic view as well as visit the famous caves, Pak Ou, which displays thousands of gold lacquered Buddha statues of various shapes and sizes. En Route, we will visit Ban Xanghai, which is famous about rice wine. On the way back to Luang Prabang, We drop in a village well known for its hand weaving, Ban Phanom. Upon your time, we will visit Ban Xienglek, the village well known for silk weavings and papermaking for Saa.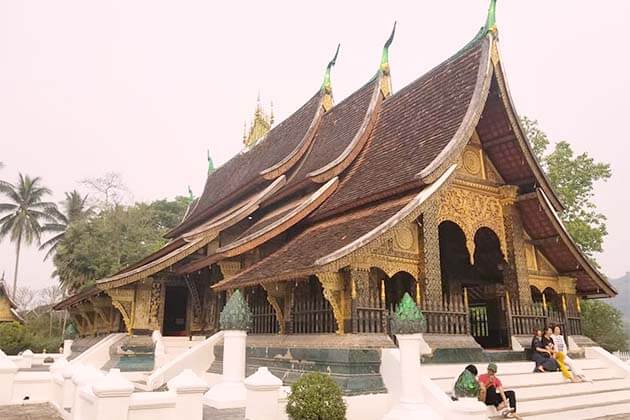 Overnight in Luang Prabang.
Day 3: Luang Prabang – Ethnic Villages – Kuang Si Waterfall (B)
Today, Luang Prabang will wake you up by the daily morning ritual of saffron-clad monks collecting offerings of Alms from the faithful residents. This tradition has become unique in Laos Cultural. If you want to take part in the ceremony, let's tell your guide, he/she will prepare food for you. Then back to your hotel or you can go to Phousi Market to enjoy a noodle soup before strolling around here. During the ritual, remember to dress suitably, don't show your shoulders, your chest, and cover your legs. Don't touch the monks.
After visiting Mount Phousi Market, we will visit the local village of Laos ethnic minority groups at Ban Ouay and Ban Thapene. Then driving to Kuang Si waterfall and take a dip yourself in the water as the pearl and walk along to the forest paths.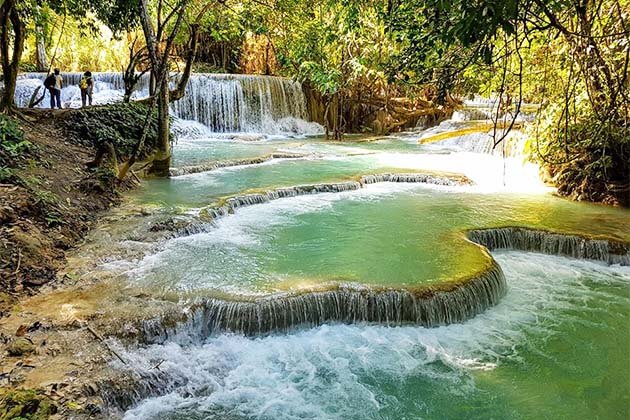 Back to Luang Prabang by the late afternoon and continue to Ban Phanom, a well-known weaving village, then we return to the city by the late evening to admire the sunset Wat Siphouthabath.
Overnight in Luang Prabang.
Day 4: Luang Prabang – Xieng Khouang – Plain of Jars (B)
Continue our journey in Luang Prabang, today we will visit the National Museum at the former Royal Palace (closed Tuesday), which you can see the products displayed a lovely collection of artifacts which reflect the richness of Lao culture from the days of the early kings right through the last sovereign. Drive to the wonderful natural scenery to Xieng Khouang and visit the Plain of Jars which regarded as an impressive archaeological site. Coming to this site you will be amazed by the giant stone jars. Your tour guide will tell you about the mysterious story.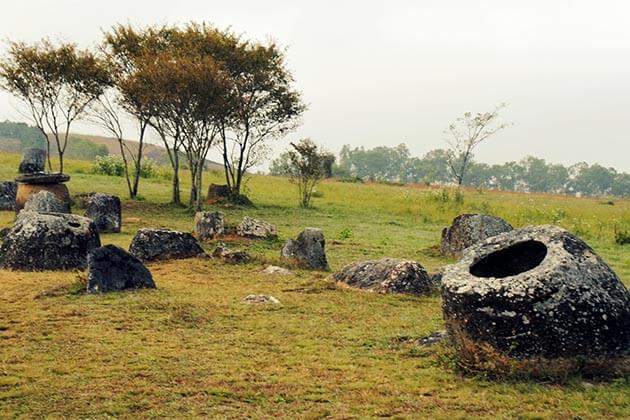 If the time permits, we will visit the old capital of Muang Khoun and the nearby villages where the Hmong people live. Come here, you have a chance to explore the local culture and colorful history.
Overnight in Phonsavanh
Day 5: Xieng Khouang – Vientiane – Mekong River Side (B)
Add more energy by having Breakfast, we will visit the Central Market. Today is your free time to explore the town before we catching a flight back to Vientiane. After a short flight, check into the hotel, you can choose to stay at your hotel or go to visit the surrounding areas of Vientiane. Check-in at the impressive Lao – Thai Friendship Bridge and Buddha Park. Exactly, this is the first time you visit a park for Buddhist and Hindu sculptures. There are many kinds of images, 200 religious images dating back over 500 years by a great monk.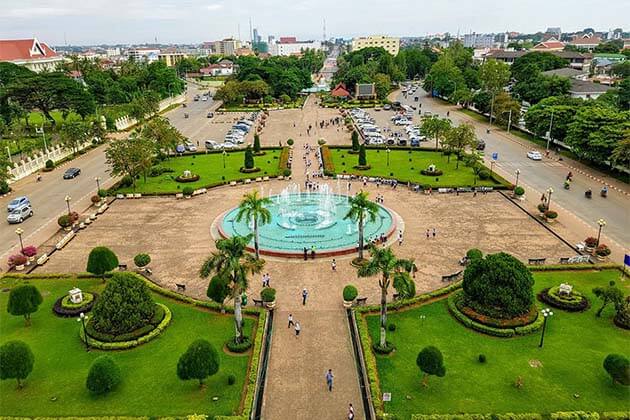 Finish today, we move to see the spectacular view of the Mekong River at sunset. Sip a beer Laos, snacks and see the sunset. It's so amazing!
Overnight in Vientiane
Day 6: Vientiane City Tour (B)
Good morning Vientiane, continue to explore Vientiane capital, today we will visit the main sights of the capitals. The first stop is Wat Sisaket with thousands of miniature Buddha statues and the former royal temple of Wat Prakeo, which previously housed the famous Emerald Buddha Image. Now, we visit the symbol of Laos, Pha That Luang where you can see on the Laos seal.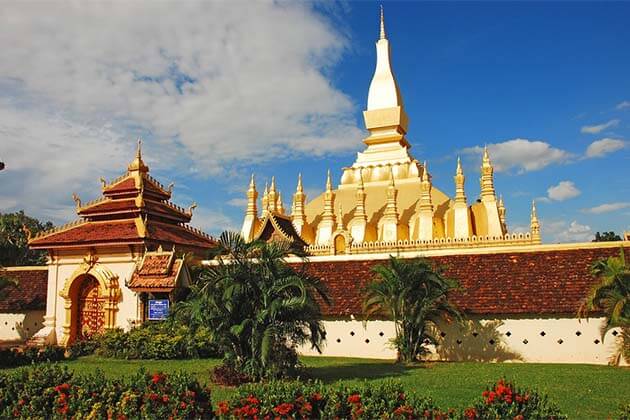 Patuxai is the next destination which is known as Vientiane's own Arc de Triumph. Laos is famous for the temples so it's no surprise when there are many temples in Laos. In the afternoon, we visit Wat Ong Tue, Wat Inpeng, and Wat Haisok. After that, we come to the Vientiane Central Market of Tadlad Sao and Tad Kouadin where you can find a lot of goods made by the local. Finish a round of Market, you can buy food and then we move to Mekong Riverside in the late afternoon for observing the sunset.

Overnight in Vientiane.
Day 7: Vientiane – Pakse -Done Khone Island – Sightseeing Tour (B)
After the last breakfast in Vientiane, catch an early flight to Pakse. On arrival, we drive to Champasak to visit the fascinating pre – Angkorian ruins of Wat Phu, which is one of Southeast Asia's most dramatically situated temples. Continue to your tours, take a long tail boat to Done Khone, the largest island in the South Mekong river region known as the 4000 islands, one of the most scenic areas in Laos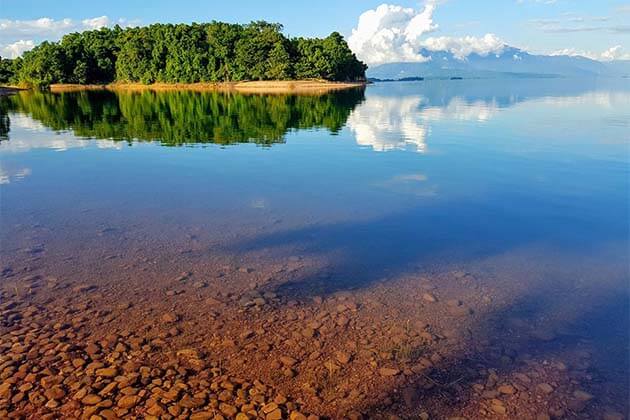 Overnight in Don Khone Island
Day 8: Don Khone Island – 4000 Island (B)
Wake up by the sound of birds, let's enjoy breakfast before we go to the French colonial past at Ban Khone, where you will visit the old colonial houses still stand and glimpse the first Lao railway with its own locomotive. Now, let's sit on the boat to visit the most beautiful Liphi waterfall of the 4000 islands, which is also known as the Samphamit, form a natural border between Laos and Cambodia. Upon your luck, you can see a glimpse of the rare freshwater Irrawaddy Mekong Dolphin at Ban Hang Khone.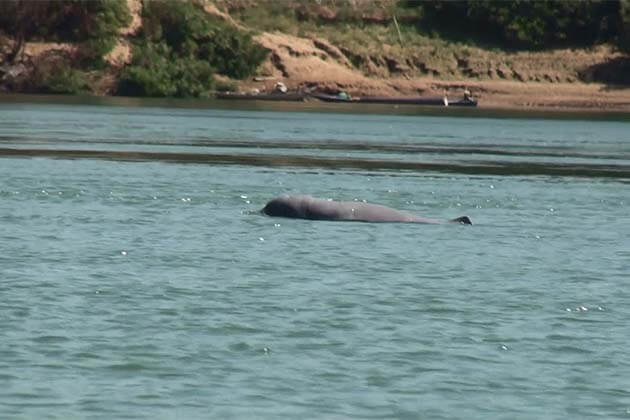 Return to Ban Nakasang and drive to the famous waterfall of Khone Phapeng, which is known as the largest waterfall in South East Asia or "Niagara of the east"
Overnight on Don Khone Island
Day 9: Don Khone Island – Tadlo – Pakse (B)
Continue to these days at Don Khone Island, we go to Tadlo, through the Boloven plateau which is known for its cooler temperature being located high above the Mekong Valley. The River runoff the high plateau in all directions and then plunge out to lush forests along in a series of spectacular surging waterfalls. there is no word can describe the beauty of the plateau which has a large space, provide a refreshing break from the heat and allows you to observe the cultivation of rich coffee, tea, cardamom, bananas, and other crops that you see en route. Here is also a chance for you to venture off the beaten and explore a new land in Laos which is lesser known areas of Laos. Truthfully, the chance to explore the villages of Alak, Nge, and Katu, which is a popular ethnic group in Laos. Return to Pakse by the late evening.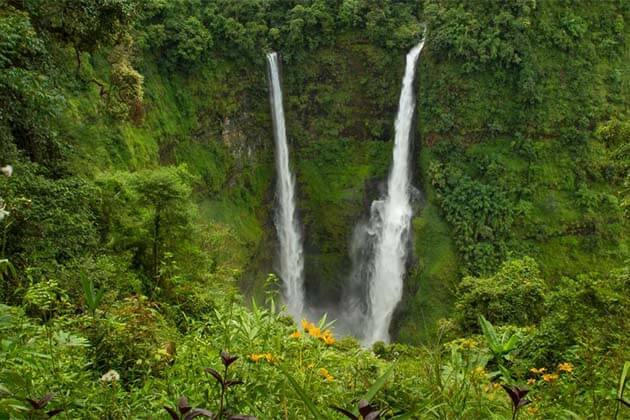 Overnight in Pakse.
Day 10: Pakse Departure (B)
It's time to say goodbye to Laos, enjoy the breakfast, and then let's explore Pakse Town in your own ways to sure that you mustn't regret anything before you go. The driver will transfer you to Pakse airport.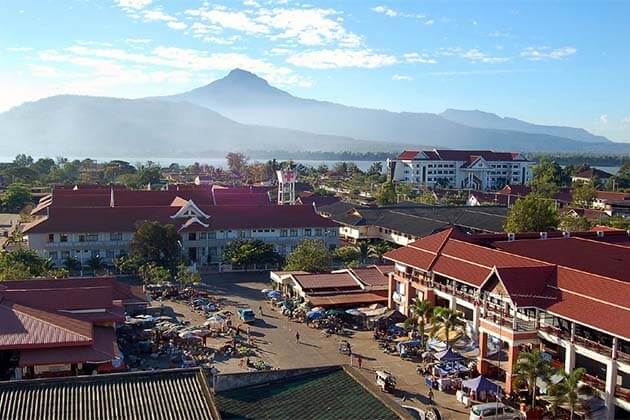 End of our service and let's tell us about your trip when you come back home!
"Free inquiry if you interest this tour or create your own trip with our travel expert!"
What's Included?
Boat trip as stated in above sights
Experienced English speaking guide
Entrance fees
Bottled drinking water for sightseeing
Transport by private air-conditioned vehicle
Meals as mentioned in the itinerary, daily breakfast at the hotel
Luggage handling and drinking water
Gov't tax and service charge
Admission fee to indicated sights
What's Excluded?
Gratuities ( recommended )
Laos visa fees
International flight into and out Laos
Beverage and alcoholic drinks
Personal expenditure (telephone, laundry, and so on…)
Travel insurance in all kinds
Lunch or dinner unless where stated
Single room (quoted separately)
Other foreign language guides
Peak tourist season or special event rates
Child or adult in triple sharing room
Tip, drinks and other personal expenses
Recommended Accommodation List (Standard)
| | | | |
| --- | --- | --- | --- |
| Location | Hotel Category | Hotel name | Room Category |
| Vientiane | 3* Standard | Lao Orchid Hotel | Deluxe |
| Luang Prabang | 3* Standard | Chitchareune Mouangluang Hotel | Standard |
| Xieng Khouang | 3* Standard | Vansana Plain of jars | Standard |
| Pakse | 3* Standard | Pakse Hotel | Deluxe |
| Khong Island | 3* Standard | Pon Arena | Standard |
Recommended Accommodation List (Superior)
| | | | |
| --- | --- | --- | --- |
| Location | Hotel Category | Hotel name | Room Category |
| Vientiane | 4* Standard | Ansara Hotel | Savy |
| Luang Prabang | 4* Standard | Santi Resort & Spa | Deluxe |
| Xieng Khouang | 3* Standard | Vansana Plain of jars | Standard |
| Pakse | 4* Standard | Champasak Grand Hotel | Deluxe |
| Khong Island | 4* Standard | Pon Arena | Deluxe |
Recommended Accommodation List (Deluxe/the best available in the cities)
| | | | |
| --- | --- | --- | --- |
| Location | Hotel Category | Hotel name | Room Category |
| Vientiane | 5* Standard | Green Park Boutique Hotel | Deluxe |
| Luang Prabang | 5* Standard | Luangsay Residence | Pioneer Suite |
| Xieng Khouang | 3* Standard | Vansana Plain of jars | Standard |
| Pakse | 4* Standard | Champasak Grand Hotel | Premier |
| Khong Island | 5* Standard | Pon Arena | Mekong River View |