Duration: 6 Days/5 Nights
Date: Available all time
Start/End: Luang Prabang/Pakse
Tour Routine: Luang Prabang – Pakse – Champasak – Khong Islands – Pakse
Tour Type: Natural and Landscapes, History and Culture
Tour Customize: Absolutely (Feel free to tell us your requirement in the inquiry form)
Guides: Local Guide (Available in English and also other languages if requested)
Transportation: Private first-class air-conditioned motor coach
Accommodation: Listed below or equivalent. Rooms with private bath or shower, hotel taxes, porterage, tips, and service charges
Brief Itinerary
Day 1: Luang Prabang Arrival
Day 2: Luang Prabang – City tour
Day 3: Luang Prabang – Khouangsi Waterfall – Pak Ou Caves
Day 4: Luang Prabang – Pakse – Champasak – Khong Islands (Flight)
Day 5: Khone Islands – Surrounding
Day 6: Khone Islands – Pakse – Departure
Day 1: Luang Prabang Arrival
On arrival at the airport, your local guide will fetch you up and escort you to the hotel. After a long flight, the rest of the day is at your leisure to relax and get used to the city.
Overnight in Luang Prabang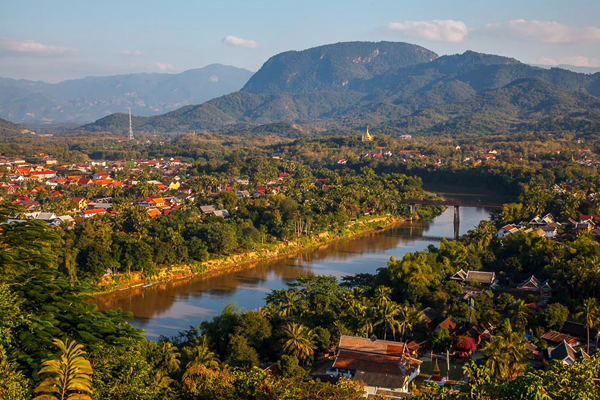 Day 2:  Luang Prabang – City tour (B)
Enjoy your breakfast at the hotel. Our transportation right now is a bicycle which makes it easier to see the highlight of the city. The first destination is the Royal Palace Museum where present many amazing artifacts about royalties in the past in Luang Prabang. On cycling, we also encounter the oldest temple in the city – Wat Xiengthong with the special long roof structure of Laotian classical architecture, the impressive of Wat Visoun and the shrine of Wat Aham.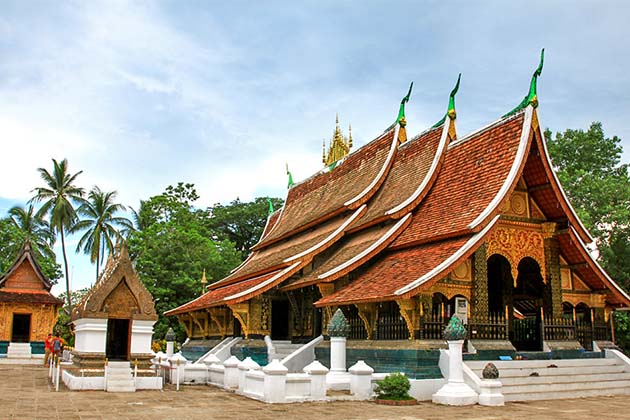 Come back to your hotel for lunch and then in the late afternoon, we will make a visit to the Arts and Ethnology Centre to gain acknowledge about Laotian minorities' culture.  Tasting a cup of local coffee at the center's café at your choice before reaching the top of Mount Phousi where you can have a chance to witness gilded stupa and see the city from a broader view with the sunset.
In the evening, you will find yourself among the crowd in Luang Prabang Night Market. The interesting thing is that you will be able to see and buy handmade textiles and handicrafts from Laotian tribes in Luang Prabang.
Overnight in Luang Prabang.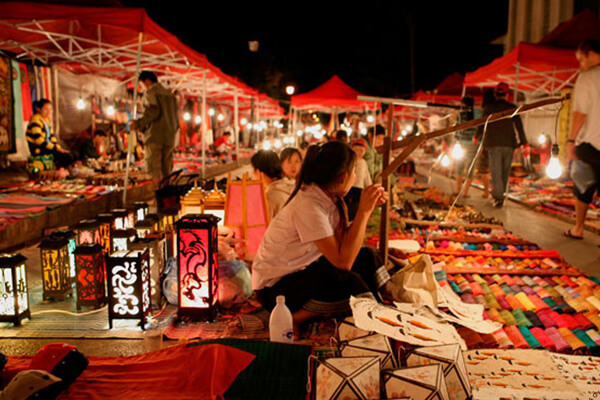 Day 3: Luang Prabang – Khouangsi Waterfall – Pak Ou Caves (B, L)
After breakfast, we are heading to Khouangsi Waterfall. During the trip, the vehicle will stop at the morning Phousi Market where all the local foodstuffs and goods are available. Laotian locals usually shop here for all the basic demand for daily life: dried buffalo skin, local tea, saltpeter, poultries, vegetable and fruit, etc.
When you are at the Khouangsi Waterfall, it is a great opportunity for you to immerse yourself in crystal clear water at topaz pools below the falls or have a walk in the forest pathway and visit the Bear Sanctuary.  A picnic lunch will be prepared for you to enjoy the falls.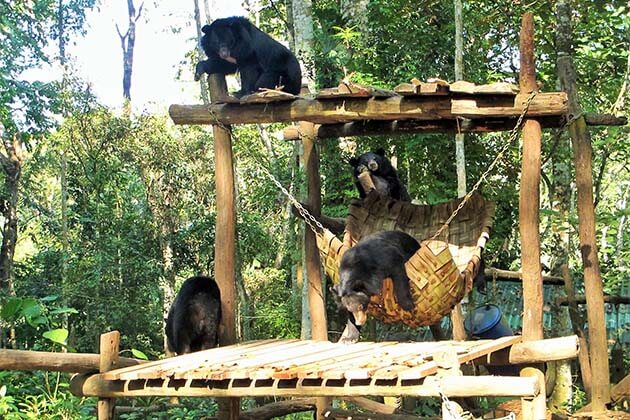 On returning, we are no longer use the car to travel but instead, we are going to use private boat following Mekong River for sight-seeing along sides of Mekong and for heading to fanciful Pak Ou Caves. There are thousands of gold lacquered Buddha images still existing for hundreds of years.
Get back to Luang Prabang, we leave the boat and decide whether or not take a short drive to visit Ban Phanom, a famous hand-weaving village. If you don't want to, we can come back to the hotel for relaxation.
Overnight in Luang Prabang.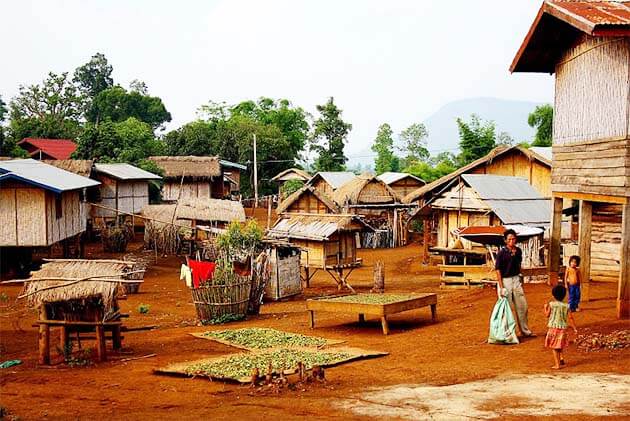 Day 4: Luang Prabang – Pakse – Champasak – Khong Islands (Flight) (B)
You will take a short flight from Luang Prabang to Pakse in the morning. On arrival in Paske, we will go to southern part by car to Champassak and take a look at Wat Phu, the enchanting remain of pre-Angkorian which is very famous as an ancient temple perched at Phu Kao Mount' top in Southeast Asia.
After lunch, we will continue our journey by long tail boat to Si Phan Done where you have the rest of the day to relax or to explore the island.
Overnight in Khong Islands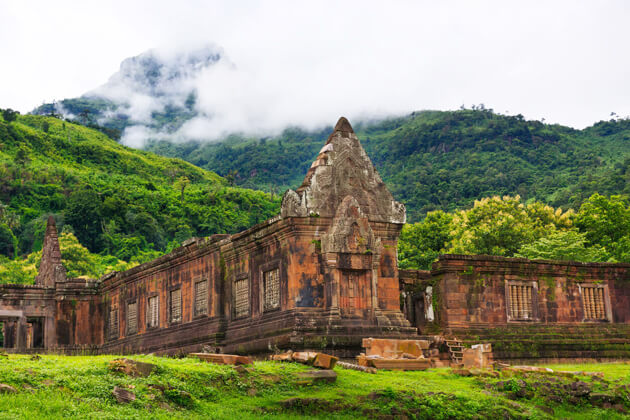 Day 5: Khone Islands – Surrounding (B)
Our routine today will start a little bit early so we can have enough time to explore Khone Island. Embarking on Ban Khone, we encounter some old colonial houses and the first Lao railway with its own locomotive built by French.
Then we continue exploring 4000 islands in the area by boat and amazing Liphi waterfall which is known as Samphamith, the natural boundary between Laos and Cambodia.
We return to Ban Nakasang and drive to the famous waterfall of Khongphapheng Waterfall – the largest waterfall in South East Asia, also known as the 'Niagara of the East'.
Overnight in Khone Islands.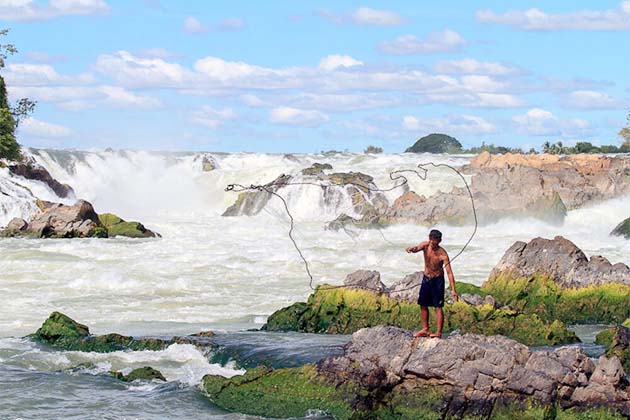 Day 6: Khone Islands – Pakse – Departure (B)
After breakfast at your hotel, you will be transferred back to Pakse to catch your flight to Siem Reap, Cambodia or exit Laos overland from the Chongmek International checkpoint to Ubon Ratchathani, Thailand.
  "Free inquiry if you interest this tour or create your own trip with our travel expert!"