Make a Laos tour package, what do you prepare for? Things to do and see in Laos, the hotel you stay, Besides, you also make a list of Laos restaurants to have the experience to enjoy Laos food. Laos street food is also the idea, but if you want to find the restaurant which is clean enough, Go Laos Tours make a list for you.
Restaurants in Luang Prabang
Tamarind Restaurant
Nowadays, finding a restaurant on the Luang Prabang is not difficult, however, to find the restaurant suit to your taste is not easy. Tamarind will be the first suggestion for you. Located in Kingkitsarath road, Luang Prabang. Tamarind offers you a true taste of Laos cuisine and stands out in Luang Prabang's culinary scene as one of the finest establishments to do so. For those who love the true taste of Laos cuisine, Tamarind promises a gentle introduction to authentic and the dishes are cooked by the freshest of ingredients. And sure that it doesn't make you disappointed.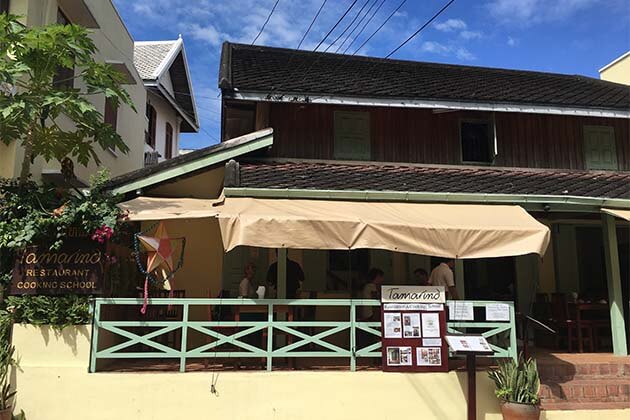 Apsara
Head off to the restaurant, you will be expressed by the sparkling scenery of the restaurant. Sited on the quiet banks of the Nam Khan River in a beautiful building that in the past was a rice warehouse of the locals. Expressed from the stylish and serene ambiance of the hotel to the menu of the restaurant also a variety which combines the finest of western and Asia cuisine. What's more interesting when eating food and enjoying the marvelous view of the river!
Location: Kingkitsarath road, Luang Prabang, Laos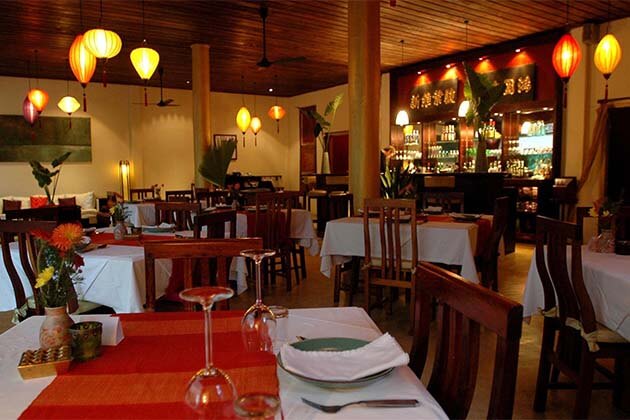 Dyen Sabai
With the scenic views of Nam Khan River and Luang Prang. The restaurant will bring a great feeling for the diners. Inside the restaurant, the guests can enjoy the meals in the garden with the open space and enjoy the traditional barbecue. Have the meals at Dyen Sabai, let's try the eggplant dip and fried Mekong river weed which is better anywhere, and there are 77 varieties of cocktails from Laos, Asian and European fare.
Location: Ban Phan Louang PO Box 805, Luang Prabang
Blue Lagoon
As soon as setting your foot in Blue Lagoon, you can feel the luxury from the restaurant mixed with the tradition of Laos made it more attracting than ever. Blue Lagoon, which serves both Laos and Swiss classics as well as famous for the imported wine and cocktails. With the features, an outdoor bar with cocktail tables and lounges, as well as an outdoor dining terrace where the lanterns are hung in the air with the views of the Royal Palace's golden spires won't let you down.
Location: Choumkhong Village, Luang Prabang, Laos
Restaurants in Vientiane
Kualao Restaurant
One of the favorite Restaurants in Vientiane we have to mention is Kualao which you will be serves Laos cuisine in an upscale, sited on a yellow washed colonial mansion in central Vientiane. The menu with the varieties of Laos cuisine with many traditional foods like papaya salad, deep fried Mekong River fish, spring rolls, and handmade Laotian sausage. One of the differences with other restaurants, you can both enjoy the meal and enjoy the traditional Lao dance as well as a music performance by the National Dance Troupe
Location: Rue Samsenthai, Vientiane, Laos
Kong View Restaurant
Kong View Restaurant is a great association between the stunning view of the Mekong River and the ancient architecture mixed with the modern style. Come to the restaurant, the dinners can choose the excellent menu of Asian and European dishes which suit your taste. With the traditional Lao style building, with wooden fixtures and tasteful mood lighting, All is mixed together and made the difference with other restaurants.
Location: 183 Souphanouvong Road, Vientiane, Laos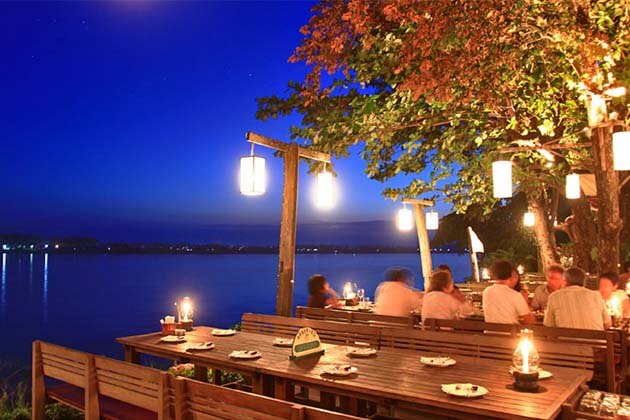 Bor Pen Nyang
With the view of the Mekong River, Bor Pen Nyang is a 4 storey bar and restaurant located in the center of Vientiane. Besides to enjoy the traditional Laos foods, cooked by the master chef, you will be relaxed in the open atmosphere. If you are planning to catch the sunset, head there early as seats by the terrace get filled up fast. The menu is also variety for those who love Laos food or western foods. Strolling in Vientiane nightlife, here also one of the liveliest nightspots in the city, both enjoy the meal and you can hear live music. That's a truthfully place worth having meals in Vientiane, Laos.
Location: Quai Fa Ngum, Vientiane, Laos