Although there are so many temples in Luang Prabang – the heart of Buddhism in Laos in the past and at the moment, Wat Aham is still one of the most religious sites in Laos. The temple is the evitable evidence for religious conflict in the sixteenth century, which marks a milestone in Laotian religion's shifting from Animism to Buddhism.
Wat Aham is located in Phomathat road, Luang Prabang. It is just a small temple near Wat Wisunalat, a Buddhist Temple and they are connected through a large gateway. In this site, you will also see That Makmo (Watermelon Stupa).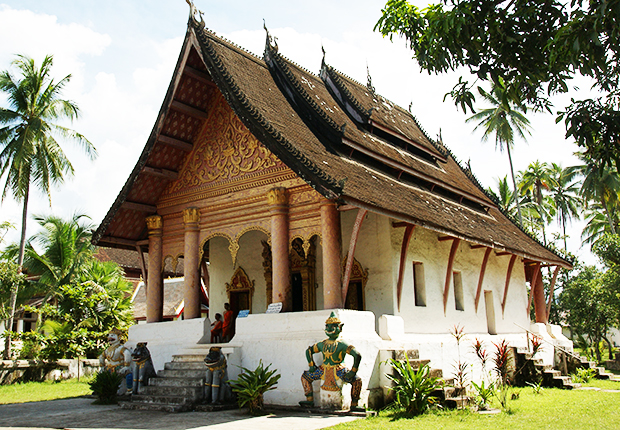 The specialty about this temple first comes from its location's history. At first, the first king of Laos, Fa Ngum, who was raised by Khmer in Angkor, believed in both spiritual religion and Therevada Buddhism. It is believed that around fourteenth century, at the location of Wat Aham nowadays, there is a Shrine built with an aim to worship Pu No and Na No, who are said to be two guardian spirits of Luang Prabang. Until around sixteenth century, another Laos' King, King Photthisarat has changed his idea in religion. He did not believe in spirit (Animism) and started to restrict all spiritual ceremony and also destroyed Shrine for guardian spirit. Therefore, in the former location of guardian spirit, a Buddhist temple – Wat Aham was built, which proclaim the collapse of Animism and the strong raising of Buddhism.
That does not come to the end of the story; the Shrine has been destroyed once and was rebuilt again. Since the collapse of the Shrine, Luang Prabang suddenly had many disaster and diseases. Then, the next generation the shrine was rebuilt and once again was destroyed in twentieth century. Nowadays, locals believe that these spirits still exist in the banyan tree in the area around Wat Aham and carry out some ceremony to remember them on New Year Occasion.
The ordination hall was built in 1818. Unlike other sim in Luang Prabang, the decoration is quite simple comparing to other normal sim. Three-layer roof is based on four element pillars. The porch in the back is similar with the style in the front. Inside the sim, red and gold are two colors that are mainly used. In the center, there is a Buddhist statue siting on an elaborated pedestal, surrounding is smaller image. The background is the scene of Jakata tales, which is the story of Buddha's previous life. Other wall paintings are about Buddhist hell demonstrating punishment and torture for bad person, which reminds them of keeping right behavior in daily life.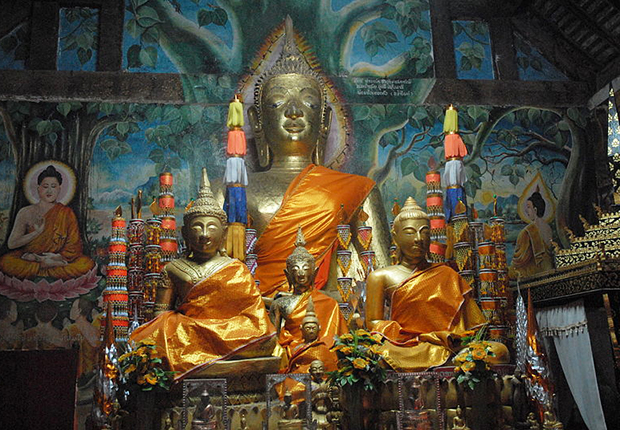 As a requirement in almost all temples in Laos, all women have to wear Laotian traditional skirt "the sinh" when entering a temple. It is compulsory and there is no exception. Keep this in mind and beware of it. And also, you can get there by cycling or a tuk tuk.
Opening Hour: Daily from 8AM to 5PM
Entrance Fee: 5000 Kip