Among many temples in Vientiane – the capital of Laos, Wat Si Saket still remains its reputation and interest for the visitors during their Laos Tours. This temple is the oldest one that maintains its old structure from the past in the area and plays an important role in local belief.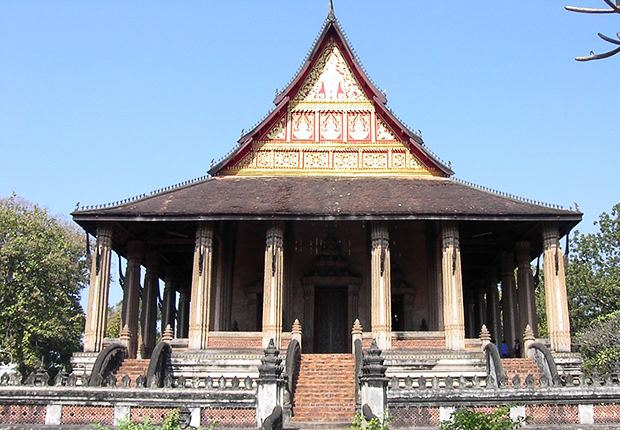 The King Anouvong who reigned the last dynasty of Laos' monarchy ordered to build this temple in 1818 and until then, the structure, as well as the decoration, is still the same in the traditional way. Its location is opposite Presidential Palace; therefore, by taking just a few more steps, you can easily visit two sites in the morning or afternoon only. There are also many day tours offering on this site.
Although Wat Si Saket is built in Laos by Laotian, its main architecture follows Siamese Style (Thais Style) of Buddhist Architecture, which makes it even more special. The main building is outstanding with an ornate five-tiered roof and is surrounded by a terrace. This feature, in fact, has helped itself to be protected through the Siamese attack and explains why it has not been destroyed during the war.
The specialty of this temple is not just about its architecture but also decoration. It is famous for thousands of ceramic and silver Buddha decoration.  6840 Buddha statues representing different stages in Buddha's life, found in the courtyard galleries is another interesting fact. In the ordination hall "the sim", a slightly damaged Buddha statue in Khmer style is said to have been existed since the thirteenth century and is brought from nearby Khmer sites. For locals, this temple is where they will bring offerings every morning or on a special occasion.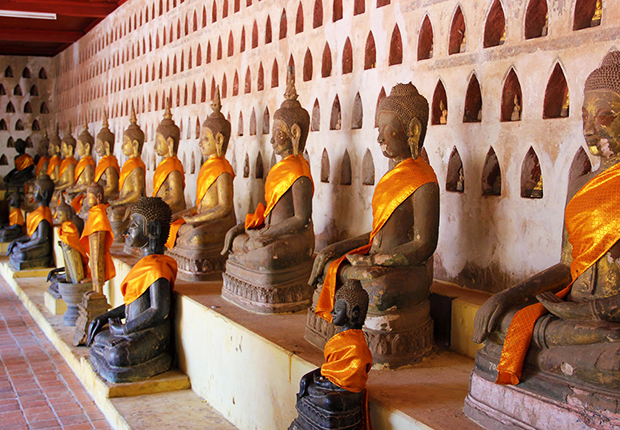 All women are required to wear "the Sinh", Laotian traditional costume when entering this temple. There will be a rental shop at the entrance in case you can't prepare "the Sinh". Around the ordination hall, there is a drum tower and a beautiful garden where you can relax yourselves and enjoy the peaceful atmosphere.
Entrance Fee: 5000 Kip (For inner site)
Opening Hour: From Monday – Sunday (Except for Public Holiday)
Morning: 8AM – 12AM
Afternoon: 1PM – 4PM