Popularly known as a colorful mosaic, Luang Prabang is going to awaken your imagination with loads of stunning destinations. Among all, Kuang Si Waterfall is also Luang Prabang's glamour. Do not hesitate to plan amazing Laos tours with a visit to Kuang Si Waterfall in order to gain thrilling experience.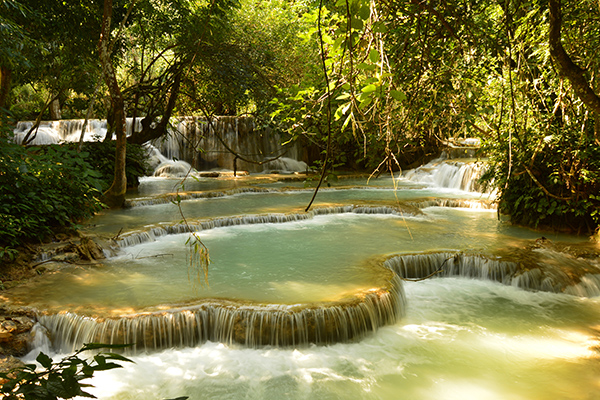 The waterfall is highly renowned for three tiers that lead to a 50-meter drop into pools with clear water before reaching downstream. Take a chance to explore this greatest waterfall of the region, there is nothing quite like swimming in swimming holes which are close to the entrance. With scenic surrounding landscape, you will be mesmerized with not only the beauty of lush tropical jungles but also breathtaking cascades. From afar, Kuang Si Waterfall is almost like a brilliant patchwork with a perfect combination of shade of evergreen forest and azure cascading waterfall. If swimming is not your interest, an alternative is to enjoy relaxing time under the shade with refreshingly cool weather.
For those being interesting adventures, Kuang Si Waterfall offers great trails that allow you to climb up the highest point where you can capture a panoramic view of the whole landscape. With adventurous terrain, you are advised to carry durable and waterproof footwear.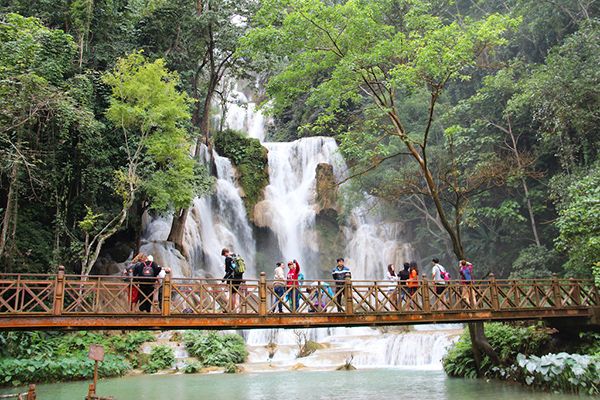 It cannot be denied that Kuang Si Waterfall with spectacular cascades is the major highlight of Luang Prabang. Moreover, A Hmong village where you can make a stop on the way leading to the waterfall is also a great place to explore. There is no better way to gain ultimate experience than meet older female villagers wearing traditional and cultural costume and take a chance to buy amazing woven crafts by talented local artisans.
Good to know
There are several things that you should bear in mind which would definitely facilitate your journey to Kuang Si Waterfall. If you wish to escape from hustle and bustle atmosphere of crowded cities, Kuang Si Waterfall is such a perfect getaway. However, it is located away from the south of Luang Prabang 29 kilometers, so one of the best ways is to hire a motorbike as you can control your time as well as take advantage of this chance to capture beautiful villages along the way.