While you are considering where you should visit during the 10-days in northern
Laos vacation
, this will be a great suggestion for you. Laos is known as a beautiful country with majestic natural landscapes, ancient architecture, friendly people, and sure that during this tour, you have a chance to explore the hidden treasures of northern Laos. Now, take your backpack and let's go!
Tour Code :
Duration : 10 Days/ 9 nights
Start/ End: Luang Prabang/ Vientiane
Tour Routes: the Northern Laos (Luang Prabang – Vang Vieng – Vientiane)
Tour Type: Explore and Experience, History and landscape
Tour Categories: Laos Local Tours
Tour Customizable: Definitely!
Guide: Local Guide (experienced Engish Speaking Guide, other languages upon your Request )
Transportation: private transportation by air-conditioned car
Brief Itinerary
Day 1: Arrival in Luang Prabang (L)
Day 2: Luang Prabang – Royal Palace Museum- Wat Mai Suwannaphumaham – Wat Xieng Khoang (B)
Day 3: Luang Prabang – Kuang Si Waterfall (L, D)
Day 4: Luang Prabang city tour (B)
Day 5: Trekking to Vang Vieng (L)
Day 6: Vang Vieng – Namsong River (B)
Day 7: Vientiane Walking Tour (B)
Day 8: Pha That Luang Temple – Patuxay Monument – Black Stupa – Haw Phra Kaew – Wat Si Muang (B, L)
Day 9: Vientiane – Buddha Park (B)
Day 10: Vientiane Shopping & Departure (B)
Full Itinerary
Price & Inclusion
Accommodation
Photos
Day 1: Luang Prabang Arrival (L)
Landing at Luang Prabang International Airport, take a tuk-tuk or minibus to the downtown area and find a hotel to take a rest before exploring your trip in the north in Laos.
After the break time, start your trip at the nearby night market on Sisavangvong Road where are the most of the products were sold there such as textiles, handicrafts, art films, decorative elements, and fruits.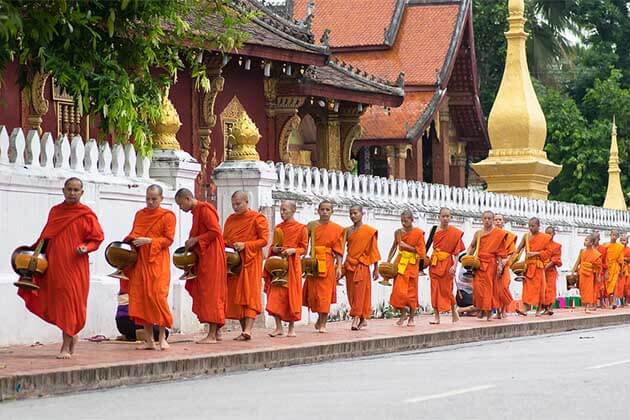 Tips: Recently, Luang Prabang has exchanged a lot in the downtown area, mainly on Sisavangvong Road and Soulignavongsa Road. Remember to exchange money into Laos Kips.
Day 2: Royal Palace Museum – Wat Mai Suwannaphumaham – Wat Visounnarath – Wat Xieng Khoang (B)
Start Laos trekking tour in Luang Prabang is the Royal Palace Museum, which is a set of imperial buildings and was converted into the National Museum of Luang Prabang in 1975. You will also see many precious state-level cultural relics including the well known Prabang Golden Buddha where the city got the name from, it also includes the other pictures and paintings showing the history of the kingdom of Lan Xang which is the best place to learn the history of Laos as well as Luang Prabang. There is a note that you can't take photos a Royal Palace Museum and are required to remove your shoes before entry. You also aren't permitted to wear short skirts and remember that the Royal Palace Museum is closed on Tuesdays.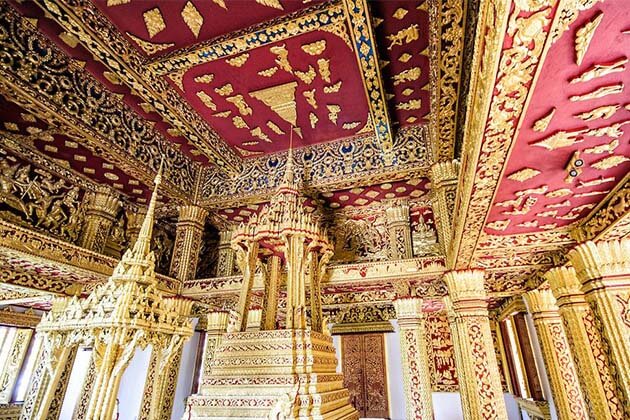 Next to the Royal Palace Museum, visit Wat Mai Suwannaphumaham, which is easily distinguished for its 5-layer roofs. That's the biggest temple in the city with an emerald Buddha statue.
After lunch, about LAK 5,000 to take a tuk-tuk to come to Wat Visounnarath, the oldest temple in Luang Prabang with over 500 years. This is also the place was stored the famous Prabang Buddha statue twice. In 1903, a lotus pagoda was built which is also called the watermelon pagoda for its appearance.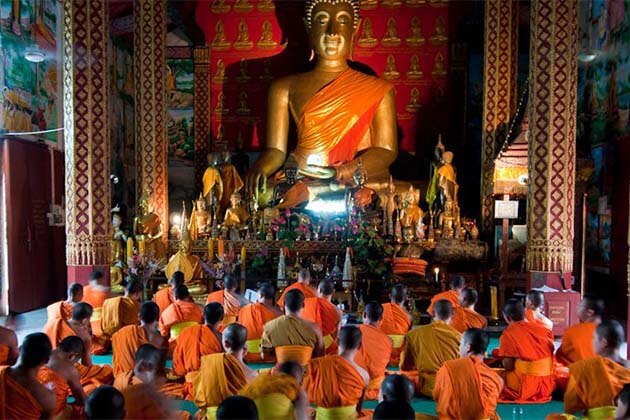 Take one hour to visit there, come to Wat Xieng Khoang by tuk-tuk about 10,000. The special point in the temple is the exquisite wood carvings magnificent mosaics. On the rear wall of the temple main hall, don't miss the opportunity to admire the mosaic wall painting, and the Tree of Life, which is the temple's most famous artistic heritage.
Day 3: Luang Prabang – Kuang Si Waterfall (L, D)
Wake up at around 5:30 to attend the alms-giving ceremony along Sisavang Road, which is one of the highlights of your 10 days Laos tour. No matter you're the visitors, you also take some sticky rice, fruits, and candies and sit on their knees quietly along the street. Moreover, you also can buy some food and join with them, it's also become the culture of Lao. Begin the ceremony, all the monks will walk barefoot and collect alms from believers. When they go through, you can put some of the food into their bowls. You can tell your guide a day in advance if you wish to make an offering so he/she can prepare some food for you to hand over to the monks. Or you could buy the food on the spot. This early morning ritual dates back generations in Laos.
Note: (If you do not wish to make an offering, please keep an appropriate distance and observe the ritual in silence. Dress appropriately – shoulders, chest, and legs should be covered).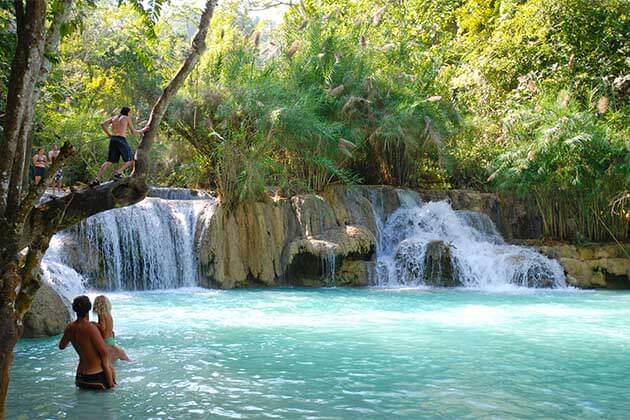 End of the ceremony, take a tuk-tuk or you can rent a bike to Phousi Market which is the largest market in Luang Prabang and join in the local daily life of Laotian. After that, turn back the hotel to have breakfast an take some rest to continue visiting Kuang Si Waterfall by tuk-tuk for about 50 minutes (LAK 30,000 per person). Come to Kuang Si Waterfall, right now enjoy the natural beauty and go for a swim or deep into the cool water by jumping into the pool from the tree. It's really awesome.
Day 4: Luang Prabang City Tour (B)
Day 4 in your Luang Prabang tour will be completed by renting a bike to start the Laos trekking itinerary. In Luang Prabang, it's easy to rent a bike, a normal bicycle usually charges LAK 20,000 per day and LAK 30,000 – 60,000 per day for a mountain bike. The route of the Luang Prabang trip is started from Sisavangvong Road, ride along the Road, you will also see Wat Xieng Muan near the Royal Palace Museum with splendid frescoes of the Serpent God, Naga. Keep riding to the North, along Sakkaline Road to reach Wat Sene, the oldest temple in Luang Prabang. The temple was built of 100,000 stones from Mekong River, that's a reason why the name of the temple was Sene ( Sene means 100,000 in Laos)
In the afternoon, back to Mount Phousi, located opposite the Royal Palace Museum. About 10 minutes to climb to the top and enjoy the stunning 360-degree views of the city as well as the Mekong and Nam Khan river. Especially, don't miss the sunset scenery on Mount Phousi.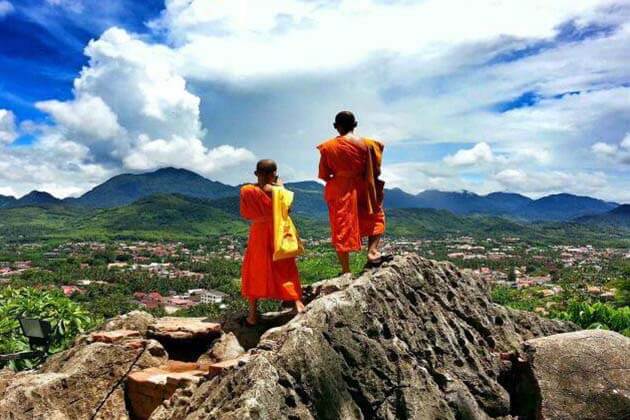 At night, why you don't go to visit the Hmong Night Market at the foot of Mount Phousi? Most of the products at the market are many exotic commodities handmade by Hmong people, you will be amazed by the price and the good quality. At night, have your dinner by making a short street food tour in Luang Prabang, most of them near the market and the center of Luang Prabang.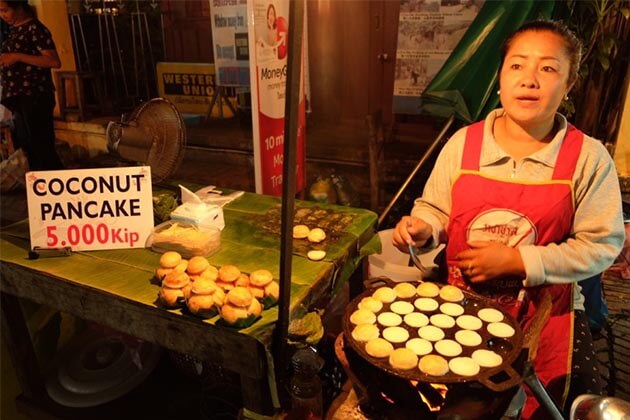 Day 5: Trekking Tour to Vang Vieng (L)
Continue your Laos trekking tour to Vang Vieng, drive to go Vang Vieng with the duration of 6-7 hours. Upon the arrival, book the next day's hot air balloon tour at the reception after check-in. Then, you can walk around this small city to enjoy its picturesque natural scenery, and don't forget to take great photos to keep beautiful moments here.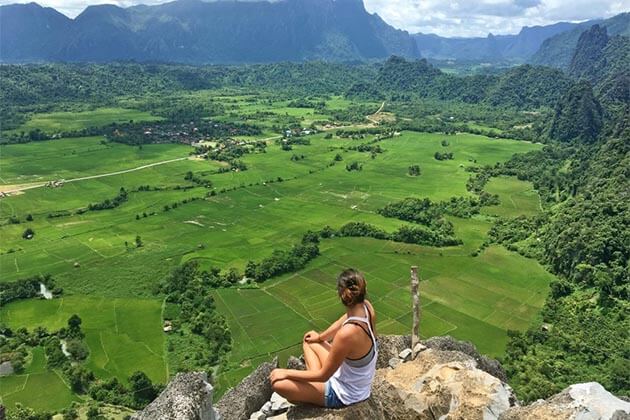 Day 6: Vang Vieng – Namsong River (B)
After breakfast, the tour guide will pick you up at your hotel to the hot air balloon site. You will be surprised by the city view of Vang Vieng and the natural beauty in the balloon for 40 minutes.
Getting off from the balloon, take a tuk-tuk to go Namsong River which is about 4 kilometers from downtown and start your Tubing, one of the most activities in Vang Vieng. Tubing fee is about LAK55,000, and there are also many bars along the river bank where you can join to take a small party with your friends.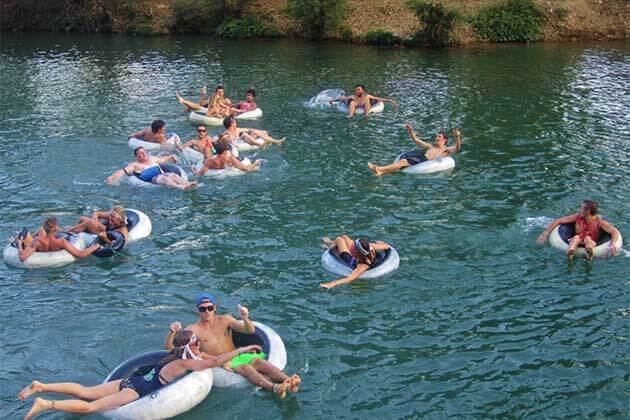 Day 7: Vientiane Walking Tour (B)
In the morning, take a bus to travel in Vientiane, upon the request you can rent a car or the hotel will arrange for you. It takes 4 hours to transfer from Vang Vieng to Vientiane and take a rest and willing to a Vientiane Tour during the last day in your northern tour in Laos. On this day, spend your time to visit some places near your hotel. In the afternoon, you can walk southwards to Mekong Riverside Park and enjoy the sunset.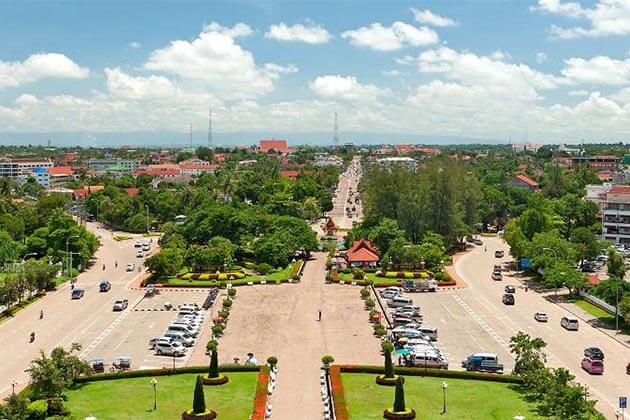 Day 8: Visit the Oldest Temples in Vientiane (B, L)
After breakfast, take a tuk-tuk to the shining Pha That Luang Temple, one of the most important national monuments of Laos. That's why you see a familiar image because it is printed on the emblem of Laos.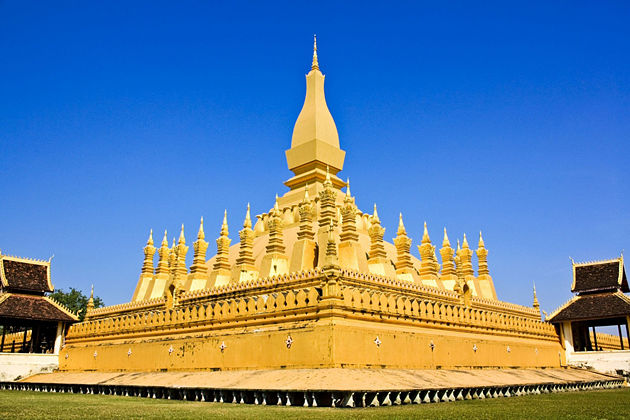 The next destination during the Vientiane tour is Patuxay Monument, as a Victory Gate in Lao. The Monument built to honor those who lost their lives in the War between Laos and France as well as World Wide II.
Continuing the Laos vacation, That Dam is the following places, which is regarded as the oldest historic site in Vientiane, built in the 14th century. The tourists know the That Dam with another name as Black Stupa due to its black appearance.
Along Ave Lane Xang for 100 meters, Wat Si Saket is on your east side. It's also known as the oldest temple of Vientiane was built in 1818 with almost 7,000 Buddha statues.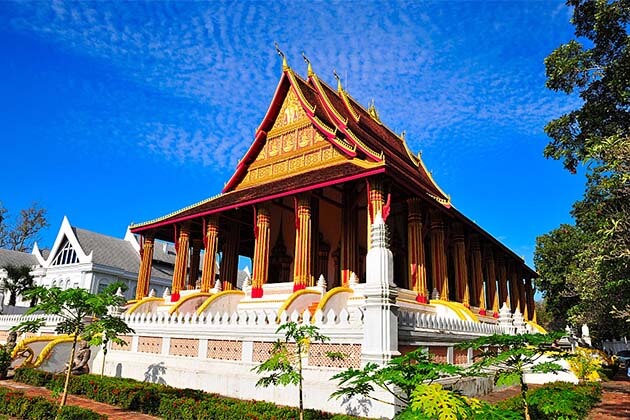 End of the 8th day, Wat Ho Phra Keo and Wat Si Muang is the last of your trip. Wat Ho Phra Keo, upon the comments from tourist, it's the most beautiful temple in Vientiane. And Wat Si Muang is next to Wat Ho Phra Keo.
At the end of the Vientiane backpacking tour, take a tuk-tuk back to your hotel to get some rest for the next day's itinerary.
Day 9: Vientiane – Buddha Park(B)
After breakfast, take a bus No.14 at Khua Din Bus Station with LAK 6,000 to get off at the Buddha Park. The Park, the formally named Xieng Khuan with more than 200 different statues. The most distinctive statues are a sculpture seeming like a pumpkin and a reclining Buddha.
Then, back to the downtown to visit Wat Sok Pa Luang which is famous for herbal sauna and massage.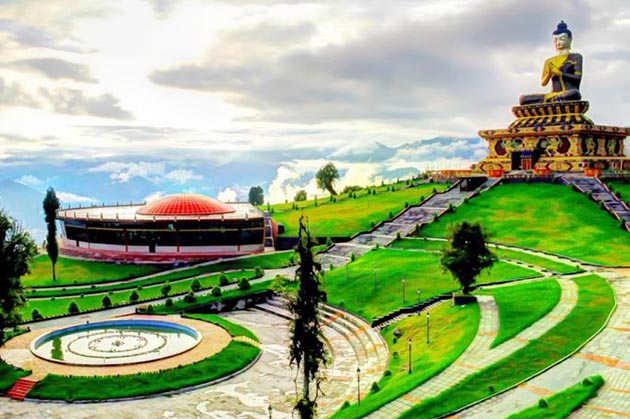 Day 10: Vientiane Shopping & Departure (B)
It's time to end your 10 days Laos itinerary. Spend a short time to go to the souvenir stores to buy special gifts for your friends and family. Before leaving the hotel, don't forget to check your luggage and take a taxi or tuk-tuk to the Vientiane Wattay International Airport in around 15 minutes. Finally, we hope you have meaning moments in 10 days trip in northern Laos!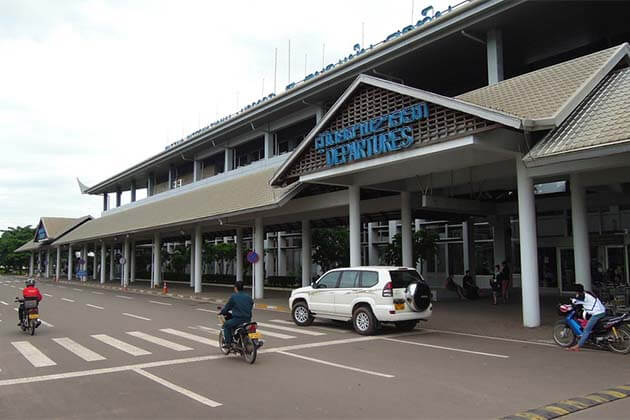 "Free inquiry if you interest this tour or create your own trip with our travel expert!"
What's Included?
9 nights accommodation
Experienced English speaking guide
Entrance fees
Bottled drinking water for sightseeing
Transport by private air-conditioned vehicle
Meals as mentioned in the itinerary
What's Excluded?
Gratuities ( recommended )
Laos visa fees
International flight into and out Laos
beverage and alcoholic drinks
Personal expenditure (telephone, laundry, and so on…)
Recommended Accommodation List

Location
Boutique Option
3* Standard
4* Standard
5* Standard
Vientiane
…
Season Riverside

Standard

Lao Plaza

Regular

Settha Palace

Deluxe

Vang Vieng
…
Vieng Tara

Bungalow Riverview

Silver Nagas

Deluxe

Riverside Boutique

Deluxe

Luang Prabang
…
Chitchareune Mouangluang Hotel

Standard

Villa Santi Resort

Deluxe

Luangsay Residence

Pioneer Suite
Room type is based on Double bed or Twin-shared rooms by 2 people
Inclusive of Daily breakfast & taxes